Years ago, in the Frugal Community, there was a concept floating around called the Un-Grocery List. Basically the Un-Grocery List was a list that you made of all the food products that you would no longer buy because you were making them yourself, or because you've decided to do without that product. I've taken it a step further in including things besides groceries so we'll call it the Un-Shopping List. Here's how to make your own Un-Shopping List!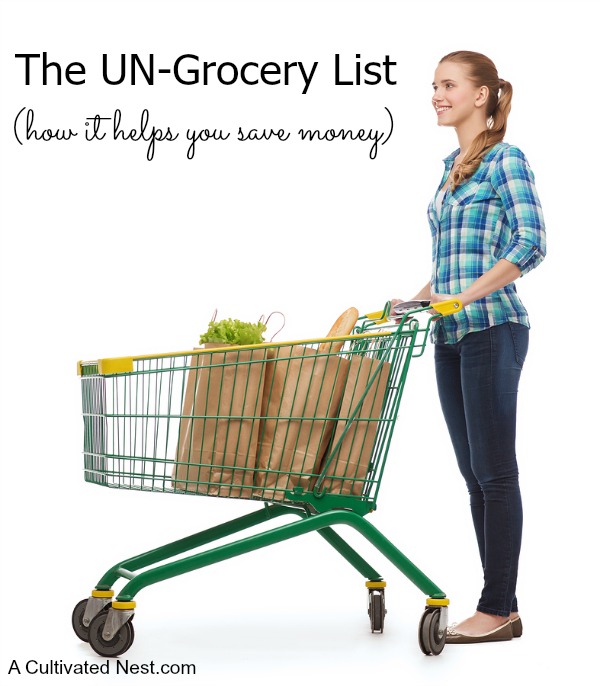 Disclosure: This post may contain affiliate links to Amazon and/or Etsy, which means that I may earn a small commission from some of the links in this post. Please see our Disclosure Page for more information.
The longer your list, the better! That's because the longer the list, the more money you're saving. What I like about the Un-Shopping List is that after you've made it, it becomes a great frugal motivation tool as you get to see all the things that you used to buy that you're no long purchasing.
The Un-Shopping List- Things to No Longer Buy
So let's talk about about how to think up things for your own Un-Shopping List. I like to make mine by category, like Food, Cleaning, Beauty Supplies, etc. Then I pick products that I usually buy for those categories, and try to find out if I can easily and frugally make them myself. Remember, the whole point of this list is to save money, so if it'll cost you more to make something (and your homemade version doesn't come with any special benefits), just buy that thing. Not everything is cheaper when homemade.
Anyway, say I chose the Cleaning category. I then would look into making homemade cleaners. So if you used to buy Lysol, Windex, 409, toilet bowl cleaner etc., those would go on your Un-Shopping List. If you used to buy paper napkins and paper towels but now use cloth versions, paper napkins and paper towels would go on your Un-Shopping List. If you make your own Swiffer cleaning cloths instead of buying them, that goes on your list. If you've decided to use The Keeper or make your own sanitary pads (many people do) then Kotex or whatever would go on your Un-Shopping list. Maybe you used to buy little pots to start your seeds in and now you've discovered how to use other things as pots. Well, seed starting pots would go on your list!
RELATED: Disposable Products You Can Replace with Reusable Ones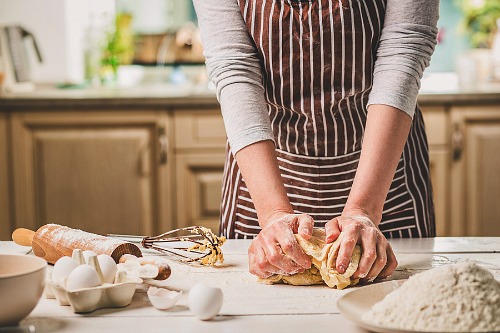 Probably the biggest category would still be convenience grocery items. For example, I no longer buy taco seasoning mix, brown sugar etc. I make my own. Maybe you make a great salsa and stopped buying the store made ones. Perhaps you bake bread now, make your own noodles, your own popsicles, cakes, puddings, ketchup, etc. If you can name it, then you can make it! Remember, before brands and stores took over the creation of food, most people were making 90% of their food from scratch. There's virtually nothing you can't make at home (given you have the right equipment).
Now it does take more time to make things from scratch. Especially your first time around. But generally it's less expensive than buying convenice AND you know what's in it! Besides, I've got more time than money (especially if I use my time wisely)! But just like when you're trying to integrate anything new into your life, start slowly! Don't just decide that all of a sudden you're going to make everything from scratch. You'll just overwhelm and discourage yourself.
I keep my Un-Shopping List in my Home Management Binder. It's a great motivator to see your Un-Shopping List get longer and longer! To know that you can manage without running to the store for every little thing is great!
Here are some DIYs and recipes to help get you started making your own things and building your Un-Shopping List!
DIY Cleaning Products
Reusable Homemade Dryer Sheets
Homemade All-Purpose Cleaning Wipes
DIY All-Natural Soft Scrub Cleaner
Citrus and Lavender Toilet Fizzies
DIY Scented Fabric Softener Crystals
Food/Seasoning Recipes
Homemade Dry Ranch Dressing Mix
Homemade All-Purpose Muffin Mix
Homemade Apple Cinnamon Granola
Homemade Flour Tortilla Recipe
Beauty Products
2-Ingredient Homemade Mica Lip Balm
Green Tea and Peppermint DIY Bath Salts
Orange and Comfrey Shea Butter Soap
Honey Oatmeal Homemade Face Mask
Coconut Lime Whipped Body Butter
Lemongrass and Chamomile Foot Scrub
25 Perfume Roller Bottle Blends
Homemade Clove Cedarwood Shaving Cream
What's already on your Un-Shopping List?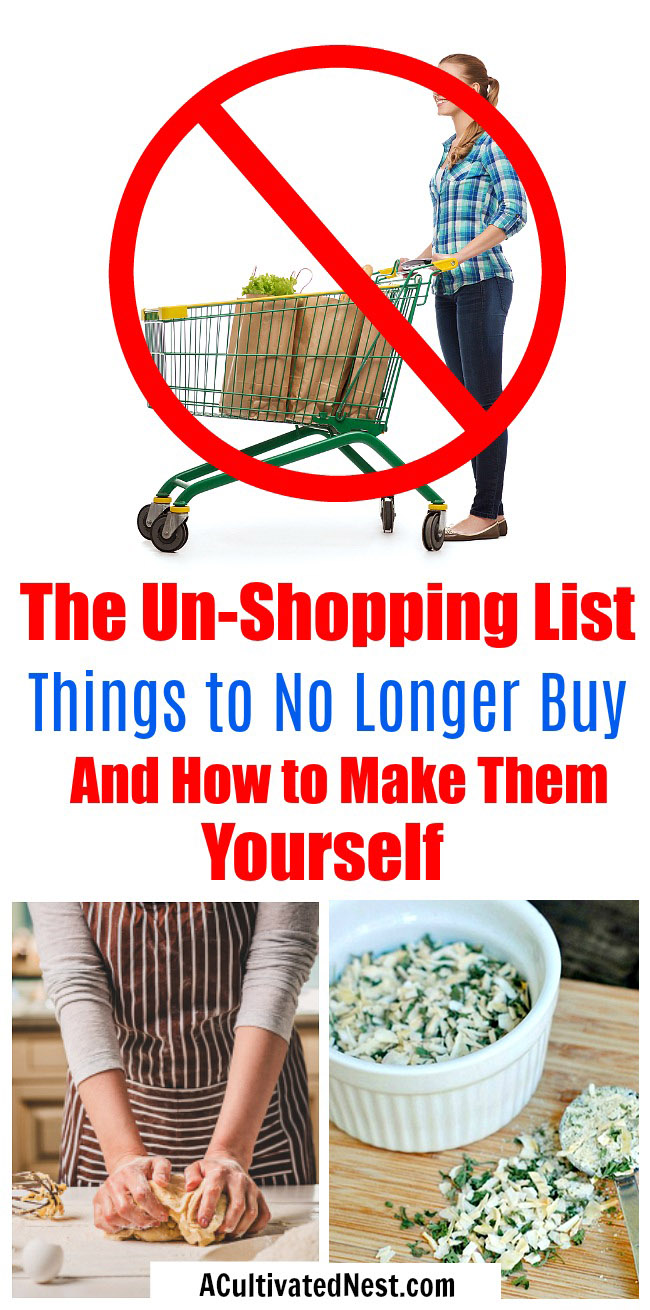 You might also be interested in: 10 Old Fashioned Money Saving Tips from Grandma