If you are into making your own bath and beauty products you may or may not know that the men in your life can benefit from DIY beauty products as well!  Rich, moisturizing, and free from unpronounceable ingredients this DIY shaving cream smells amazing too.   Treat someone to this creamy and decadent homemade shaving cream for an indulgent spa treatment for him.  Scents are easily changed up with different essential oils so you could make this for yourself with more feminine scents  like lavender. This clove and  cedarwood combination is a wonderful masculine scent!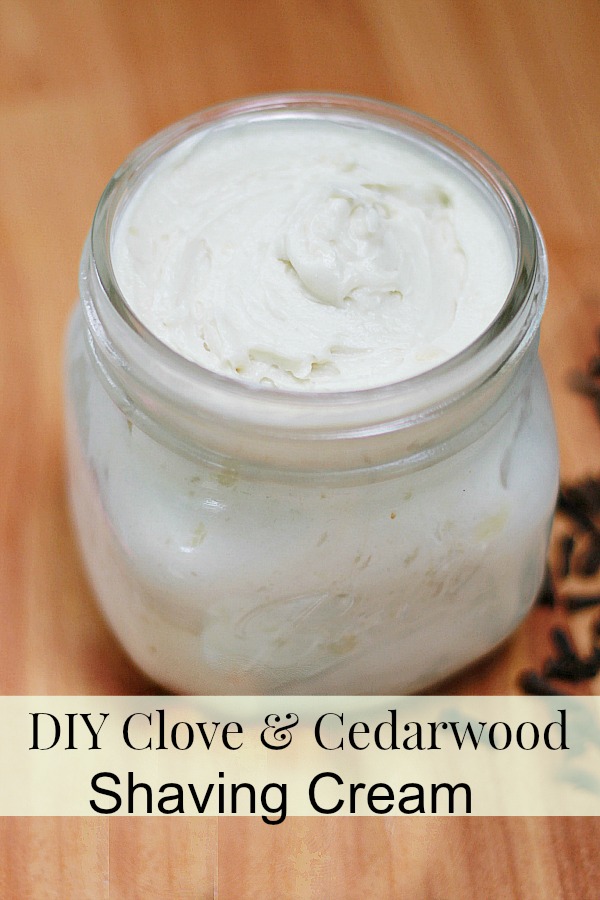 This shaving cream is a perfect homemade gift idea. For a wonderful Father's Day Present you could make a shaving kit by just add some other things, like a old school badger brush and straight edge razor.
DIY Shaving Cream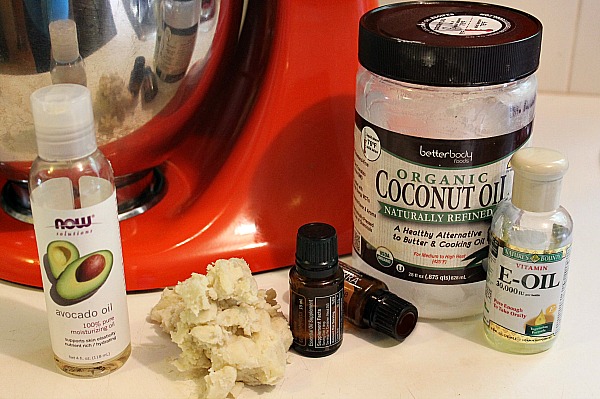 Ingredients:
¾  cup Shea butter
¾  cup Coconut Oil
2 tsp. Vitamin E oil
2 Tbsp. Avocado or olive oil
*This post contains affiliate links. Please see our Disclosure Page for more information.
Directions: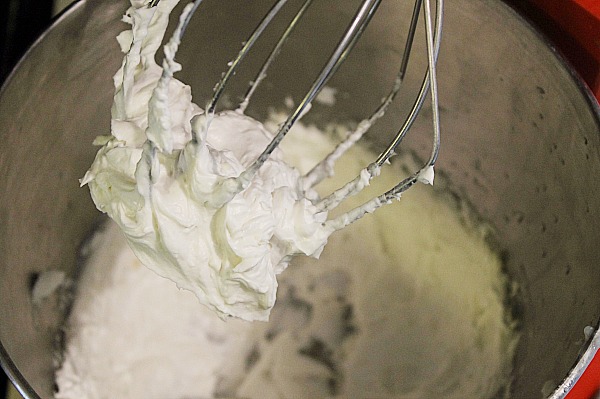 1. Place shea butter, coconut oil,  Vitamin E, and Avocado oil in the bowl of a hand or stand mixer.
2. Blend on high for 3-5 minutes to blend and whip into a thick cream.
3. Add 5 drops of clove essential oil  and 10 drops of cedarwood essential oil, mix. Add more oil to desired scent.
4. Transfer to a glass jar with an airtight lid.
Store in a cool, dry place – Mixture will melt in very warm bathrooms but will still work. To firm up melted shaving cream place in refrigerator until it begins to resolidify. You can also toss back in the mixer to reblend if desired.
To use, apply a thin layer to skin and shave.
  About Jody: I am a Florida girl through and through living the semi-country, small town life.  I am making my way through it with my amazing hubby, 2 beautiful kids, 2 of the best Dachshunds to ever walk the face of the earth, massive amounts of coffee and a whole lot of Jesus.  I homeschool, craft, cook, scrapbook, garden, raid the thrift shops, snap 1,000's of photos, and read when I can grab a spare minute (which is rare). You can find me blogging at Simply Southern Sunshine.
You Might Also Be Interested In These Posts: