Mint is one of the easiest plants to grow, and packs some of the biggest benefits. For example, this sweet smelling herb freshens breath and acts as a deterrent for mice. It can also be used fresh from the garden in many different recipes and DIYs. I've collected 14 Things to Make Using Fresh Mint, because I have so much of it growing in a container! I have to find a way to use it all!  If you don't grow it, you can usually buy fresh mint leaves in most grocery stores (by the prepackaged salad or in the produce section) to use in mint recipes.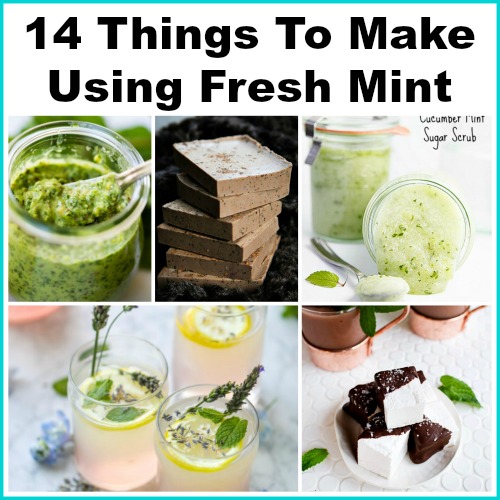 Disclosure: This post may contain affiliate links to Amazon and/or Etsy, which means that I may earn a small commission from some of the links in this post. Please see our Disclosure Page for more information.
From Classic Mint Jelly to Lime & Mint Dressing, you'll have everything you need to add a touch of something special to each meal. And Oh my gosh, I discovered Fresh Mint Marshmallows and Chocolate Mint Bars! Also, for those of you who love to Do It Yourself, there are sugar scrubs and soaps!
14 Things to Make Using Fresh Mint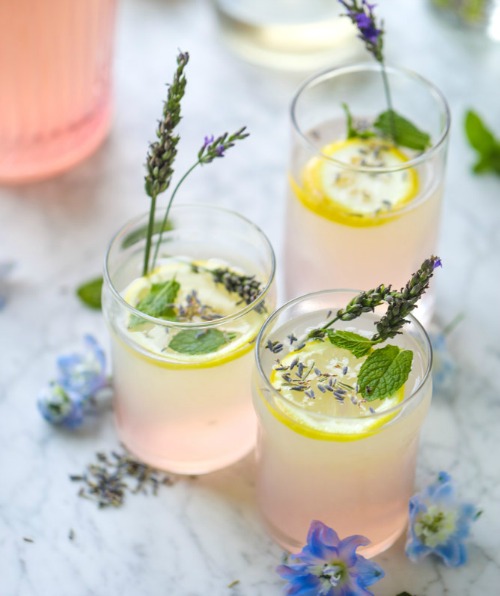 1. Lavender Mint Lemonade by How Sweet It Is calls for a big handful of fresh mint leaves and fresh lavender sprigs for this refreshing drink, perfect for relaxing!
2. Cucumber Mint Sugar Scrub by Bell'alimento is a light, refreshing scrub that's a wonderful way to exfoliate your skin. Looking for more DIY Scrub recipes? Check out my e-book on this topic!
RELATED: 7 Reasons You Should Grow Mint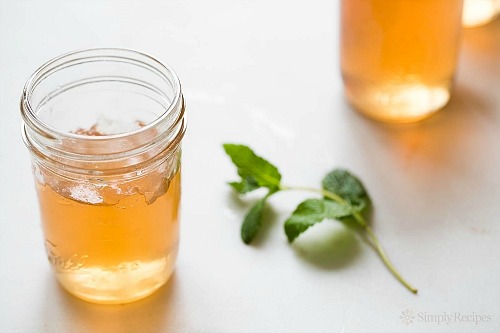 3. Use chopped mint leaves to make this Mint Jelly by Simply Recipes. Mint jelly is awesome on a baked ham by the way. Just awesome.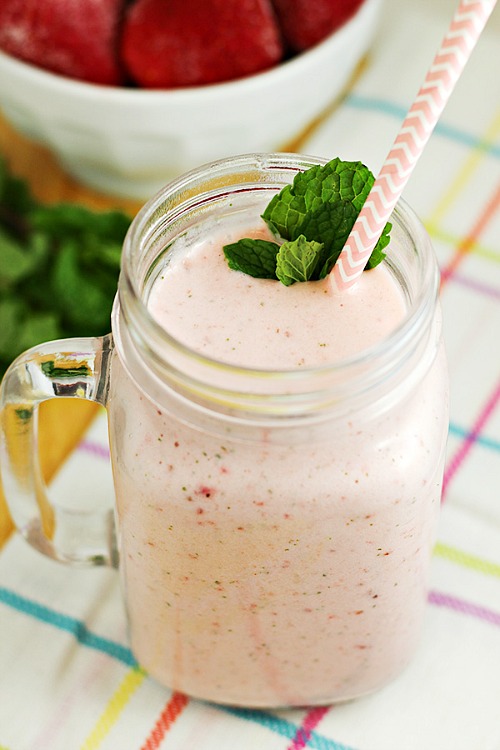 4. Use fresh mint leaves in a smoothie like this Strawberry Mint Smoothie by Home Cooking Memories. Plus, if you love the strawberry mint combo, she also has a recipe for Mint Strawberry Lime Icebox Pie. Just sayin'.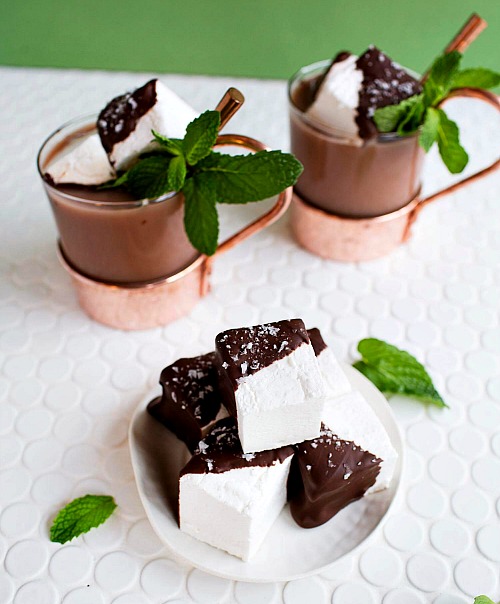 5. You won't believe these Fresh Mint Marshmallows by a Beautiful Mess! Homemade marshmallows (gasp!) that use fresh mint! They also happen to be dipped in chocolate. Mmmmm. If you don't feel like making these you have to try Smash Mallow –  Snackable Marshmallows Mint Chocolate Chip from Amazon (so yummy and low cal)!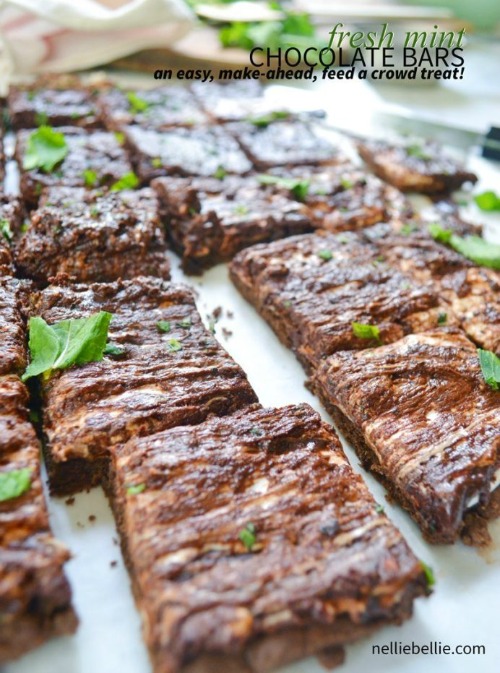 6. These Fresh Mint Chocolate Bars from Nellie Bellie also combine the goodness of chocolate and mint, and if you grow your own mint, this will become your go-to dessert!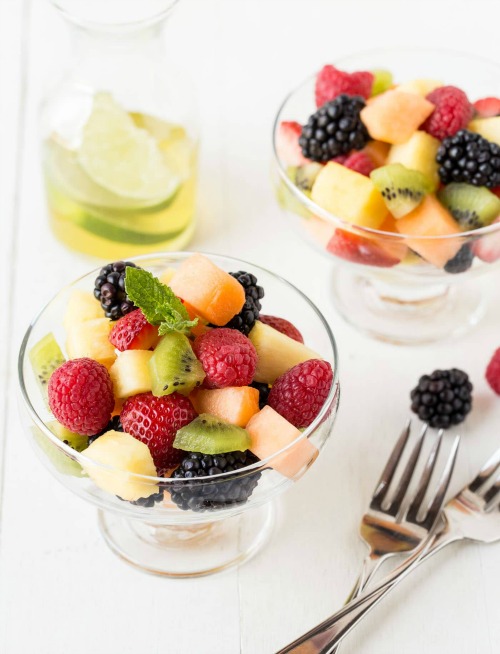 7. This Lime & Mint Dressing by Garnish with Lemon is ideal for fruit salads, and super easy to make.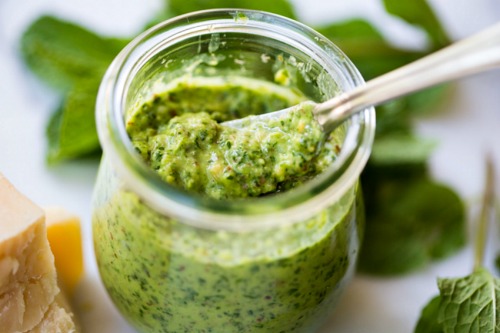 8. This Mint & Basil Pesto by Our Best Bites calls for a cup of fresh mint leaves, and would make ideal hostess gifts!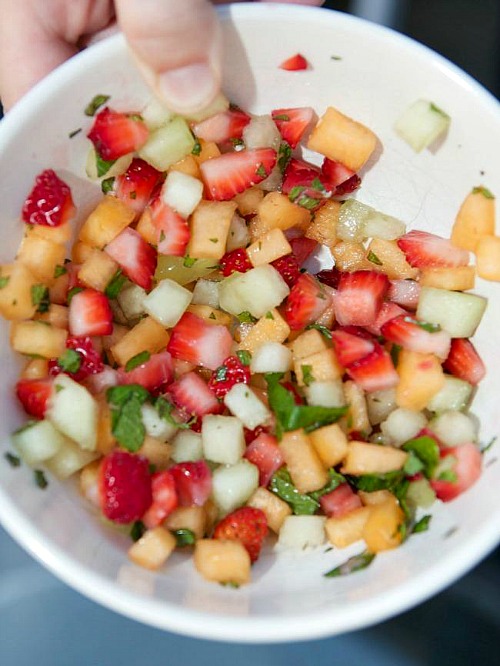 9. This Fruit & Mint Salsa by Spaceships and Laser Beams uses a small bit of chopped mint, but this recipe could easily be doubled, even quadrupled, and canned!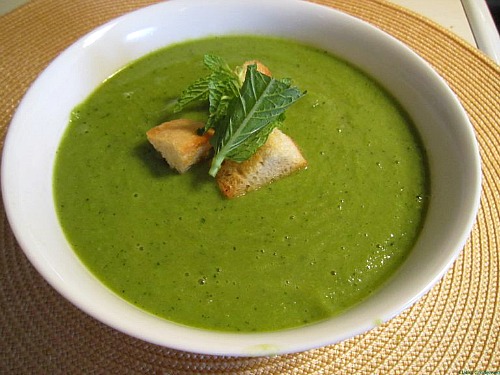 10. Pea, Fennel, and Mint Soup by Clarks Condensed would be great for lunch time, or follow it up with grilled steak for a delicious supper.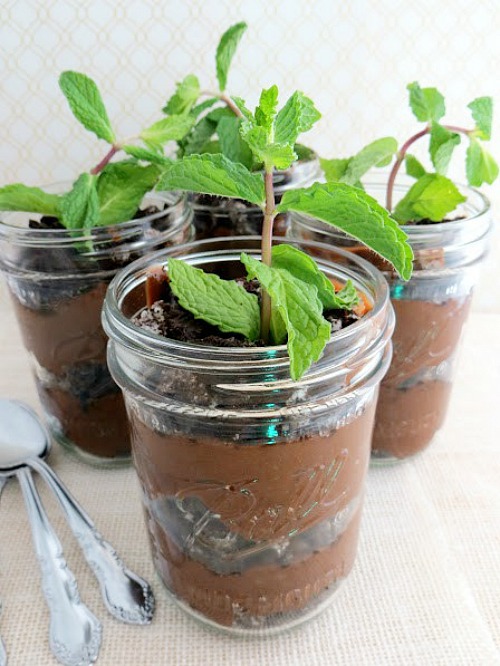 11. Have a little fun with these faux planter Chocolate Mint Parfaits by the Thrifty Couple, and use fresh mint sprigs to resemble little seedlings.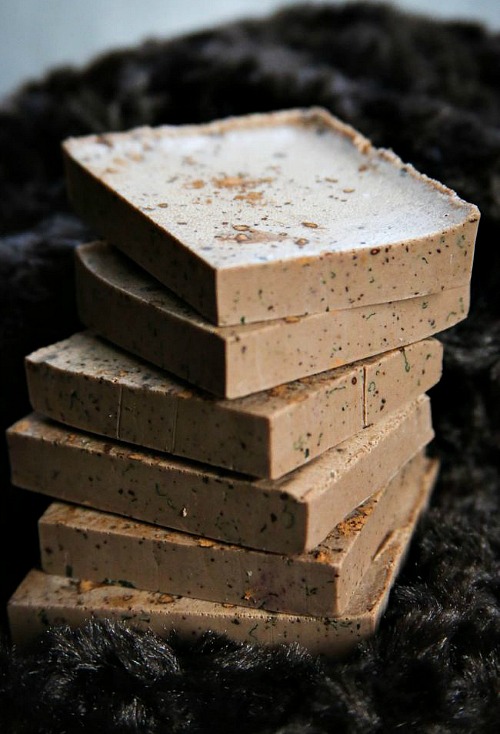 12. Mint is such a versatile herb! This Homemade Soap with Cocoa and Mint by Hello Glow uses chopped fresh mint with a shea butter soap base, and well can you say decadent? It looks good enough to eat and I bet it smells amazing!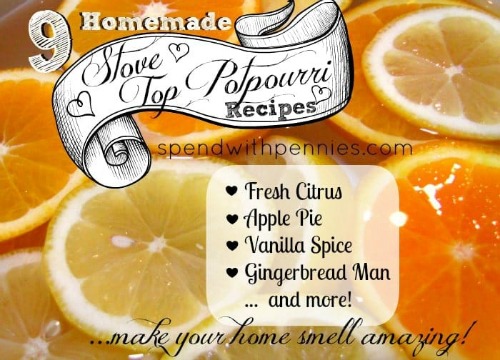 13. Because mint is so fragrant, it makes perfect sense to use it in these Homemade Air Fresheners by Spend With Pennies. She has a recipe for a refreshing Minted Lime Stove Top Potpourri. 
RELATED: DIY Air Fresheners That Make Your Home Smell Amazing!
14. And lastly, you can make your fresh mint go even further, by following How To Make Homemade Mint Extract by Growing Up Gabel – and keeping a supply of it on hand, for when you're out of the fresh stuff.
RELATED: 10 Creative Ways To Use Herbs From Your Garden
Did you enjoy this post on 14 things to make using fresh mint? If so, be sure to sign up HERE for my newsletter, so you can get my latest DIY projects, money saving tips and recipes sent straight to your inbox!
Storing Fresh Mint Leaves:
First, fresh herbs don't last forever, so try to use them as you harvest them. They can store in the crisper of your fridge for a couple days. But be sure to follow the first in, first out method. Also, you can usually interchange fresh herbs for dried herbs. Keeping in mind you'll want about 3 times the amount of fresh herbs as the recipe calls for in dried herbs. Therefore, 1 Tsp dried herb (5 ml) equals 1 Tbsp (15 ml) fresh herb.  So, you may want to consider drying your fresh mint. Then store it in an airtight container in your pantry, after it is completely dried. Freezing it is an option as well, but the texture will not be the same.
Check out Growing and Cooking with Mint: Storey's Country Wisdom Bulletin A-145 if you want to learn more about growing mint and more mint recipes.
I hope these 14 things to make using fresh mint will make you want to run out and raid the garden for some mint!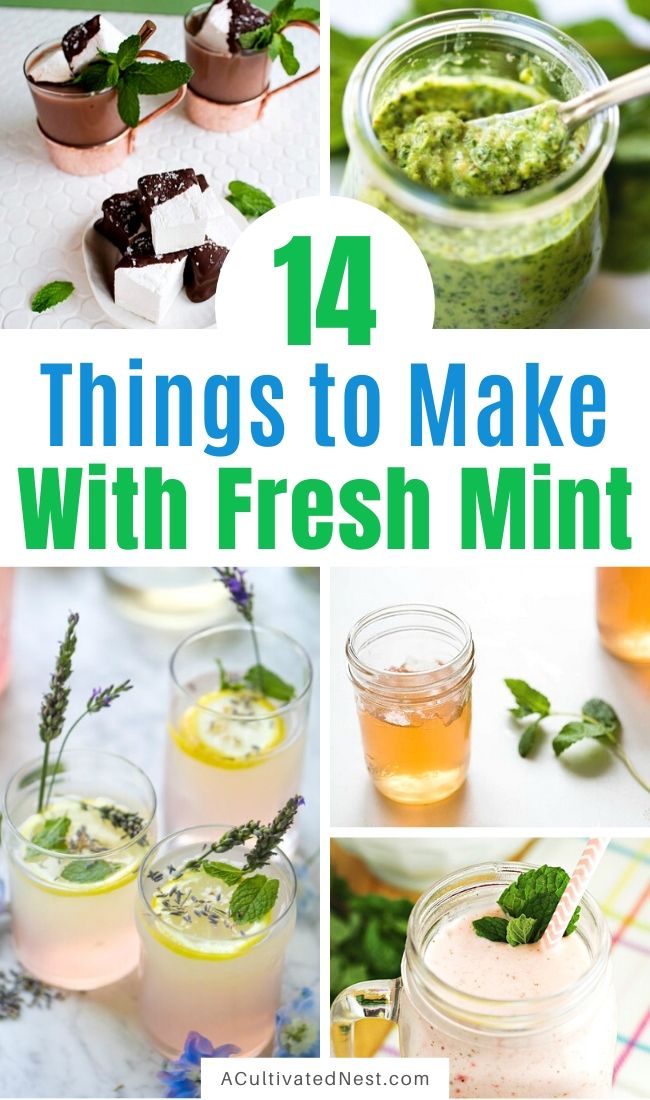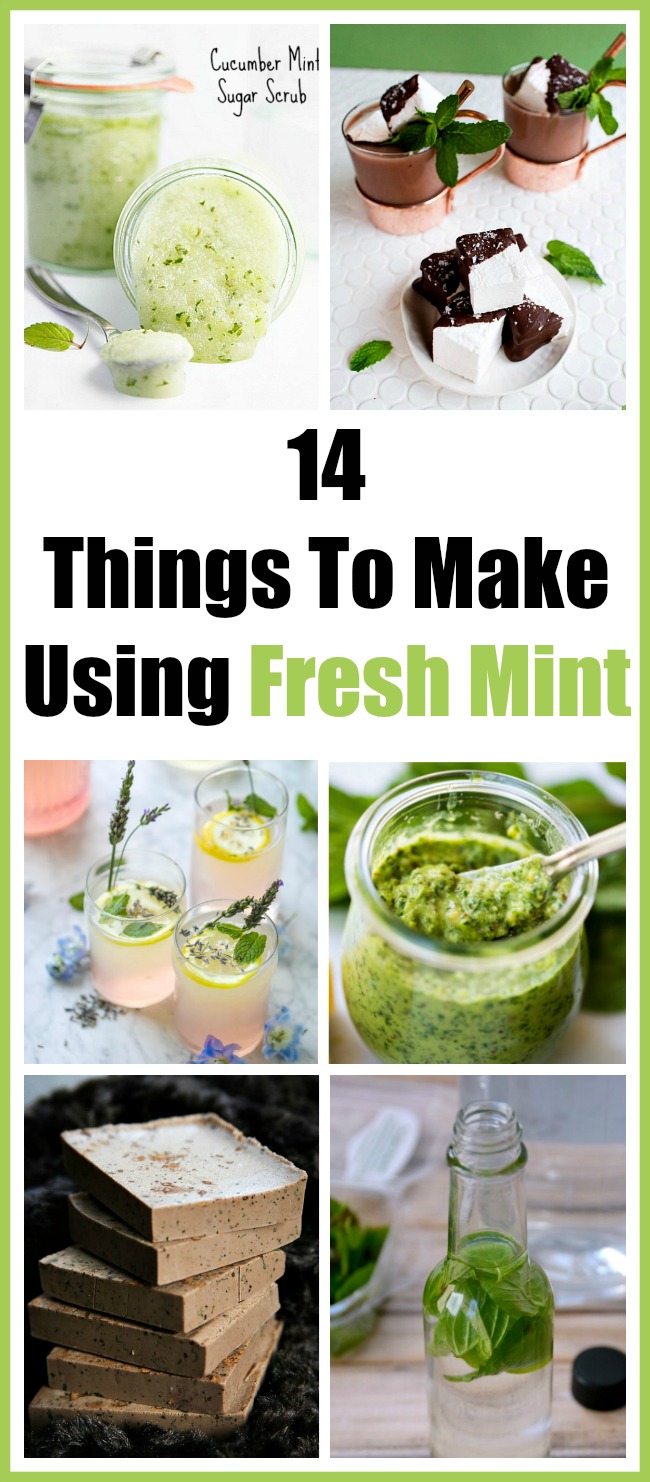 This post contains affiliate links to Amazon, which means that I may earn a small commission from some of the links in this post. Please see our Disclosure Page for more information.
You might also be interested in: 7 Reasons You Should Grow Mint