Once upon a time, every backyard had a clothesline full of clothes flowing in the wind. Taking the clothes out to hang was a daily or weekly chore, one that was soon replaced by the electric dryer. Today, many households are going back to the clothesline method to get clothing dry. People are finding that it's a great way to save money as well as having other benefits. Want to know more? Take a look below at how a clothesline can save you money and help you get your clothing dry for less. Plus we've included some tips for how to line dry to get you started on the right track!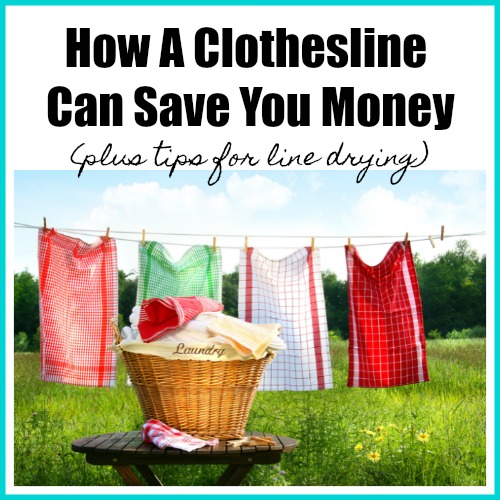 Disclosure: This post may contain affiliate links to Amazon and/or Etsy, which means that I may earn a small commission from some of the links in this post. Please see our Disclosure Page for more information.
I have a retractable line for outside that I found on Amazon, but you can also get them at Home Depot and Lowes. I also have a drying rack that we use outdoors for our kitchen towels and cleaning rags. We just got this single clothes line dryer to use inside our laundry room for those days when line drying outside just isn't a good idea (high pollen count days and rain of course).
How a Clothesline Can Save You Money
1. You omit the need for fabric softener.
Since you are hanging clothing items out to dry, you omit the need for dryer sheets. Instead, your clothing moving in the breeze and getting plenty of fresh air blown through it will help. You can forget about buying pricey dryer additives and let nature do the job instead! Fresh air dried linens smell soooo good!
2. You save money on electric/gas costs.
Air drying clothes vs. dryer. Running your gas or electric dryer for 45 minutes uses energy, energy that you must pay for. When you use a clothesline, you can keep the dryer off and save on those electric/gas costs at the same time. Even if you just switch to the clothesline method for one load of clothing a week, you will notice a difference.
3. You will be less likely to fall into the "second spin" trap.
Do you ever forget about the items in the dryer, then need to run the cycle a second time in order to fluff the items back up? When you use the clothesline method, you are less likely to forget about the laundry hanging outside. After all, they are more visual. This means bringing the items inside once dry, and omitting running the dryer for a second spin.
4. You may think twice before throwing clothes into the dirty pile.
Hanging laundry on a clothesline takes extra time and effort. Because of this, you might think twice before throwing clothing items into the dirty pile. You may be more inclined to wear the item a second time and make sure it really needs washing before tossing it in. This saves you money on water and washing machine expenses!
5. Your clothing may last longer.
Hanging your clothing out to dry is much gentler on it than machine drying is. It isn't exposed to all of the heat, chemicals, and wear and tear. Because of this, your clothing may last longer and you may need to buy clothing less often if you hang dry it. This is another great reason to give the clothesline method a try!
6. If you have sensitive skin, dye free and sensitive skin fabric softeners can be pricey.
When you use a clothesline, you don't need to worry about using all of those specialty fabric softeners for sensitive skin. These items can be pricey and even hard to find. Instead, a clothesline offers a natural alternative that does the job without the irritation.
7. It gets you outside
I love being outside so I don't really need a reason, but some people need a reason to be outside. Going outside to hang your clothes allows your body to absorb much needed Vitamin D naturally. Also, some people find the action of hanging clothes relaxing. So free Vitamin D and a way to relax without spending money!
The backyard clothesline has definitely been making a comeback, since it's a budget friendly and earth friendly way to dry your clothing. Sadly some communities don't allow clotheslines, so be sure to check your HOA rules!
If you are looking for some ways to cut household costs, having a clothesline can save you money. You might just decide that a clothesline is right for your family's needs.
RELATED:  Laundry Room Organizing Ideas
Tips For Line Drying
You'll find these tips for line drying useful if you're new to hanging out your wash to dry. Also, if you don't like how stiff line dried clothes can get, you can put them in the dryer with a couple dryer balls for 5-10 minutes to fluff. You're still using less electricity than if you did an entire load in the dryer.
Add 1/2 cup white vinegar to the wash during the the last wash cycle to keep clothes soft after line-drying.
Wipe your clothes line down before use. Pollen, dirt, etc can collect on the line and you don't want that to transfer to your clean clothes.
Hang t-shirts upside down by the hemline, not the shoulders.
Shake laundry before hanging to remove lint and wrinkles.
Turn out the pockets of jeans and pants for faster drying.
Keep fabric colors bright by avoiding hanging in direct sunlight. Hang your whites in direct sun as the sun naturally bleaches fabric.
Matching socks should be hung together by the toes.
Hang underwear on inner lines, so it's hidden from view.
This post contains affiliate links to Amazon. Please see our Disclosure Page for more information, and thanks for supporting this site!
RELATED: 25 Ways To Save Your Family Money