Creative For Organizing A Chest Freezer.
My chest freezer is driving me crazy! I try to keep it organized, but it's so hard to know what's at the bottom of that thing. I really want to sell it and get an upright (which I imagine would be easier to keep organized). But in the meantime, I found some ideas on Pinterest that I might be able to use to organize my deep freezer. After all, someone has got to have a freezer organization figured out!  I thought maybe some of you could use some ideas too for Organizing a Chest Freezer!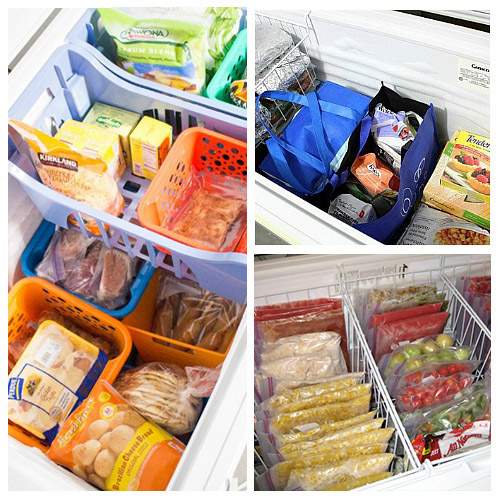 Disclosure: This post may contain affiliate links to Amazon and/or Etsy, which means that I may earn a small commission from some of the links in this post. Please see our Disclosure Page for more information.
Chest freezers are great for stocking up on food bought on sale. But part of saving money on groceries is knowing what you already have, and that's hard if you don't have some sort of system for keeping your freezer organized! Luckily, organizing a chest freezer isn't hard. I have a free freezer inventory sheet here that you may find helpful. Take a look at the great organizing ideas below!
10 Ideas For Organizing a Chest Freezer
Organizing your freezer is a chore that is best done as you go. Once you have it organized, it's important to keep it clean and orderly at all times. Otherwise, you will have a disaster on your hands all over again! Take a look at these tips:
Think outside the box… or inside! What I mean is, don't be afraid to use boxes you come across, bags, baskets, or anything else that you find that would work. You can find all sorts of items you recycle, and upcycle them into the perfect storage containers for your freezer.
Label EVERYTHING. When I say everything, I mean everything. Unless it comes in a box with a use-by date, you should be adding your own information. Add the name of the food, date you put it in the freezer, and, if possible, directions for reheating. This will save you tons of time and help you know which item to use up first when you have several of the same things.
Throw out food that's bad. If you know that something is freezer burnt, been in there forever, or is simply gross, don't keep it. Toss it out and move on.
1. Organize with Dollar Store Bins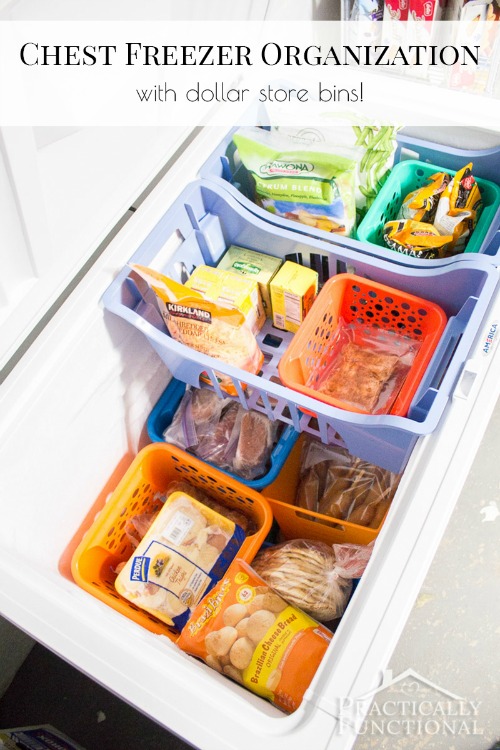 I love dollar store organizing! Practically Functional shares what bins she got from the dollar store, and how she used them to organize her chest freezer!  Here's a basket with handles on Amazon that's like the one on top.
2. Freezer Inventory Printable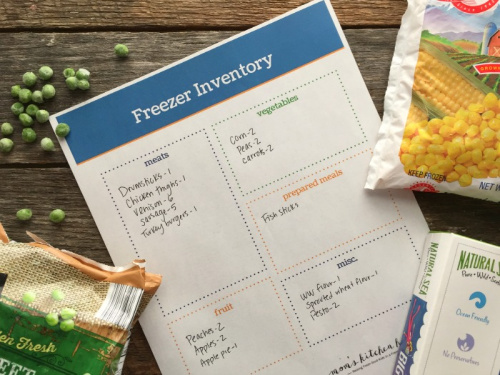 Instead of losing food into the dark abyss of your freezer, use this freezer inventory printable from Real Mom Nutrition. Raise your hand if you ever lose food in the freezer! This will save your sanity.
3. Organize with Locker Crates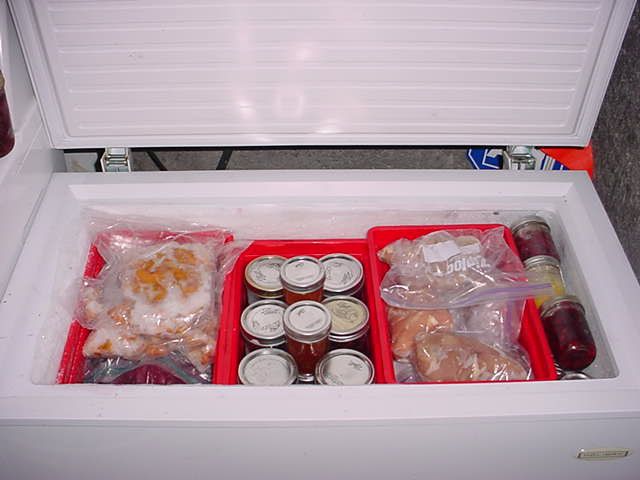 What a wonderfully organized chest freezer! See how My Frugal Home uses locker crates to organize her chest freezer.
4. Organize with Bags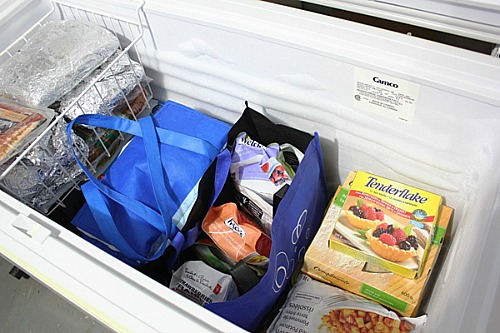 I'm An Organizing Junkie has some great tips for organizing a chest freezer with bags!
5. Free Editable Labels for Freezer Cooking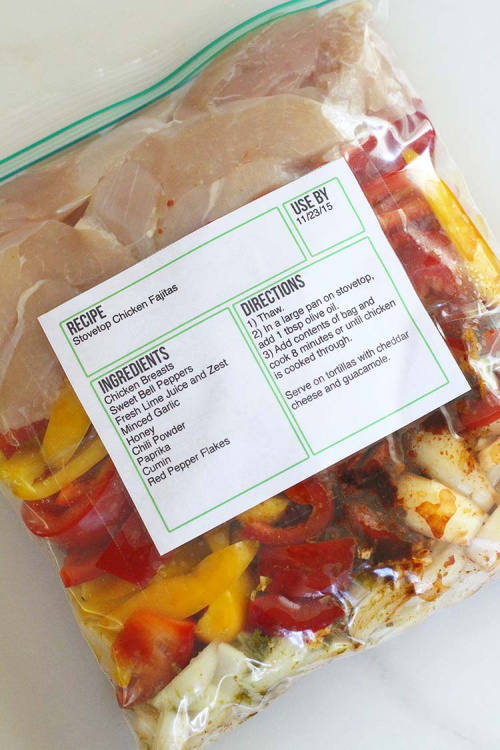 These editable freezer labels are perfect when you are doing meal planning or trying to organize your freezer. Money Saving Mom thought of everything for these labels!
6. Repurpose Milk Jugs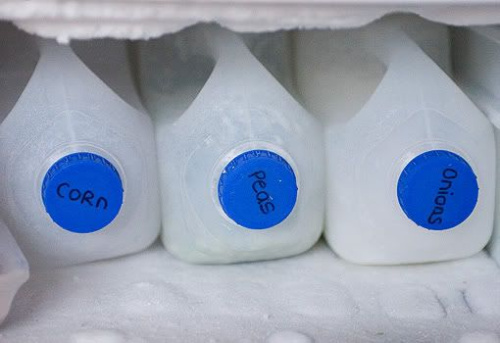 Jen at A Thousand Words got creative and started using old milk jugs for freezer storage. You can keep veggies, fruits, rice, or anything else you want.
7. Organize with Boxes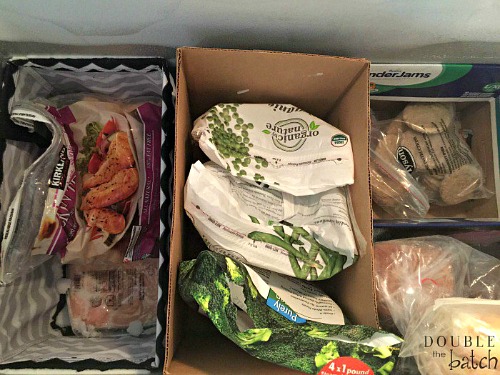 Want a zero-cost way to organize your chest freezer? Check out how Uplifting Mayhem re-uses cardboard boxes as organizers in her chest freezer!
8. Organize with a Master Inventory List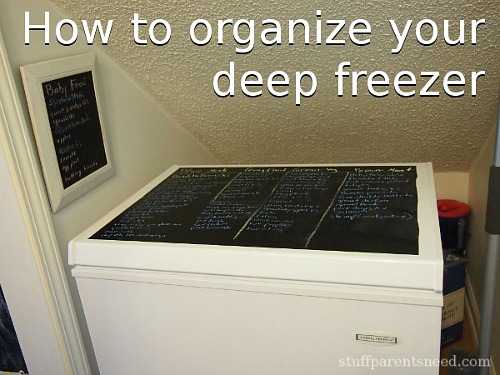 This is such a clever idea! Take a look at the freezer inventory list Stuff Parents Need created on chalkboard paper!
9. Organize with Bags in Baskets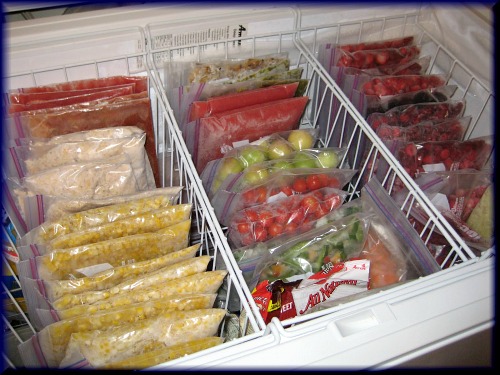 This is a smart combo organizing idea! Head on over to Savory Seasonings to see how she organizes her freezer with bags in baskets!
10. Magazine Holder Instant Shelving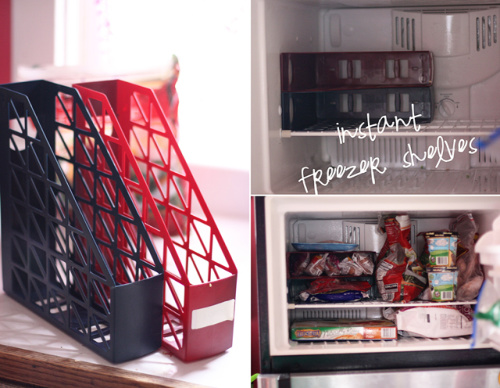 If you have some extra magazine holders, you will have shelving that is perfect for organizing your freezer. Aunt Peaches found a bunch of magazine holders and got creative with uses for them.
So there are several ways to go about organizing a chest freezer, with the general idea being to either use some sort of bag or box to keep like items together. You still have to stack things on top of each other, but with these organization methods, it's much easier to move the top layer to get to the food below!
Make sure to measure your freezer before buying any organizers. All freezers have different measurements, and you don't want to get bins that are too small and have some annoyingly small extra space left to fill. There are a lot of affordable freezer organizers on Amazon.
And while I know it's annoying how disorganized chest freezers can get, remember that they do have some good qualities. Not only do they tend to be less expensive upfront than an upright freezer, but they also cost less in terms of electricity usage. So they're actually the most frugal kind of standalone freezer! Keep that in mind and use the tips above, and soon you'll love your chest freezer again!
Do you have any tips on organizing a chest freezer?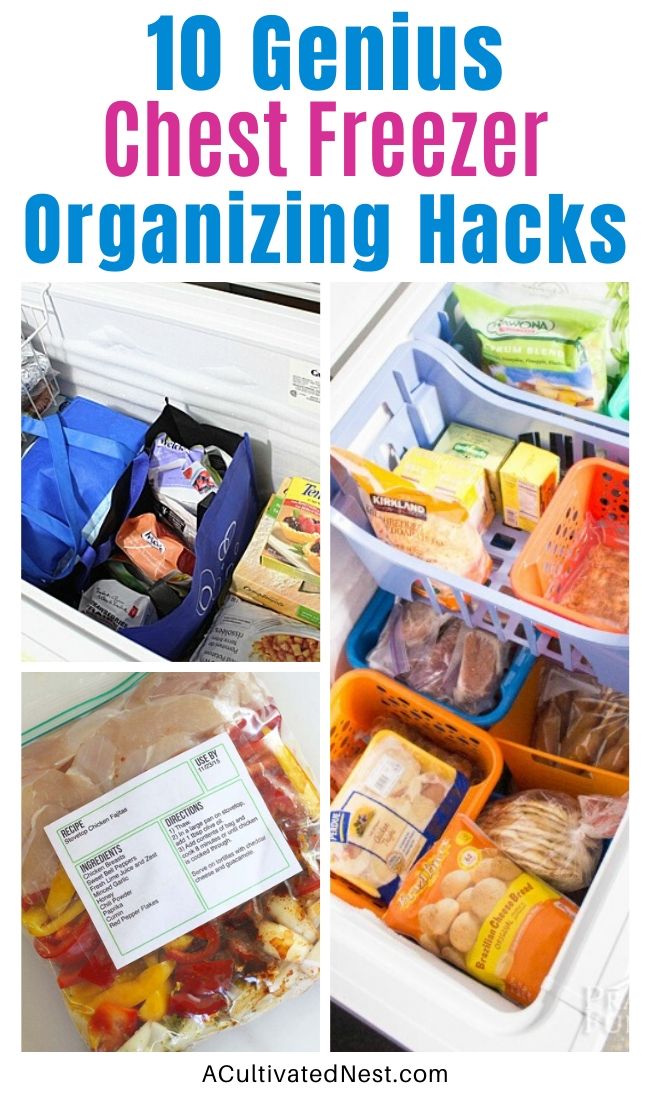 You may also be interested in: Clever Refrigerator Organizing Ideas