How to Organize Your Refrigerator.
Do you often wish you had a bigger fridge? Like one of those massive ones you see in magazines or home tours with famous people? I used to wish my fridge was bigger too, but then I realized I don't need a bigger fridge, I just need to use the space smarter! So I went looking for some ideas on how to organize my fridge and save space. I found some really great ideas, so I thought I'd share them with you! Here are 8 Clever Refrigerator Organizing Ideas!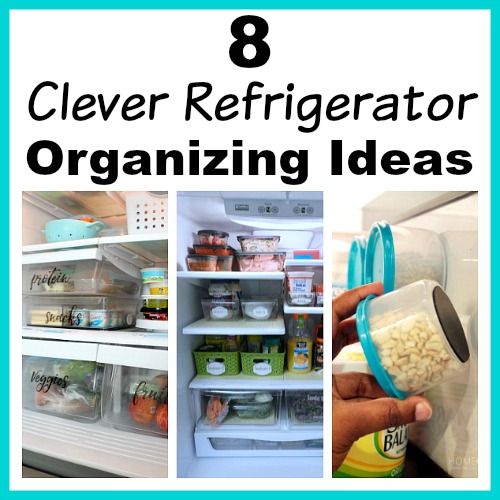 Disclosure: This post may contain affiliate links to Amazon and/or Etsy, which means that I may earn a small commission from some of the links in this post. Please see our Disclosure Page for more information.
I've always said, there's nothing a bin or basket can't organize! So I wasn't surprised to come across a couple of good fridge organizing ideas that used bins during my search. But this list also includes some non-bin refrigerator organizers that I never would have thought of! If you need to re-organize your fridge, I'm sure at least one of these refrigerator organizing ideas will work for you!
8 Clever Refrigerator Organizing Ideas
1. Pull-Out Bins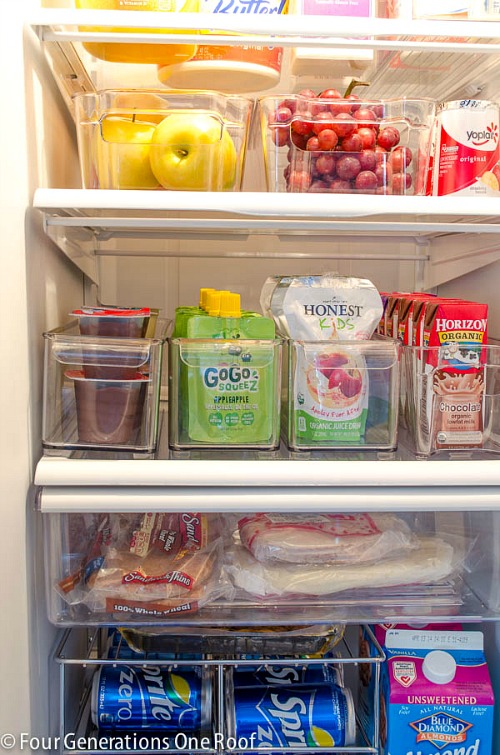 Make your fridge's food organized and easily accessible with bins! Take a look at how nice and neat Four Generations One Roof's fridge looks with her pull-out bins! You can find pull-out bins in various sizes on Amazon.
2. Organized Snack Bin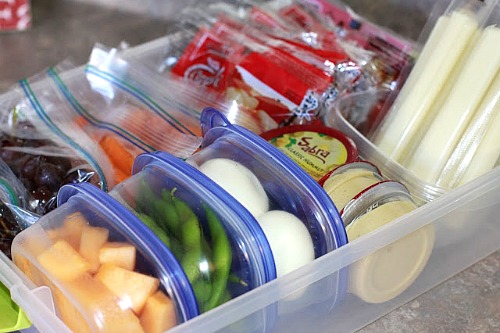 If you have kids, then you know how hard it is to keep a neat snack bin! Check out how Little Penelope Lane organized her fridge's snack bin!
3. Labeled Fridge Bins
Bins are great, but labeling them makes them even better! Here's how Organizing Home Life labeled her refrigerator bins.
4. Printable Fridge Labels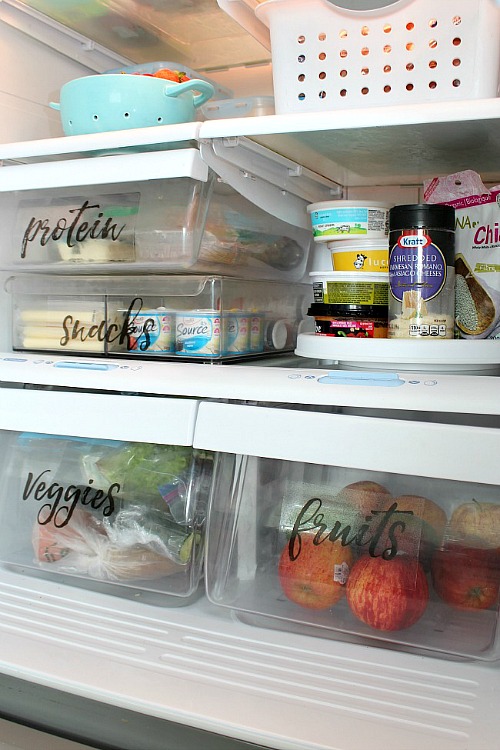 An alternate way to organize your fridge with labels is to use big clear labels! Take a look at Clean and Scentsible's organized fridge with labels! If you'd like more free printable labels to choose from, check out all the great ones in my post on organizing with labels (which includes an ACN exclusive printable watercolor label sheet)!
5. DIY Magnetic Fridge Tins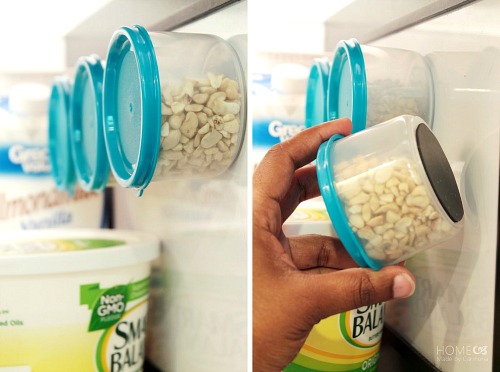 Now this is some clever refrigerator organizing! Check out Tatertots and Jello's tutorial on how to make DIY magnetic tins for your fridge (and other areas of your home)!
6. Lazy Susan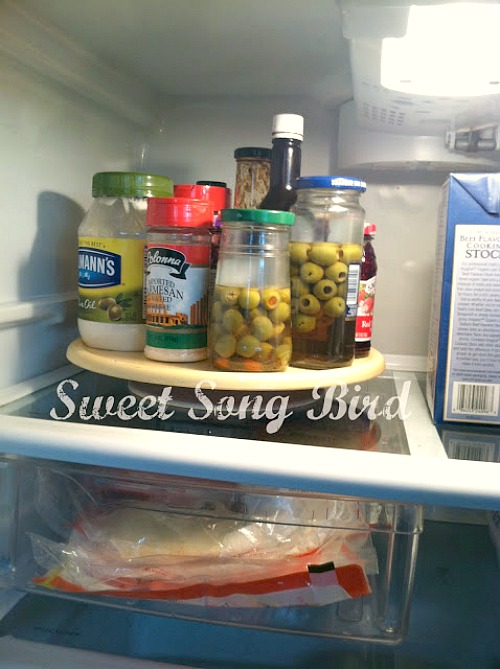 Tired of having to move a dozen things to get to food in the back of your fridge? Here's how Evey's Creations organized her fridge with a lazy Susan! You can find inexpensive small lazy Susans on Amazon.
7. Fridge Drink Dispenser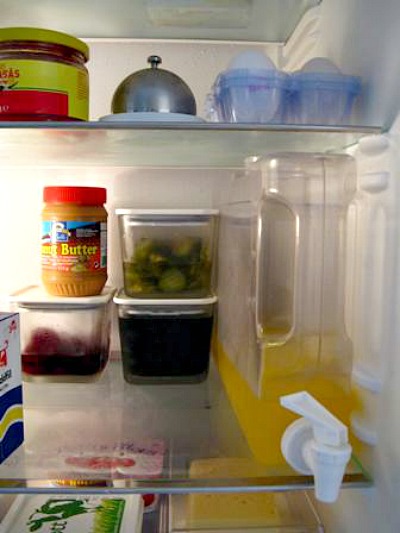 This is such a smart idea! Check out how Chez Larsson gained space in her fridge by swapping bulky bottles with a slim fridge drink dispenser! You can find a slim beverage dispenser on Amazon that's less than 3 inches wide!
8. Fridge Snack Box
Here's another way to organize your snacks that I think is really clever, yet surprisingly simple! Take a look at Pinning with Purpose's fridge snack box! You can find a 2 pack of these organizers on Amazon.
Free Printable Refrigerator Inventory Sheet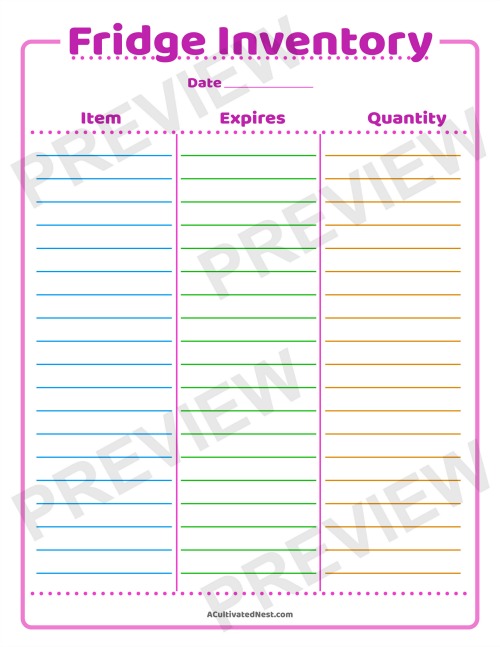 Find in the Food Inventory Post
Another thing that I feel really helps with fridge organization is taking an inventory every few months! Without taking an inventory, you may actually be reorganizing things that are expired, or things that are long-lasting, but your family isn't ever going to finish (maybe no one liked the flavor or you changed your diet and no longer eat that food). I wrote a whole post about how to take a food inventory of your home (fridge, freezer, and pantry) and made a free printable for each area! You can find the free fridge inventory printable in that post. If this printable isn't really your style, I have a watercolor refrigerator inventory printable in my printable watercolor home management binder.
Do you have any clever ways that you organize your fridge?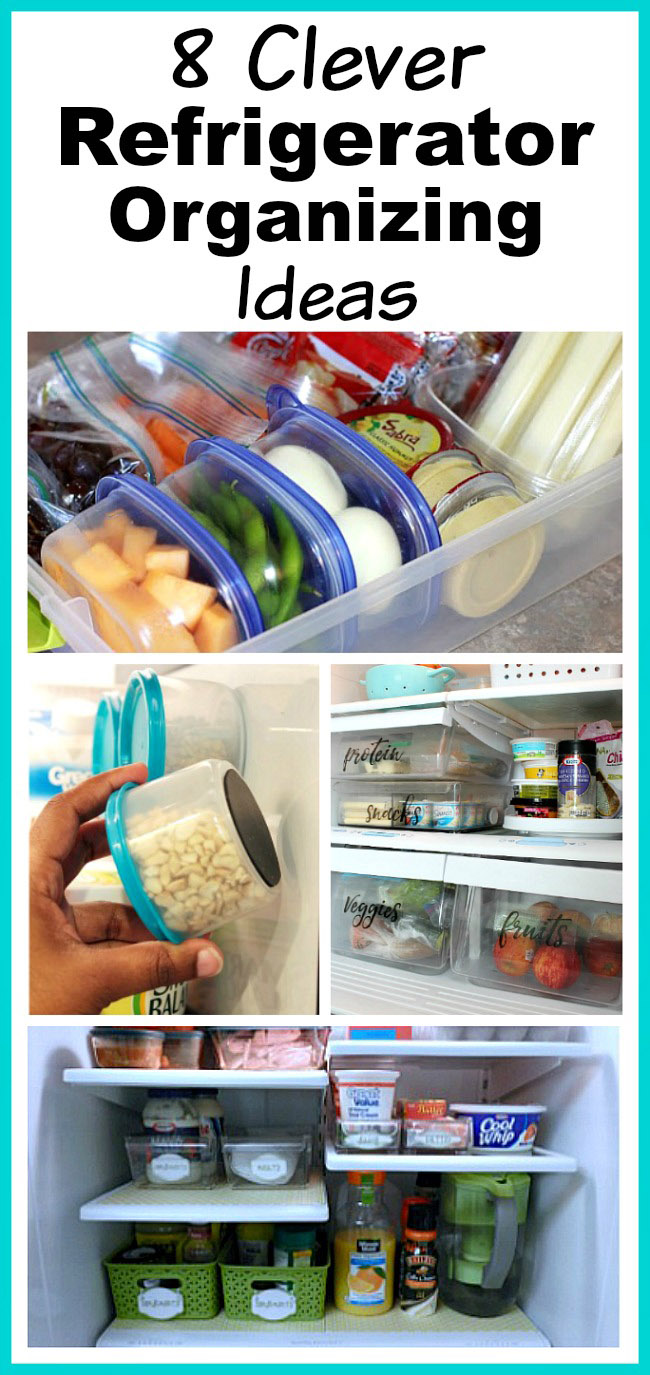 You might also be interested in: 9 Ideas for Organizing a Chest Freezer