Organize Your Home with 20 Free Printable Labels.
Labels are pretty important when it comes to organizing! You can arrange your things in the best system of bins, baskets, and jars and still have a hard time finding everything afterwards if you don't have your containers labeled. This is especially true if what you're organizing has to be used by your family members too. Luckily, many printable labels are available for free online, in many different styles. Here are some awesome Free Printable Labels for Organizing that I found!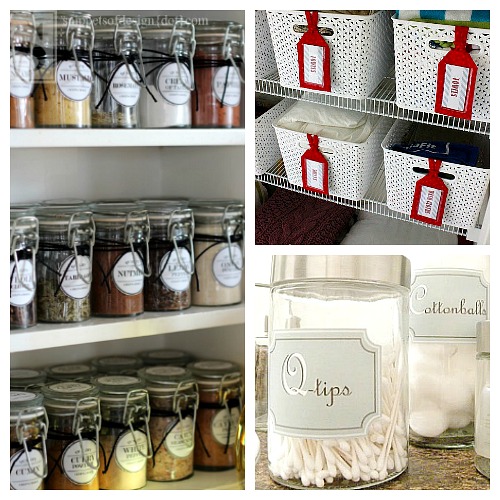 Disclosure: This post may contain affiliate links to Amazon and/or Etsy, which means that I may earn a small commission from some of the links in this post. Please see our Disclosure Page for more information.
Some of these printable labels work with Avery labels or other types of printer labels, but really you can print out any of them on regular paper, cut them out, and use tape or glue instead. Or even easier, you can print them out onto full sheet sticker paper, then just cut them out from that, and they'll be ready to use.
Here are 20 useful (and pretty) free printable labels to help you with your organizing! Once something is labeled, no one needs to wonder where stuff belongs!
Also, I've made my own free printable floral labels for you to use! See the bottom of the post for a link to them.
Organize With 20 Free Printable Labels
1. Linen Closet Labels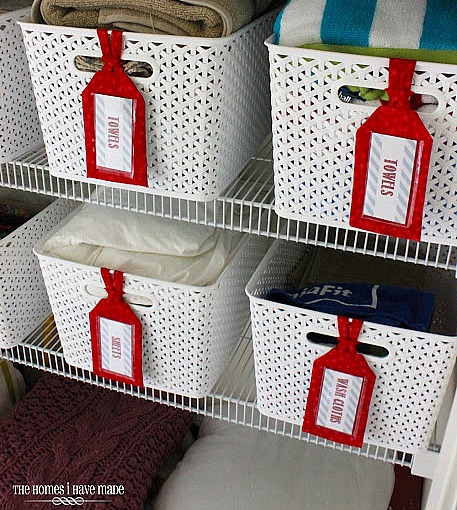 These linen closet labels from The Homes I Have Made could be extremely useful in managing your linen closets. They can be used as rectangle labels or as luggage tag labels.
2. Chalkboard Pantry Labels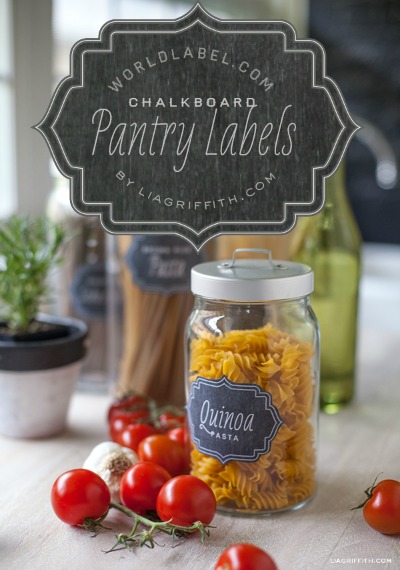 These pretty vintage-style chalkboard pantry labels by World Label can add a lot of styles to otherwise plain-looking jars. There are gluten-free labels available as well!
3. Bathroom Container Labels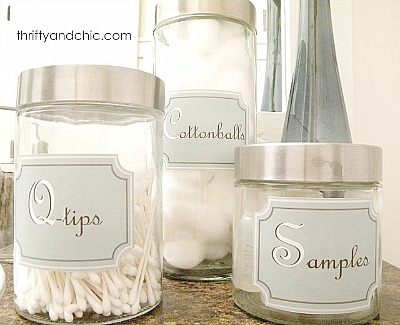 These bathroom container labels from Thrifty and Chic have a modern, clean, professional style that would fit well in any bathroom.
4. Assorted Blank Labels
Sometimes you need to label something that you can't find any labels for. If that's the case, then these fun, colorful assorted blank labels from The Digital Download Shop could come in handy! I can see these working great to organize the kids' rooms!
5. Blank Chalkboard Style Labels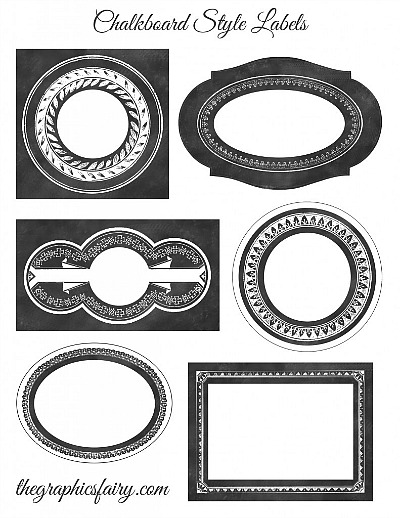 Maybe you prefer a more ornate black-and-white style for your blank labels? Then these chalkboard-style labels from the Graphics Fairy may be what you're looking for. A digital, editable version is also available, in case you'd rather type than write.
6. Oversized Garage Labels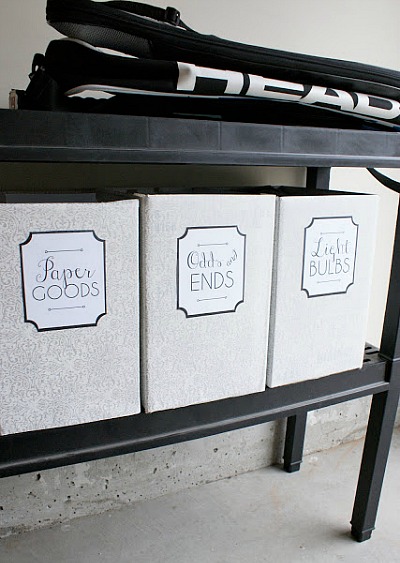 The problem with organizing a garage is that you often have many big bins and boxes and only small labels to organize them with. Luckily, you can use these big garage labels from Modern Parents Messy Kids to organize your garage with labels you can see from a distance.
7. Ornate Kitchen Labels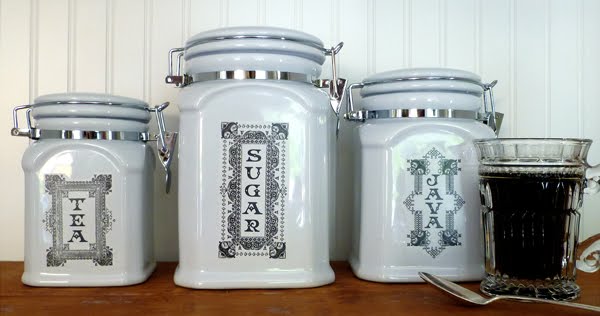 There are actually a number of different labels on this post from Inspired Barn, but the ones that stood out the most to me are the pretty ornate kitchen labels toward the end of the post. They're very unique and would look lovely in any kitchen!
8. Linen Closet Labels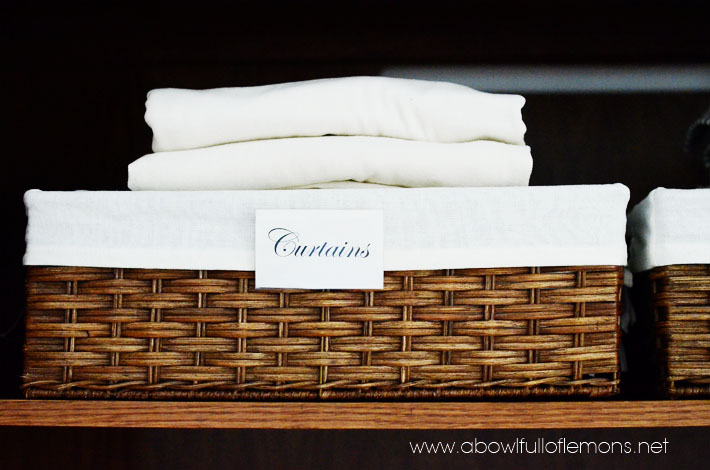 Maybe the last set of labels didn't match your style. If so, take a look at these pretty script-style linen closet labels from A Bowl Full of Lemons.
9. Mudroom Labels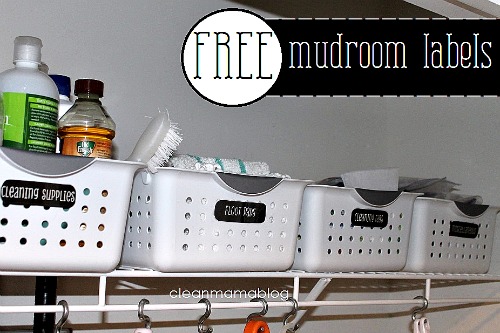 These mudroom/utility room labels from Clean Mama can help you organize all the various items that wind up in mud rooms. The white-on-black style makes them very easy to read, too.
10. Chalkboard Style Pantry Labels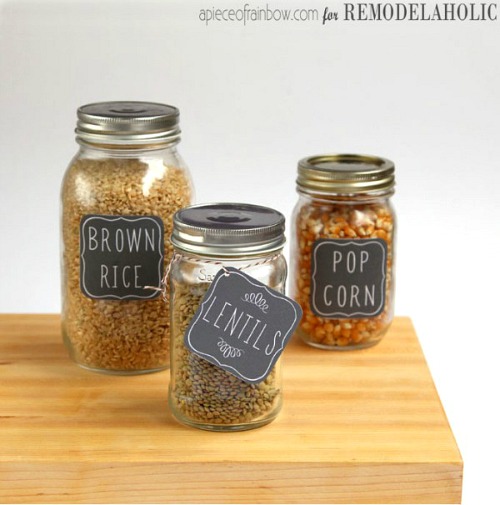 These pantry labels from Remodelaholic are very easy to see with the white-on-black text. You could also print out the blank ones and write on them with a chalk pen or an opaque white marker.
11. Assorted Colorful Labels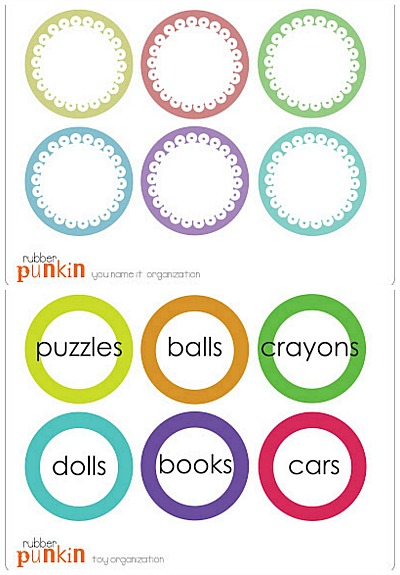 These colorful labels from the Rubber Punkin are so cute and cheery! You can choose from ones that are already filled in or print blank ones to make your own!
12. Baking + Spice Pantry Labels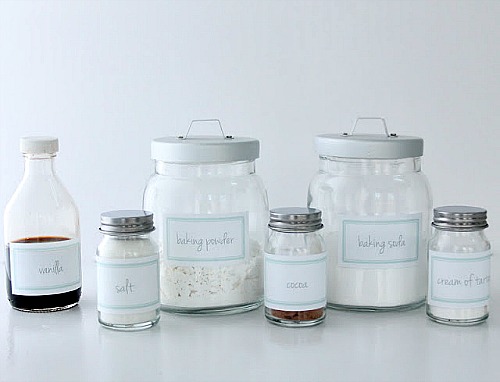 These kitchen labels from Julie Blanner are in a simple, pretty style. They include both labels for your baking pantry and your spice cabinet, so everything can be uniform.
13. Modern Pantry Labels
Check out these modern-style pantry labels to make your life simpler in the kitchen! The font is cute, and they are perfect for everyone to know where everything is. Printable Crush has these labels for you.
14. Mason Jar Spice Labels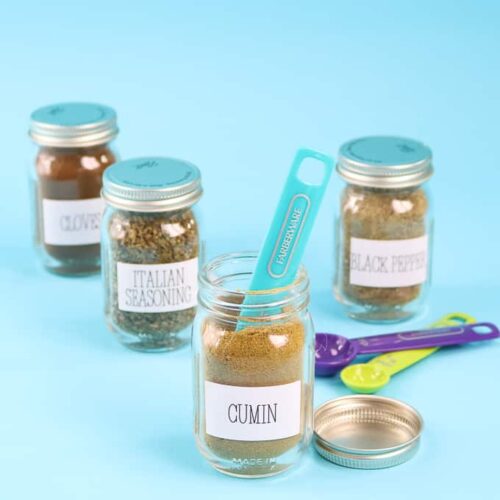 Organize your spice cabinet with Mason jar labels, but I think they will work for any other small containers. Crafts By Amanda has a free download!
15. Blank Printable Labels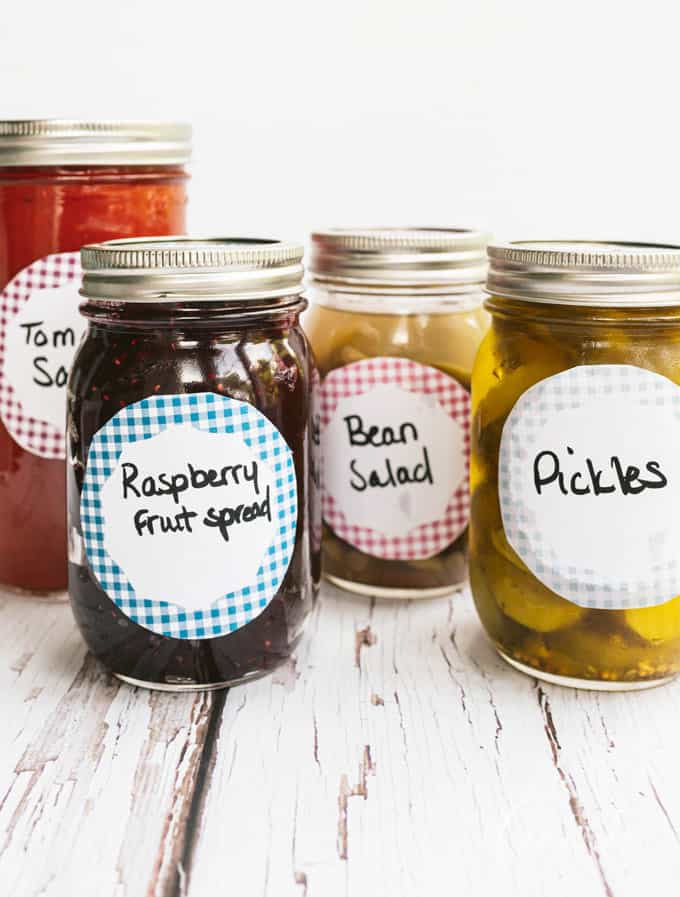 Grab these blank printable labels to use on anything! Use them on your canned goods like Crafts By Amanda did, or use them throughout your house.
16. Editable Colorful Labels
These bright and colorful labels are editable to be used anywhere in the house. Sarah Hearts used them in her craft room, bathroom, and spice cabinet!
17. Pretty Pantry Labels
Blue I Style has these simple and pretty pantry labels. They are in varying shades of blue and have a font that is easy to read.
18. Small Labels
Kate Decorates organized her playroom with mesh bags and these free small printable labels. She took all the board games and puzzles out of their boxes and created a great storage solution.
19. Elegant Bathroom Labels
Update your bottles with these elegant printable labels for your bathroom. The Craft Patch Blog has this printable download for you.
20. Herb Printables
Make your own herb garden labels with these free printables. There are 5 different designs, and you place them on a clothespin to make labeling your herb garden easy. Check out these printables from Craft Your Happiness.
A Cultivated Nest Exclusive Printable Floral Labels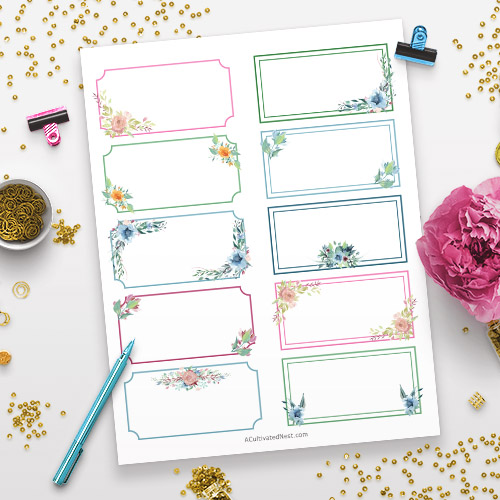 Find in the Subscriber Resource Library
While I love all the free printable labels above, I decided I needed something that fit my style a bit better. So I designed these pretty floral printable labels and I'm giving them away as a free printable in the ACN resource library! They are designed to fit Avery 8163 shipping labels, but can also be cut and taped onto things if you don't have the labels. Or you could print them on full sheet sticker paper and cut them from that, then stick them on things. The resource library is an added benefit that we provide to our newsletter subscribers, and it's full of great free printables! If you'd like to subscribe to our newsletter, you can subscribe here.
Isn't it great how many free printable organizing labels are out there? It doesn't matter if you're organizing your pantry, linen closet, cleaning closet, garage, etc.- there are free labels out there for you to use!
Do you use labels to help your home stay organized?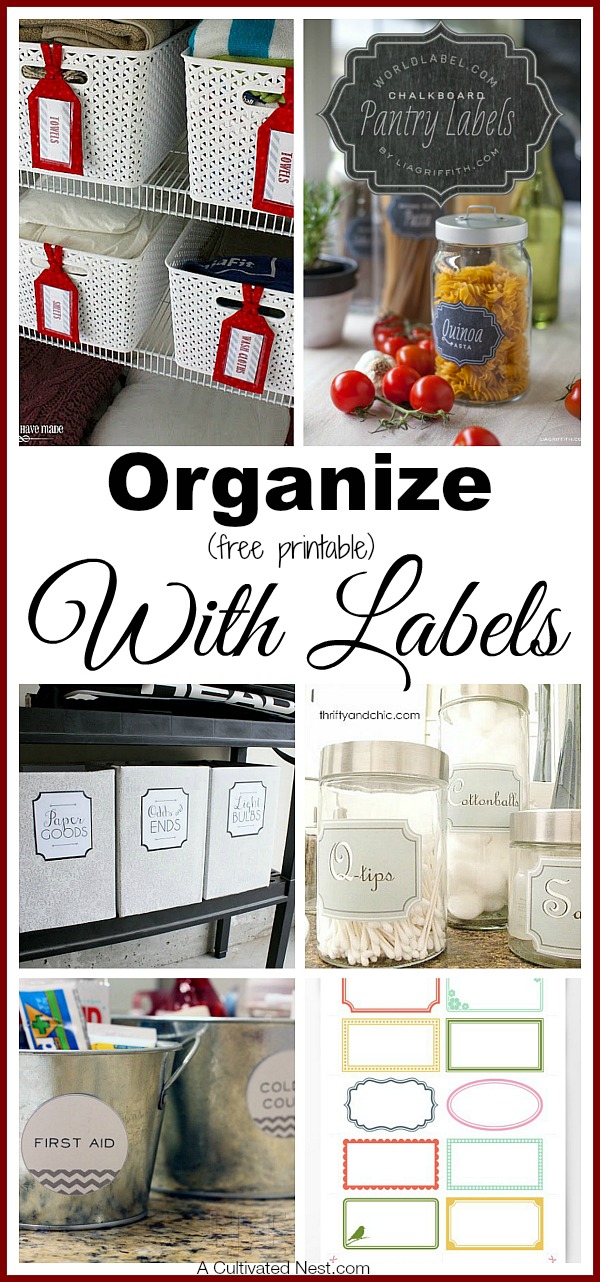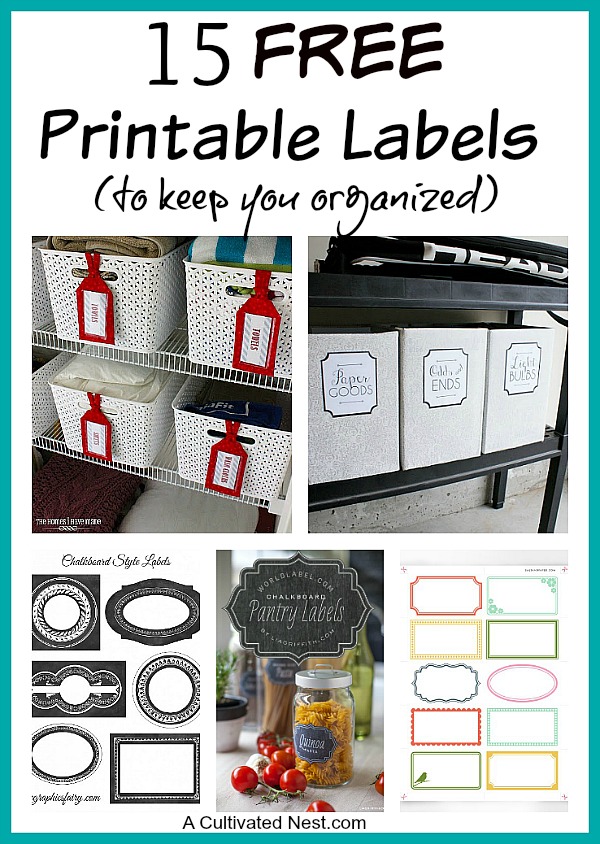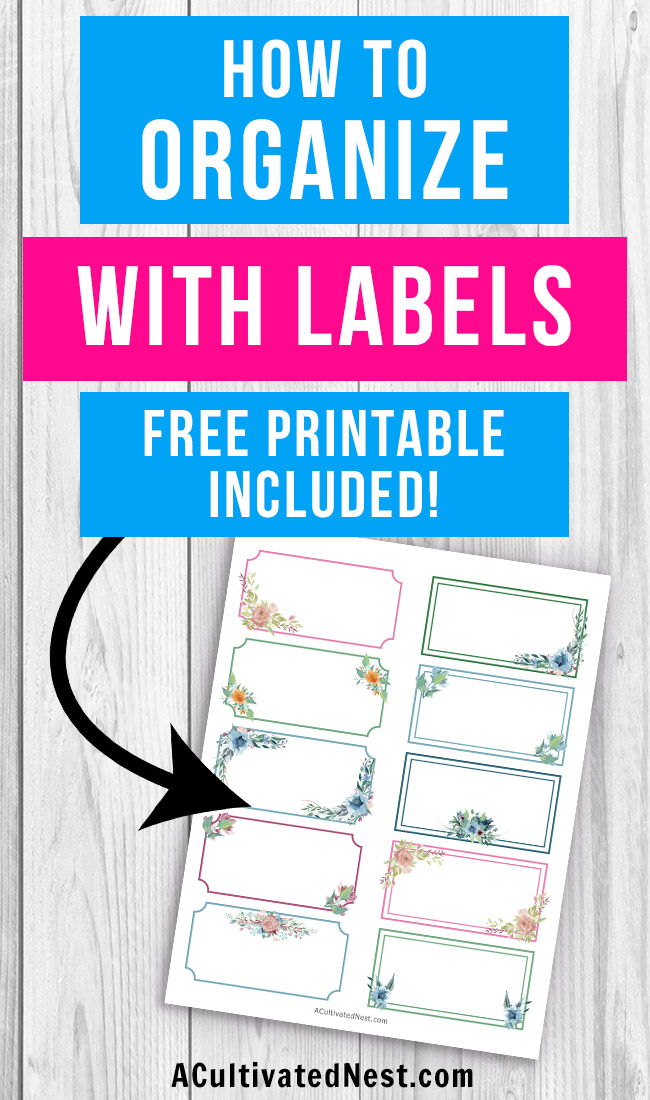 You might also be interested in: 10 Mind Blowing Command Hook Hacks You Need To Know