DIY Bath Bombs with a Mermaid Theme.
Mermaid stuff is all the rage right now, and I'm fine with it! I loved mermaids as a kid, and I love that I can enjoy them now as an adult with fun things like mermaid tail blankets and mermaid socks. But I've found an even more fun way to enjoy mermaids- with homemade mermaid bath bombs! Yes, you can make your own colorful, fun, and bubbly DIY Mermaid Bath Bombs at home! And it's not hard to do! Check out my tutorial below!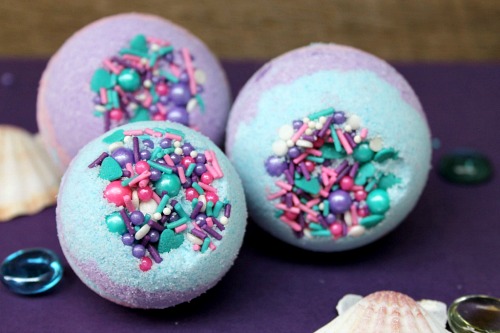 So obviously I made these bath bombs for myself to enjoy (and they were awesome!). But these would also make great gifts, and I'm sure kids would love to use them, too. They would be fun to gift in a mermaid themed gift box or in a Mason jar with a pretty mermaid ribbon.
Disclosure: This post may contain affiliate links to Amazon and/or Etsy, which means that I may earn a small commission from some of the links in this post. Please see our Disclosure Page for more information.
And remember, these aren't just pretty looking homemade bath bombs. These DIY mermaid bath bombs are great for your skin, too! My skin felt so soft and smooth after my soak with one of these bath bombs. Plus the essential oils make them smell wonderful!
DIY Mermaid Bath Bombs
Materials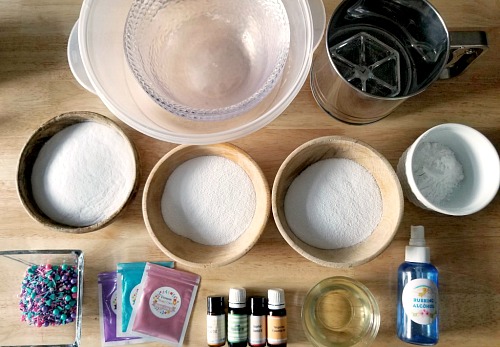 1 cup baking soda
1/2 cup citric acid (It's best to buy it in bulk on Amazon)
optional- 1/2 cup SLSA (Sodium Laurel Sulfoacetate- not the same as SLS AKA Sodium Lauryl Sulfate and safe for sensitive skin. Used to create bubbles, but can be left out if you don't like the idea of it. I get mine on Amazon.)
1/4 cup cream of tartar (you'll probably need more than the small spice shaker- here's bulk cream of tartar on Amazon)
2 tablespoons melted coconut oil (castor oil also works really well!)
2 tablespoons rubbing alcohol (AKA isopropyl alcohol)
10-20 drops of Orange essential oil
10-20 drops of Grapefruit essential oil
10-20 drops of Lime essential oil
10-20 drops of Tangerine essential oil (I used this therapeutic grade essential oils multi pack on Amazon)
Pink, purple and blue or teal mica coloring ( I used this set from Amazon)
optional- Mermaid inspired sprinkles (I used these sprinkles from Amazon)
Spray bottle of rubbing alcohol
1 large mixing bowl
3 smaller mixing bowls
Liquid measuring cup
Bath bomb molds (I used these metal molds) or silicone molds
Directions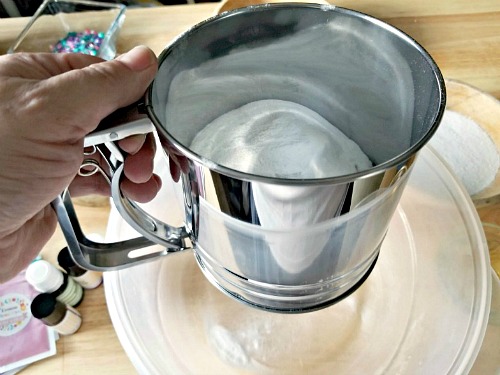 1. In a large mixing bowl, add baking soda, citric acid, SLSA and cream of tartar. I did this via a flour sifter to avoid any lumps in step #2.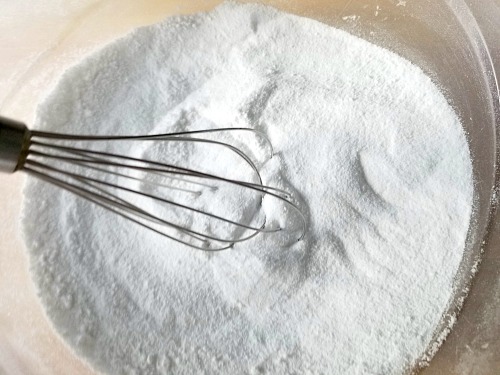 2. If you didn't use a sifter in step #1, use a sifter or your hands to break down any lumps in the dry mixture. Mix dry ingredients together with your hands or a whisk.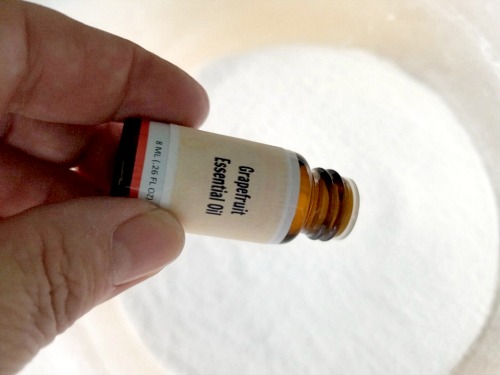 3. Add orange, tangerine, lime and grapefruit essential oils to the dry mixture.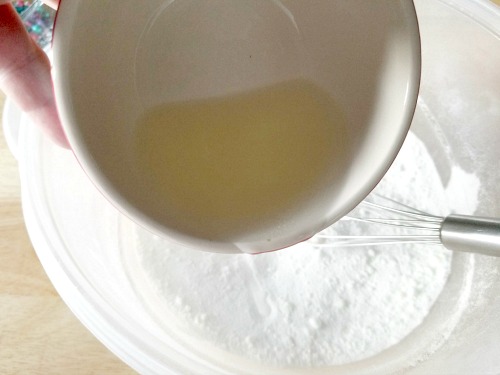 4.  In a measuring cup, add the coconut oil and rubbing alcohol and mix together. Slowly add in the liquid ingredients to the dry ingredients. Add about 1 tablespoon at a time, whisk together well and repeat until liquid mixture is incorporated into dry mixture. You will know when the mixture is perfect when it feels like wet sand and you can press the mixture together in your hands and it stays together (see the photos below from step #5). Separate the mixture evenly into three smaller bowls. From this point on, you'll want to keep it moving. If you take too long, the mixtures will dry out and you'll have to spray them with rubbing alcohol and remix them to get them moist again.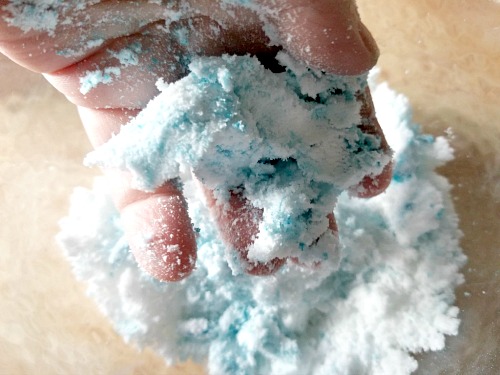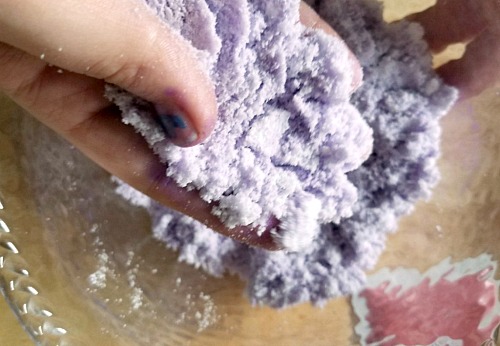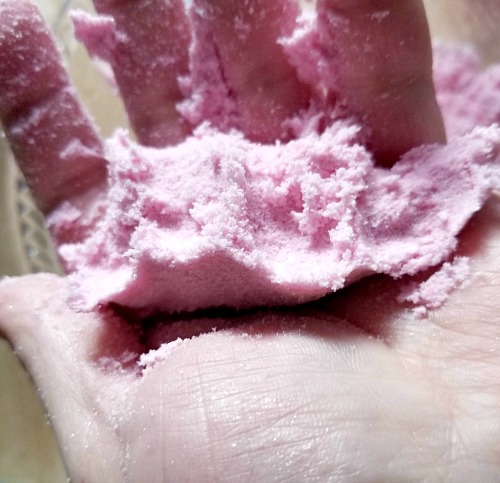 5. Add your blue colored mica powder or soap coloring to one bowl. Blend with your hands. Repeat for the purple and pink colors in the other two bowls so each bowl holds a different color.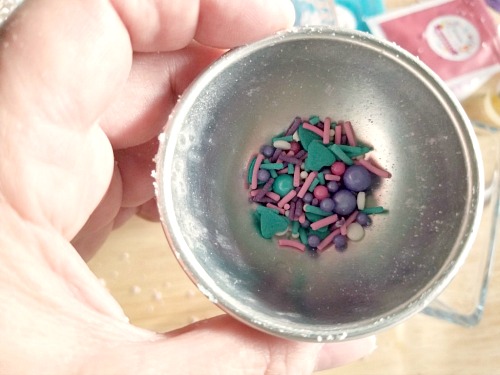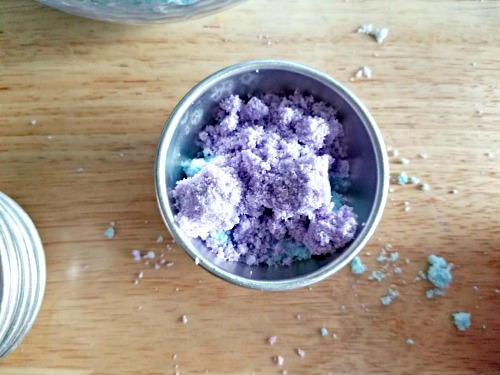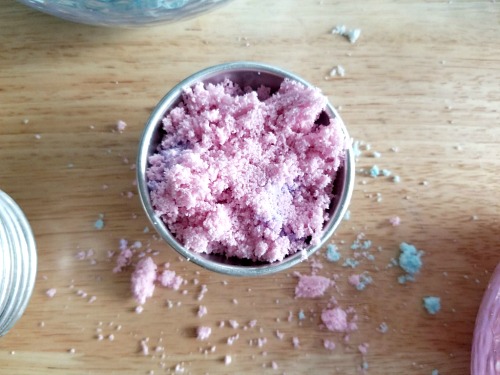 6. Take a bath bomb mold or your silicone mold and add just a small bit of the mermaid sprinkles (optional). Then layer in the three colors. I did blue, then purple, then pink. Press down gently. Repeat on the other side.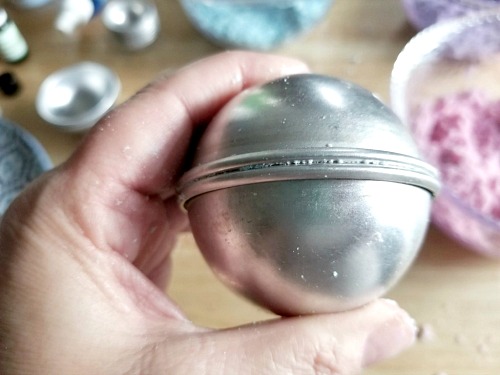 7. Press the mold together tightly. You may need to make a slight twisting motion to get all the excess mixture. **Please Note: If your mixtures have dried out, the DIY bath bomb won't hold together. Remember that you can use your spray bottle of rubbing alcohol to spritz your mixture if it gets too dry. Give a few spritzes and mix together until it has that wet sand feel again.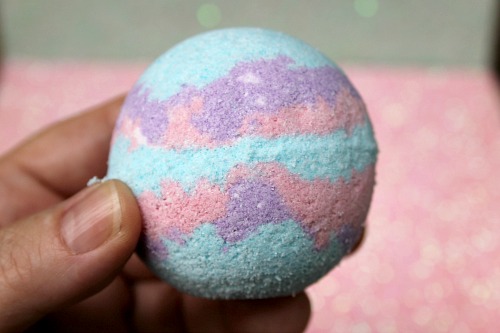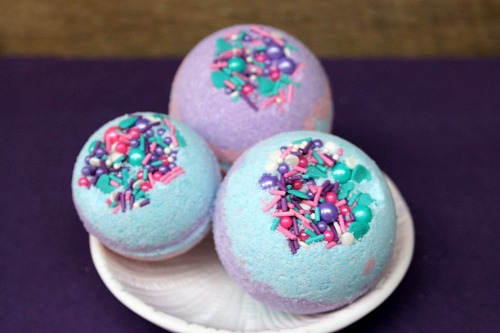 8. Gently tap on the top of one side of the mold and release the mold from the bath bomb. Gently turn the mold over in your hand and repeat so that both sides are free. Carefully set the bath bomb on parchment paper and allow to dry overnight. The next day, the bath bomb should be hard and ready to go! Store in an airtight container until ready to use. Drop one in the bath when ready to use! This DIY mermaid bath bomb smells amazing!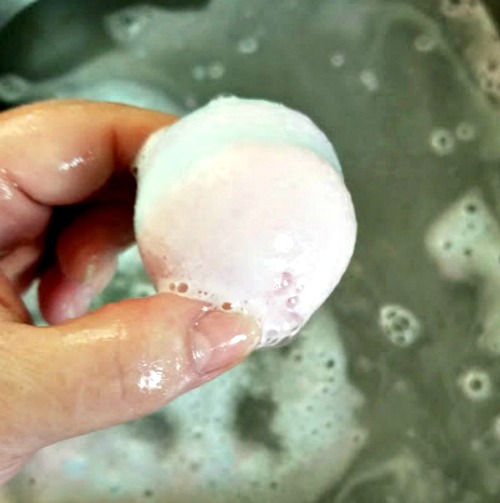 Here's the mermaid DIY bath bomb in action! This is what the SLSA is for- creating all those fun suds!
Have you ever tried to make your own DIY bath bomb? What kind did you make?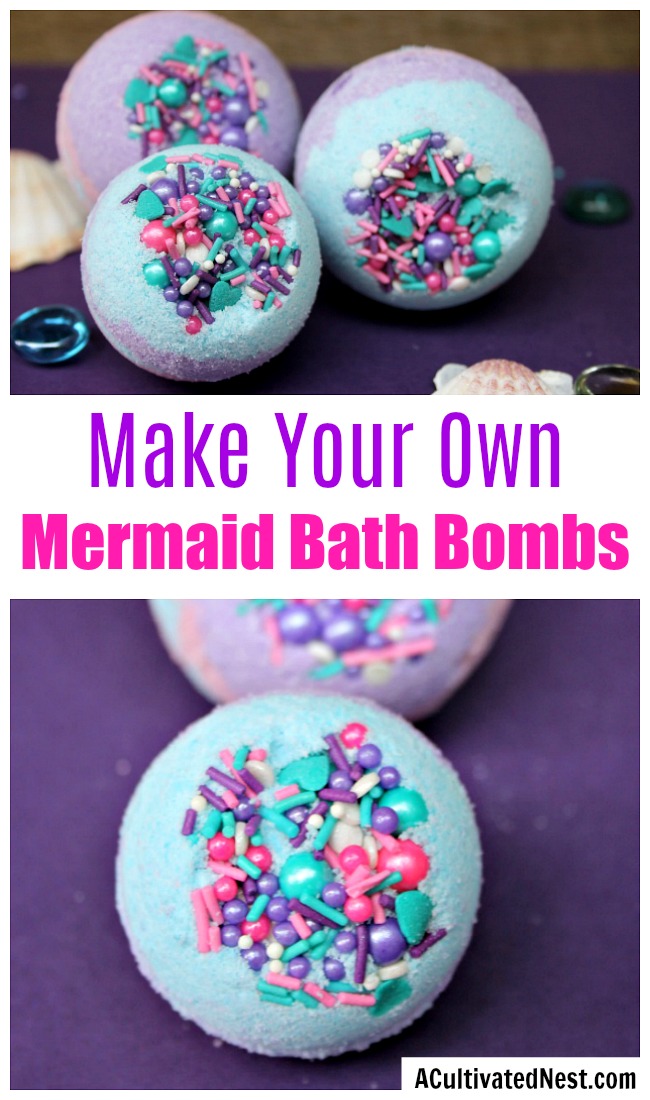 You might also be interested in: Heart-Shaped Bath Bombs