15 Amazing Command Hook Organizing Tips.
Did you know that there are tons of ways to use Command Hooks besides the usual? (BTW this post was not sponsored, I just think these are cool hacks!) These inexpensive self-adhesive hooks can be adhered to just about anywhere without fear of them causing damage to the surface. They also come in many sizes, styles, and colors (you can also spray paint the hooks if you need a particular color) with different weight capabilities. Best of all, you can use them in many ways without drilling a hole! No power tools or even nails are required to do these projects. And they're super easy to remove. Check out these 15 Mind-Blowing Command Hook Hacks for some great inspiration!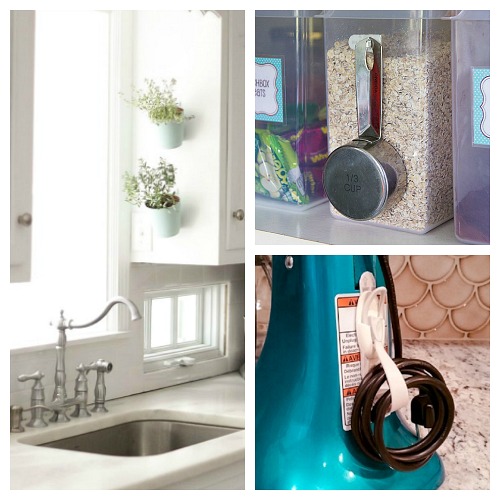 Disclosure: This post may contain affiliate links to Amazon and/or Etsy, which means that I may earn a small commission from some of the links in this post. Please see our Disclosure Page for more information.
Hopefully, these ideas will inspire you to use Command Hooks in new ways around your home! They're really great home organization tools!
15 Command Hook Hacks
Here are some tips to help you get the most out of your Command Hooks:
Find the hook for you! Check out all the hooks to find the perfect one for you. There are even Command towel bars, soap dishes, and other products available that use the same technology as the hooks!
Hook not sticking? Try cleaning the area with a Magic Eraser. Dirt, lint, and dust can make the sticky adhesive not hold. To make it even cleaner, rub the surface with rubbing alcohol to remove all residue.
Remove without peeling paint. Use a hairdryer and floss to help remove the command adhesive without peeling paint.
1. Command Hook Necklace Organizing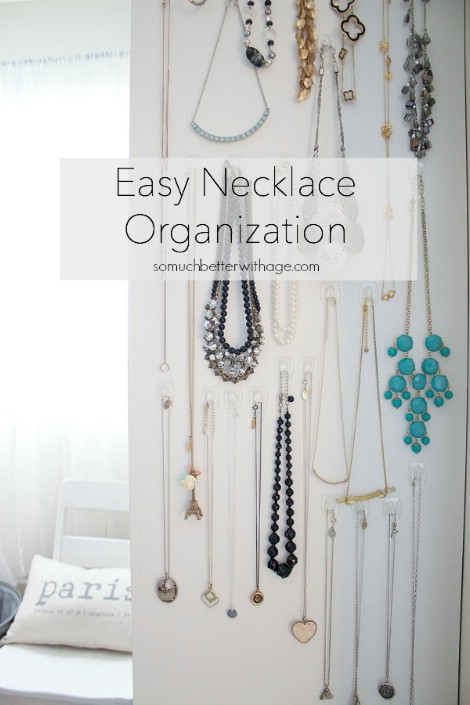 I absolutely love this idea from So Much Better With Age! This is such a pretty way to organize jewelry using the small clear command hooks. This makes it easy to see what you have, easy to get what you want to wear, and can double as wall art!
2. Command Hook Food Storage Hack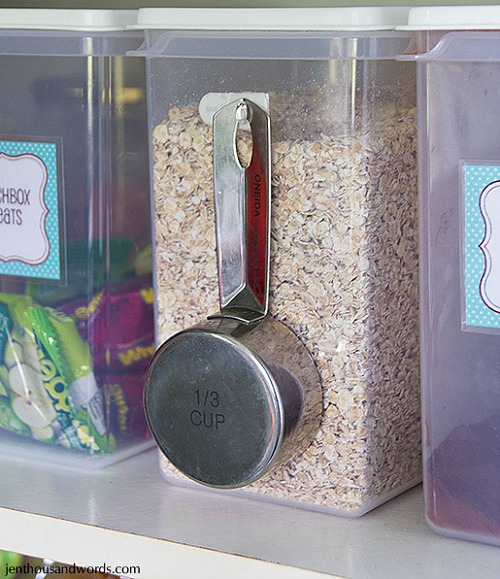 Jen from A Thousand Words had this great idea to hang a measuring spoon off of her oats storage container using a small Command Hook. That way she always has the right amount when she makes hot oatmeal in the morning. But you could certainly use that same idea for flour, coffee, rice, or anything you use regularly.
3. Garbage Bag Command Hook Hack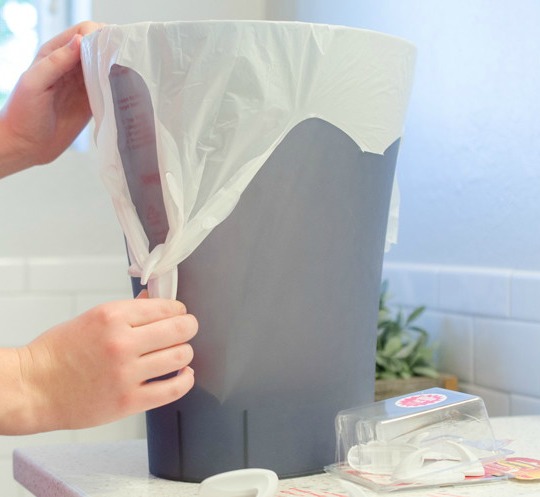 This command hook hack from the Krazy Koupon Lady is such a great idea! The upside-down command hook holds your bag inside your garbage can. Don't you hate it when the bag falls into the can!
4. Command Hook Curtain Tip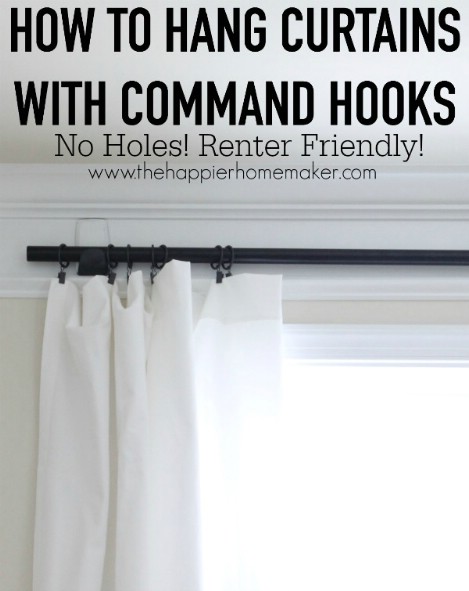 The Happier Homemaker used these jumbo Command Hooks to hang her curtains in a home they are renting. What a perfect idea to have curtains without making holes!
5. Bathroom Storage Command Hook Hack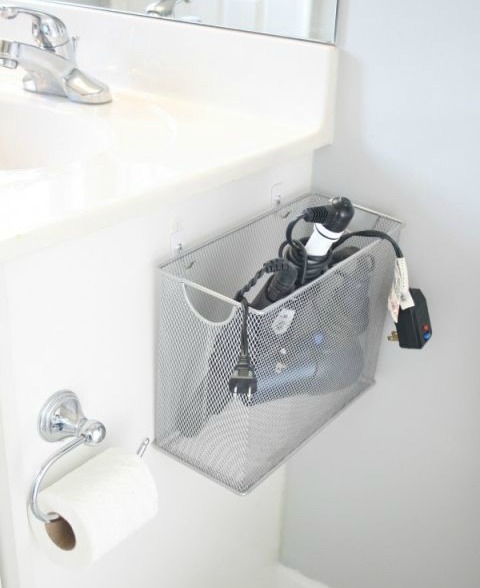 You can use command hooks to make extra storage in your bathroom. Dream Green DIY used a metal file box to contain her hairdryer and flatiron.
6. Command Hook DIY Art Display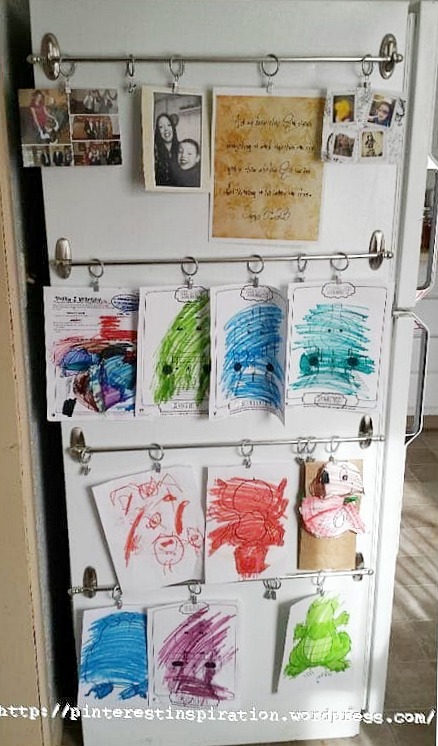 Hooks and cafe curtain rods make a really neat kids' art display on the side of a fridge. So much neater-looking than magnets! Great idea from Pinterest Inspiration.
7. Command Hook DIY Herb Hanger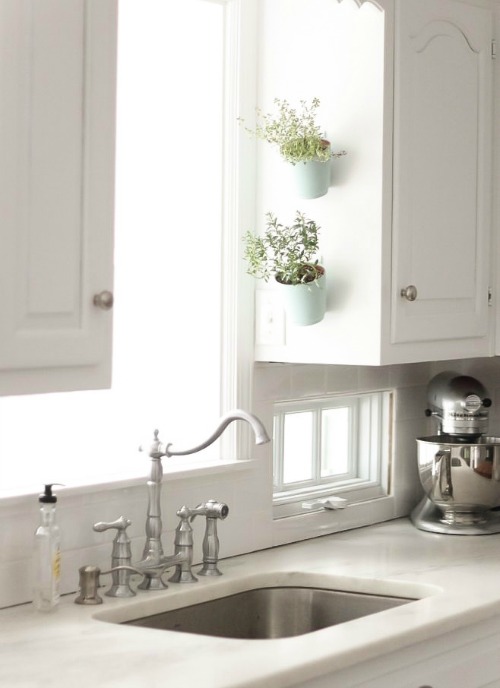 This beautiful way to hang herbs in your kitchen with self-adhesive hooks came from Julie Blanner. Check out her blog for the tutorial and more beautiful photos.
8. Command Hook Kitchen Cabinet Organizing
Isn't this food wrap organization idea by I Heart Organizing a space saver! Using Command Hooks and dowels to store your food wrap on the inside of a kitchen door frees up drawer and counter space.
9. Hanging Toothbrushes
Hang toothbrushes inside a cabinet door or wherever you want them with a command hook turned sideways. See this idea at the Krazy Koupon Lady.
10. Under the Laundry Room Sink
Use clear command hooks to hang this spice rack for under the sink organization. This lets things be in easy reach, looks nice, and stays organized. I Heart Organizing has even more tips to get a tidy house.
11. Spray Bottle Hanger
You can hang spray bottles with these Command Bottle Hooks. Save space in your cabinet by hanging your cleaning bottles. The idea comes from Sarah Hearts.
12. Organizing Pot Lids
Use command hooks to organize your pot lids. I love this idea to keep them from falling out of the cabinet, every time I open the door! Krazy Koupon Lady posted the original idea.
13. Hide cords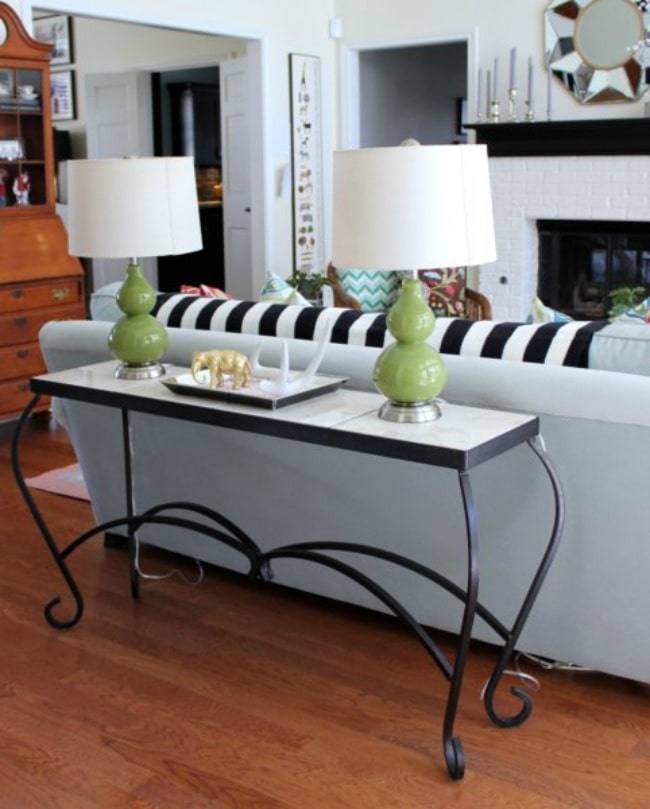 Hide cords with command hooks down the back of the legs so they aren't dangling and loose. Find the idea on A Blissful Nest.
14. Organize your kitchen cabinets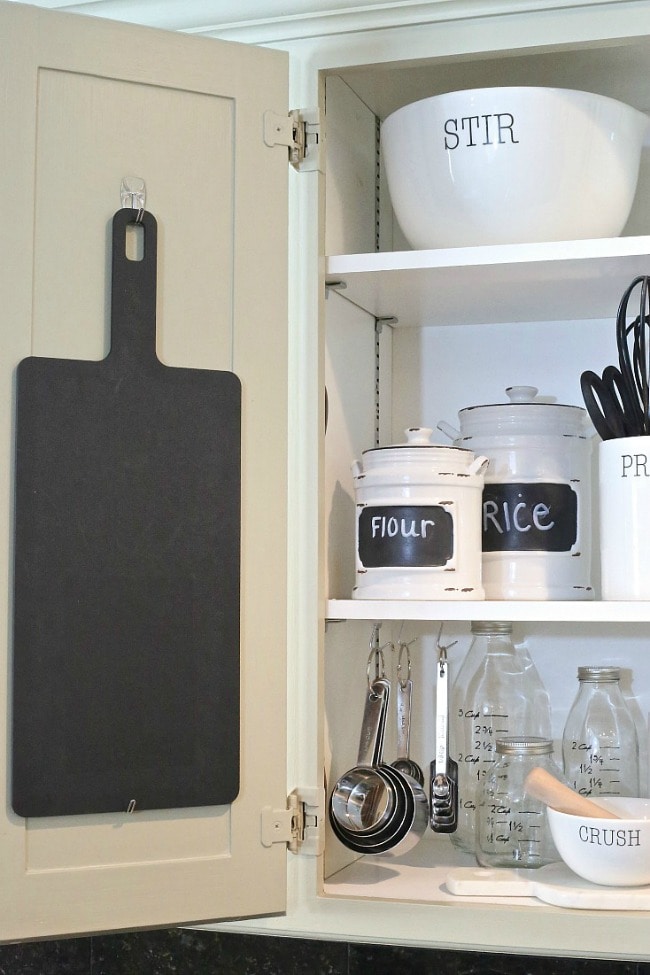 Hang your measuring spoons, cups, and other items to keep your baking cabinet clean. She also hangs a chalkboard inside the cabinet to keep a grocery list. A Blissful Nest shows you how to keep your kitchen clean.
15. Organize your Craft Space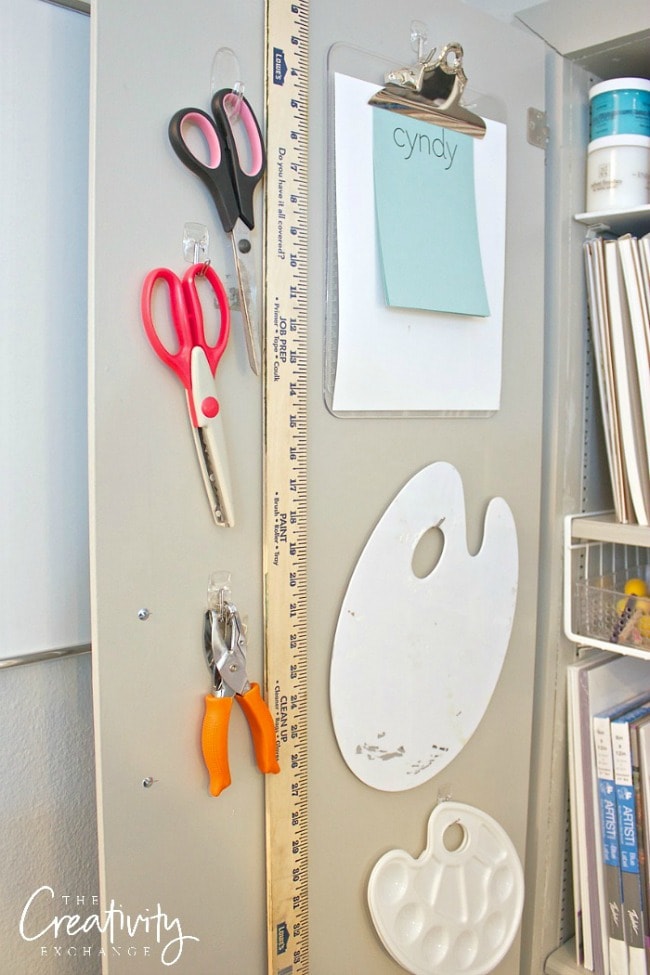 Keep your craft area clean and tidy by using command hooks to sort and organize your craft things. Hang paintbrushes, scissors, and other items to keep them handy and know exactly where they are. A Blissful Nest shows you more ways to use command hooks.
Aren't these amazing ideas! I can't wait to try some of them out. Which of these Command Hook hacks was your favorite?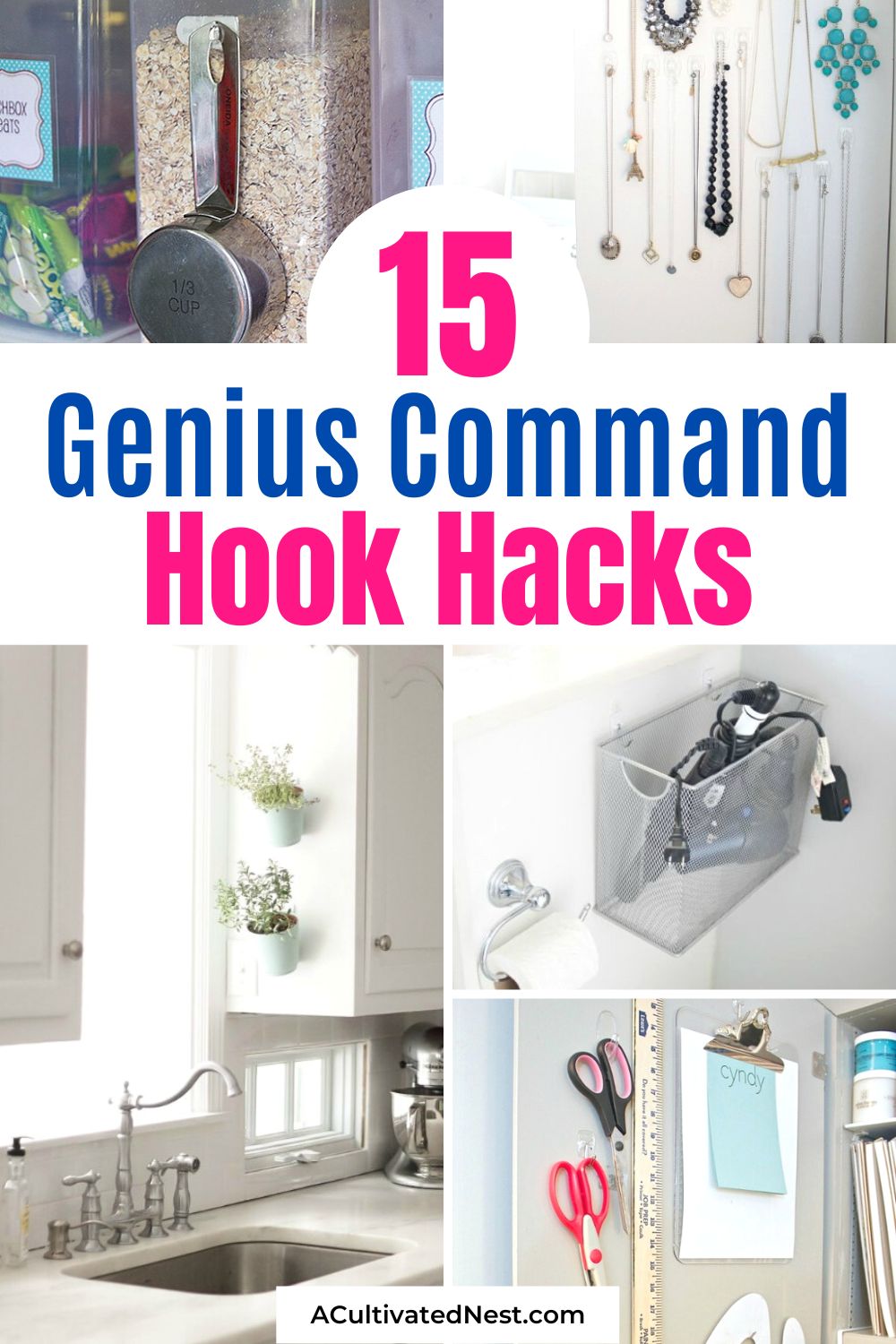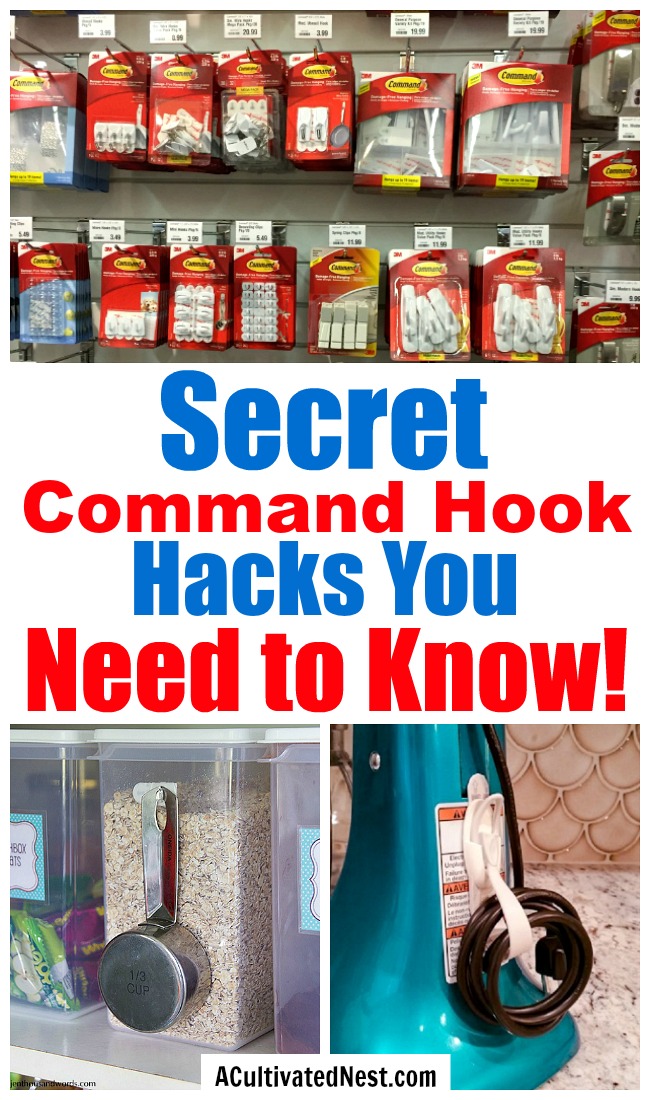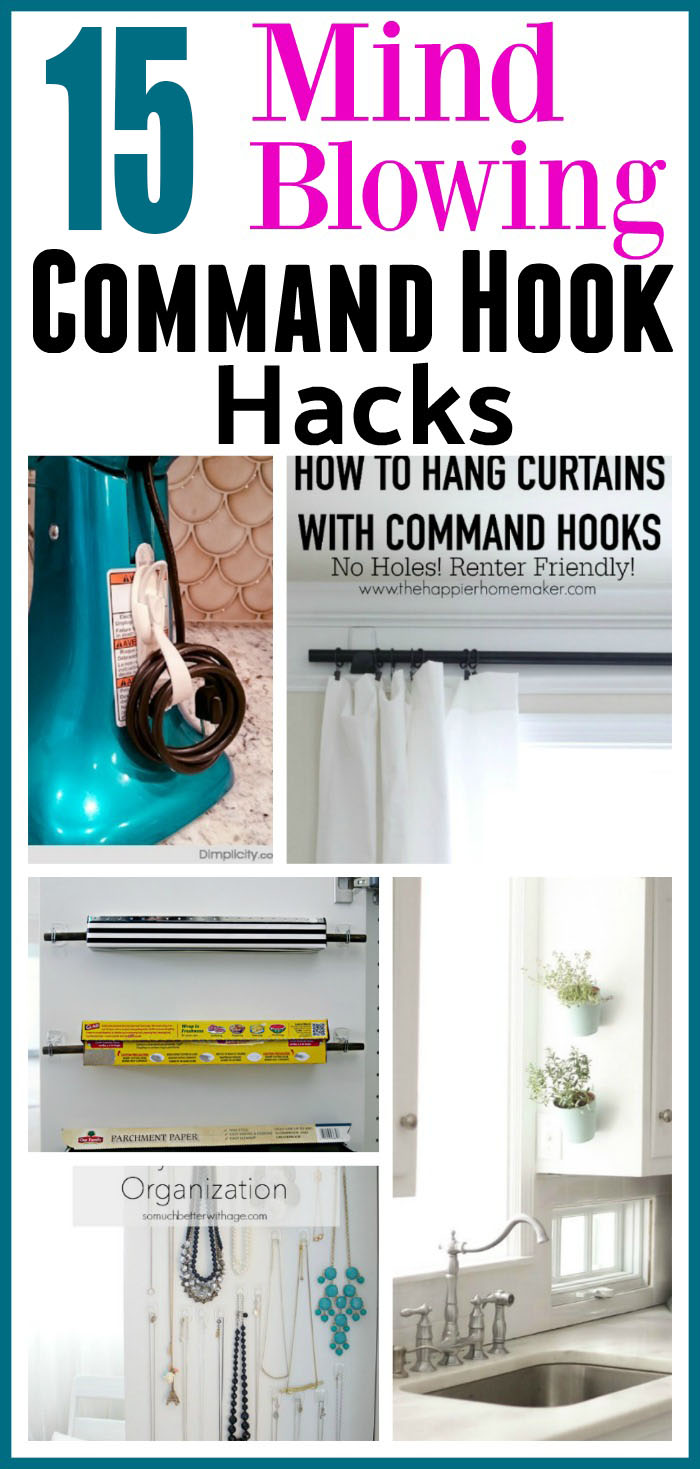 You May Also Be Interested In: 20 Ways To Use Dawn Dishwashing Liquid