How to Create Farmhouse Style Decor on a Budget
If you want to update to the farmhouse style that is currently so hot right now you don't have to run out and spend thousands of dollars or hire an interior decorator. Use what you already have and start small by changing a few items up in your home. I'm going to help get you started with a couple of clever ways you can turn up the farmhouse charm using what you already have in your home! Here are my best thrifty tips on Farmhouse Decorating on a Budget!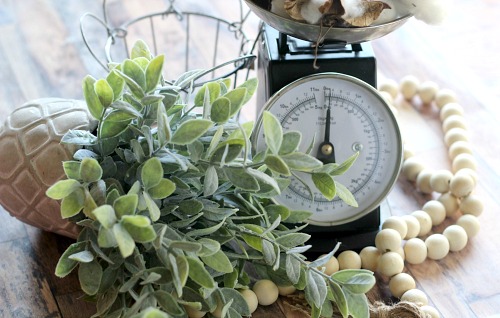 Disclosure: This post may contain affiliate links to Amazon and/or Etsy, which means that I may earn a small commission from some of the links in this post. Please see our Disclosure Page for more information.
Budget farmhouse decor can be bought or made. I, of course, love to DIY things. But don't forget that Amazon can be a good source of budget farmhouse style items as well! Maybe go 50/50 DIYed and purchased with your decor. Think about what you're trying to accomplish, what your budget is, what your DIY skills are, then choose what should be DIYed and what would be better off just purchased. It'd be better to spend $25 on a new item than to waste $25 and your time on a project that's too far out of your skill level!
Farmhouse Decorating on a Budget: Thrifty Tips
Make It Cozy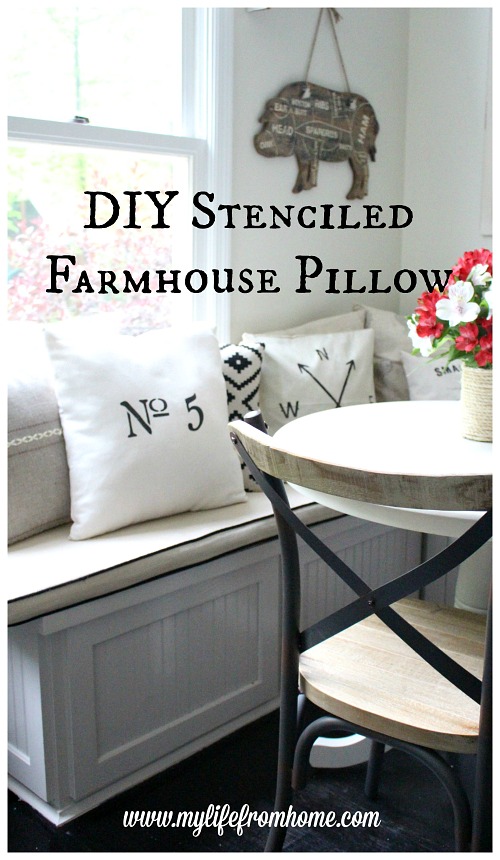 Amy Dowling from My Life From Home explains how to make a pretty DIY stenciled farmhouse pillow.
Farmhouse style is cozy and inviting! On the couch or bed this can mean lots of pillows. Pillows are a great way to add pattern, color, and personal style. Use your existing pillows and purchase inexpensive slipcovers. I have several neutrals that stay on my couch year round and I change out one or two seasonally. If you only have a few, add extra pillows to your bed, including various sizes and textures of throw pillows. Scatter various throws over the arm of the couch, place them in a basket or over a blanket ladder.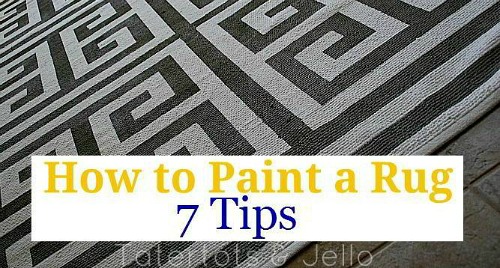 Tatertots & Jello gives some great tips on how to paint your rugs to change their style.
Consider painting a rug if you don't like the color or pattern, or bring your sisal rug off the porch and into the living room. Solid neutral colors, buffalo check, linen, and french ticking stripes are the most popular fabric choices for farmhouse.
Paint It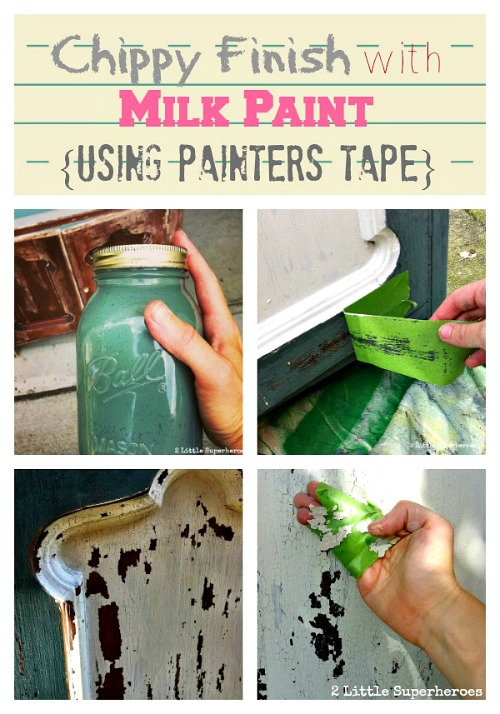 Danielle from 2 Little Superheroes has some great tips on getting the chippy look with milk paint.
Paint is an excellent way to update your house no matter what style you're after. If you've got some old gray, white, or cream paint in the garage, give your walls a clean, neutral fresh slate. You can use spray paint to update knickknacks, furniture, photo frames, and more. You can take mismatched frames from all over the house and paint them one color. Maybe scuff them up a bit too. Then create a gallery wall above your couch or down the hallway. You can buy milk paint or make your own DIY milk paint using acrylic paint. It can turn a boring piece of furniture into a beautiful farmhouse show piece! Cabinets outdated? A couple coats of a cream, tan, black, or other neutral paint can bring them into farmhouse territory. You could also use chalk paint (here's how to make DIY chalky paint), though it's easier to get the chippy look with milk paint.
Contain It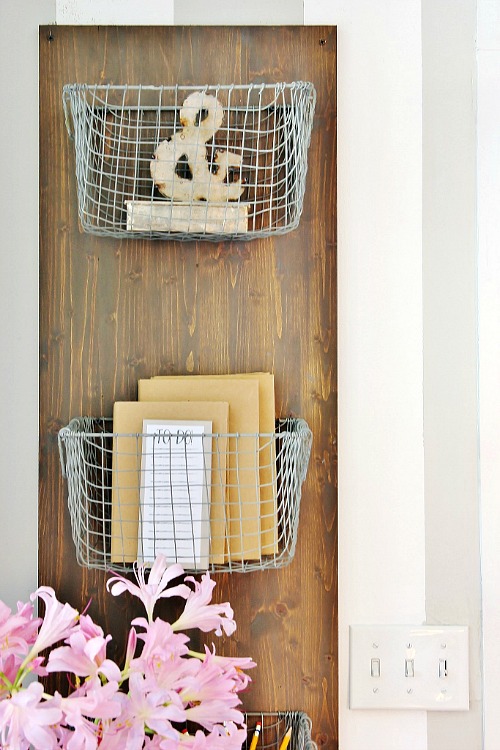 Thistlewood Farms explains how she made this pretty DIY farmhouse style organizer!
Farmhouse decorating tends to be a little bit cleaner, less cluttered. One great way to corral all the loose pieces around your house like mail, toys, movies, spices and seasonings is with baskets, bins, and crates. Anything wood, galvanized, made with chicken wire, or wicker can be incorporated easily into the farmhouse style. Function does not have to come before design or vice versa.
Add Lots of Wood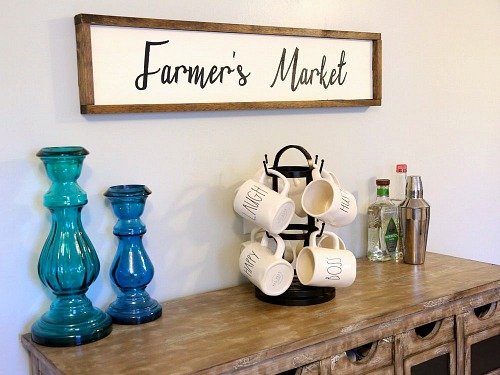 Michelle at Weekend Craft has a great tutorial on how to make a DIY farmhouse style wood sign.
One hallmark of the farmhouse theme is lots of wood, be it hardwood on the floors or a coffee table made from pallets. If you have extra pieces of wood hanging out in the garage you can use a little paint and decorations to turn them into farmhouse style art for your house. You could also make hand painted signs. If you're feeling more adventurous you can turn those old pallets out back into a shelf or wine rack. And you can even make a blanket ladder from spare wood leftover from another project.
Go Green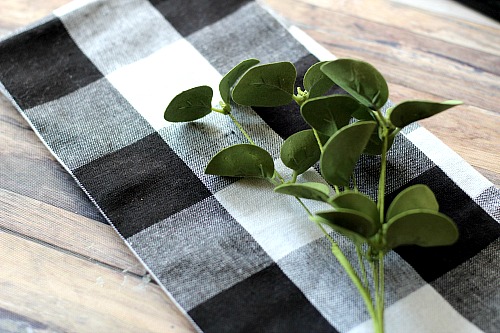 Greenery is another important aspect of farmhouse style decor, whether it's cotton stems tossed casually in a Mason jar, or eucalyptus in a tall galvanized vase, make use of greenery you might already have around the house. Some plants that really embody the farmhouse vibe are of course cotton stems, silver dollar eucalyptus, lambs ear, succulents, and magnolia leaves. Use paint to update the containers your plants are in if you feel they don't go with the farmhouse look.
Explore the Attic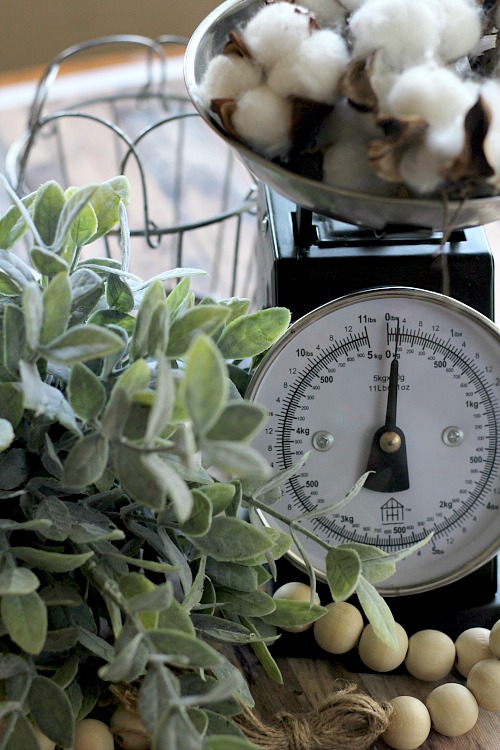 Put grandma's old scale on your kitchen counter with a few lemons in the bowl for color, put that vintage milk glass or jadeite front and center in your China cabinet, and use grandpa's old checked and flannel shirts to make covers for your pillows. Vintage linens can add a beautiful touch as well. Only pull out items that you really love. Keep it simple, don't overdo it.
Farmhouse decorating on a budget is easy to do if you know these tips! And remember, everything doesn't have to be changed overnight. Plus, the beautiful thing about decorating is that the most important feature is personal style! So do what you like, and what works with your family's lifestyle.
What do you like most about farmhouse style decor?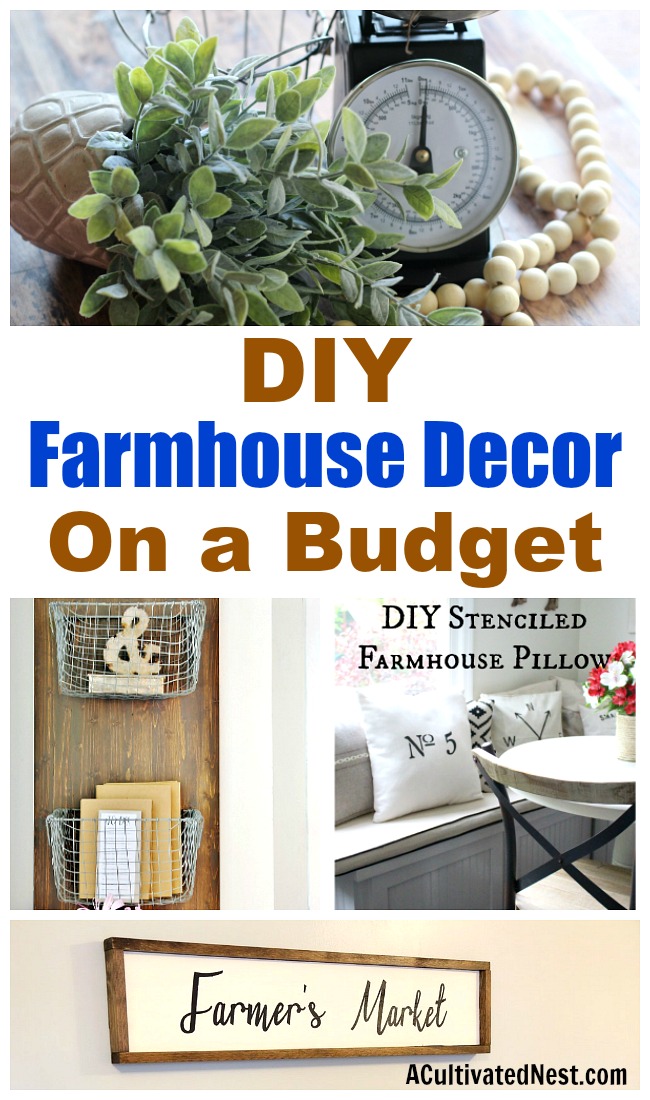 About Jody: I am a Florida girl through and through living the semi-country, small town life.  I am making my way through it with my amazing hubby, 2 beautiful kids, 2 of the best Dachshunds to ever walk the face of the earth, massive amounts of coffee and a whole lot of Jesus.  I homeschool, craft, cook, scrapbook, garden, raid the thrift shops, snap 1,000's of photos, and read when I can grab a spare minute (which is rare). You can find me blogging at Simply Southern Sunshine.
You might also be interested in: 15 DIY Farmhouse Decor Ideas