Looking to add a little decor to your home? Do you prefer simple, sensible items, airy spaces, and just the right combination of luxe and rustic? Consider adding some farmhouse style decor to your space! And no, you don't even have to live on a farm. We've found 15 DIY Farmhouse Decor Ideas to help you capture the farmhouse style and add charm to your home!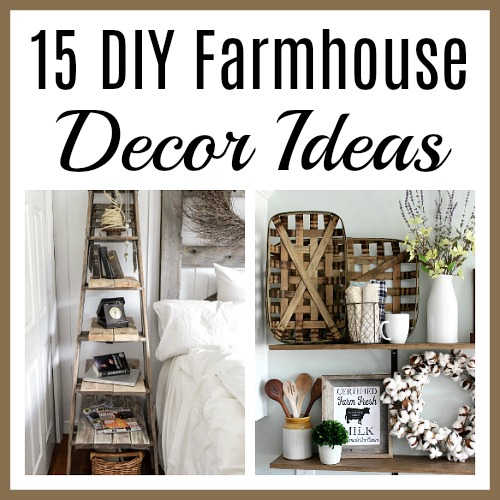 Disclosure: This post may contain affiliate links to Amazon and/or Etsy, which means that I may earn a small commission from some of the links in this post. Please see our Disclosure Page for more information.
Farmhouse style used to mean rural areas, building materials that were available locally, and a porch. The farmhouse usually had a formal area up front, and a business end (a functional kitchen where harvested produce could be handled and chickens could be plucked, for example). Now, farmhouse style means simplicity, welcoming, and has a real DIY feel. Easily (and frugally) add some farmhouse feel to your home with these DIY farmhouse decor ideas!
15 Charming DIY Farmhouse Decor Ideas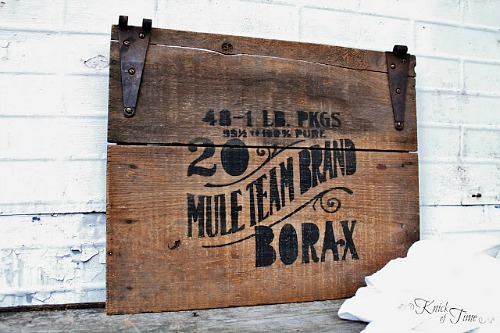 1. The Antique Shipping Crate Lid by Knick of Time is a great place to start if you're looking for farmhouse decorating ideas. Find inspiration from the old country homes you happen upon, and copy some of the elements into your own space.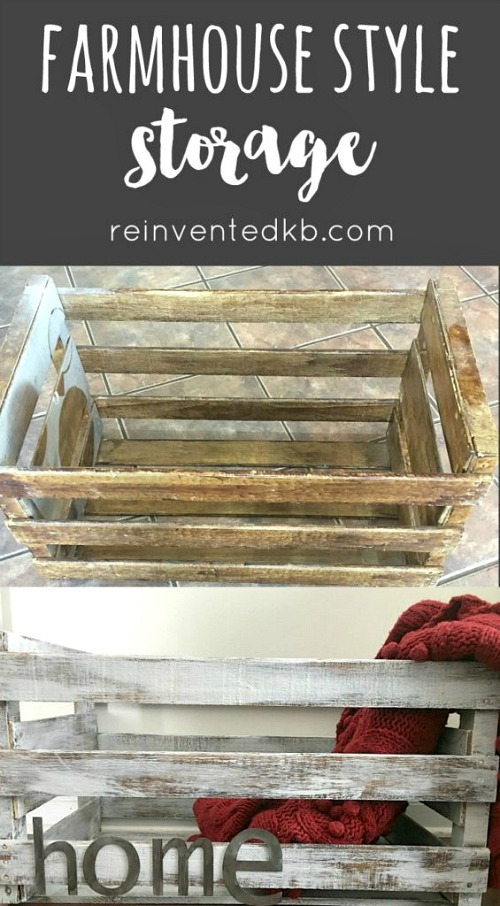 2. Storage is key no matter what look you're going for, and this Farmhouse Storage Crate by Reinvented is easy and functional.  You can find old crates in many places, like garage sales and old estate auctions.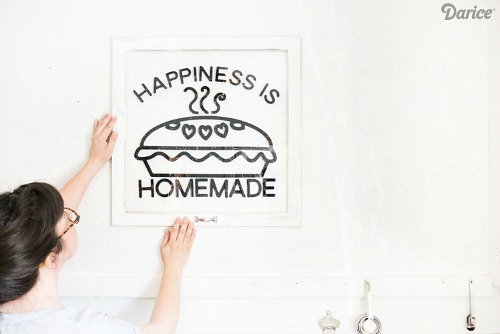 3. This simple DIY Window Sign by Live Craft Love adds just the right amount of hominess. Check yard and garage sales for old windows.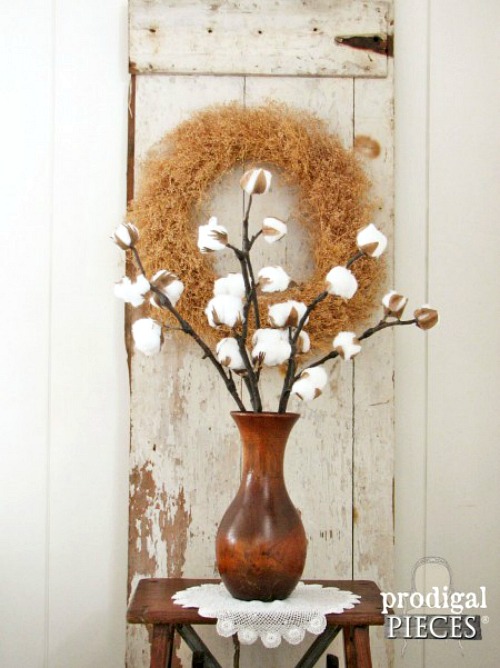 4. Farmhouse Cotton Branches by Prodigal Pieces is unpretentious and charming, and totally doable! What a great farmhouse DIY decor idea!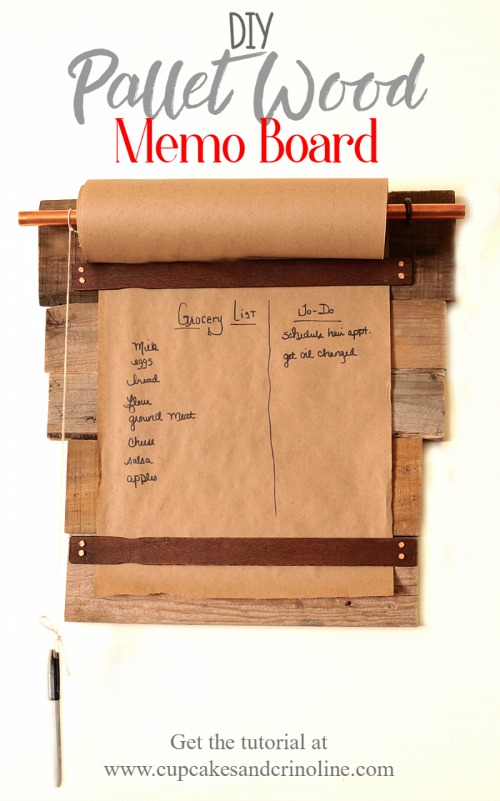 5. This Pallet Memo Board by Cupcakes and Crinoline is the essence of farmhouse decor. Simple and rustic, functional and brilliant.  You can get pallets at almost any company that receives shipments of goods.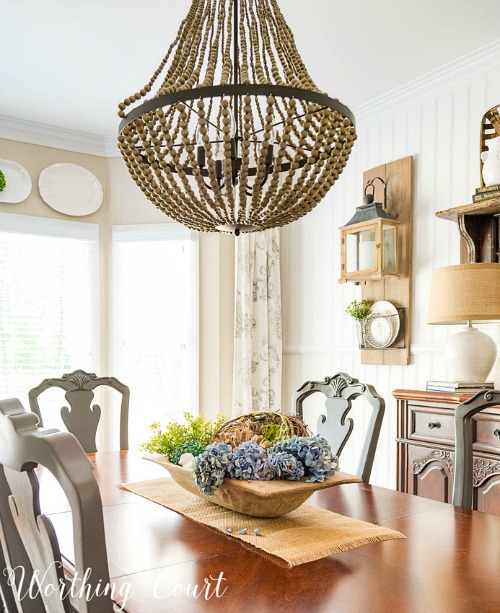 6. This Dough Bowl Centerpiece by Worthing Court would complement any formal and/or working space of the farmhouse – even the porch!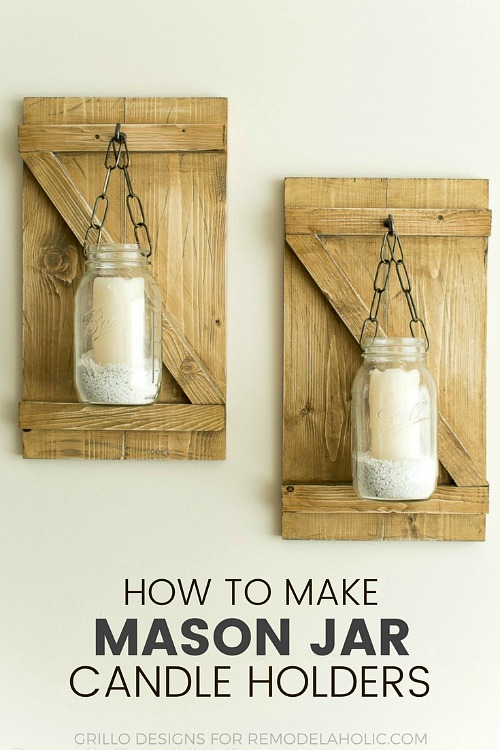 7. I love these Mason Jar Candle Holders by Grillo Designs. So rustic and so pretty all at the same time!  If you don't already have your own stockpile of Mason jars, they are widely available in stores, and often sold by the boxful (in varying sizes and shapes) in yard sales. You can also get them on Amazon.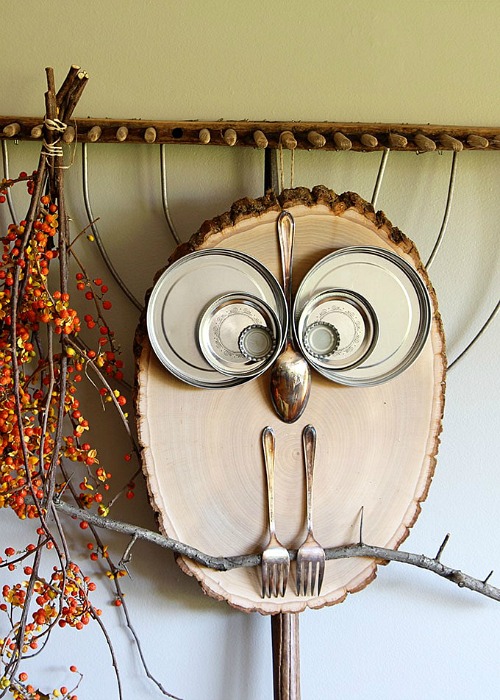 8. This DIY Wood Slice Owl by House of Hawthorne is so totally adorable and can be made with items you easily have on hand.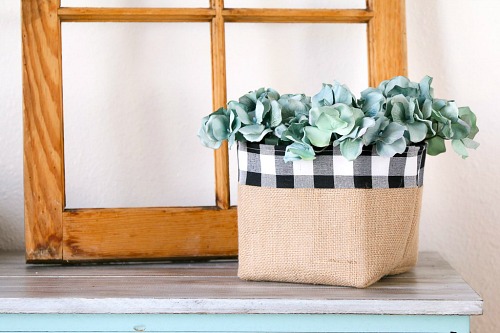 9. It wouldn't be a farmhouse if some sort of burlap wasn't involved! Check out this Burlap Basket DIY by a Fresh Squeezed Life.  You can get burlap at dollar stores, craft supply stores, hardware stores, feed stores, and on Amazon!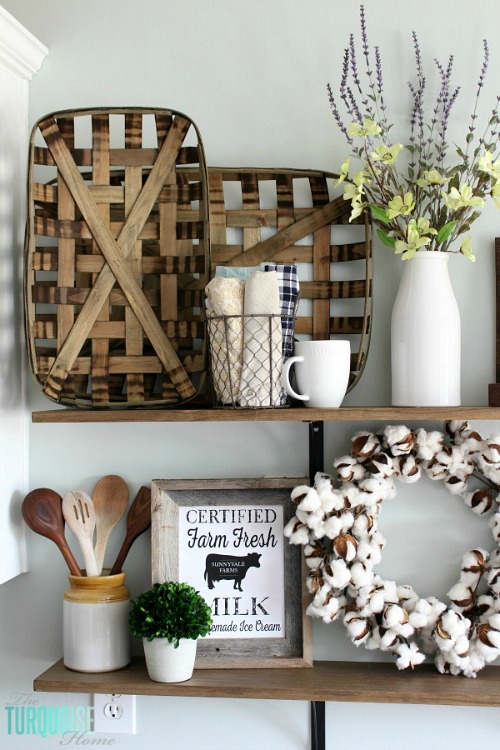 10. These DIY Farmhouse Shelves by The Turquoise Home are simple and functional, and totally inexpensive. The open shelves are a key element of farmhouse style as well.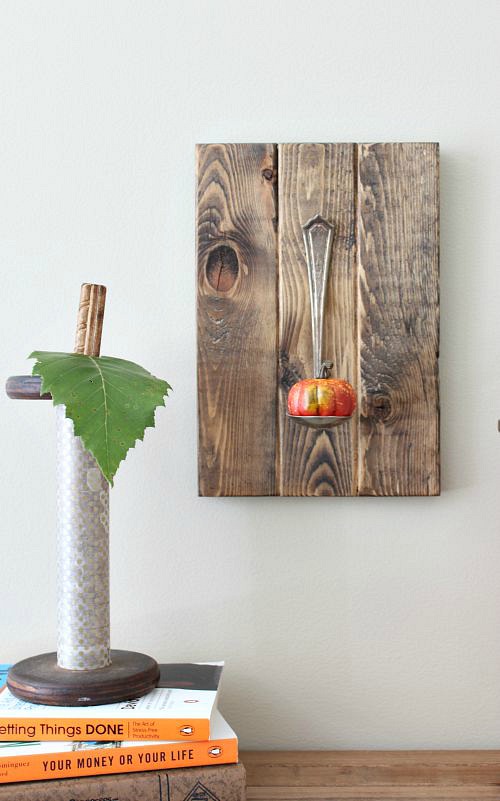 11. This Scrap Wood and Spoon Perch by Girl in the Garage is a fun and original chippy piece, that suits the farmhouse porch and farmhouse kitchen.  Scrap wood is usually pretty easy to come by, as are big old spoons.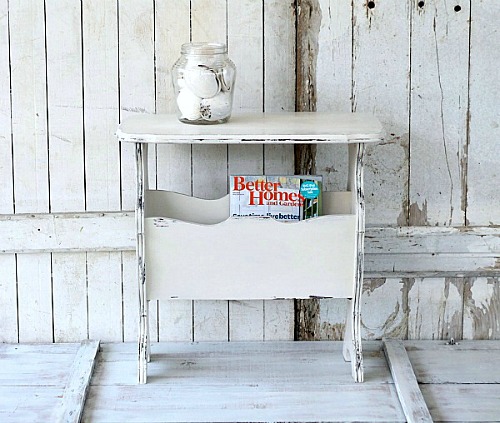 12. A Magazine Table by Petticoat Junktion is a great upcycle to freshen up a whole room!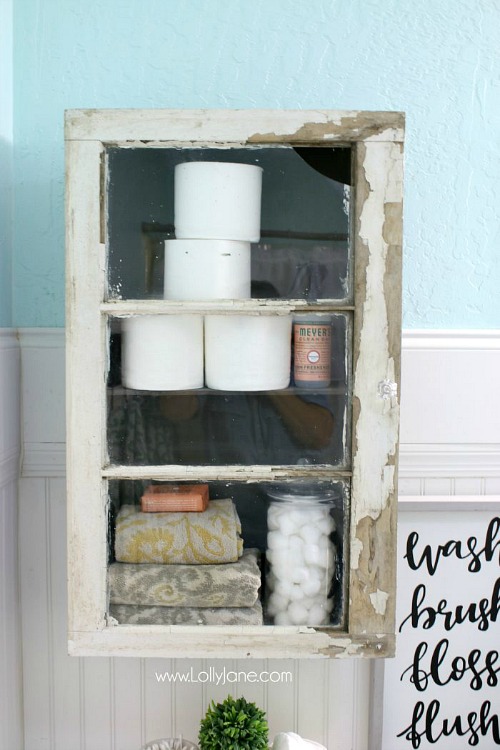 13. Spread the farmhouse chic look throughout the whole house, and even into the bathroom with a great storage cabinet like this DIY Cabinet by Lolly Jane. The glass front cabinet is essential to the farmhouse look, and distressed wood makes it perfectly rustic.
14. This Step Ladder Side Table by Funky Junk Interiors is functional, rustic, simple, and easy enough to do yourself. Again, check yard and garage sales for old wooden ladders.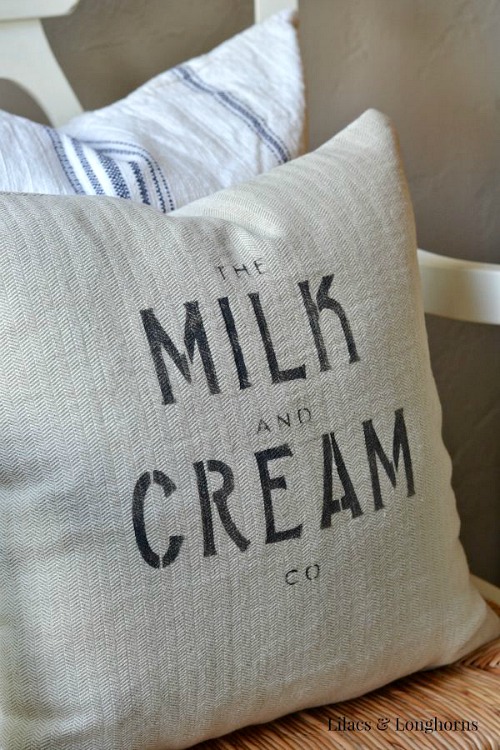 15. Farmhouse wouldn't be farmhouse without some grain sack elements, and these Grain Sack Stenciled Pillows by Lilacs and Longhorns complete the look.  Although I don't think she used actual grain sack, you can get grain sacks at any farm supply store, feed store, most hardware stores. If you have a farm close to you, most farmers would happily give you an old sack.
A Few More DIY Farmhouse Decor Ideas
Aside from the projects listed above, things to consider incorporating into your home when trying to achieve the farmhouse chic look are a big kitchen sink, white cabinets, painted bead board walls, rustic tables, white stoneware dishes, and gardens. A porch is considered key to the old farmhouse, but since just adding a porch is not always economical (or even possible!), you can freshen up your entryway to create an outdoor to indoor transition area.
Some other elements to add are aprons, wire baskets, plate racks, large glass jars, wooden spoons, and galvanized metal pieces. Remember to keep it simple, light, and functional. For more info on the history of farmhouse decor (and more ideas on how to add it to your home) read Stone Gable's article.
You might also like A Touch of Farmhouse by Liz Fourez. It's full of lovely farmhouse decor pictures, plus dozens of farmhouse style DIY projects!
Happy Decorating!
Do you already have any DIY farmhouse decor elements in your house?
Written by ACN Team Member Evelyne N. : Evelyne is the fearless, axe wielding, quirky, hardworking and incredibly funny creative genius behind Nemcsok Farms and Knits' End. Who also has a weird fascination with soil, and wreaths.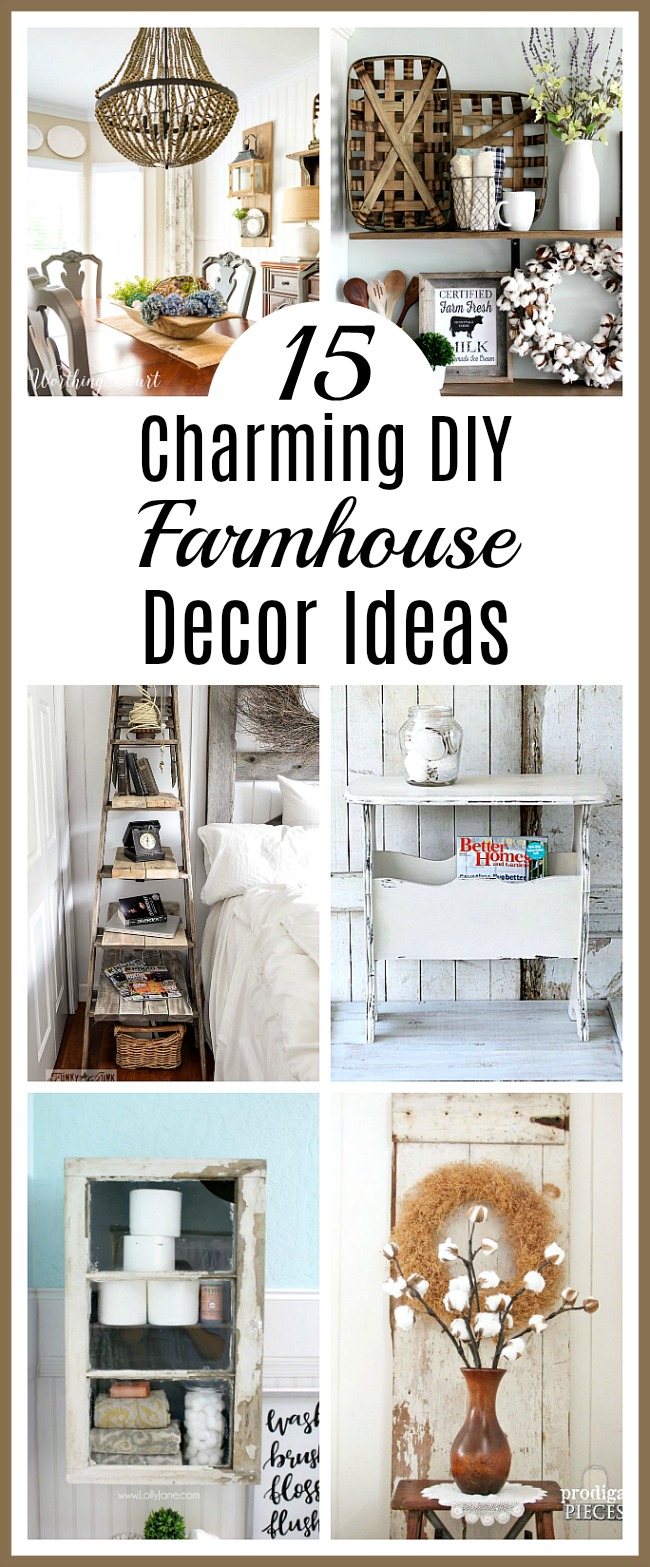 You might also be interested in: Everything You Need for a Pretty Aqua Blue Kitchen