How to Decorate Your Home for Fall with Mums.
Mums have to be the quintessential flower to use in fall decorating and garden centers have already begun stocking them. I'm sure almost all of us buy a potted mum in the fall to decorate with! I know I buy several, both for outdoors and indoors. But lately I've been wondering if there were some more creative ways for me to decorate with my chrysanthemums. I did a bit of searching, and I found some really great ideas for Decorating With Mums that I'd like to share with you!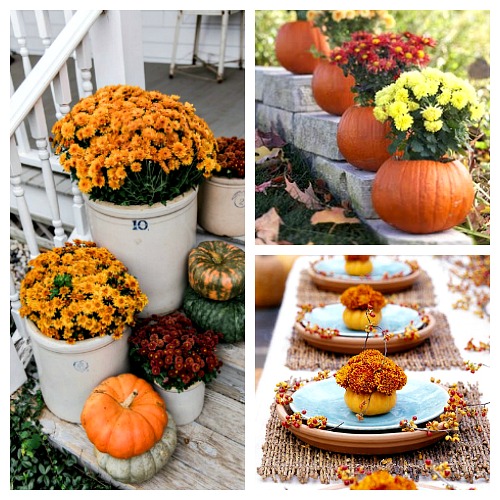 Disclosure: This post may contain affiliate links to Amazon and/or Etsy, which means that I may earn a small commission from some of the links in this post. Please see our Disclosure Page for more information.
Mums are relatively inexpensive and so easy to add to your fall decor! Here are some ways to use those mums in your autumn decor this year. If you need tips for how to care for you mums, you may want to check out my post on How To Care for Your Mums (Inside and Out).
Decorating With Mums
Remember, mums come in more colors than just yellow and orange. There are a large variety of mums out there, which means you have a lot of fun colors to choose from! Consider using an uncommon color this year, contrast colors, or create a fun mix-and-match design with your other decor elements!
1. Front Porch Mums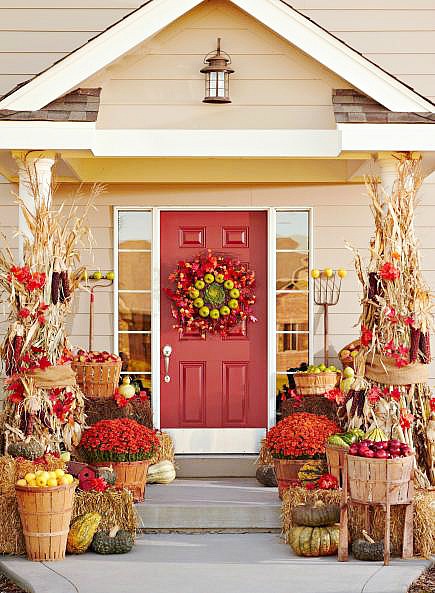 Of course, mums look great out by the front door like in this fall front door display from Midwest Living.
2. Pumpkin Mums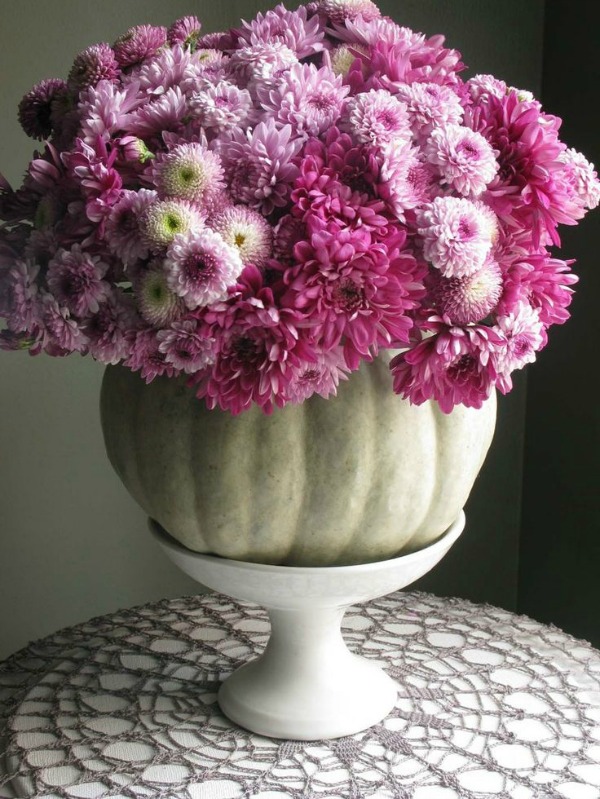 Eddie Ross took a non-traditional colored mum and paired it with a pumpkin for a stunning fresh fall look.
3. Burlap Mums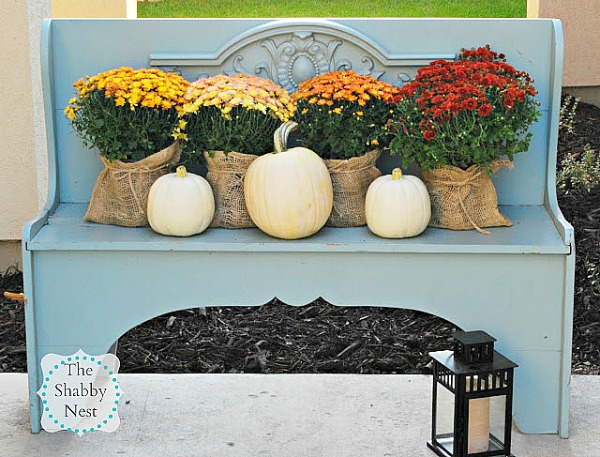 Or why not use another of my favorite fall materials, and wrap your mums' pots in burlap like these from Wendy Hyde.
4. Place Marker Mums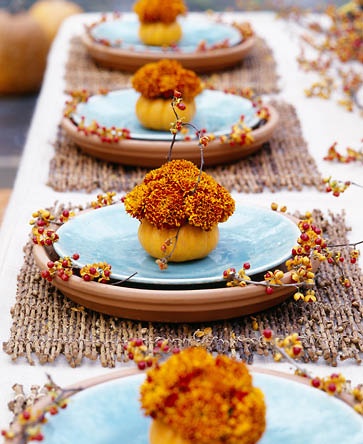 Here's a fun way to include mums on your fall table! Place mums in little pumpkins as place markers like in this pretty display from Sunday in Bed on Tumblr (this blog seems to have moved- if you know where it went let us know and we'll update the link).
5. Window Box Mums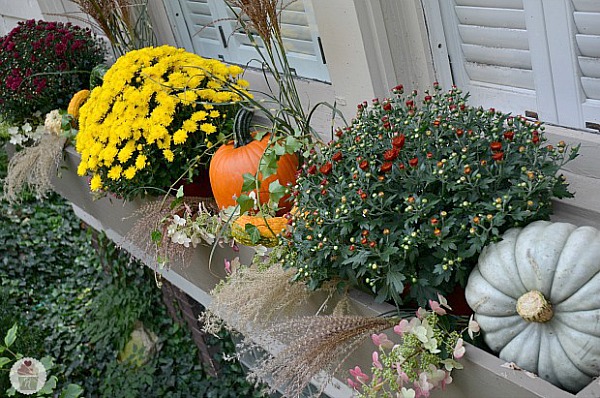 You could also make a lovely fall window box with mums, like this one from Hoosier Homemade.
6. Indian Corn Mums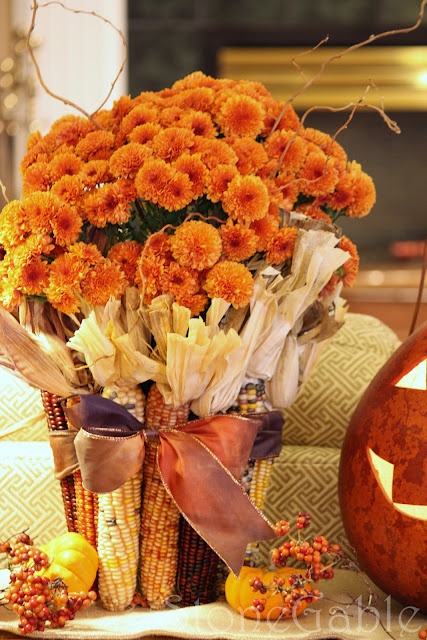 Yvonne at Stone Gable made a lovely arrangement by covering her mum pot with Indian Corn. This would be great on a buffet table or as a centerpiece to a tablescape!
7. Pumpkin Pot Mums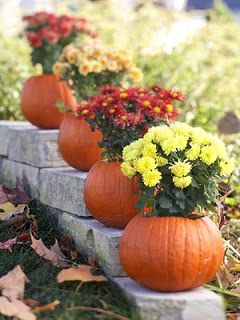 Mums and pumpkins make a great combo! Here are some mums potted in pumpkins from Simply Suzanne's (this post seems to have moved- if you know where it is, tell us and we'll update the link).
8. Crocks and Mums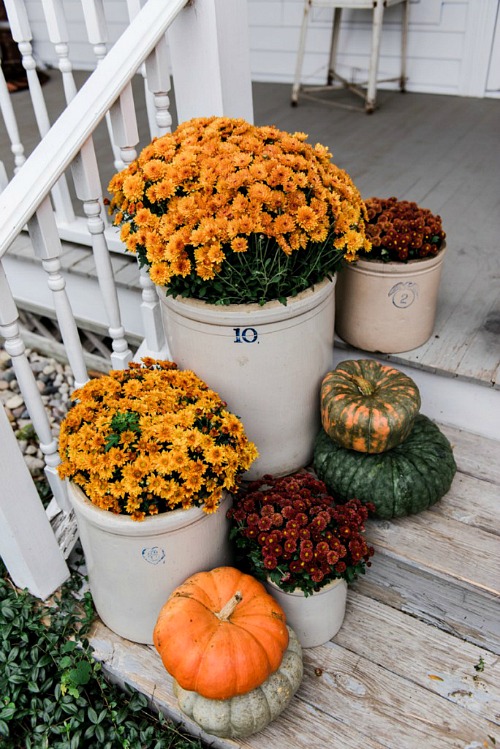 Big crocks filled with mums also look great, as seen on Liz Marie Blog's front porch!
9. Whisky Barrel Mums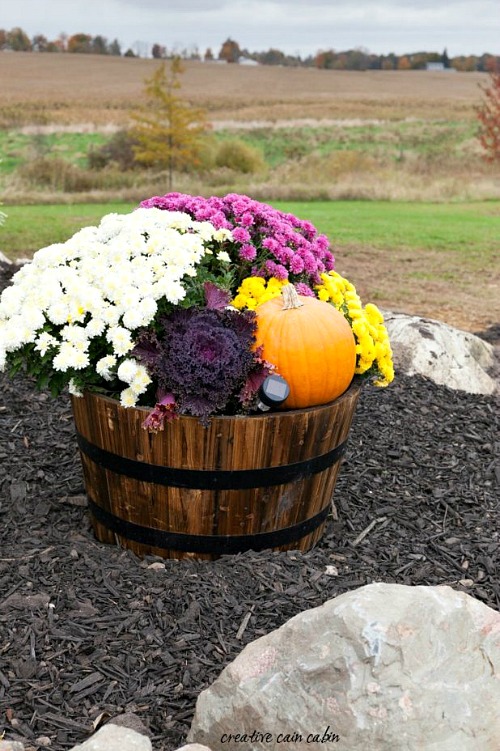 Or fill a big whiskey barrel with mums and other fall foliage, like in this one by Creative Cain Cabin!
So as you can see, there are tons of ways to decorate with mums for fall! If you want to make sure your mums don't die and ruin your decor, make sure to read the tips in my post on how to care for mums (inside and out)!
Which of these inspiring ideas for decorating with mums is your favorite?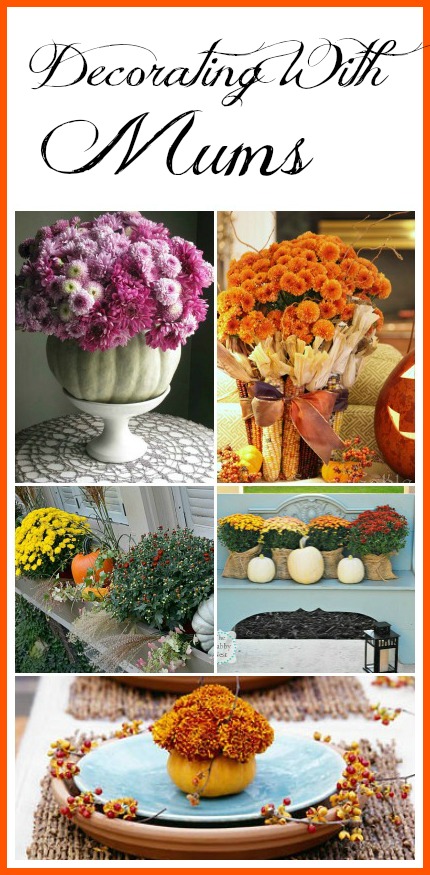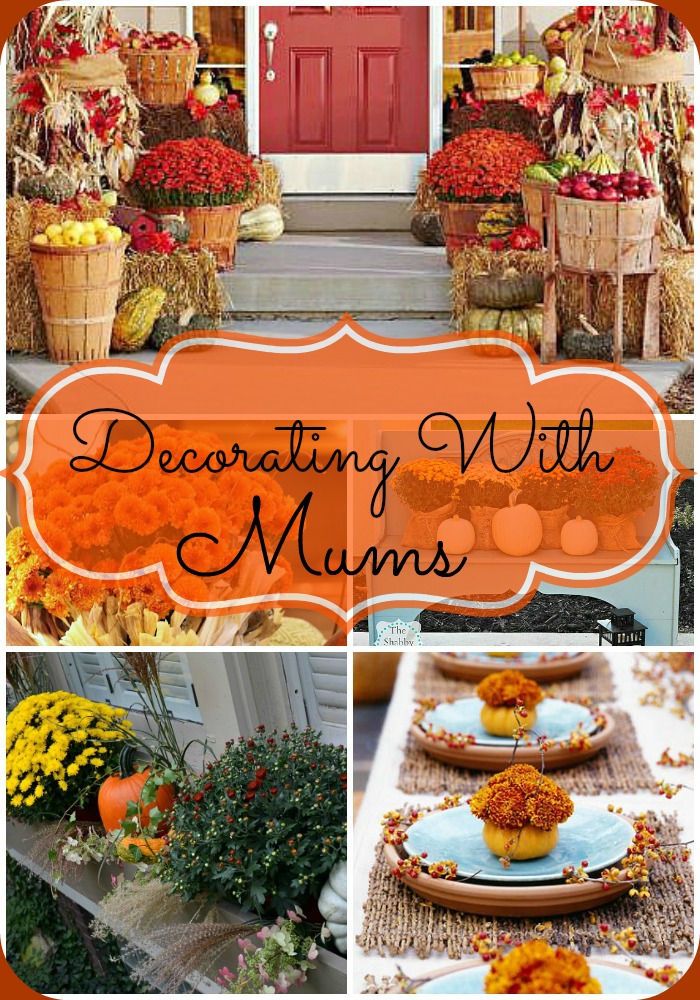 You May Also Be Interested In: Decorating With Pinecones