The beginning of the year is a great time to get organized! And what better way to organize than with something simple, pretty, and inexpensive, like baskets? Some baskets may be pricey, but you can often find beautiful ones for cheap at thrift stores, or on clearance after holidays. Here are 10 pretty ways to organize your home with baskets!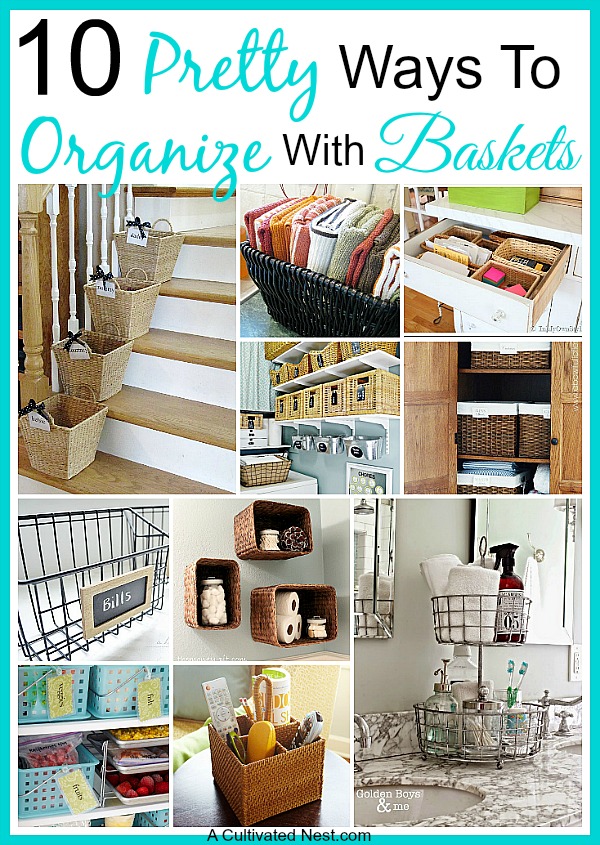 Organize With Baskets
1. Dish towel baskets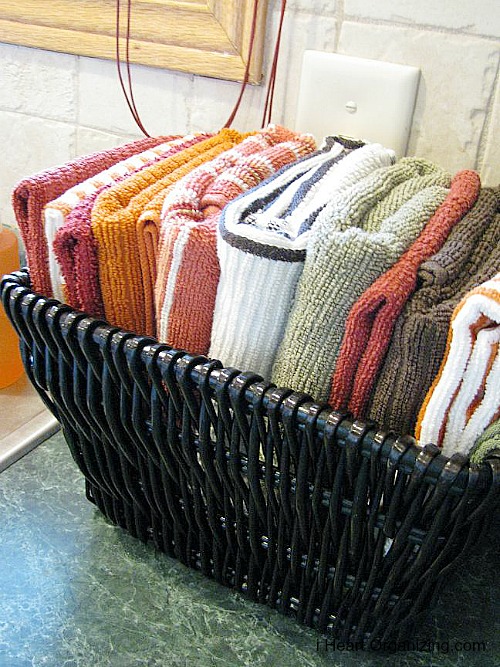 Rather than piling your dish towels on your countertop, keep them contained and close by in a basket instead! –  via i Heart Organizing It'll keep them organized, and will look pretty, too!
2. Laundry room baskets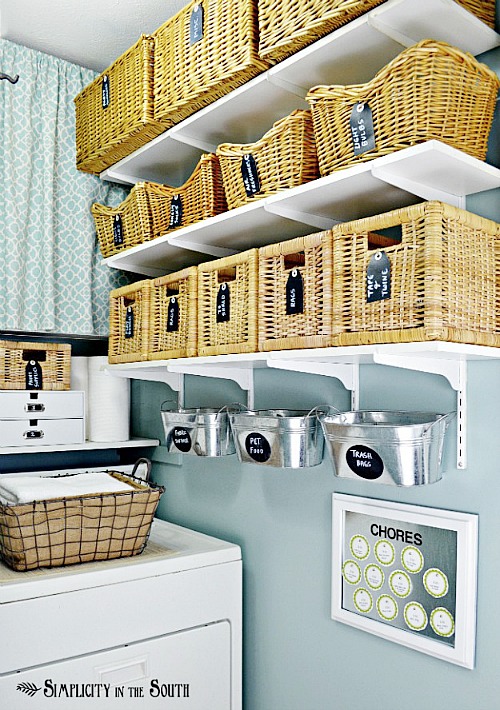 Laundry rooms often contain a number of supplies that can easily become disorganized. Use baskets of different sizes to put everything in its proper place – via Simplicity In The South. Baskets also make it easier to take supplies down from any high shelves you may have.
3. Stair baskets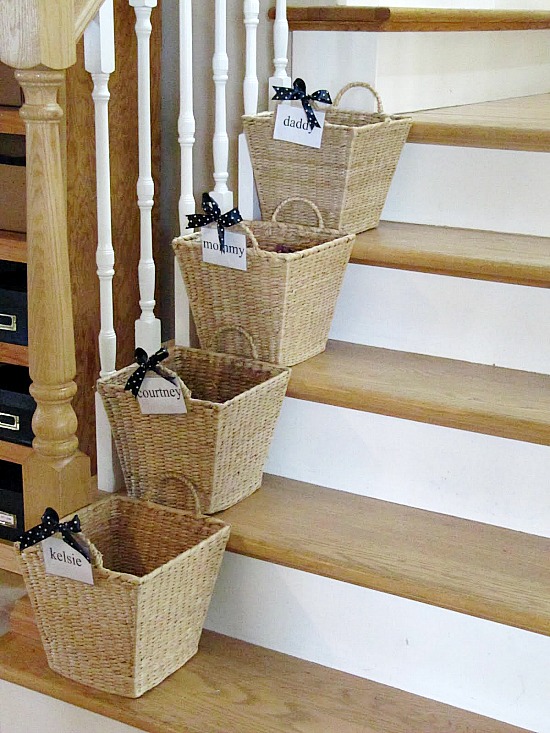 If you have a multi-level home, chances are that you and your family members are tired of leaving small things downstairs and having to go all the way upstairs to put them away. With stair baskets, everyone can put their things in their own labeled baskets, and then take the basket upstairs when it's convenient – via Sew Many Ways. It helps keep things organized, looks cute, and reduces the number of trips you have to take upstairs!
4. Mail baskets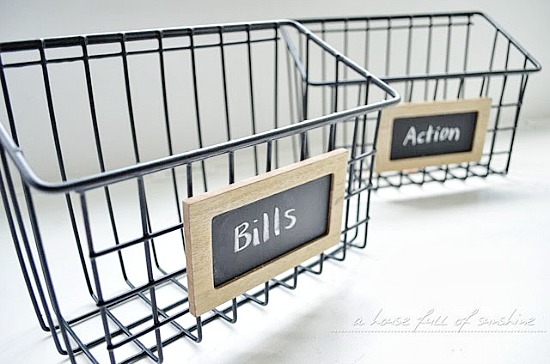 These pretty DIY industrial wire mail baskets (see the tutorial for how to make these) via A House Full of Sunshine  make sorting your mail easy. And since they're on the wall, they don't take up any desk or counter space!
5. Bathroom Organization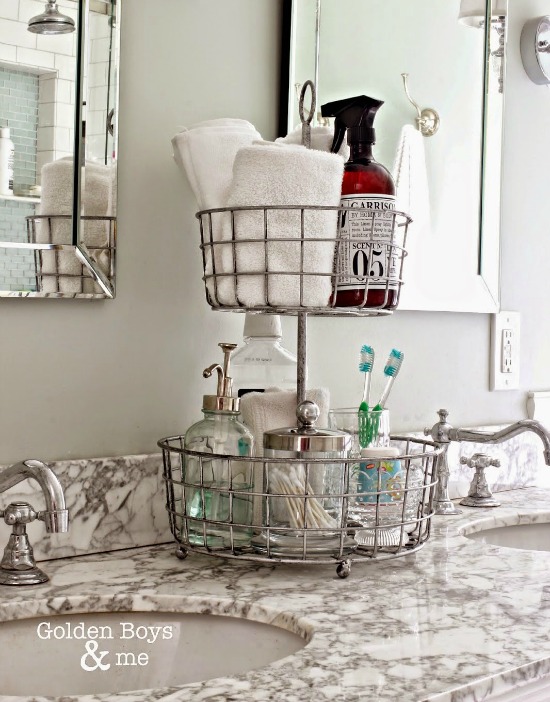 A two-tier wire basket via Golden Boys And Me works really well for organizing things in the bathroom. Use it to keep toothbrushes, wash cloths, hand soaps, and other bathroom essentials nearby, but in an organized container.
6. Wall baskets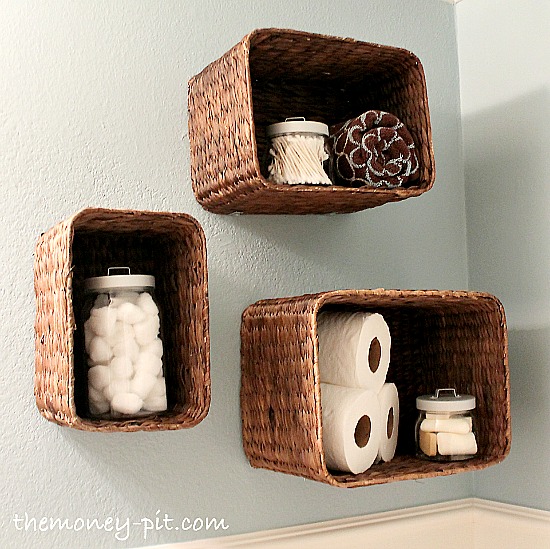 These baskets are great in a bathroom, craft room, or anywhere, really. By attaching them to the wall, you create a kind of shelf, but these are better than a simple shelf because they're enclosed on all sides –  via The Kim Six Fix.  This helps the room appear neater. Use different size baskets for different supplies, or for a different look.
7. Junk drawer baskets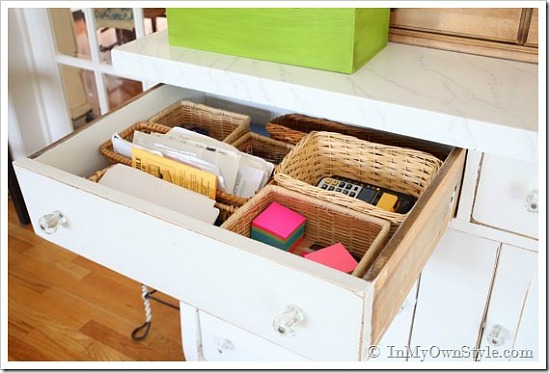 Use various sizes of baskets to keep a junk drawer organized and looking nice –  via In My Own Style . I can also see this working well for a drawer full of small craft supplies, too!
8. Refrigerator or freezer baskets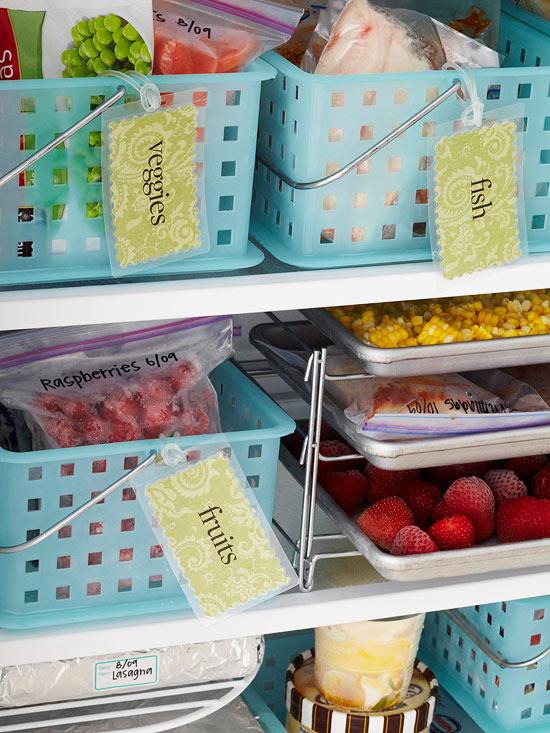 Given how often they're used, it's easy for refrigerators and freezers to become completely unorganized. Use labeled baskets to make it easier for everyone to keep them organized, and speed up the time you spend looking for things via BHG . Since baskets come in various sizes and are often stackable, these can work well in any size refrigerator or freezer.
9. Linen closet baskets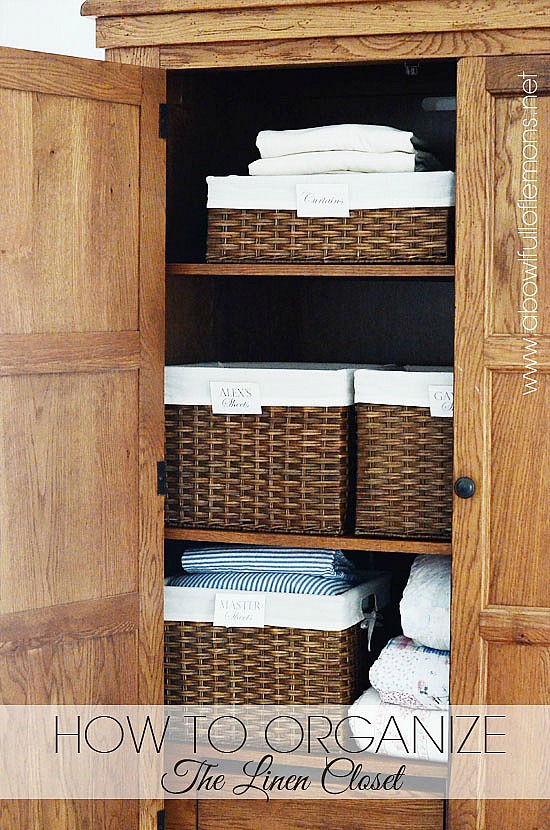 A  disorganized linen closet not only looks messy, but takes up time as you have to sift through to find what you're looking for. With baskets, especially labeled baskets, your linen closet will look beautiful and you'll be able to find what you're looking for within seconds via A Bowl Full of Lemons !
10. Remote basket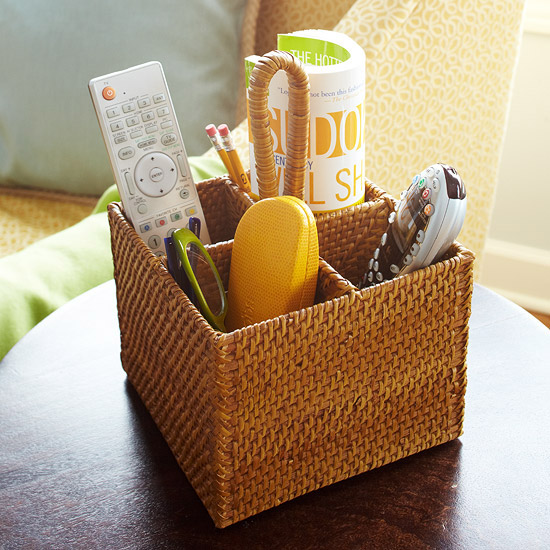 Never lose a remote again with a cute little divided basket via BHG! This is especially handy if you have multiple devices with their own remotes. You can also use the basket to hold any other TV room essentials, like reading glasses, a TV guide, etc.
Organizing with baskets is quick and easy as well as inexpensive, and as you can see, can be much prettier than organizing with traditional plastic organization bins!
What's your favorite way to use baskets in your home?
You may also like: 11 Small Bathroom Organization Ideas