Clever Basket Organization Ideas.
The beginning of the year is a great time to get organized! And what better way to organize than with something simple, pretty, and inexpensive, like baskets? Some baskets may be pricey, but you can usually find beautiful ones for cheap at thrift stores, or on sale after holidays. Here are 15 Pretty Ways to Organize with Baskets!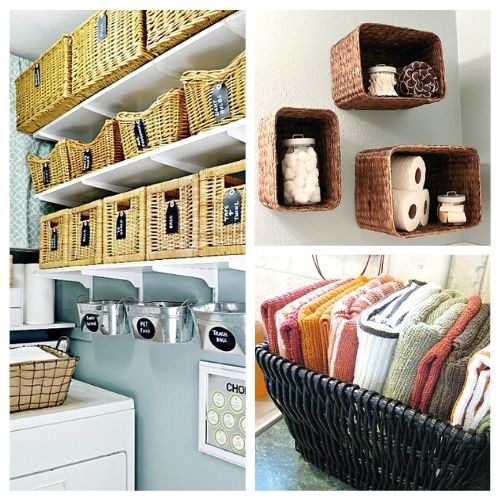 Disclosure: This post may contain affiliate links to Amazon and/or Etsy, which means that I may earn a small commission from some of the links in this post. Please see our Disclosure Page for more information.
Baskets are such a great way to organize your home and enhance its décor at the same time!
15 Pretty Ways To Organize With Baskets
Here are some tips to help you organize your home with baskets:
Buy them on sale. Baskets can be expensive, so grab them when they are on sale or find a coupon to make them more affordable.
Find something durable. Pick a basket that is durable so it can withstand being full, moved around, and people taking things out of it. The basket will get a lot of use in your newly organized house!
Think about the size you need. Think about the size of basket you need and maybe take measurements if you want it to fit in a particular space.
1. Dish Towel Baskets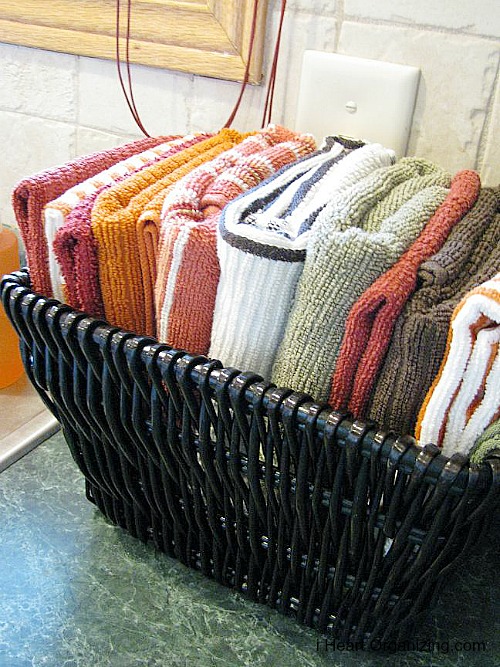 Rather than pilling your dish towels on your countertop, keep them contained and close by in a basket instead like this one from i Heart Organizing! It'll keep them organized and make them look pretty at the same time!
2. Laundry Room Baskets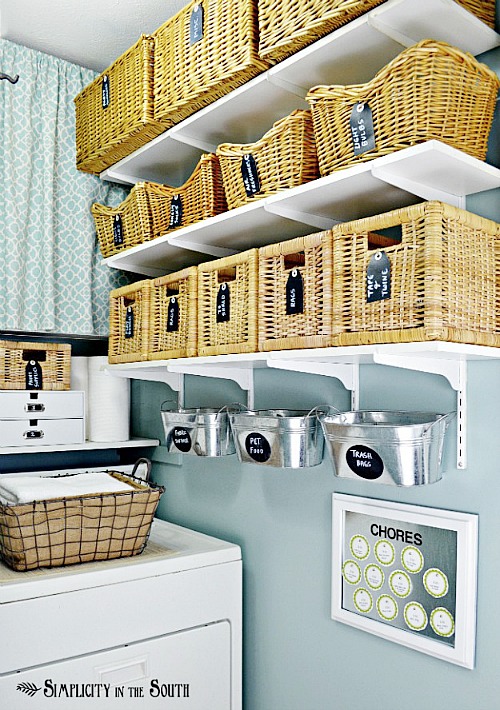 Laundry rooms often contain a number of supplies that can easily become disorganized. Organize your home with baskets of different sizes to put everything in its proper place, like how Simplicity in the South organized her laundry room. Baskets also make it easier to get to supplies on any high shelves you may have.
3. Stair Baskets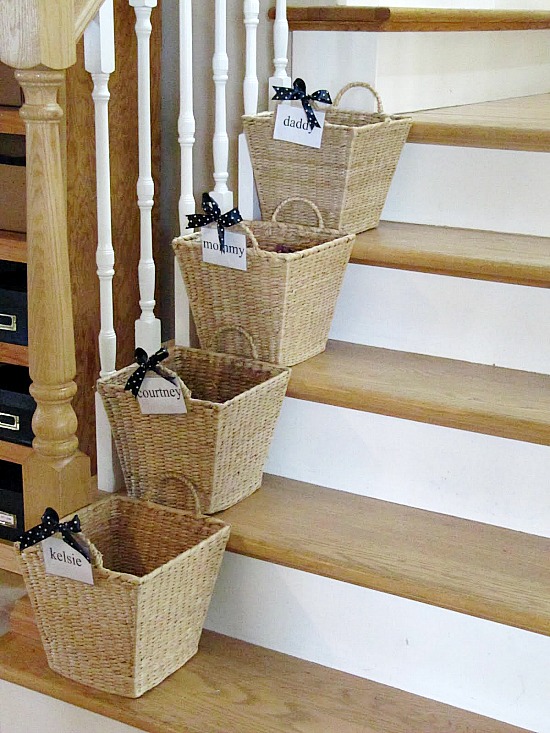 If you have a multi-level home, chances are that you and your family members are tired of leaving small things downstairs and having to go all the way upstairs to put them away. With stair baskets, everyone can put their things in their own labeled baskets, and then take the basket upstairs when it's convenient. Sew Many Ways even labeled her baskets with everyone's names. This method of basket organization helps keep things in order, looks cute, and reduces the number of trips you have to take upstairs!
4. Mail Baskets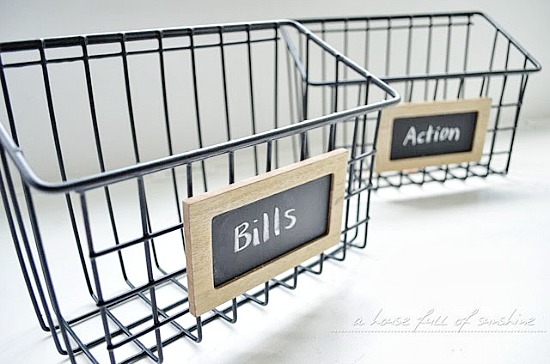 These pretty DIY industrial wire mail baskets make sorting your mail easy! Check out A House Full of Sunshine for a great tutorial on how to make them! Since they're on the wall, I like that they don't take up any desk or counter space! If you didn't want to make your own, there are some similar baskets available on Amazon.
5. Bathroom Organization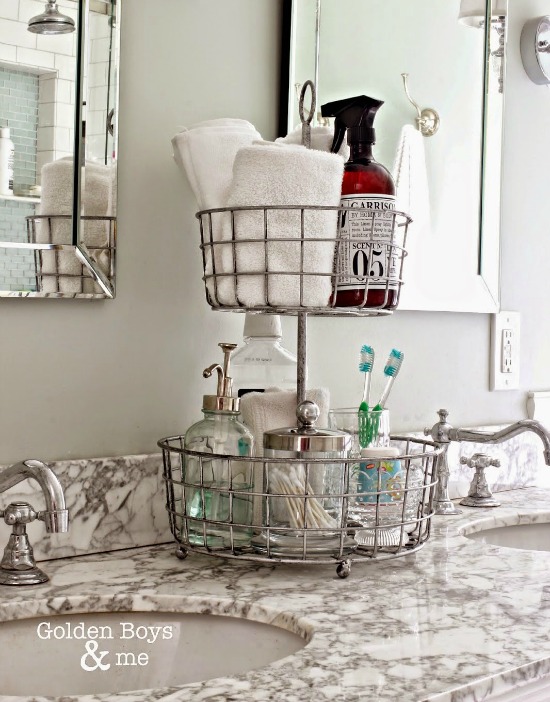 If there's any room you should organize with baskets, its the bathroom! Golden Boys And Me used a two-tier wire basket in her bathroom. It works really well for organizing things on the counter. Use it to keep toothbrushes, wash cloths, hand soaps, and other bathroom essentials nearby, but in an organized container. I like the big carry handle on this similar one on Amazon.
6. Wall Baskets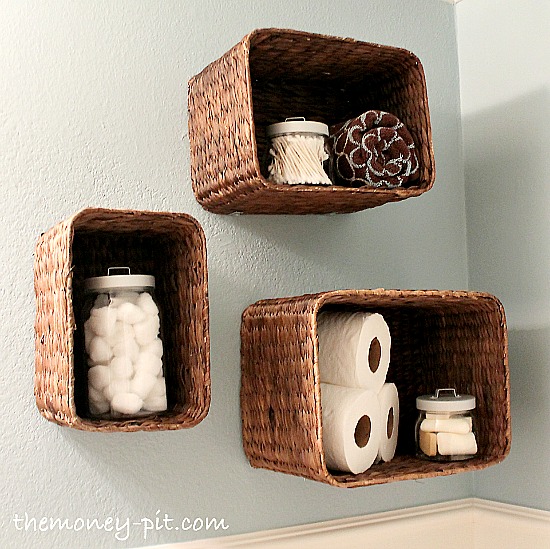 These baskets are great in a bathroom, craft room, or anywhere, really. The Kim Six Fix attached them to the wall, which creates a kind of shelf. But these are better than a simple shelf because they're enclosed on all sides This helps the room appear neater. Use different size baskets for different supplies, or for a different look.
7. Junk Drawer Baskets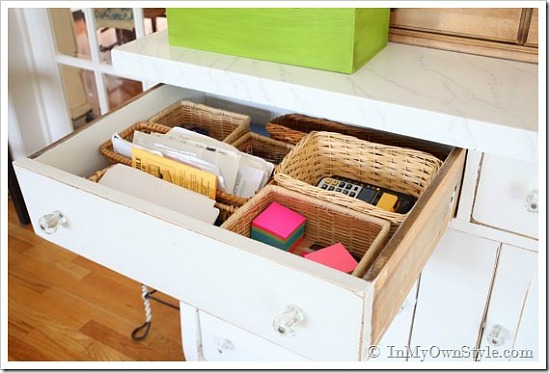 You can also organize a drawer with baskets! In My Own Style used various sizes of baskets to get her junk drawer organized and looking nice. I can also see this working well for a drawer full of small craft supplies, too!
8. Linen Closet Baskets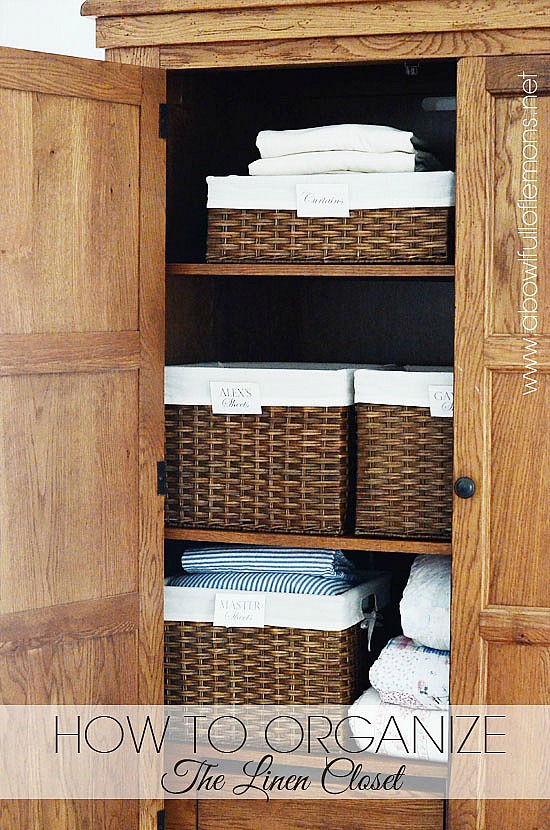 A  disorganized linen closet not only looks messy, but takes up time as you have to sift through to find what you're looking for. Luckily it's easy to organize a closet with baskets!Labeled baskets are especially helpful at making your linen closet look beautiful. And you'll be able to find what you're looking for within seconds! Check out how A Bowl Full of Lemons organized her pretty linen closet!
9. Pantry Baskets
Simplicity in the South uses wicker baskets to help her pantry stay organized. Fill them full of snacks, dried goods, and other things that aren't so pretty to look at.
10. Sewing Kit
Create a little sewing kit from a suction wire basket from the dollar store. Sew Many Ways puts hers in her car for emergencies. Where will you put yours?
11. Elevated Dog Dish
Make an elevated dog dish inside a basket so you can store the food underneath. Sew Many Ways has all the steps to create this clever way to make your home more organized and polished looking.
12. Bathroom Closet
Organize the bathroom closet with baskets to get your bathroom in order for more efficiency, like in this great example by A House Full of Sunshine. Don't spend precious time digging for items once everything is in the baskets.
13. Mudroom
Golden Boys and Me upgrades her mudroom with baskets for organizing her chaos and making it look good! Baskets are perfect for a mudroom to catch all the stray mittens, hats, and sports paraphernalia.
14. End Table Basket
I love this dual-purpose basket for hidden storage and a side table in the living room. In My Own Style has a post about this great idea and transforming her living room to be more functional.
15. Bedroom Closets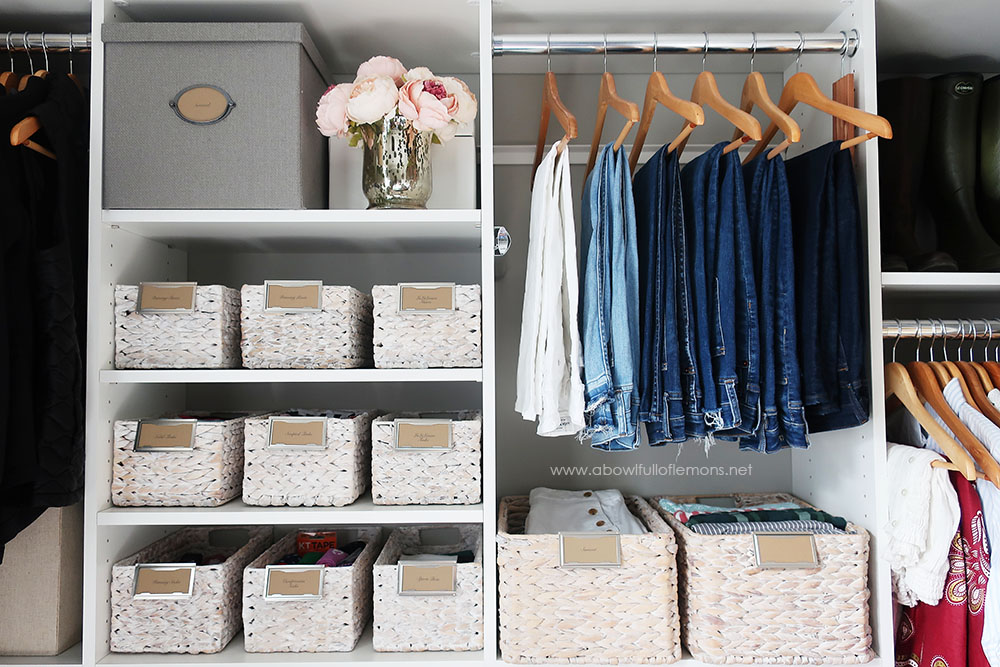 I love A Bowl Full of Lemons closet makeover while using baskets. Keep everything straight and tidy while using baskets that fit your colors and style. Wire, wicker, or cloth baskets would all work great in this closet makeover.
Organizing your home with baskets is quick and easy, as well as inexpensive. And as you can see, can be much prettier than organizing with traditional plastic organization bins. Though bins make great organizers too, if used the right way! Really, there's no wrong way to organize!
What's your favorite way to use baskets in your home?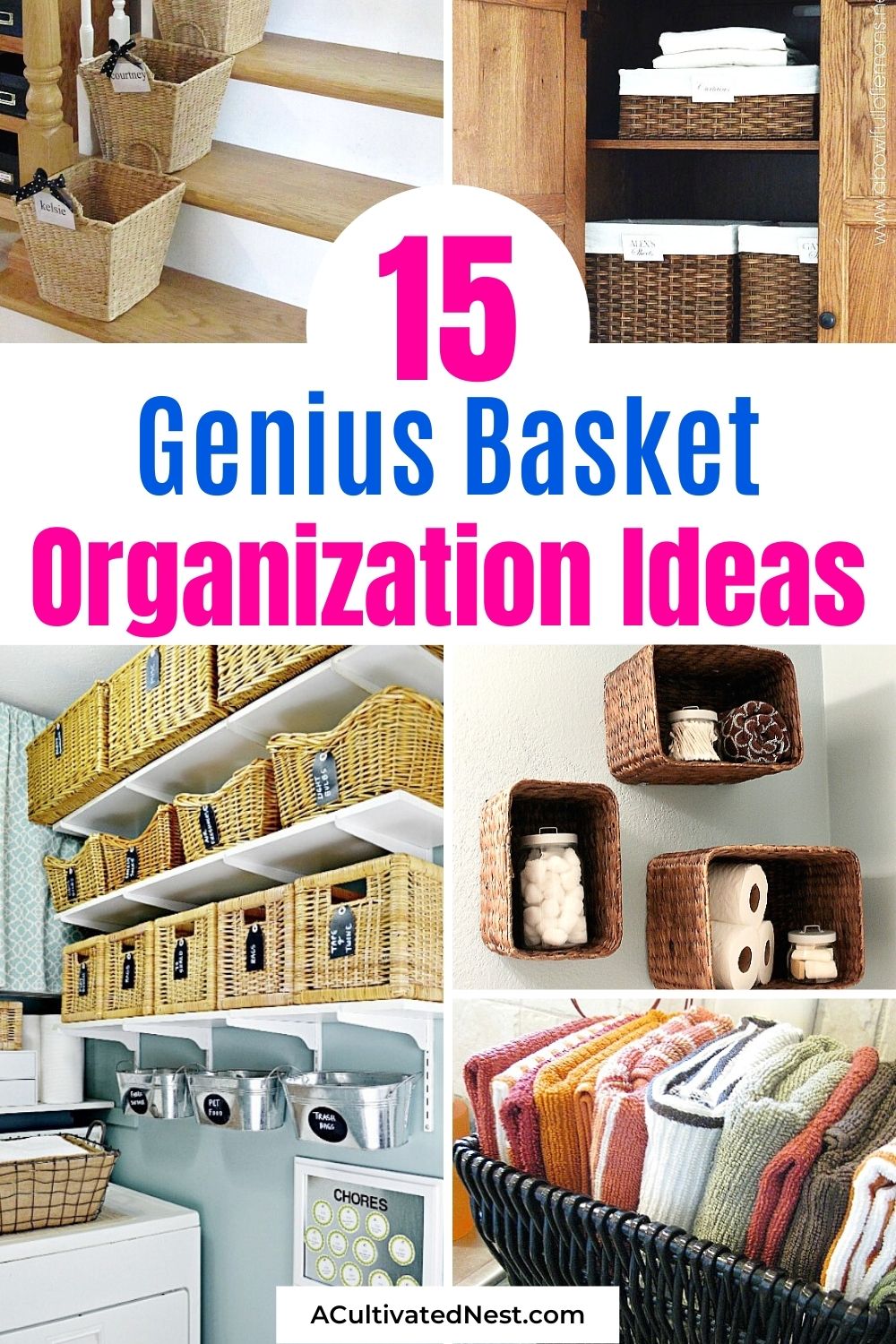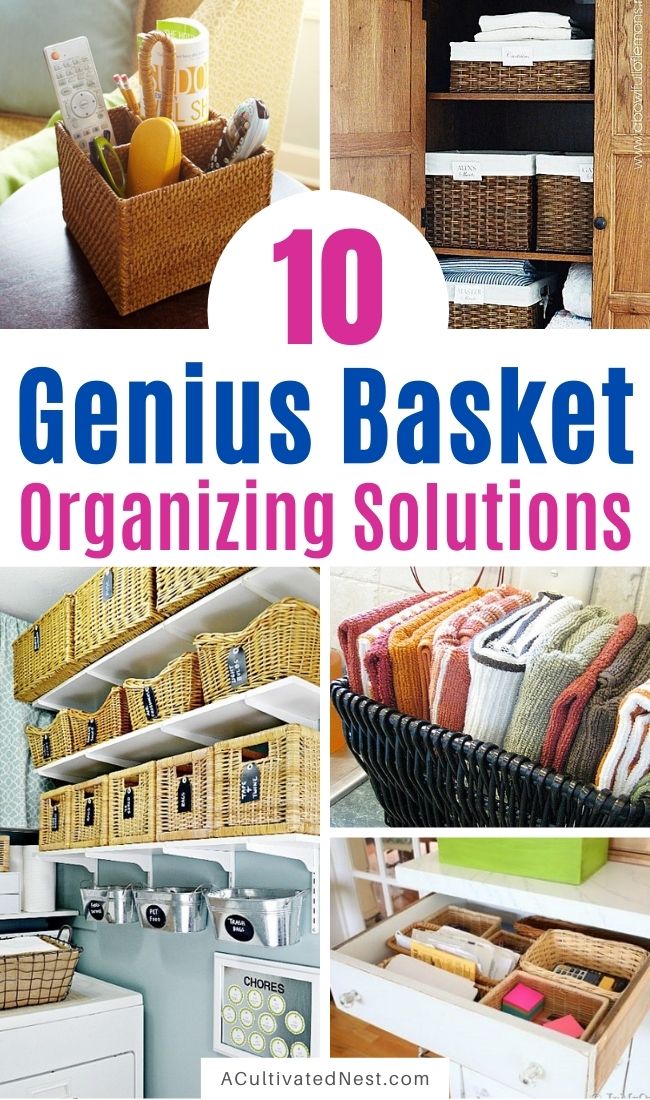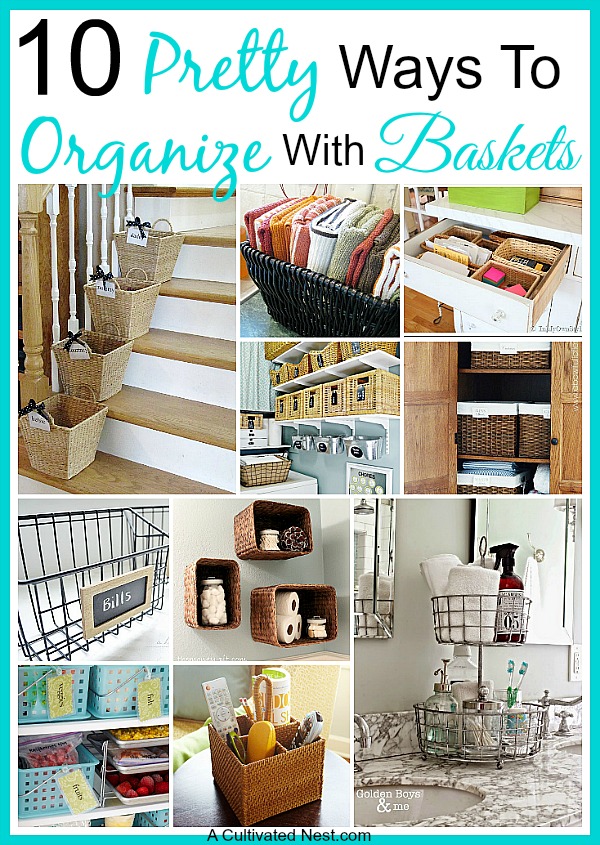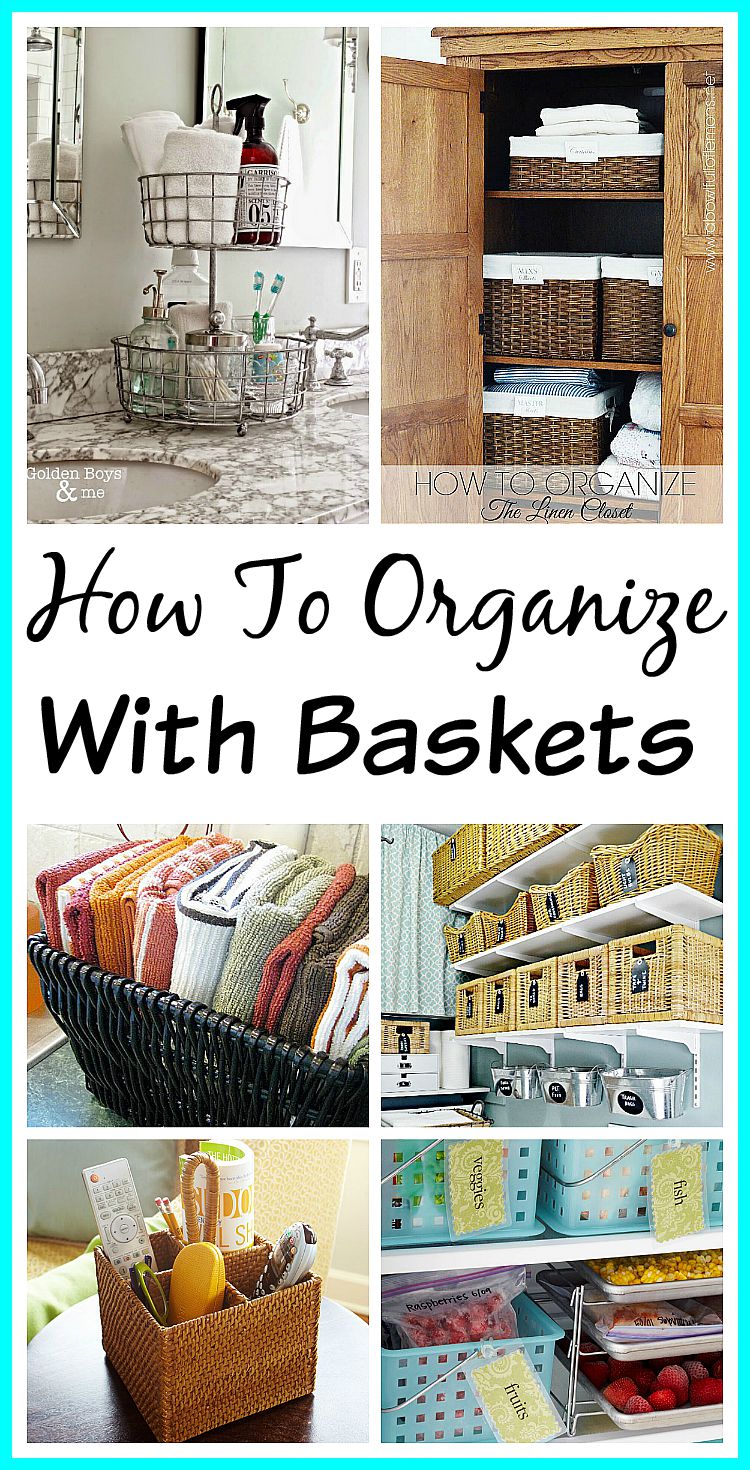 You might also be interested in: 11 Small Bathroom Organization Ideas