Are you always forgetting what you have in your freezer? Keeping track of what's in your freezer is important in both sticking to your budget, and not wasting food (because wasting food is like wasting money). Here's a post I wrote on 5 Ways I Reduce Food Waste & Save Money.  I made a free freezer inventory sheet to help you remember what's in your freezer(s)! The link to it is at the end of this post.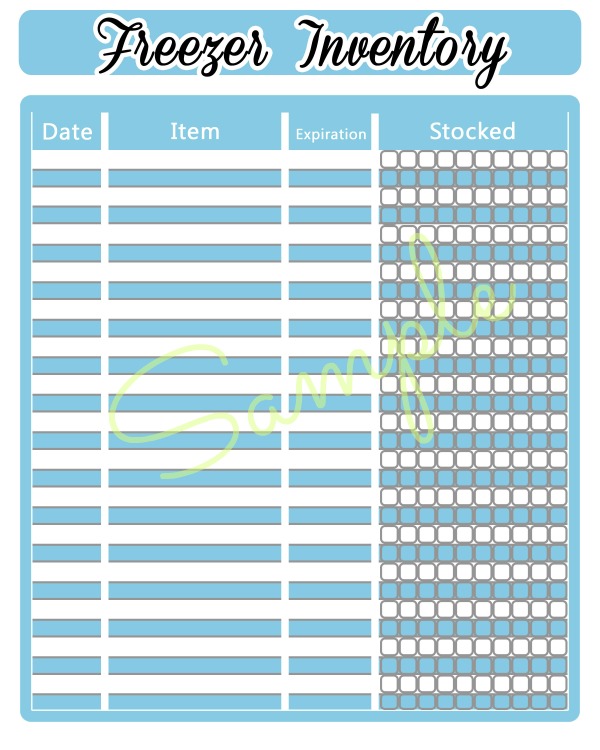 First lets discuss why you would want to use an inventory in the first place and how to do it!
The Benefits of Using a Freezer Inventory
1. Shop smarter: If you know what's in your freezer before you leave for the store, you won't accidentally buy more of something you already have plenty of. And if you know ahead of time that you're close to running low on something, it's easier to keep an eye out for the best sales.
2. Avoid food waste: Food can't stay frozen forever (here's How To Avoid Freezer Burn). Without an inventory, it's easy to forget what's in your freezer (especially what's in the back/bottom), until you find it one day either expired or the victim of freezer burn. That's a waste of money and food.
3. Meal plan easier: Rather than digging around in your freezer when planning your meals for the week/month, you can just look at your inventory and use it as a guide.
RELATED:  Ideas For Organizing A Chest Freezer
How to Use the Free Printable Freezer Inventory
1. You need to decide if you're going to laminate it and use a wipe off pen on it or if you're going to replace a paper copy of the freezer inventory sheet as needed. Then, decide if you're going to just sift through the freezer as you take inventory, or take everything out at once and write it down as you put it back in. If you do the latter, that's a great chance to clean out the inside of your freezer, or to reorganize it. If you'd like to reorganize your freezer with baskets, check out these amazing freezer baskets on Amazon.
2. If you can remember when you got an item, write it down in the "date" section, or guess about when you got it or leave it blank.
3. Write down the name of the item under "item." If the item has a set quantity (like a 6 pack of something), write that down with the name.
4. Write down when the item expires under "expiration." Here's a link to a refrigerator/freezer food storage chart
5.  For each box, package, etc. of an item, put one "/" mark in a box under "stocked." If you use a pencil, then when the item is used up you can erase the / mark. You could also laminate the sheet and use a wipe-off marker. Otherwise, if using pen on a paper printout, add a \ to make an X to show that one of the item is used up.
6.  Once it's filled out you can put it on your freezer door/top with tape, or if the surface is magnetic, a pretty magnet!
Free Printable Freezer Inventory Sheet
Click below to print this free printable freezer inventory.
Freezer Inventory Free Printable
How do you keep stock of what's in your freezer?
This post contains affiliate links to Amazon. Please see our Disclosure Page for more information, and thanks for supporting this site!
RELATED: 8 Clever Refrigerator Organizing Ideas