A couple of people have asked for more photos of the living room. I  have a few today but I'm not "done" with this room. I'm usually very slow when making over a room anyway, add to that having to unpack boxes to get to my decorating stuff….well it's going to be an even slower process. Apparently I'm not the kind of person that can have everything unpacked and in its place in a week or two!  I did just hang curtains in the living room and I've been working on the bookcases on the other side of the fireplace. So this area that I'm going to show you is still  a work in progress, but I did want to share my new curtains and my fabulous Fiddle Leaf Fig tree that I got a few weeks ago!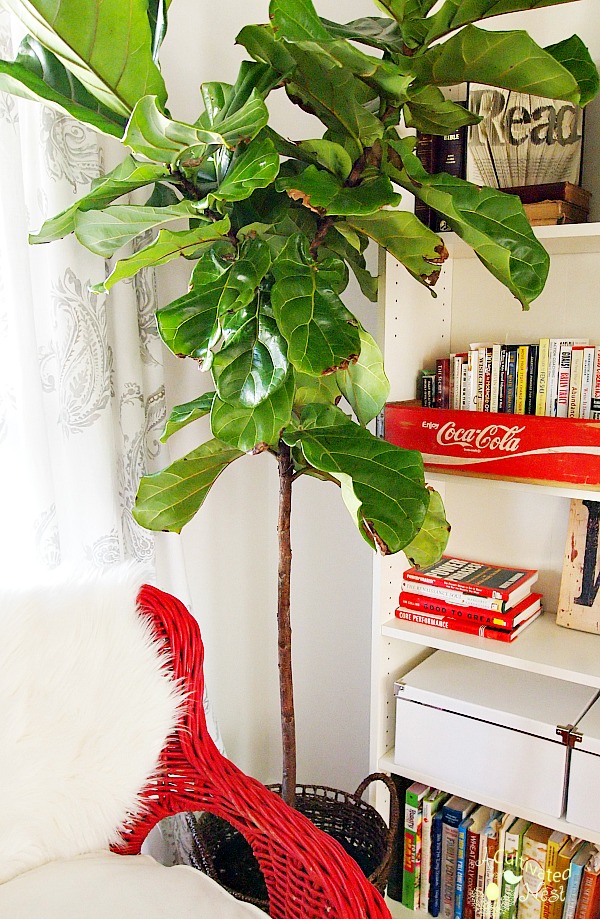 Disclosure: This post may contain affiliate links to Amazon and/or Etsy, which means that I may earn a small commission from some of the links in this post. Please see our Disclosure Page for more information.
The living room has four narrow windows, two that face out to the front porch and two that face into the backyard. This house had no curtain rods so I've had to buy curtain rods for all the windows and I found some nice inexpensive one's at this new discount store that opened by us called Ollie's. Do you have one? It's sort of like Big Lots. The curtain rods in the living room only cost $4.99 each! They didn't have much to choose from if you needed more than one or two, but these are metal and not plastic so I thought that was a good deal.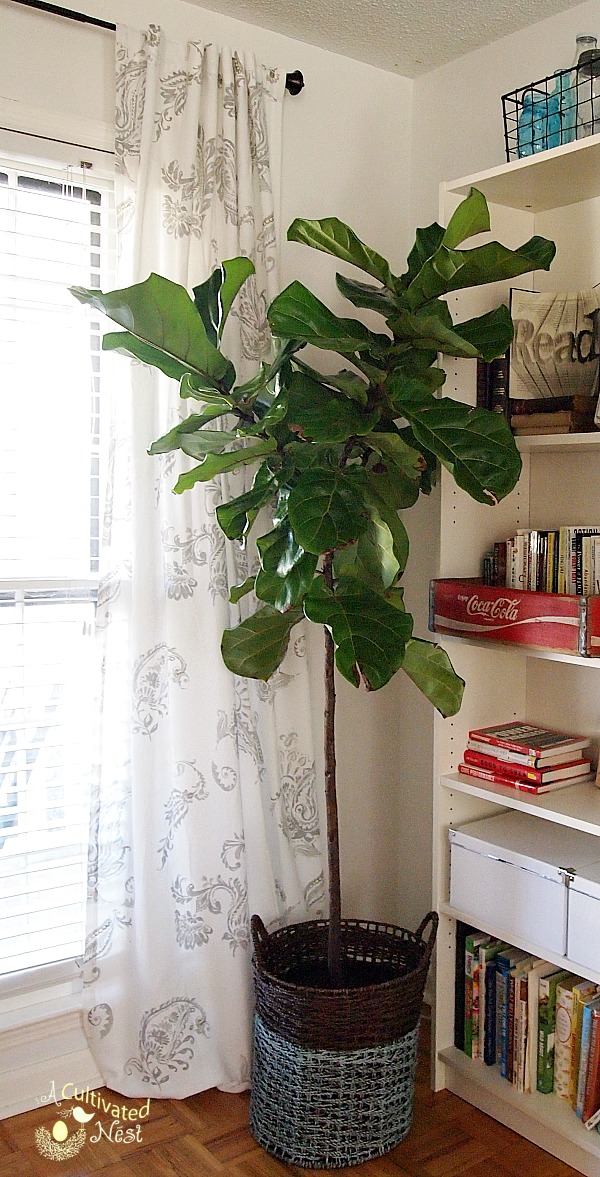 The curtains I found at TJMaxx. They're white with a mostly gray pattern. I know those of you who have been reading this blog for a while are probably wondering where the toile or checks are! The basket I've had for a while and it has seen better days. So I painted the bottom with a sample of Annie Sloan Chalkpaint that I already had but I'm not loving it. I may paint the whole basket white and then do some aqua stripes. The tree just fits in the basket – it's in there pretty tight. I'll look for a bigger size basket at Goodwill  or maybe find one on clearance somewhere (have you priced big baskets at stores lately -they are pretty pricey).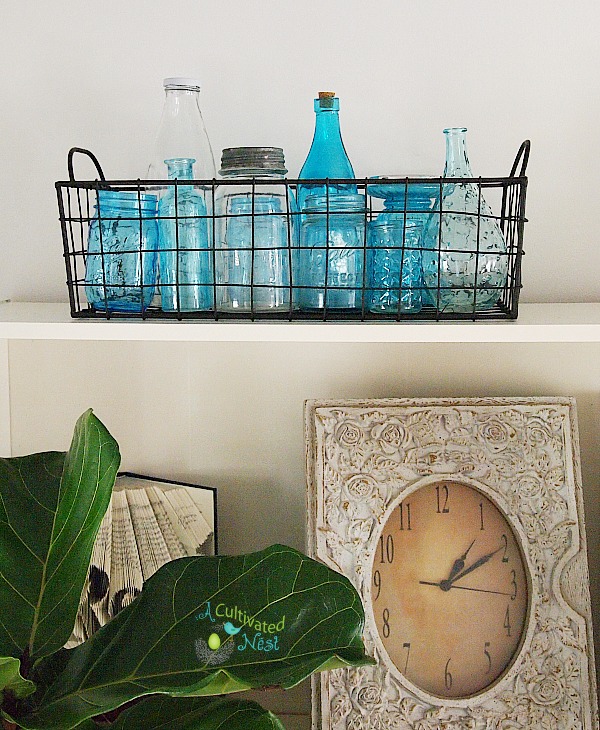 On the top of one of the bookcases I have a wire basket with some blue and clear jars and bottles.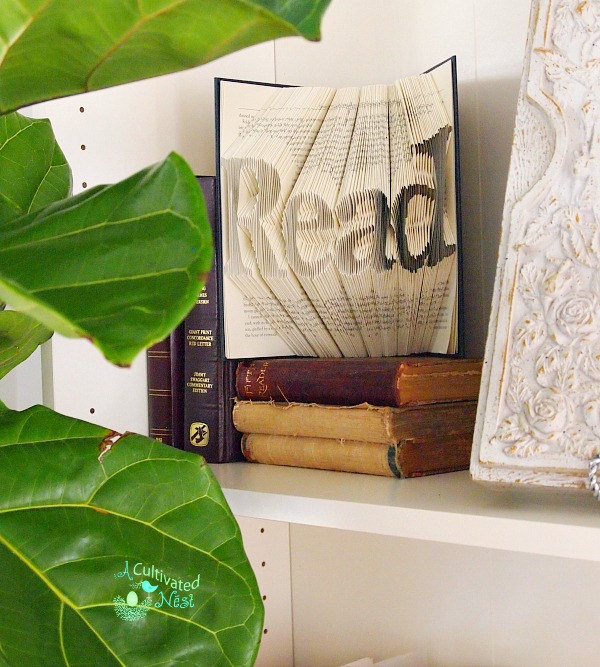 I got this folded word art book for my husband for Christmas. This is kind of his bookcase – with mostly his books.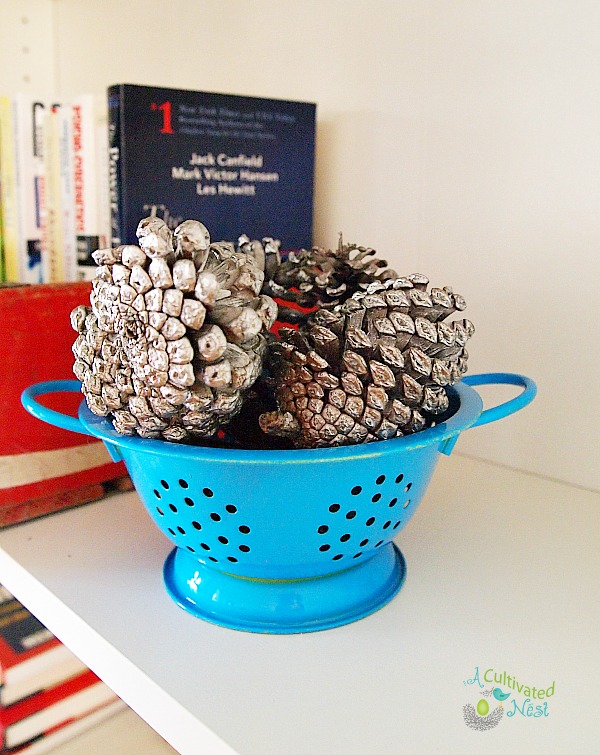 These pinecones are leftover from Christmas. I painted them with Kyron Looking Glass spray paint (you use this to make objects have a mercury glass look). I love mercury glass! I thought these pinecones looked wintery so I'm leaving them out until I feel like decorating for spring.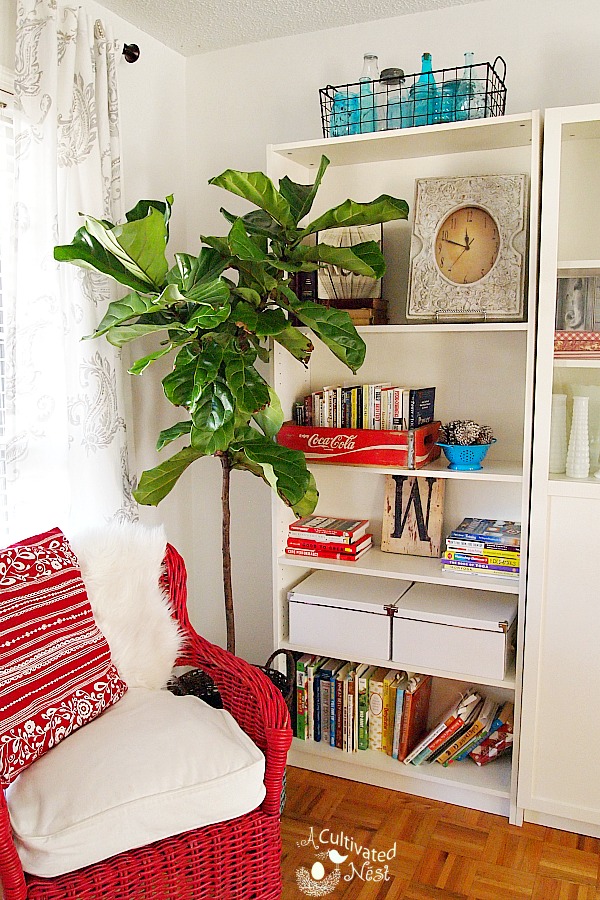 Like I said, it's still a work in progress. I need to work on the bookcase a bit and I'd like to find a small side table and ottoman for this corner seating area (so I need two small ottomans since I need one for my reading area as well). But in the mean time I'll be moving onto the area to the left of this chair. I'm working my way around the room!
I'm going to link below to the other posts that show the other side of this room. If you want to check out decorating projects in other rooms just click on the budget decorating tab at the top of the blog in the navigation bar.