Genius Dollar Store Organization Ideas.
Who doesn't love an organized home? Having things where you can easily find them really makes life a bit easier. But you don't have to spend lots of money in order to have an organized house! I've collected some great Ways To Organize Your Entire Home From The Dollar Store! Practically every room in your house is covered (the kitchen, laundry, bathroom, playroom and more)!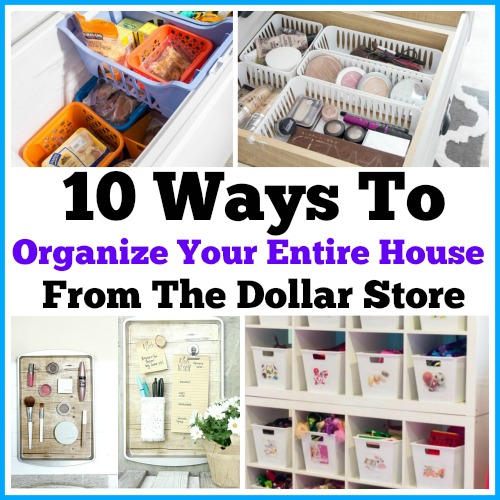 Disclosure: This post may contain affiliate links to Amazon and/or Etsy, which means that I may earn a small commission from some of the links in this post. Please see our Disclosure Page for more information.
Check out all the clever ideas below for some inexpensive yet effective organizing ideas from the dollar store!
10 Ways To Organize Your Entire Home From The Dollar Store
Organizing your home using dollar store products is a frugal way to get everything in order without breaking the bank! That's always a great thing! Check out these tips and then you can get busy putting your entire home in order once and for all.
Look for baskets. When you are at your local dollar store, pay attention to baskets of all shapes and sizes. Squares, rectangles, and even odd-shaped baskets are handy to have around. If you find some that are see-through, those are lovely in your pantry or even utility room. Then you will know exactly what's in each one.
Keep similar items together. It wouldn't make sense to store extra socks with food items. Keep everything that is similar together. Cleaning supplies, extra food, clothing, whatever it is it's going to be easier to organize if it naturally belongs together.
Break out the labels. Not only is it handy to have things labeled for yourself, spouse, and kids it also looks great too. If you want to make a huge impact on your organizing, labeling is the perfect way to go. You can find inexpensive labels and handwrite them or print them off of the computer. Also check out my post on free printable labels!
1. Organize Your Freezer
Jess from Practically Functional found a genius way to use dollar store bins to organize her chest freezer! She gives you a great tutorial for how to arrange the bins and even has a post about how she maintains her freezer inventory.
Related: Ideas For Organizing A Chest Freezer
2. Cutting Board Storage Hack
Check out how That's What Che Said used a wire organizer (normally used for foil & plastic wrap) to make storage for cutting boards. You can get these wire organizers pretty much anywhere,  the dollar store, home improvement stores, and on Amazon here. What a great way to use the inside of a door!
3. Plastic Basket Storage Solutions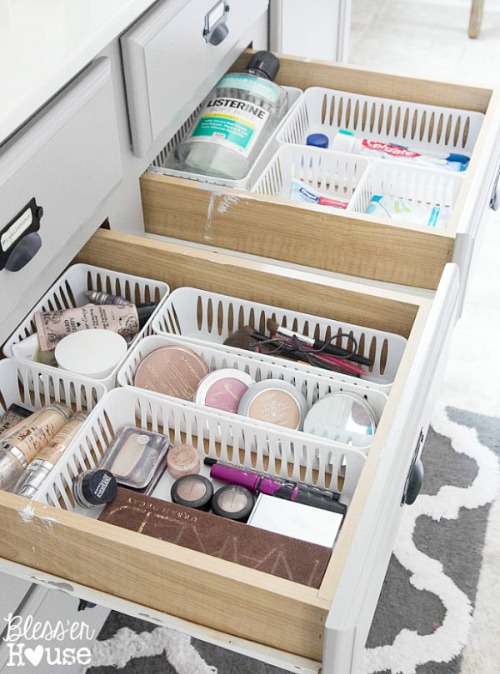 The Dollar Tree sells packages of plastic baskets (3 for $1) that are perfect for organizing drawers. Check out how Bless'er House made over her master bathroom and organized her bathroom vanity with these inexpensive baskets. They work great in the kitchen too!
4. Kid Toy Organization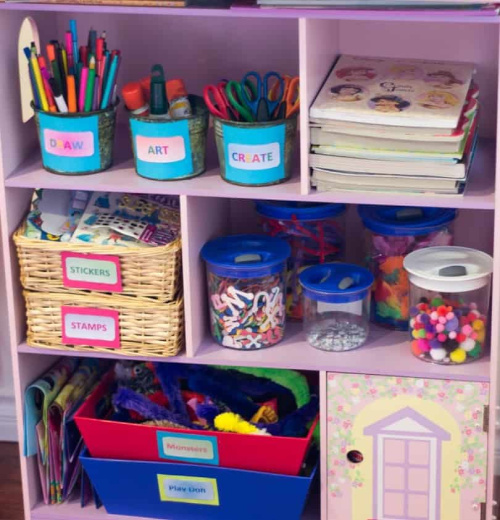 One of my favorite YouTube organizing channels is Cas from Organized Clutterbug and she used dollar store bins to organize her kids' toys. The whole playroom looks great and how she labeled those toy bins is just genius! Her new book on organizing is amazing – Real Life Organizing – Clean & Clutter Free In 15 Minutes A Day
5. Magnetic Dollar Store Spice Rack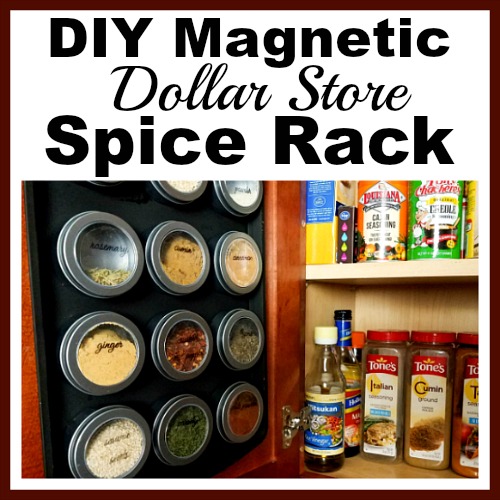 Here's a great way to organize your spices with a DIY spice rack made from dollar store items.
6. Simple White Storage Bins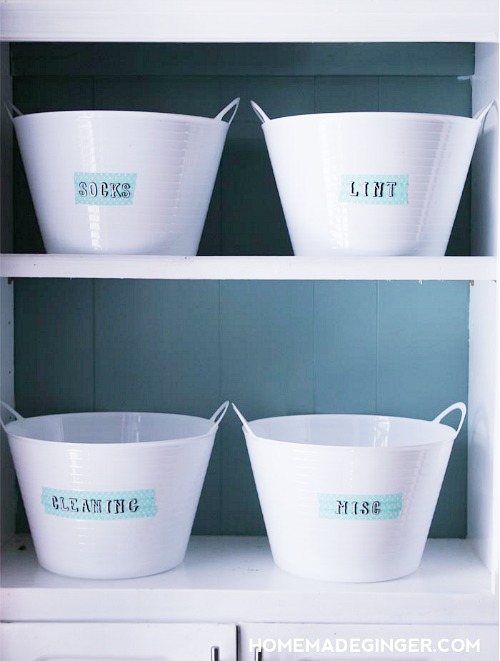 Dollar store bins are used in this laundry room organization. Homemade Ginger used simple white bins and a usual technique for labeling to create some needed storage in her basement laundry room makeover.
7. Inexpensive Jewelry Storage Hack
Easy to find accordion hooks from the Dollar Tree are used by Adorable Antics to organize jewelry. What a pretty way to store your necklaces and bracelets and still have them accessible!
Related: 20 Brilliant DIY Jewelry Organizing & Storage Ideas
8. Organizing Bins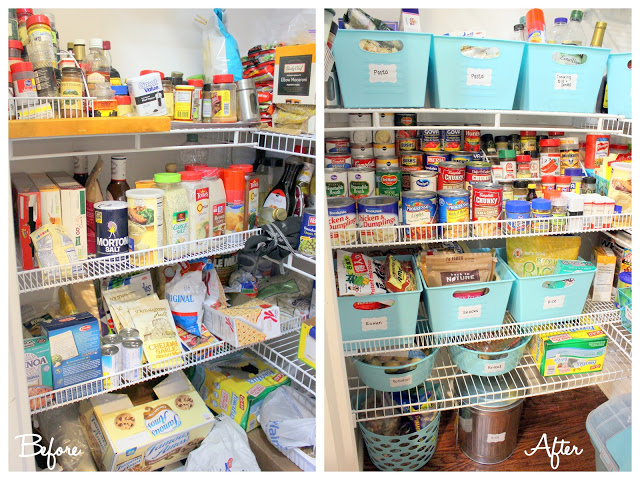 Dibble Dabble did an amazing job re-organizing her pantry with dollar store bins. Love those aqua bins!!
9. Magnetic Organizers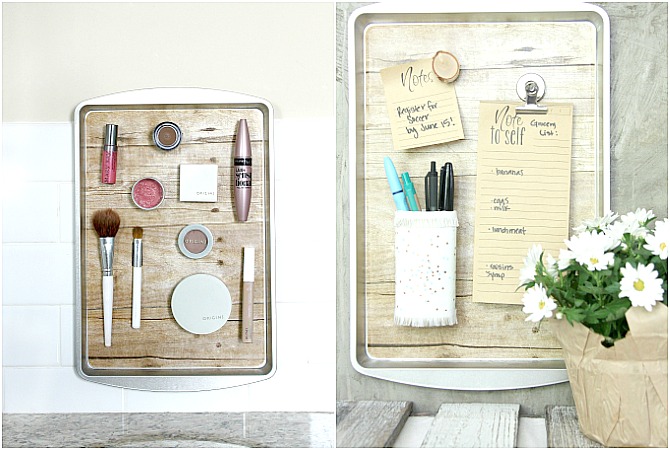 The Crazy Craft Lady made two DIY magnetic organizers from dollar store cookie sheets! What a cool idea for the bathroom and office!
10. DIY Homework Station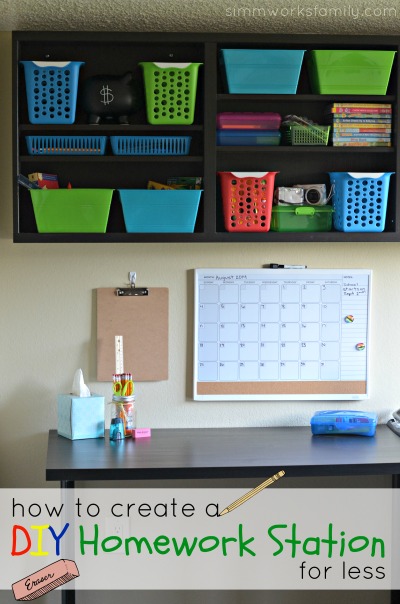 Here's a DIY homework station using dollar store items from A Crafty Spoonful. Getting organized is quite inexpensive when you use supplies from the dollar store!
Which of these organizing ideas is your favorite?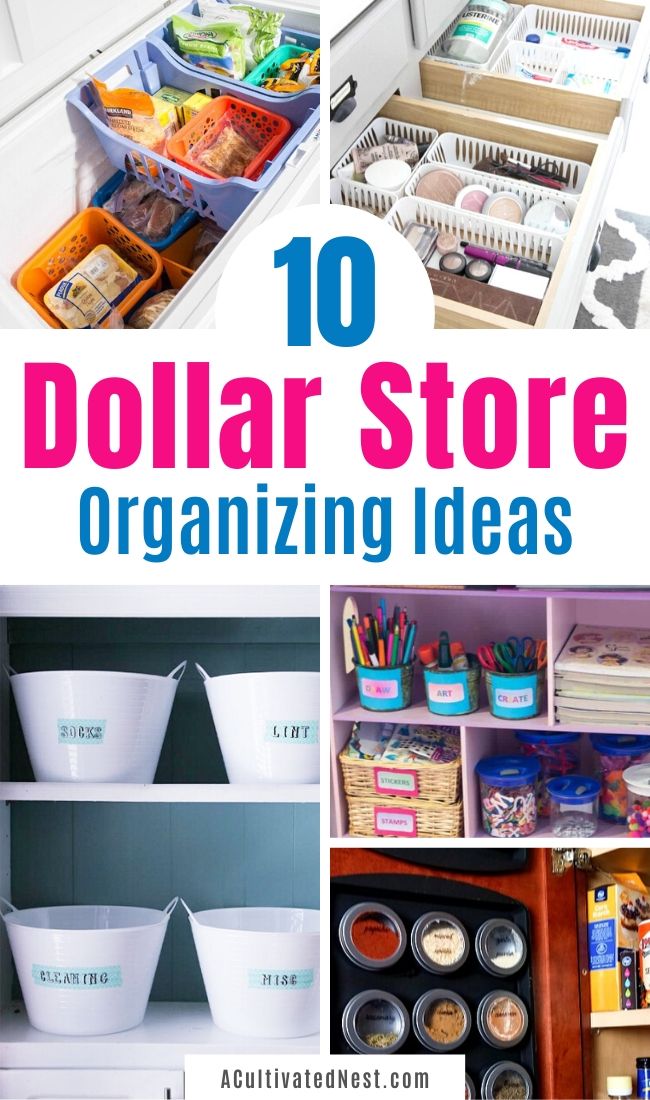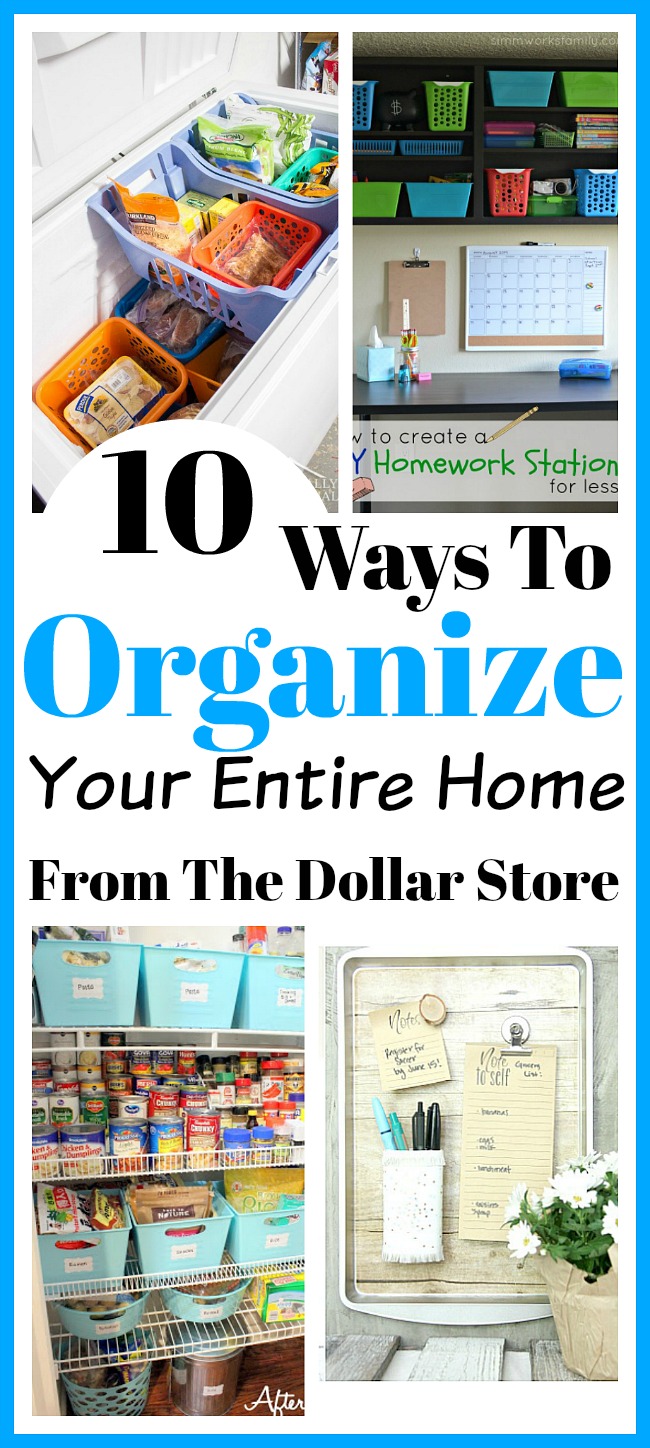 You might also be interested in: Easy Junk Drawer Organization Ideas