Junk Drawer Organization Ideas.
Sometimes the most disorganized area of a home is also the smallest. I'm talking about the junk drawer! I think most people have a junk drawer in their kitchen or somewhere in their home. Right? It becomes a  catch-all for those little odds and ends that we need and normally winds up looking like a mess. Hopefully, these junk drawer organization ideas will help you keep things in order in your home!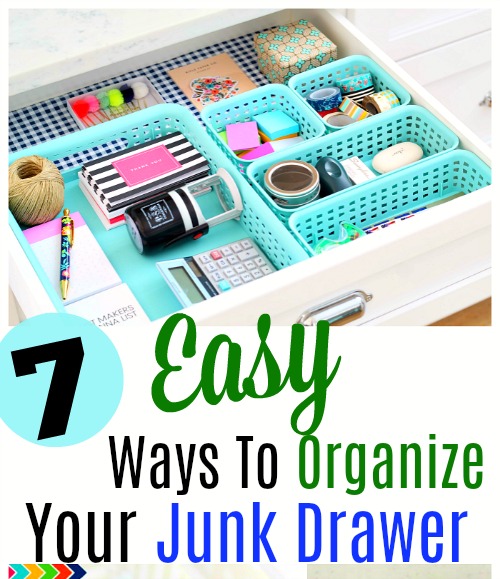 Disclosure: This post may contain affiliate links to Amazon and/or Etsy, which means that I may earn a small commission from some of the links in this post. Please see our Disclosure Page for more information.
Disclosure: This post may contain affiliate links to Amazon and/or Etsy, which means that I may earn a small commission from some of the links in this post. Please see our Disclosure Page for more information.
Junk Drawer Organization Ideas
Junk drawers are the catch-alls for the random assortment of things that we need but those things don't have a designated spot in the house. I'm talking random nails, screws, push pins, flashlights, a screwdriver, a measuring tape, some leftover pieces from a piece of furniture you had to put together (we all know everyone's done it!). These trinkets may come in handy for something else but they have to be stored until then! Here are some tips for making your junk drawer a little more organized.
Dump it out! When you are getting ready to organize the junk drawer, just dump it all out on a large space. This way you can sort and make piles of things to keep, trash, or find a new home for.
Make piles. I like to make piles for easier sorting. I usually keep it to 3 or 4 piles. I always have a keep pile, trash pile, find a new home pile, and a what is this pile.
Use containers. Once, I have sorted everything. I like to use containers to hold all the things. This keeps the drawer more systematic and neat-looking.
Try to downsize! If your containers are overflowing then you won't be able to see what is inside each one and the organization will go out the window because you will be dumping and moving things. So try to get rid of some of the junk. It will make your life easier and less stressful!
1. Plastic Containers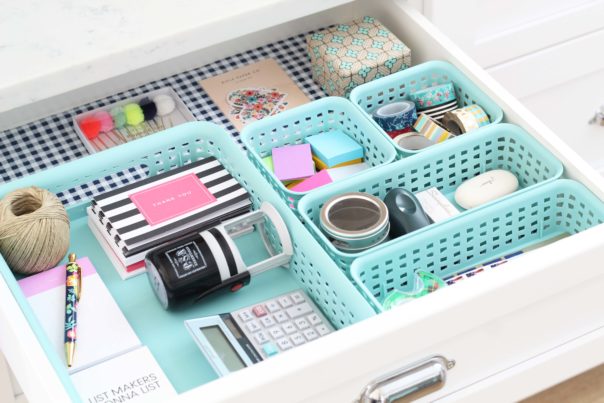 A Nod To Navy used these pretty plastic containers (love that color) to organize her junk drawer. You can easily get these at the Dollar Tree (don't know if they come in that color though) or any big box store. I love how she lined the drawer too!
2. Cereal Box Drawer Dividers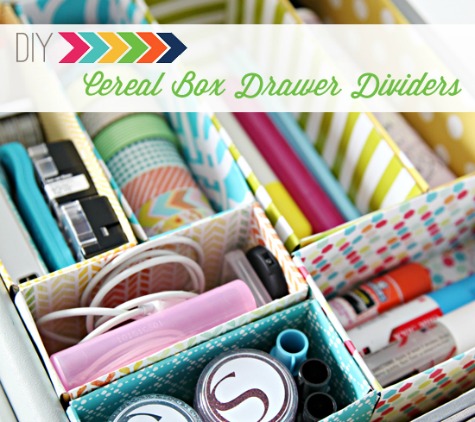 What a great way to repurpose something! See how to make these cute drawer dividers from cereal boxes. I Heart Organizing has step-by-step directions to make this an easy task to tidy up that junk drawer.
3. Bamboo Flatware Organizer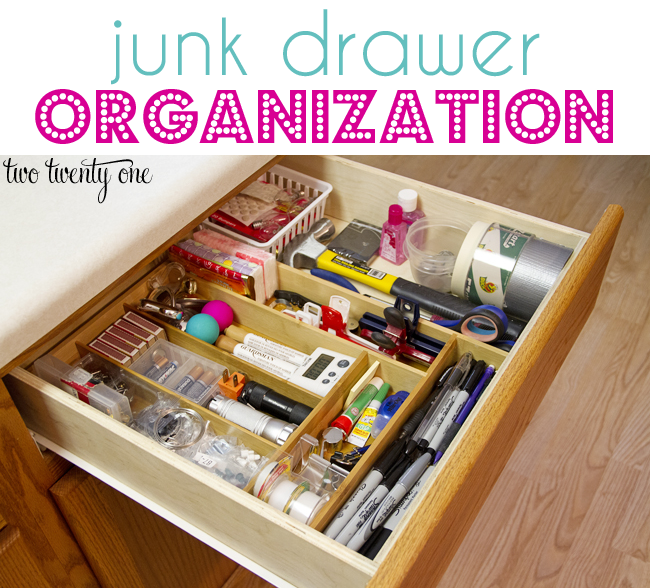 This beautifully organized junk drawer uses a bamboo flatware organizer. Two Twenty One uses something so simple to make her junk drawer more organized and everything is easily accessible. I love this one that I got from Amazon since it's expandable.
4. Use containers you already have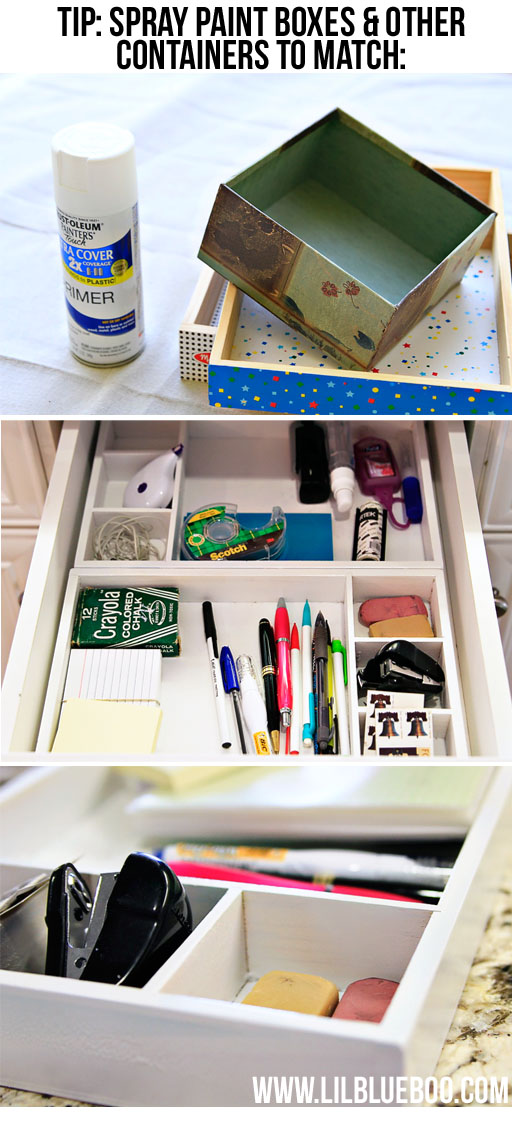 Lil Blue Boo shares tons of tips on her post about organizing junk drawers. My favorite is to use containers you already have! She spray paints them to match and then makes her drawers nice and neat!
5. Try different sizes
Organzing Junkie encourages you to try different sized baskets and practice the layout in the drawer before you put the stuff back in. She moves the baskets around and changes some out before deciding what will work best for her contents.
6. Use clear containers
I love how The Spruce used clear containers to organize this drawer. It makes the drawer look seamless and put together with the lack of bright colors. Plus, you can pick up one of the containers and see what is on the bottom or sides.
7. Two-tiered organizer
This two-tiered organizer is such a great tool to store a lot of things in an organized fashion! The Spruce reviews it on their post and gives it the best rating for a sliding organizer. This could do wonders in deep drawers where things get lost!
8. Wire baskets
I love how I Heart Organizing put some drawer liners in to make them fun and then spray painted some old wire baskets gold to make them glam for this junk drawer remodel. With junk drawers this cute, you will want to show them off!
9. Label inside the drawer
Just a Girl and Her Blog puts labels on her containers so there is no confusion as to what goes where. This would be helpful if multiple people are living in your home; that way everything gets back to its correct area.
10. Cardboard box drawer divider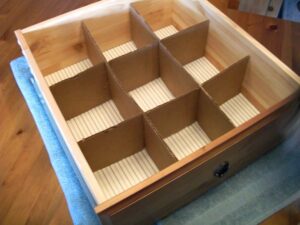 Use a simple cardboard box to create dividers to organize all the things that you need in your junk drawer. A Real Housewife of NYC has directions on how to make this drawer organizer.
You may want to check out my Organized Nest board on Pinterest for more great home organization ideas!
More organizing posts for you to check out:
11 Small Bathroom Organizing Ideas
How To Organize Your Home With Jars
How To Organize Under The Kitchen Sink