14 Tips for Organizing with Jars.
Have a bunch of extra jars lying around? Organize your home with those jars! Jars are not only functional but look pretty. They're also affordable (especially if you re-purpose jars you already have like food ones or ones that have held candles). You can also pick up mason jars or plastic storage jars really inexpensively at thrift stores and garage sales.  Check out the following 15 Ways to Get Organized with Jars!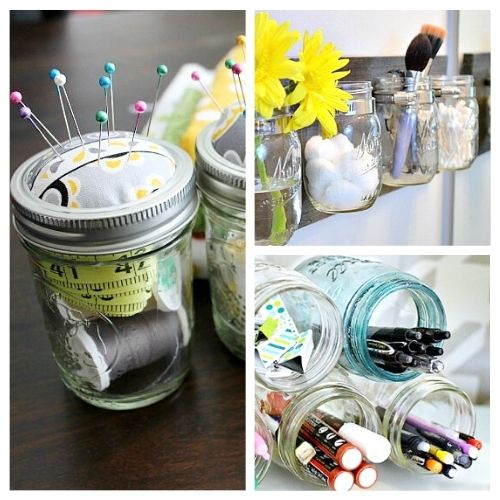 Disclosure: This post may contain affiliate links to Amazon and/or Etsy, which means that I may earn a small commission from some of the links in this post. Please see our Disclosure Page for more information.
There are so many fun and frugal ways to upcycle jars into useful (and pretty) containers for organizing your home!
14 Creative Ways to Organize with Jars
I bet you'll be surprised at how pretty these frugal jar organizing solutions look! I have some tips to get you started on your organizing journey with jars.
Reuse! Think about all the food you purchase that comes in glass jars; those would make great organization tools and aren't costing you anything!
Keep your lids! Don't just save your glass jars from your groceries; save the lids too! Wash them up and now you are ready to seal your jars so things don't spill.
Varying Sizes- Glass jars are great for organizing a multitude of things because they come in so many sizes! Use this to your advantage to fit all your storage needs. Use little jars for things like safety pins, buttons, paperclips, and large jars for things like cotton balls, dried goods, and so much more!
1. Organize Your Desk
All it takes is some extra jars and a hot glue gun to make this great desk organizer system from It's Overflowing!  This could also be used for long craft supplies, like paintbrushes or art markers.
2.  Organize Your Pantry Pretty
Take bulk foods like flour, rice, or nuts out of their containers and put them into matching glass jars  (which can be found at Target and Wal-Mart) via The Farm Chicks. Make it even easier to use them by adding a small measuring scoop to each jar. And if you're worried you may forget what's what, you could add some pretty labels to them!
3. Corral Your Craft Supplies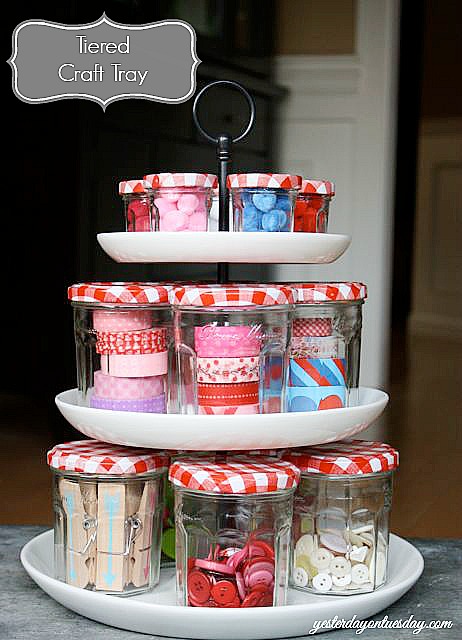 If you have jars of different sizes you can organize your small, medium, and large craft supplies like above via Yesterday On Tuesday (who put her jars on a pretty space-saving tiered tray).  Jars that are see-through are good to use since they allow you to see what is stored inside (otherwise label the fronts).
4. Make a Cute General Purpose Organizer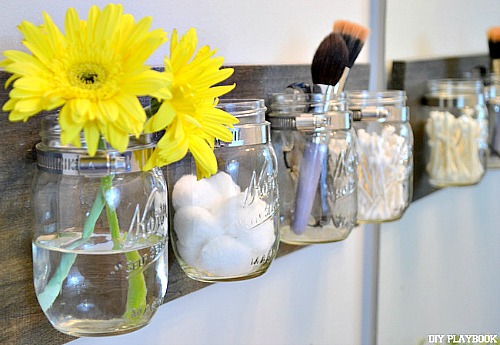 The DIY Playbook's wall-mounted DIY mason jar organizer could be used for a variety of purposes. It can hold makeup supplies, craft supplies, kitchen supplies, really anything at all!
5. De-clutter Your Garage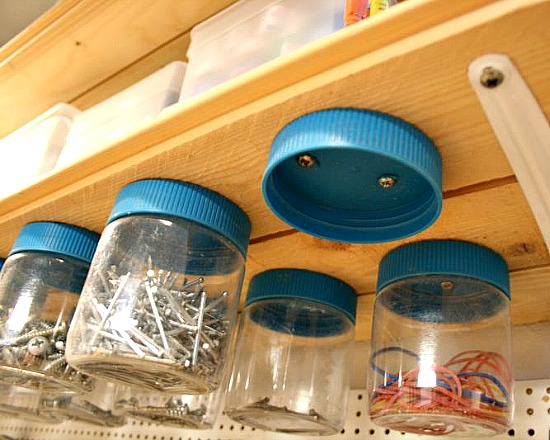 This idea from Chez Larsson is great for organizing small items in a garage! This is a great way to re-purpose any little plastic jars you may have lying around. With this, you can easily find your nails, screws, thumbtacks, etc. Because the tops are screwed into the bottom of a shelf, you can just unscrew the jar bottoms and take them to your work area without worrying about losing the tops.
6. Organize Your Silverware With Jars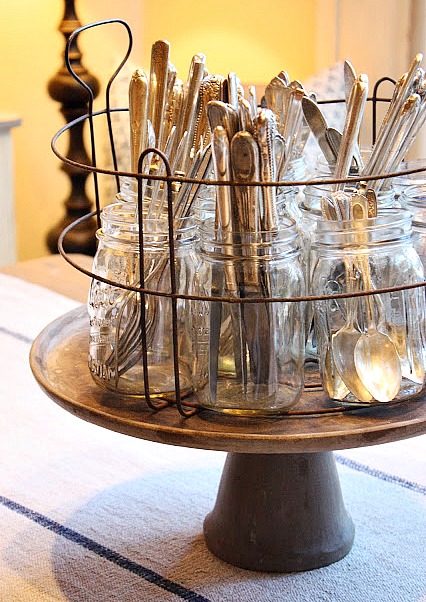 Organize your silverware for everyday use (or a party). Great idea for people that don't have lots of drawer space. Make it pretty by displaying your jars filled with silverware on a cake stand like this by My Sweet Savannah.
7. All-in-one Sewing Kits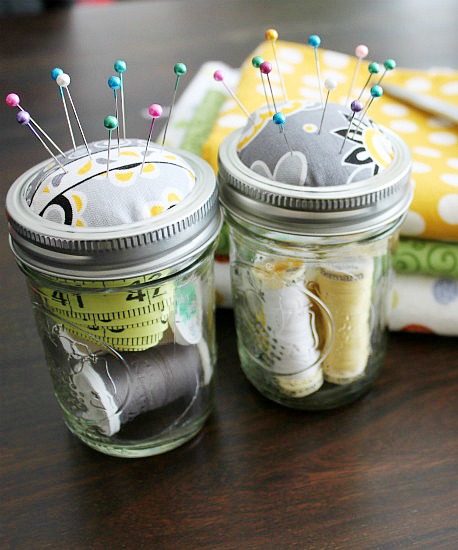 Use a mason jar to create this great sewing kit organizer with a pincushion top from Wait Till Your Father Gets Home. These are great because they make it easy to carry around your sewing essentials. They'd make great gifts, too!
8. Magnetic Jar Organizers
Sugar Bee Crafts shows another way to wall mount mason jars- with magnets on a small magnetic board. This not only looks cute, but is really handy because you can take the jars off and on. This would be great for craft rooms or garages!
9. Organize Your Vitamins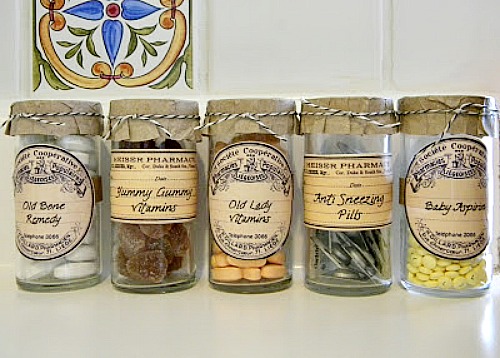 Bet you never thought about organizing your vitamins! Transfer your vitamins from their not so nice containers into more uniform pretty jars (in this case re-purposed spice jars)! This idea from Homework is great for people who leave their vitamins out, plus jars all the same size fit better in cupboards
10. Spice Jars
Buy your spices in bulk, which is cheaper, and store them in small jars. Add a cute label to the side or label the top of the jars like The Farm Chicks did in her spice drawer organization.
11. Bathroom Supplies
Another great idea from Yesterday on Tuesday for organizing! Store all those random bathroom supplies in a cute organized fashion! Use your cricket to add labels to add a little something extra.
12. Laundry Room
I am so jealous of Lydi Out Loud's adorable laundry room! She uses glass jars to store her laundry supplies and she gives you some free labels to make them cute and functional!
13. Craft Supplies
Repurpose old plastic jars for craft storage. They are large to hold a lot of goodies, plastic so they won't break when dropped, and you can decorate them like Intelligent Domestications did. Plus, you are keeping them out of a landfill!
14. Outdoor Party Storage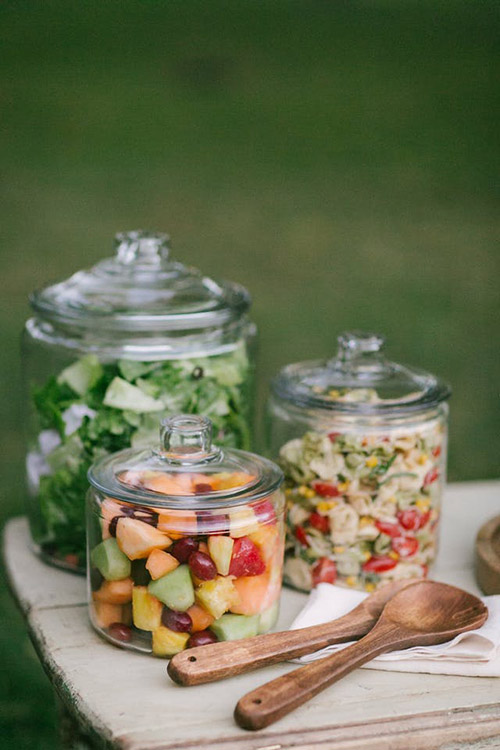 I LOVE these ideas for outdoor party storage from Pineapple Paper Co.! Keep the bugs out of your food with glass containers with lids but let everyone see what food is on the menu. She also uses jars to create grab-and-go drinks for everyone!
These jar upcycle ideas will make organizing with jars in your home simple, frugal, and fun!
What ways have you used jars for organizing?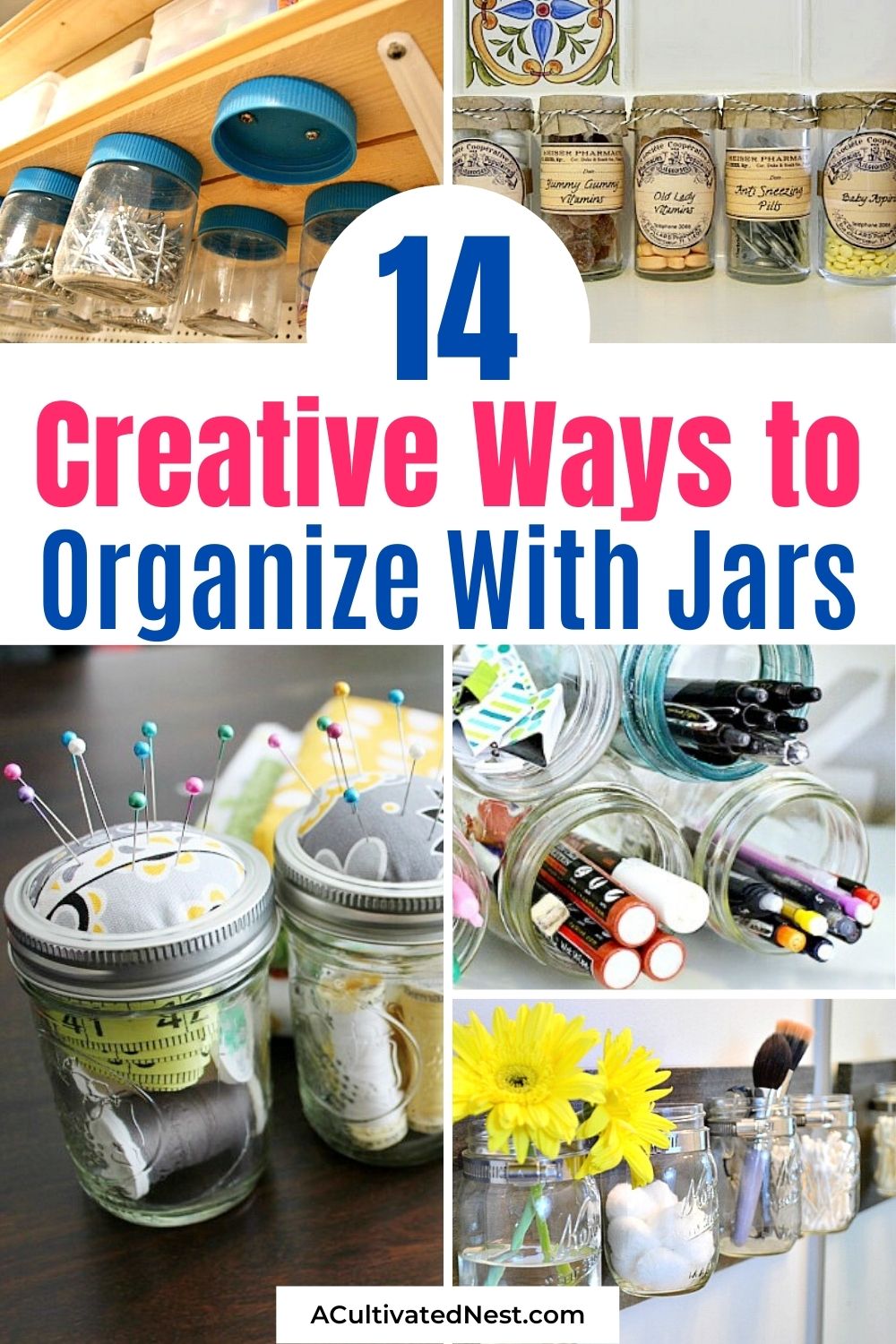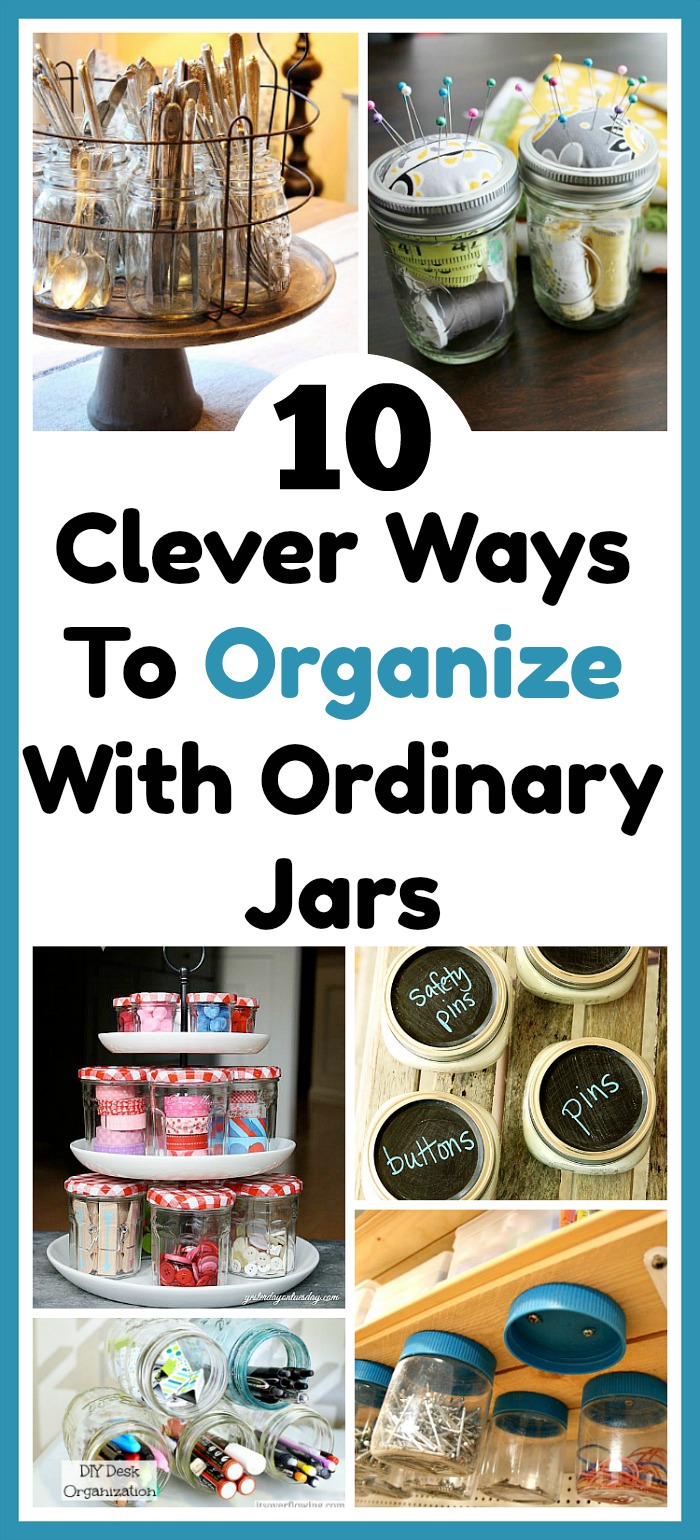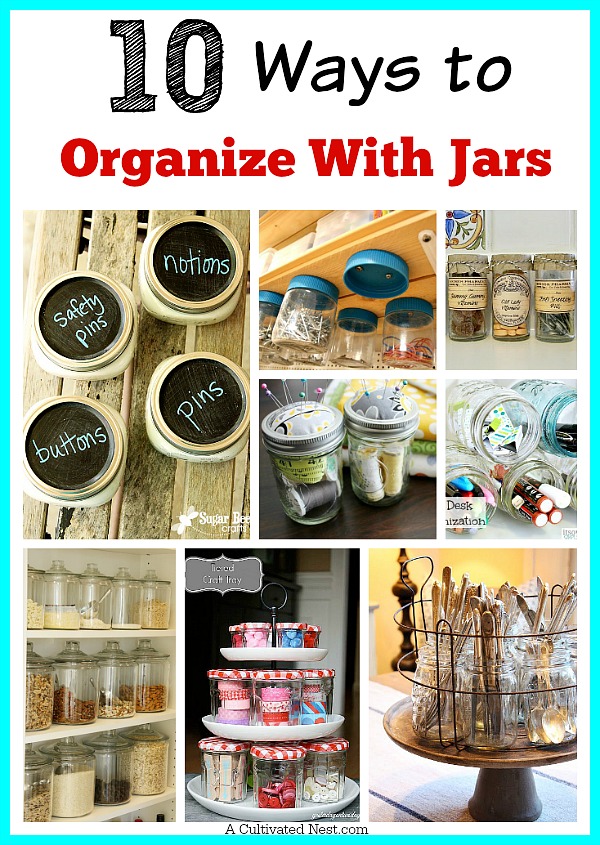 You may also be interested in: DIY Painted Bathroom Mason Jar Organizers