One of my favorite ways to freshen up or completely change the feel of a room's decor is with a pop of color in the form of paint, be it a whole wall or an accessory.  I ALWAYS have several cans of spray paint on hand in whatever are my current favorite colors.  With objects found around the home and 15 minutes you can brighten and coordinate a room to go with your mood!  Organization is always at top of our lists too isn't it? I like to have holders for everything and mason jars are perfect for holding everything from pasta to crayons so it was natural to combine them with paint! I created a mason jar bathroom organizer set for my master bath and a set for the kids bathroom . Here's how I did it!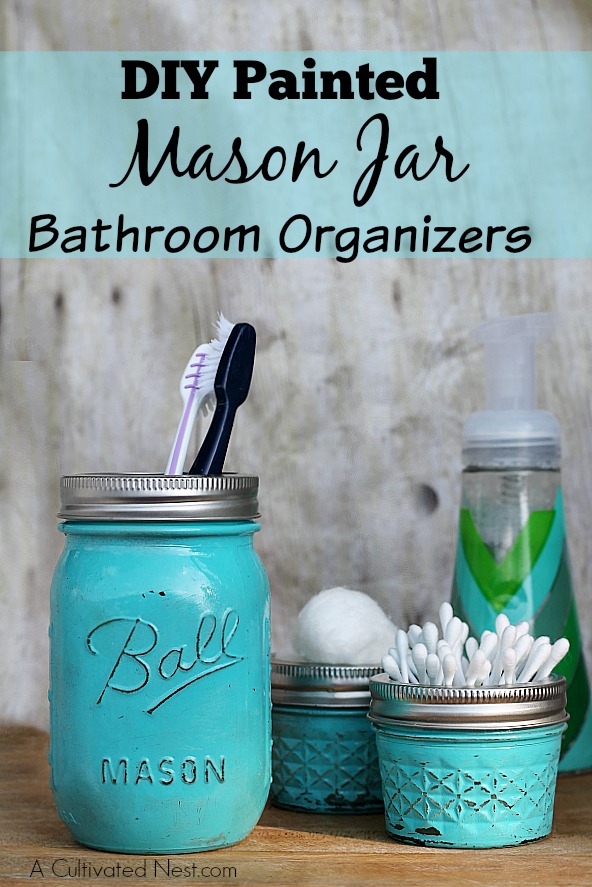 Disclosure: This post may contain affiliate links to Amazon and/or Etsy, which means that I may earn a small commission from some of the links in this post. Please see our Disclosure Page for more information.
These are so easy to make and I love how they turned out!
Don't miss a post! Get this blog delivered by email.  Subscribe via email here
DIY Mason Jar Bathroom Organizer
Supplies Needed:
Mason jars
spray paint
sandpaper
rubbing alcohol
optional -mason jar rings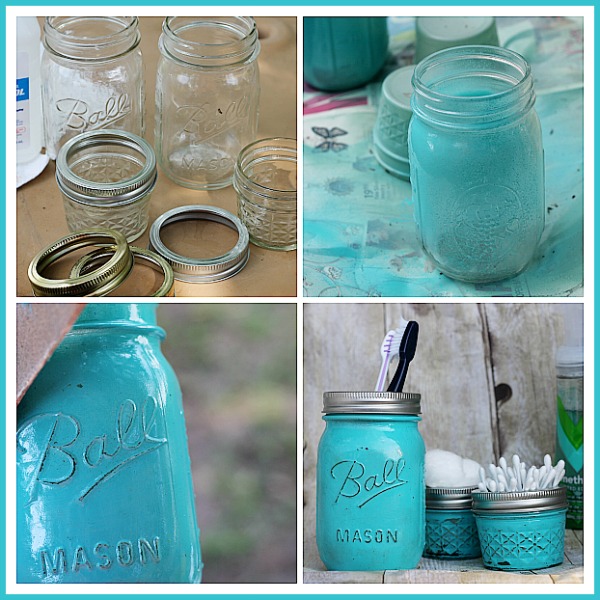 Directions:
1. Wipe down outside of all jars you will be using with rubbing alcohol- this cleans dirt and fingerprints from your glass and will allow paint to adhere better.
2. Allow to dry completely.
3. Spread newspaper outside in a well ventilated area and place mason jar in the center.
4. The key to a great spray paint job is to first put on a light tack coat so go ahead and shake your can well, make sure nozzle is clean, and cover your jar with light strokes from about 8" away. You want to make sure it is even and all over (but don't stress this doesn't have to be perfect).
5. Allow tack coat to dry for 10 minutes, then apply 2 to 3 more coats until desired coverage is reached, drying 5 minutes between each until final coat- allow at least an hour dry time after final coat before distressing.
6. Fold a small square of sandpaper into a strip- this gives you more control over where you are sanding. I like to rub of the majority of the paint on the letters and a few more spots around them to distress.
7. Replace jar rings if using and your jars are ready to go (you can even spray paint the rings if you like).
8. To clean: Wipe clean with a damp cloth or paper towel.
*For my bathroom I used a pint jar for toothbrushes and 2-4 0z. jelly jars to hold cotton balls and cotton swabs.
In the kids bathroom they do not need to have access to ear swabs but use a lot of cotton balls for applying medicines to owies, aloe after sun, etc. So I used 2 pint jars and painted one the same way as the ones in our Master Bath and the other by masking it off with painters tape, pressing firmly onto glass to get a clean line, spray paint and then remove after paint has dried.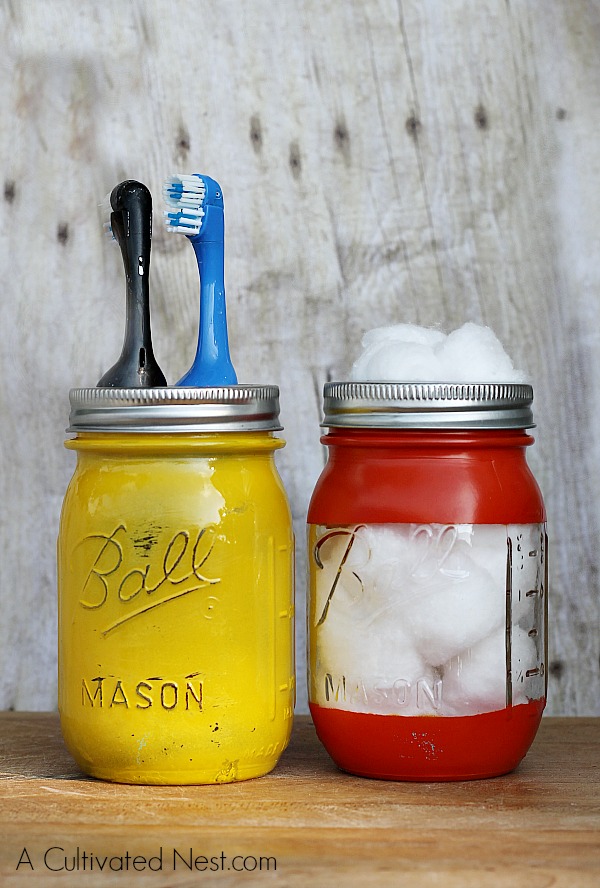 You can buy pump dispensers to make a mason jar into a dispenser for soap or lotion. These are also great for makeup brushes and hair ties!
The fun thing about this DIY is how easy it is to customize to your decor – just coordinate the colors with your room.
Do you use mason jars for storage in your home?
This post contains affiliate links to Amazon, which means that I may earn a small commission from some of the links in this post. Please see our Disclosure Page for more information.
You may also be interested in:  How To Organize Any Room In Your House With Jars
  About Jody: I am a Florida girl through and through living the semi-country, small town life.  I am making my way through it with my amazing hubby, 2 beautiful kids, 2 of the best Dachshunds to ever walk the face of the earth, massive amounts of coffee and a whole lot of Jesus.  I homeschool, craft, cook, scrapbook, garden, raid the thrift shops, snap 1,000's of photos, and read when I can grab a spare minute (which is rare). You can find me blogging at Simply Southern Sunshine.