One recipe we make a lot in this house is chicken fajitas (because it's so quick and tasty).  Of course what makes it so delicious is the fajita seasoning. Why buy fajita seasoning mix when it's so simple to make your own? I bet everything you need is already in your pantry! I like to make up 3 or 4 batches at a time and have it on hand ready to go anytime I need it, for long term use I recommend a glass container rather than a plastic bag. Homemade Fajita Seasoning Mix is part of the Nesting Skills Series of recipes.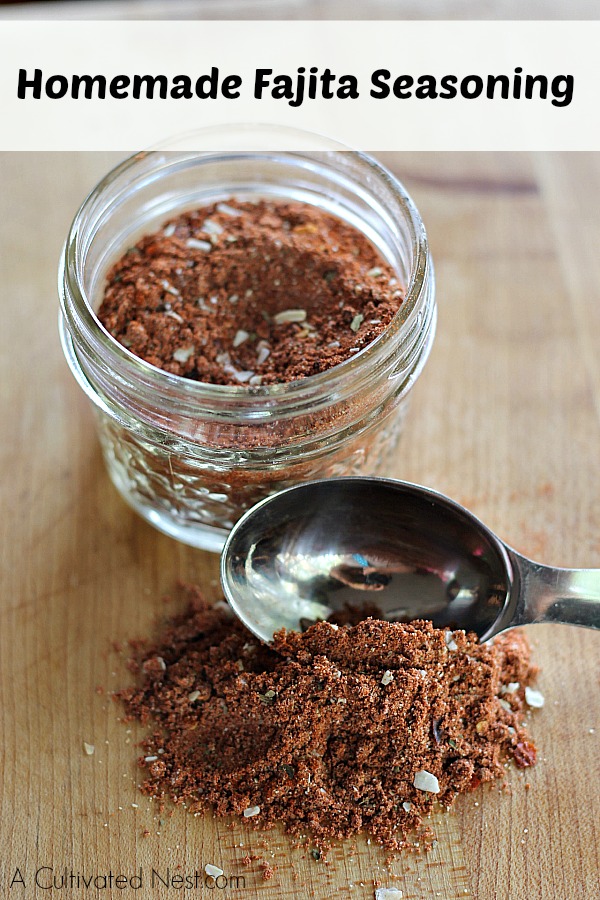 Disclosure: This post may contain affiliate links to Amazon and/or Etsy, which means that I may earn a small commission from some of the links in this post. Please see our Disclosure Page for more information.
So next time you want to make fajitas don't run to the store and buy one of the pre-made packets. It will literally only take a few minutes to whip this together and there won't be any weird preservatives or high amounts of salt in it!
Homemade Fajita Seasoning Mix
Ingredients:
2 tsp. Chili powder
1 tsp. Paprika
½ tsp. Onion flake
½ tsp. Garlic powder
¼ tsp. Cayenne pepper
¼ tsp Cumin
½ tsp. sugar
1 tsp. salt
1 Tbsp. Cornstarch
Why the cornstarch? This thickens the mixture as it cooks so it coats the meat more like a sauce, it can be omitted if you prefer.
Directions:
1. Whisk all ingredients together
2. This batch is good for 1- 1 ¼ lb. of meat- chicken or beef strips.
3. To use add dry mixture to 1/3-1/2 cup of water and pour over your cooked chicken or beef strips, bring to a boil and let it cook down a bit
4. If using this mixture as rub leave out the cornstarch
The great thing about make your own mixes is that you can adjust the recipes to suit your own tastes. So kick up the heat if that's how you like it! Or omit the Cayenne if you don't!
Making fajitas? You may also want to serve this recipe for Individual 7-Layer Dip
The Nesting Skills Series is all about making your own home-made versions for various store-bought products. You can see all the posts in the Nesting Skills Archive here.
  About Jody: I am a Florida girl through and through living the semi-country, small town life.  I am making my way through it with my amazing hubby, 2 beautiful kids, 2 of the best Dachshunds to ever walk the face of the earth, massive amounts of coffee and a whole lot of Jesus.  I homeschool, craft, cook, scrapbook, garden, raid the thrift shops, snap 1,000's of photos, and read when I can grab a spare minute (which is rare). You can find me blogging at Simply Southern Sunshine.