10 Clever Under the Kitchen Sink Organizing Ideas.
I think most people have trouble with how to organize under the kitchen sink area! It is a difficult area since you usually have to work around pipes, the sink, the disposal, and maybe even a water filter. I was struggling with my under-sink organizing, so I went in search of some ideas to make my under-sink area work for storage. I thought I'd share these ideas with you in case you had a similar problem. So have a look at these tips on How To Organize Under The Kitchen Sink! I hope you find some inspiration for organizing under your kitchen sink!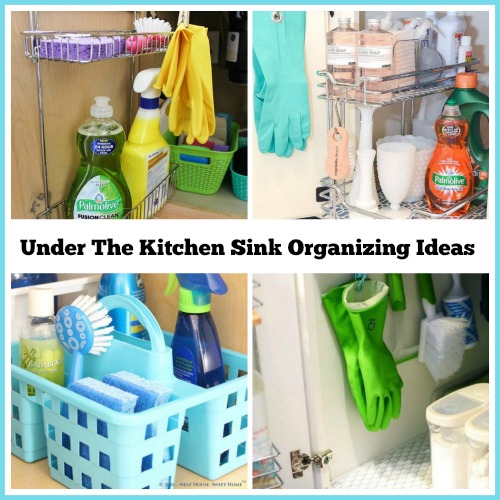 Disclosure: This post may contain affiliate links to Amazon and/or Etsy, which means that I may earn a small commission from some of the links in this post. Please see our Disclosure Page for more information.
I was able to organize the under sink area in my old house. But in this house, the sink cabinet has even more pipes and a strange set up (leaving me hardly any accessible space to store cleaning supplies). But these tips are definitely going to help!
How To Organize Under The Kitchen Sink
Under the kitchen sink is usually pretty small, but with the proper tools and organizational skills, you can make the most of the space. Take a look at these tips to consider before you begin.
Go through everything under the sink and toss things you no longer need. Have old sponges or outdated cleaning products? Toss them if they are no longer usable.
Use a variety of organizers. Pick different shaped containers so you can make the most of the space.
Add shelving or over-the-door organizers to keep it all nice and tidy.
Consider using a cleaning caddy. Then you can grab and go as you are cleaning the various rooms in your home.
1. Lazy Susan Organization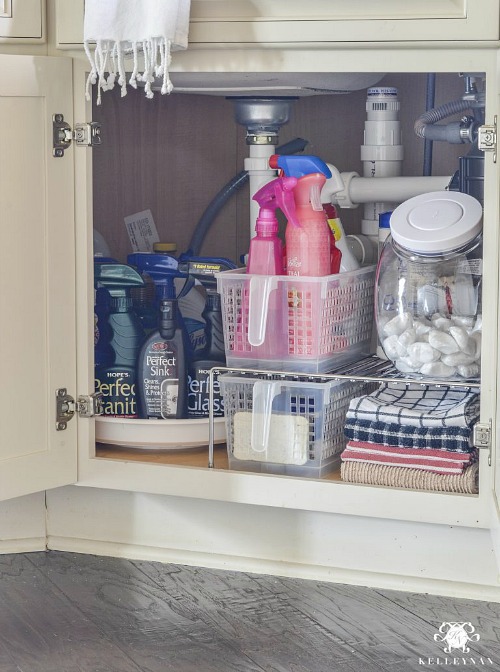 Kelly Nan did a beautiful job organizing under her kitchen sink. I like how she used a lazy susan to corral some of those cleaning products!
2. Sliding Cabinet Idea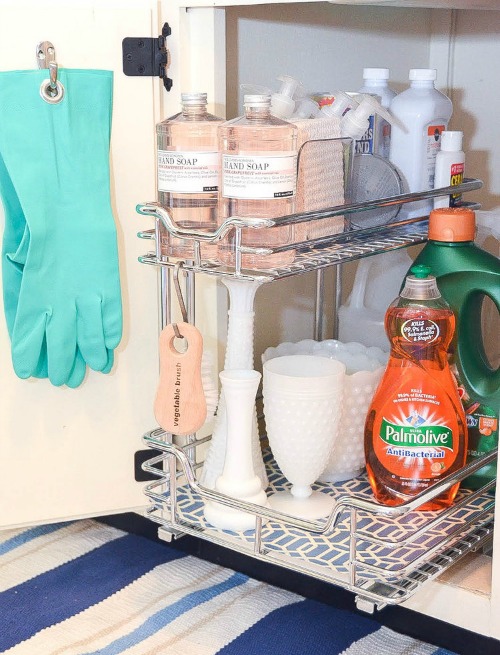 Iron and Twine had room to use this amazing sliding cabinet organizer. You can find a similar one on Amazon here. I think I've also seen something like this at Home Depot/Lowes.
3. Over the Door Organizer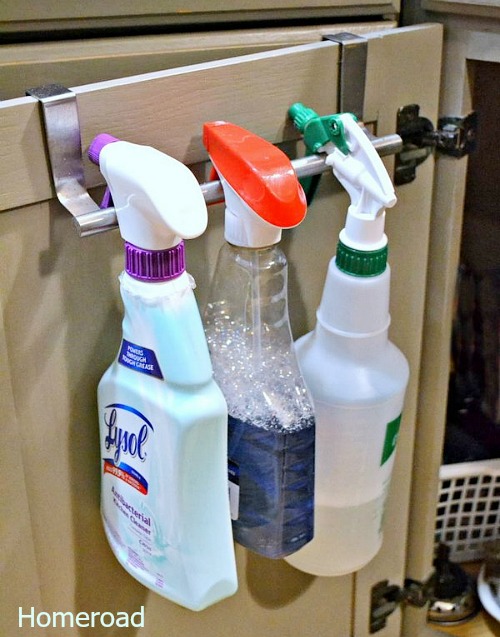 Home Road had the great idea to use an over the door bar to organize her cleaning supplies under her kitchen sink. Using the inside of a door is a great organizing tip for any room! These over the door bars come in all kinds of finishes from silver to oil rubbed bronze.
4. Easy Kitchen Sink Organization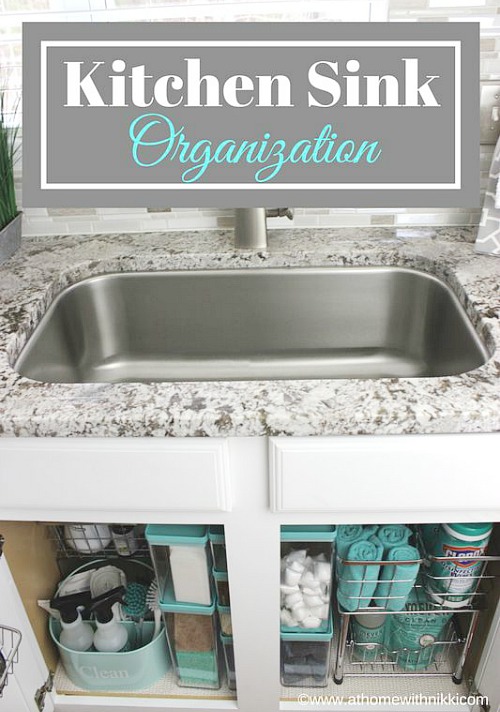 At Home With Nikki always has amazing organization ideas. Her kitchen sink organization is functional as well as beautiful. She has an awesome YouTube channel as well as a blog!
5. Kitchen Sink Organization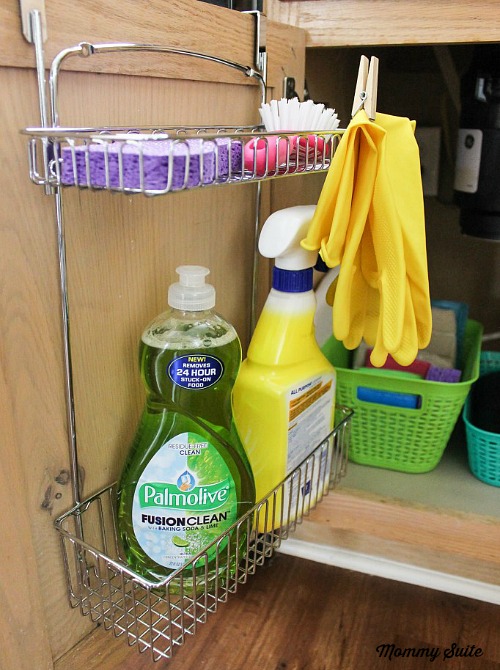 Mommy Suite used a different type of over the door organizer for her kitchen cabinet sink area. You can find a similar one here.
6. Glove Storage Idea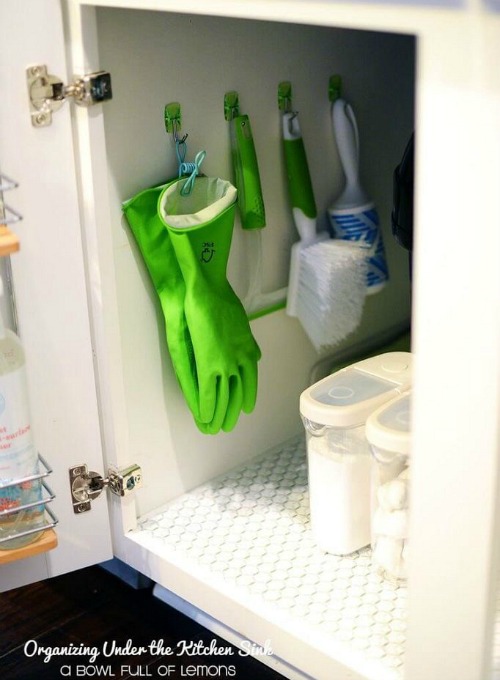 A Bowl Full of Lemons used Command hooks on the inside of her sink cabinet to store her gloves and scrubbing brush. You have to check out her post to see her entire amazing under the sink organization! So pretty yet functional!
7. Easy Organizing Tips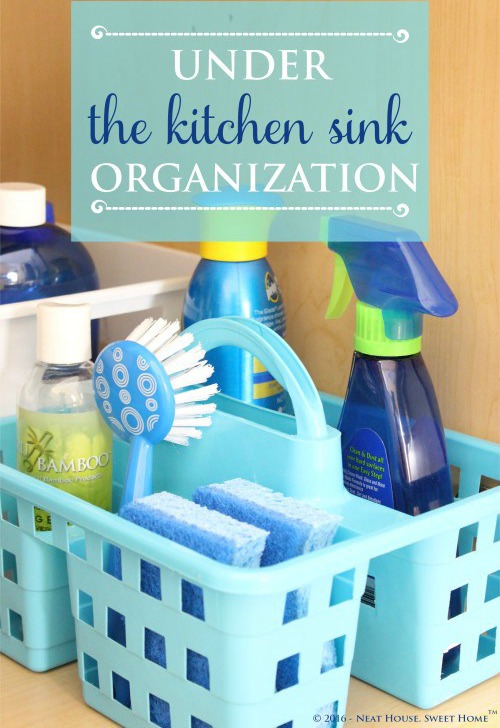 I like how Neat House Sweet Home used dollar store caddies and locker bins in her under the sink organization project. It looks great, is functional and didn't cost much!
8. Kitchen Sink Organizing Hacks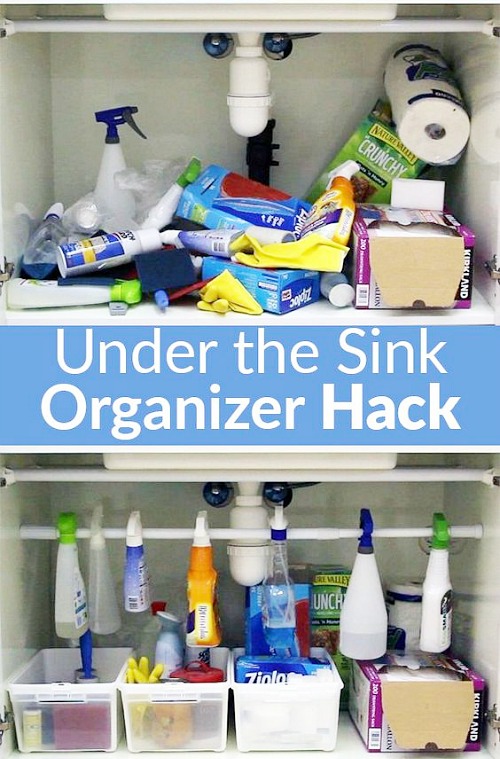 Check out this under the sink organizing hack at Hometalk using a tension rod! So genius!
9. Plastic Bin Organizer Ideas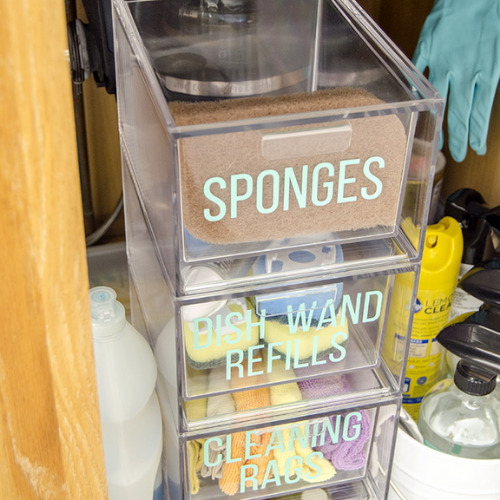 The Unoriginal Mom got creative and tackled cleaning under her sink once and for all. Check out these creative organizing sink tips with plastic bins.
10. Under the Kitchen Sink Makeover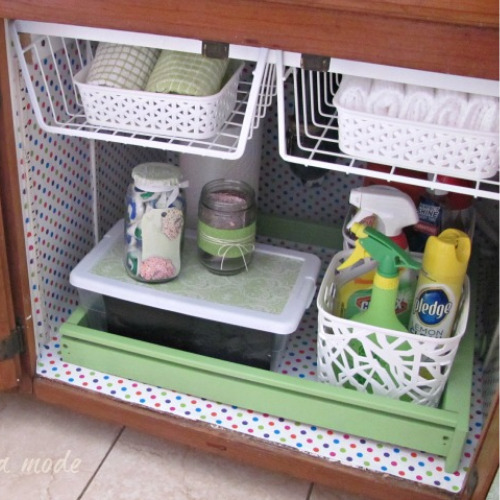 Consider the tips from Crafts A La Mode and give the storage under the sink a makeover! It's so cute now!
Which of these under the sink organizing ideas do you think will help you most?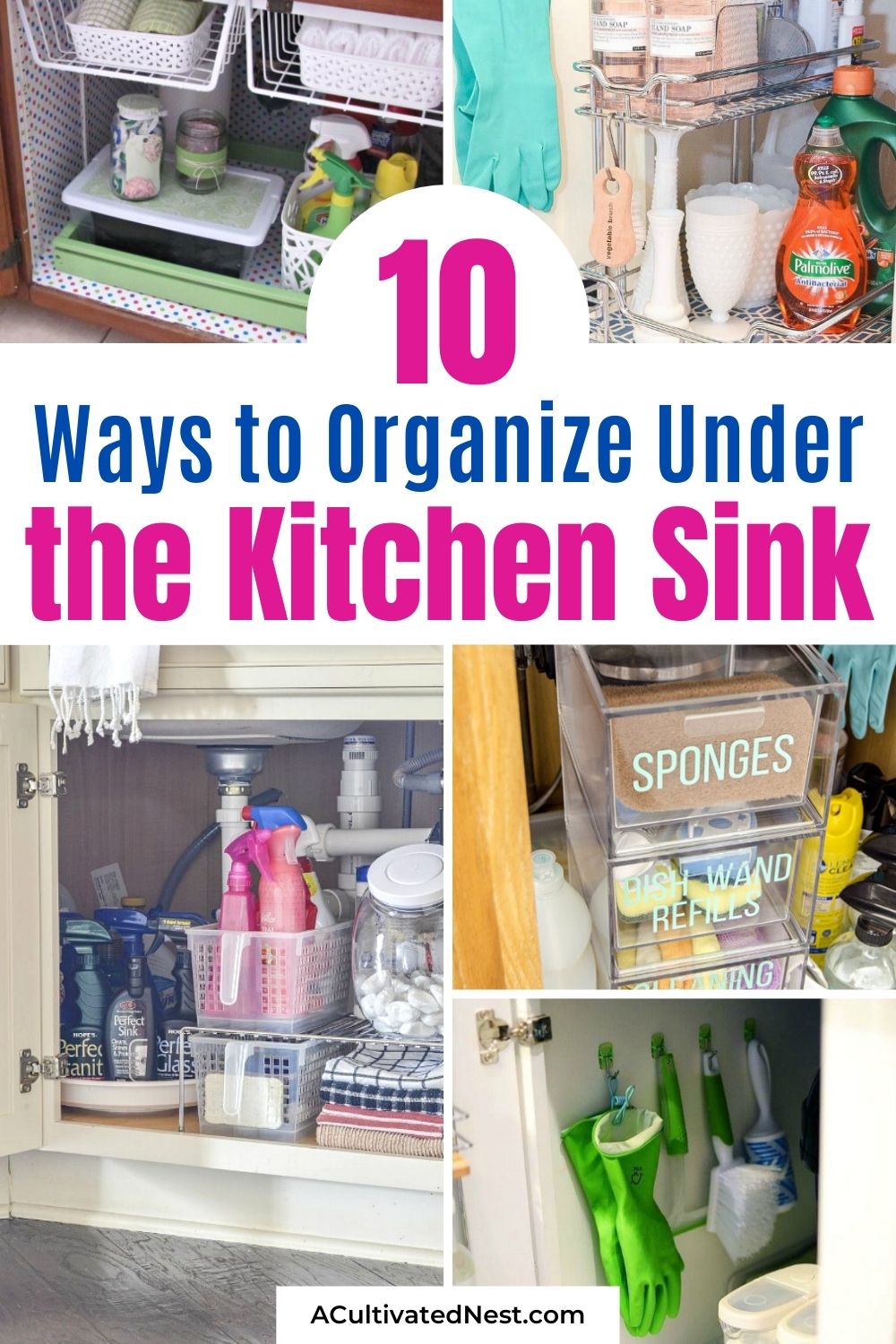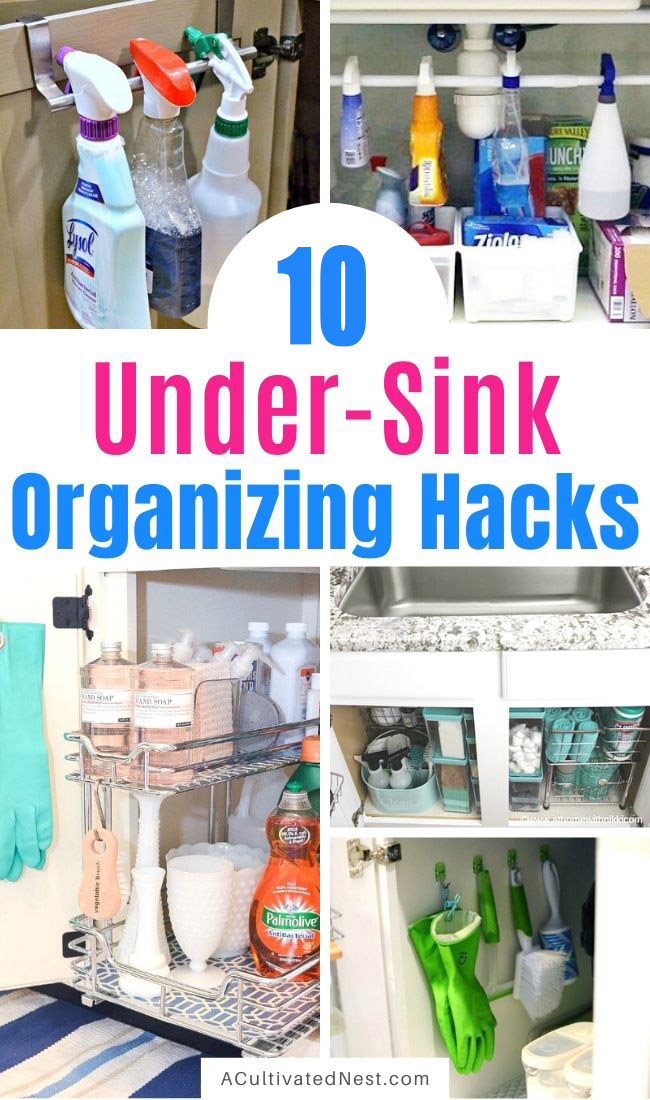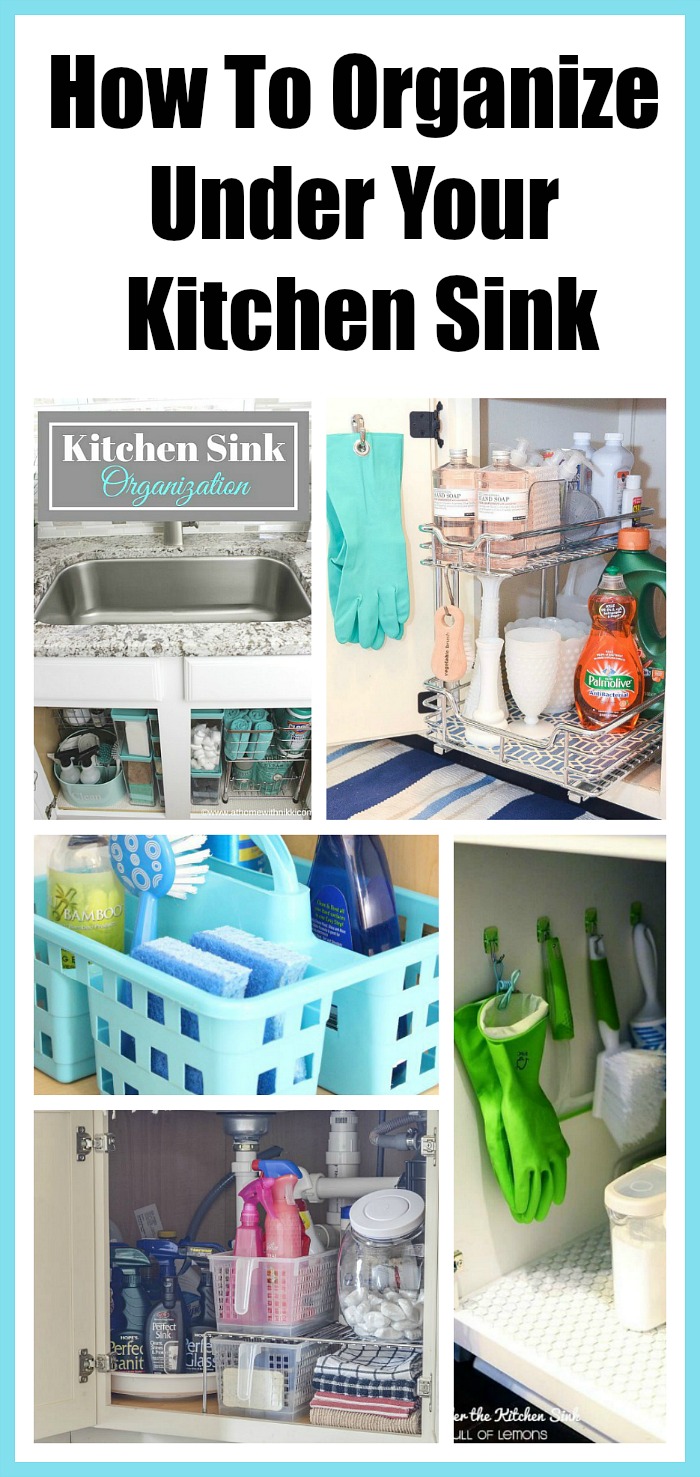 You May Also Be Interested In: Ideas For Maximizing Storage In Your Small Kitchen