Mint is one of the easiest herbs to grow and one of the most versatile to use, which is why many gardeners consider it a staple plant in their yards. If you aren't growing mint just yet, there is no better time to start than now. Below you will find 7 reasons you should grow mint, so you can see all that this sweet little herb has to offer you. You might just find that mint is one of the best herbs you can grow!
There are all kinds of interesting mint varieties that you can grow besides the regular spearmint or peppermint. There's chocolate mint, pineapple mint, orange mint and apple mint varieties available these days!
7 Reasons You Should Grow Mint
Disclosure: This post may contain affiliate links to Amazon and/or Etsy, which means that I may earn a small commission from some of the links in this post. Please see our Disclosure Page for more information.
1. You can get mint starts for free or cheap.
Mint is very easy to propagate from cuttings that you put in water to root.  Or, if you know a friend who is thinning their mint plants out, see if you can get some starts for free. One tiny mint start (which you can usually find for under $1.50) is all you need to have mounds of mint later on. Mint seeds can be started indoors or outside when the soil warms up. Mint in all of its varieties can be found for just pennies a plant, making it one of the most reasonably priced herbs out there.
2. Mint spreads very easily!
Once you plant your mint, it will take off. Mint is famous for how fast it spreads and covers a space. It truly gives you plant bang for your buck, and can cover a bare area fast. If you want herbs that spread, mint should be on the top of your list.
3. You can preserve mint for the winter months.
How fun would it be to have mint at your fingertips all winter long? You can dry and crush mint leaves, or even grind it and freeze mint paste. You can even make your own DIY mint extract!  Mint will stay good for months when dried or frozen, making it perfect for those who love cooking with herbs.
4. You can add mint to your beverages and desserts.
Another reason you should grow mint is that it offers a sweet flavor that can really enhance beverages like tea and lemonade or even desserts like cake and ice cream. Use fresh mint in your various salad or even marinade recipes as well. Make mint jelly or dry the leaves for your own homegrown mint tea!  You can find thousands of mint based recipes on the web, so why not get creative with some?
5. Use mint in your DIY projects.
You can even use it in homemade beauty and cleaning products. You could make a DIY Mint Foot Soak, Mint & Lime Body Scrub, Rosemary & Mint Facial Toner, Fresh Mint Laundry Rinse, Lavender Mint Freshening Spray and more. Just look for homemade bath, beauty, and cleaning recipes that use mint and see how easy this herb is to work with.
6. You can grow mint in containers.
Don't have a ton of space? No problem! Mint can easily be grown in containers and it's often suggested that you grow it this way even if you have a large garden. Mint grows by its underground roots very easily. So this is also a great way to contain mint so it doesn't spread where you don't want it too. Even if you are limited to just a little window sill garden, mint is perfect!
7.
Mint is safe for pets and kids.
While some plants can pose issues for pets and kids, mint is not one of them. You will find mint to be pet and kid friendly, plus it might also help repel some types of pests from your yard. Mint is a gentle herb perfect for all families to grow.
Mint is such a fresh and aromatic herb that it's good for so many things! Did you ever think of mint as so valuable before?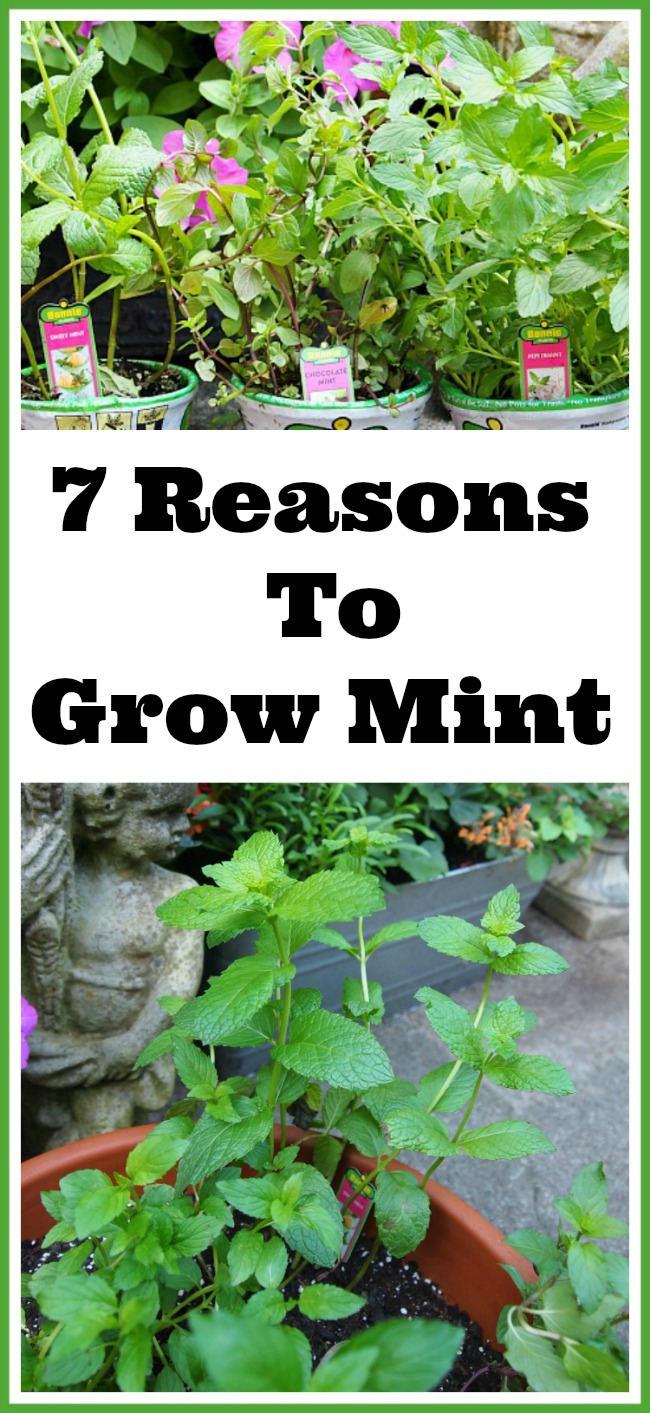 This post contains affiliate links to Amazon, which means that I may earn a small commission from some of the links in this post. Please see our Disclosure Page for more information.
You might also be interested in: 14 Things To Make Using Fresh Mint