Reasons Your Hydrangeas Aren't Blooming
Hydrangeas are my favorite flowering shrub! They are a wonderful plant to add to your garden and landscaping. Hydrangeas add drama, fullness, height, and color that can last well into the fall season. They also offer blooms in white, pink, green, and blue that are ideal for cutting or just to enjoy as they are. But what if your hydrangeas aren't blooming? Now what? The good news is, you don't have to rip up your hydrangea bushes just yet. Take a look at these 7 reasons your hydrangeas aren't blooming, and see if you can trouble shoot your way to better blooms. Here are some important hydrangea growing tips you need to know!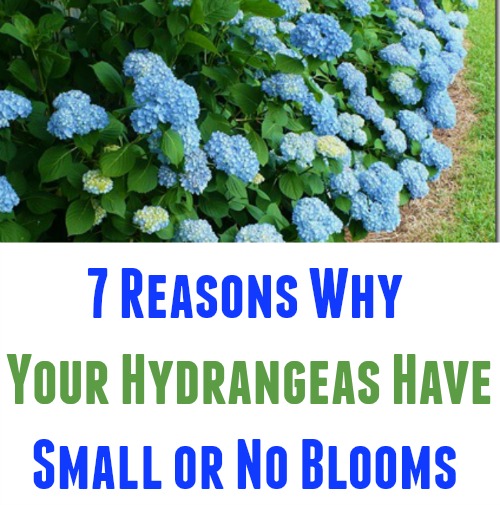 Disclosure: This post may contain affiliate links to Amazon and/or Etsy, which means that I may earn a small commission from some of the links in this post. Please see our Disclosure Page for more information.
1. Consider the age of the hydrangea bush.
A good rule of thumb to follow is that 1st year sleeps, 2nd year creeps, 3rd year leaps! If you planted a young hydrangea bush, you may not see blooms for at least 2 years. Younger hydrangea plants tend to be the ones sold in anything less than a one gallon pot. If you purchase one of these plants, be patient. You may not see any action until it has had time to get established in your landscaping.
2. Watch your sun patterns.
Hydrangeas benefit from some sun. If you aren't seeing healthy hydrangeas, take the time to watch and note sun patterns. Your hydrangeas should get exposed to at least 3 hours of full sun per day. If they aren't, you can remove the bush and replant it to a more appropriate area where it should thrive or prune surrounding trees and bushes so that they hydrangea gets more light.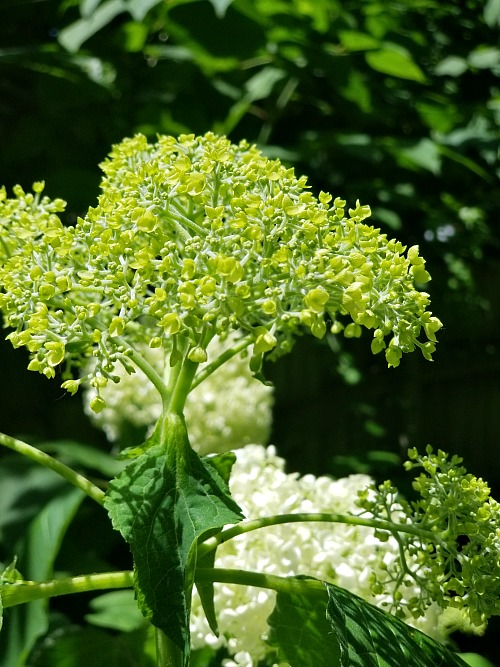 3. Liquid fertilizer can help.
Sometimes your hydrangea bushes may need a little boost. Some people like to apply coffee grounds to their hydrangeas. A liquid fertilizer applied a few weeks into the spring season can also help. You can also reapply late in the summer season if you wish. A liquid fertilizer is advised as the plants seem to absorb it evenly. Don't overfeed (follow package directions) and don't feed during especially hot and dry weather.
4. Prune accordingly.
Incorrect pruning is one of the main reasons why you might not be seeing blooms on your hydrangea.  You really need to find out what type of hydrangea you are growing. Hydrangea varieties fall into three main pruning categories: old growth ( like Hydrangea macrophylla – Lacecap & Mophead), new growth (like Hydrangea paniculata – PeeGee Hydrangea & Oakleaf), and Endless Summer series hydrangeas (which grow on both last years growth and new growth). Hydrangeas that bloom on old growth should only be pruned after flowering. The ones that bloom on new growth should be pruned before they bloom in spring or as they are going dormant in fall. If you're not sure what type of hydrangea you have, you can skip pruning and see if that helps it to bloom.
5. Look for pests and other diseases.
Hydrangeas aren't inclined to pest problems, but if you have other plants around them that are, pests can become a problem. Take the time to look for pests such as beetles and aphids and see if they might be causing damage to the plant. If you see any, remove them by hand and follow up with an organic pest repellent. Hydrangeas are also susceptible to fungal leaf spot, powdery mildew and rust. Try to water in the morning and try not to get the leaves wet. You can also try using this Garden Safe Fungicide3.
6. Be sure weeds are under control.
Weeds can suck the life out of your hydrangeas. When the plant is fighting weeds for nutrients, you may not see the blooms you expect. Use mulch to help keep weeds under control, applying it thickly around the base of the plant. You can also remove weeds by hand or use an organic weed spray to keep them at bay.
7. Make sure the plant isn't crowded.
Hydrangea bushes should be spaced at least 4-5 feet apart. This way the plants have a chance to spread out and flourish. If your plants are too close together, the growth may become stunted as the plants compete for nutrients. If overcrowding is a problem, consider uprooting the plants and replanting properly.
Are you tired of your hydrangeas not blooming to their fullest potential? Then give these tips on how to grow gorgeous hydrangea blooms a try. You will find that these tips can help your hydrangea issues and help you achieve full blooming success.
Here are some more resources if you want to delve further into the best practices for growing hydrangeas:
5 Tips For Growing Gorgeous Hydrangeas – This Old House
The Grumpy Gardener's Guide To Hydrangeas – Southern Living
Success With Hydrangeas – A Gardeners Guide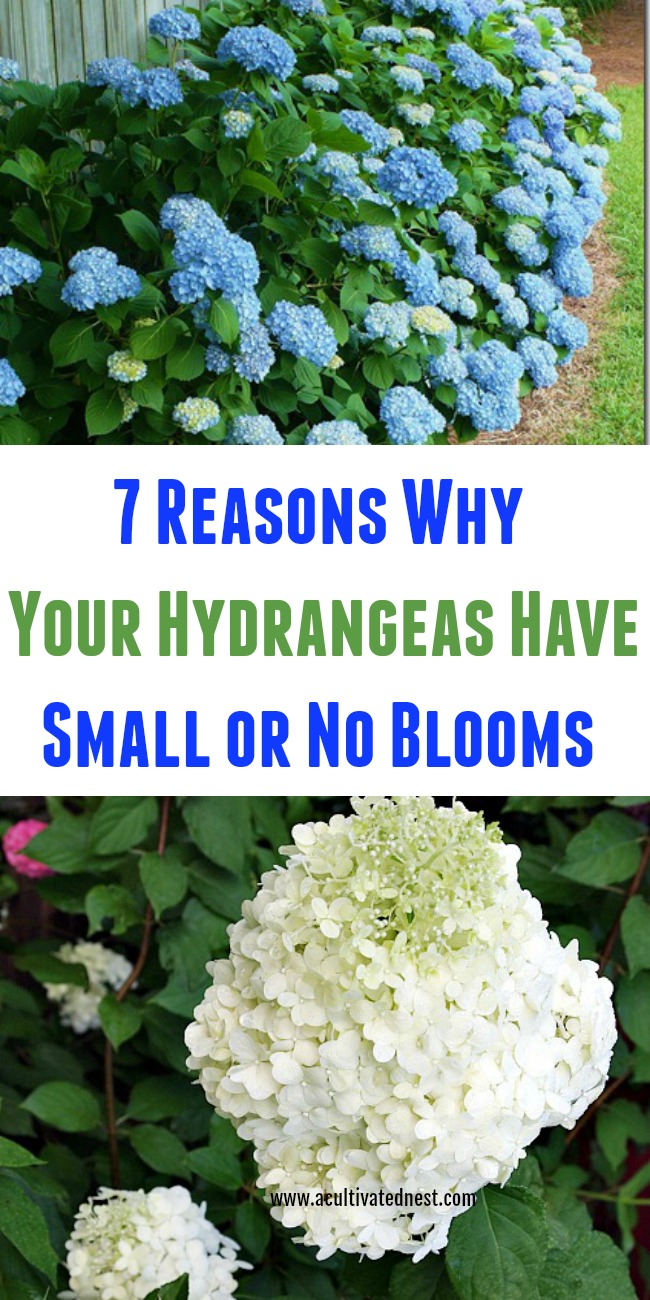 You may also be interested in: Limelight-The Perfect Hydrangea