A Beginner's Guide to the FlyLady Cleaning System
Do you dream of having a clean home, but dread the process of daily cleaning and organizing? Do you spend hours cleaning, only to become discouraged because your house still isn't perfect? If so, then the FlyLady system might just be for you! Here is How to Get Started with the FlyLady System!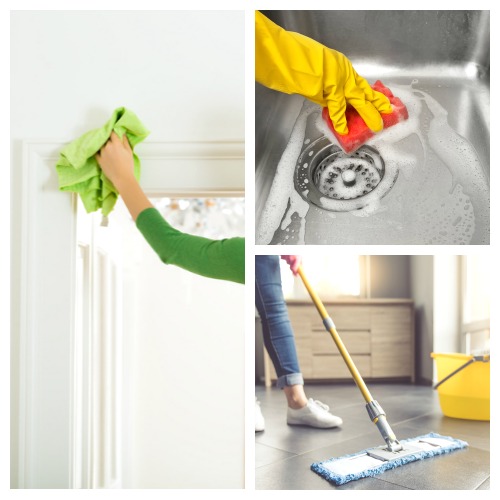 FlyLady is a cleaning system that helps you get rid of the chaos in your home and teaches you to eliminate clutter and establish routines to keep your house clean. The creator of the FlyLady System, Marla Cilley, is a self-proclaimed SHE: Sidetracked Home Executive. She is honest about the fact that she isn't super organized and gets distracted easily. Several years ago, she created the FlyLady Cleaning system and many homemakers claim success thanks to her program.
Disclosure: This post may contain affiliate links to Amazon and/or Etsy, which means that I may earn a small commission from some of the links in this post. Please see our Disclosure Page for more information.
She wants to help you keep your house clean, but she also wants you to FLY: Finally Love Yourself. She has a heart for teaching women to change their lives for the better and it goes so much further than cleaning! FlyLady teaches you to create new habits and new ways of thinking. She won't let you stress out over your untidy home. No self-doubt and no chaos. You can change your attitude and habits by learning to view your responsibilities in a positive light.
The FlyLady system sounds great, doesn't it? So let's take a look on how you can get started with the FlyLady system!

How to Get Started with the FlyLady System
Before you jump into the FlyLady system there are a few things that you need to know. The FlyLady system is intense and getting started with the FlyLady system can be overwhelming. When you first visit her website, you will be encouraged to sign up for her email list and watch the welcome videos. As a member of the mailing list, you will receive daily emails with tasks to complete. She sends a lot of emails, and for a beginner, the list can become overwhelming quickly. For some FlyBabies, it's easier to get started by focusing on one task at a time instead of jumping in with everything all at once.
Start with Baby Steps
Instead, I suggest you get started with the FlyLady system with the 31 Baby Steps. It will ease you into the process and let you build new habits at a reasonable rate. If you tried to clean everything right now, you'd likely overload yourself and give up. But if you take it slow, you'll build habits that will stick.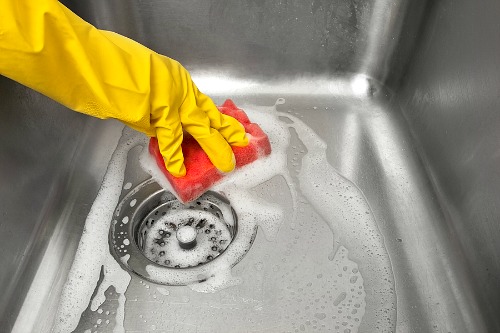 The first baby step that you will take is to shine your sink. In fact, the entire FlyLady system begins with a clean sink. Every time that you use your sink, wipe it down and dry it so that it always stays shiny. Do this before bed so that it's always shiny in the morning. This is a tiny step, but when it becomes a habit and you combine it with all the other little habits that FlyLady will teach you, you will be able to clean your home on autopilot.
The Weekly Home Blessing
The weekly home blessing allows you to get your home ready for the week without stress. The weekly home blessing happens on Monday and includes 7 tasks.
Vacuum
Dust
Quick mop
Polish mirrors and doors
Purge magazines
Change sheets
Empty the trash
You should work on each task for 10 minutes and then move on. If something doesn't get done, don't worry about it, you will get it next week. It might not seem like much, but the idea behind the weekly home blessing is to keep you from spending a whole day cleaning. Instead, you focus on these tasks each Monday morning and then move on with your daily and weekly routines.
Getting Started with Daily Routines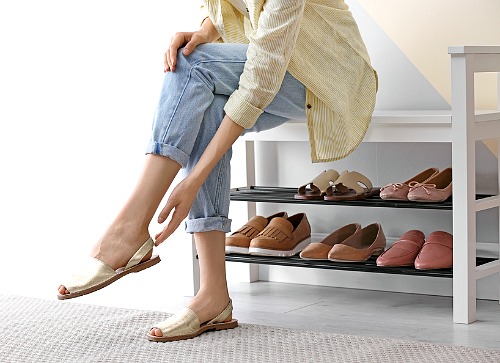 Shining your sink is just the first of several daily routines that you will incorporate into your day. FlyLady also encourages you to:
Get dressed and ready for the day as soon as you wake up so that you'll feel better about yourself. She even says to put your shoes on right away, even if you aren't leaving the house.
Make a bed. It really only takes a few seconds and your home looks so much better when it's done.
Empty the dishwasher. You might as well do this first thing in the morning before the sink fills up with dirty dishes.
Quick 15 minute clean up. You can do anything for 15 minutes. Set a timer and pick up for 15 minutes. Start with an area that always bothers you and see how much you can get done.
Get the laundry going. Let's face it. Laundry is never really done! Embrace this fact and make starting a load of laundry a part of your daily routine.
All of these routines and more are a part of the 31 Baby Steps. If you try to jump into all 31 habits at once it will definitely become overwhelming! Learn one new habit at a time and soon these tasks will become your daily routine and they won't be overwhelming at all. The goal isn't just to clean your home, it's to create healthy habits.
Forward Moving Mommy created a lovely printable with the daily habits. Once you finish the 31 Baby Steps you might want to print it and display it in your home!
Organizing Your Daily Routines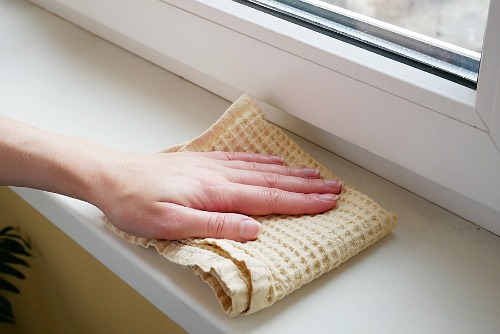 Your daily tasks can be broken down by the time of the day. When you are getting started with the FlyLady system you may find that it's helpful to keep a list of your morning and evening routines so that you can quickly cross off each task as you go. Writing your routine down helps to keep you accountable and marking off each task leaves you feeling accomplished.
The FlyLady does this by using a sticky note system. In fact, it's one of the first habits that she teaches in the 31 Baby Steps. You write each task that needs to be completed on a sticky note and place it where you will see it. Even things as simple as getting dressed down to the shoes is added to the notes. Place your sticky notes somewhere where you will see them, like the bathroom mirror. Each morning and evening you can look over your notes and complete your tasks. You can even move the notes around the mirror in order of importance if you want!
If the idea of adding sticky notes to your mirror makes you shudder, then you can just make a list somewhere else. Many people use bullet journaling as a way to track their progress each day. A bullet journal is a notebook that you use to keep track of your tasks each day. It's similar to a planner because you write your schedule in it, but it's like a journal because you write in it each day. If you choose this method you will need to rewrite your daily routine each morning. But to save time you can get printable bullet journal inserts to use, so you don't have to re-draw your layout each day.
A third option for keeping track of your daily routines is to use the FlyLady app. All you need to do is download the app and follow the daily routines that she has created. You can also customize your own routine.
You might consider using a free printable like this Morning Routine and Evening Routine from Kristin's Chaotic Life.
No matter which method you choose, the key to success is finding something that works for you. Once your routines are in place you are ready to add zone cleaning into your daily routine.
Zone Cleaning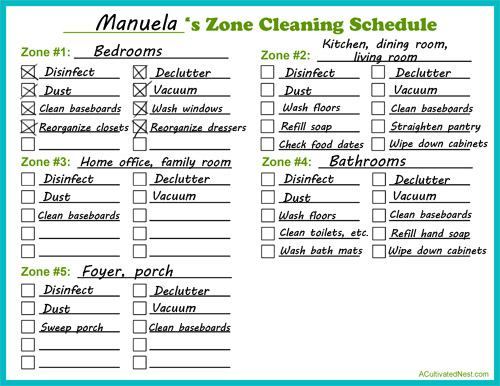 Once you have the daily basics down, you are ready to bring zone cleaning through weekly routines into your schedule. Weekly routines are more in-depth than your daily routines. It's not a complicated schedule to follow.
First, you need to break your home down into 5 different zones. Each week you will focus on a different zone. For example, week 1 you focus on the living room, week 2 you focus on the kitchen, and so on. Each day of that week you will set a timer for 15 minutes and deep clean until the timer goes off.
If you were to zone clean your living room, you might dust one day, vacuum the next, clean windows and baseboards on day 3, declutter on day 4, and disinfect on day 5. Instead of trying to do all your cleaning in one day, or putting it off until you spring clean, you clean your home in tiny increments. Depending on how many days are in a month, you may not be able to complete each zone cleaning task each month and that's okay! You'll get to it next month. The FlyLady system is a process. As long as you keep going you will eventually see progress. With focused cleaning time your home will stay cleaner and you'll find your way out of the chaos of trying to keep it clean.
FlyLady has created a detailed list of her zone cleaning and you can access her list here (look for the "Detailed Cleaning List" link in the third set of links). However, you may find that her list doesn't line up exactly with the areas of your home. If this is the case, then you may want to create your own zone cleaning schedule. You can learn more about my personal zone cleaning schedule and download your own schedule here. The HomeSchool Mom also has a great printable cleaning schedule. Either of these schedules will work well, or you can download our blank form and fill it in yourself.
How to Declutter with the FlyLady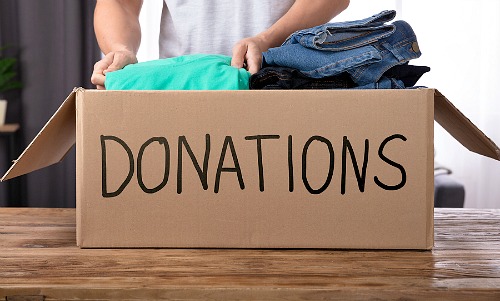 I want my home to be perfectly decluttered, but I have so little time to devote to this task. FlyLady gets it and created the 27 Fling Boogie to help you declutter your home when you have the time. No need to spend an entire day sorting through cabinets. Whenever you have a few minutes, grab a trash bag and walk around your house picking up items that you don't want to keep.
Once you have 27 or more items in your bag you take it right out to the trash can and dump it in. You can also keep items to donate if you prefer. Trash does count toward your goal of 27 items.
Decluttering is good for your home, but great for the mind! Clutter actually makes people more anxious and irritable. If you do the 27 Fling Boogie a few times each week you will find yourself more at peace because you won't have a pile of clutter facing you all the time.
Using the App
The FlyLady app is available for iPhones and it's a wonderful resource for anyone getting started with the FlyLady system. On the app, you have access to all her daily and weekly cleaning routines. The app is fully customizable so you can add your own cleaning schedule to the app and have it easily accessible to you whenever you need it. This is a wonderful resource, especially if you are just learning how to get started with the FlyLady system.
What to Do When You Get Behind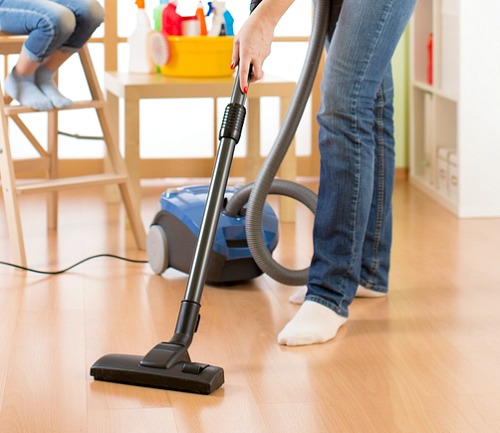 Even when you have a good cleaning schedule in place, you are going to get behind occasionally. Life happens and sometimes cleaning isn't your main concern and that's okay! But whenever you do get behind and feel stressed because of your messy home, FlyLady suggests that you do a little Crisis Cleaning.
When you Crisis Clean, you set a timer for 15 minutes and clean one area, set the timer for 15 minutes again, clean another area, then set the timer for 15 minutes one more time and clean yet another area for a total of 45 minutes of cleaning. Then you take a 15 minute break. Continue the cleaning and resting cycle until your home is clean again. The idea here is that you don't let the enormity of the task overwhelm you, you focus on cleaning for 15 minutes and then take a break. As the FlyLady says, you can do anything for 15 minutes!
Before you get started with the FlyLady system, to see a great overview of the whole thing download the FlyLady Kit from the DIY Planner forum (look for the link under Attachment in the original post). Inside you will find lists of every daily and weekly task that you need to complete, as well as several helpful tips.
The great thing about the FlyLady system is that she really does love and care about you. She wants you to have a clean home, but she also really wants you to be less stressed and love yourself. She wants you to experience a heart change. No more self-pity when you are the only one who will pick up the house and no more anger about the house not being perfect. You accept that cleaning is a process and that you can't do it perfectly. Even if they don't say it or even notice, your family appreciates a clean home and you are a blessing to them simply because you are doing your best.
Have you ever tried a cleaning system before? Which one did you try?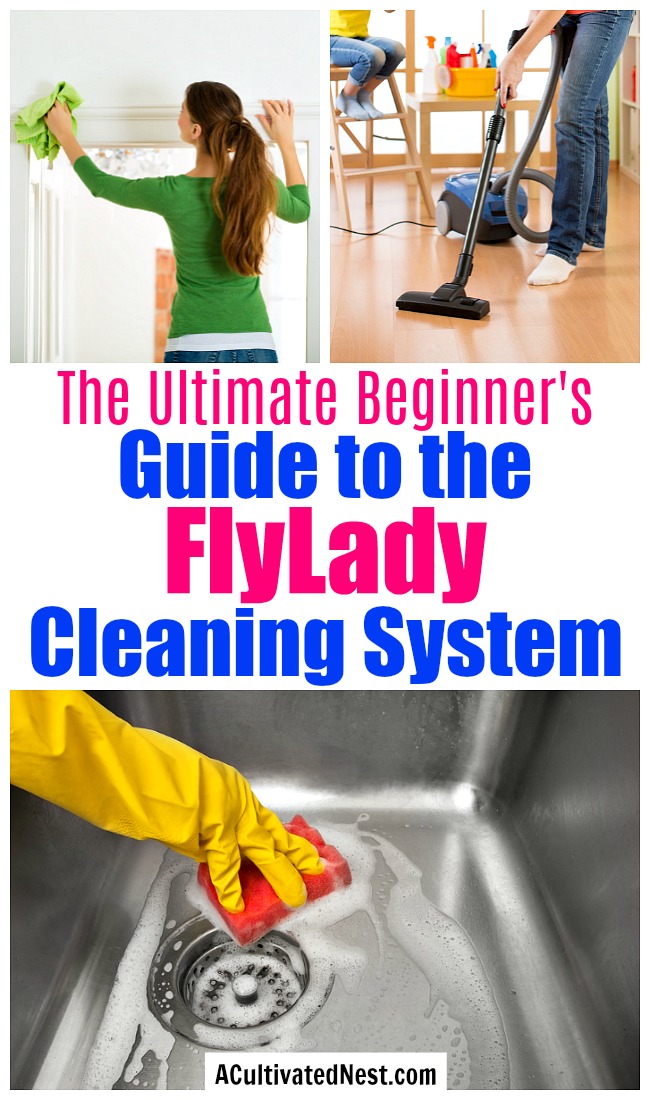 You might also be interested in: 18 Home Cleaning Hacks from Grandma