Cleaning products have been around for ages, but it is only recently that they became so specialized. In fact, did you know that Dawn dish soap (which is super popular, and seems like it's been around forever) first came out in 1973? That's less than 50 years ago! Before companies realized just how much business there could be had in cleaning products, most people just used different types of bar soap and common food ingredients like baking soda and lemon juice to keep their homes clean. And you can do the same! Save money and avoid chemicals with these 18 Home Cleaning Hacks from Grandma!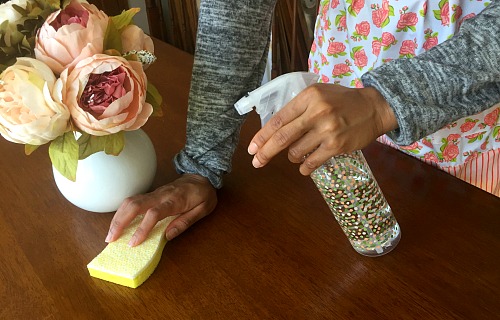 Disclosure: This post may contain affiliate links to Amazon and/or Etsy, which means that I may earn a small commission from some of the links in this post. Please see our Disclosure Page for more information.
It's strange to think about, but it's true that at one point, soap was a luxury item. And there was also a point where some commercial cleaners were even more dangerous than they are now, as they contained things like acids and lead. It's no wonder homemakers back in the day stuck with their DIY homemade cleaners and elbow grease!
18 Home Cleaning Hacks from Grandma
Bathroom Cleaning Hacks
1. Clean Your Bathroom Mirrors- Sometimes vintage cleaning hacks use foods as the main ingredients! To clean your mirrors, all you have to do is rub the cut half of an onion over your mirrors' glass. Then, so you won't have smelly mirrors, mix some water and baking soda together, and use that to wipe down the mirrors. Then dry, and enjoy your naturally cleaned mirrors!
2. Clean Your Shower/Bathtub- An easy way to cut through the soap scum in your shower or tub is with lemon juice! Just use a scrub brush and the juice to scrub away the scum! The acidic juice will help break down the scum, and leave your shower/tub smelling lemony fresh!
3. Clean Hard Water Stains- Tired of the hard water stains in your toilet? All you need is baking soda and vinegar! First, pour 1 cup of white vinegar into the toilet bowl and scrub the bowl with the toilet brush. Let that set for a minute or two. Then follow up with 1 cup baking soda and then 1 more cup of vinegar. Let that set for 10-15 minutes. It'll fizz a lot, which is what will help loosen the stain. Then stir the solution with the toilet brush, and let it sit for 30 minutes or more. Finish up by scrubbing the bowl. The hard water stains should be gone! You might like to use our DIY citrus and lavender toilet fizzies for your day-to-day toilet cleaning.
4. Clean Your Shower Head- A lot of people forget to clean their shower heads, mainly because they seem like they'd be difficult to clean. But actually, all you need is a plastic bag and some white vinegar! Fill your bag with vinegar, then tie the bag to the shower head so the shower head is soaking in the vinegar. Leave the shower head to soak for a couple hours, or overnight. Then remove the bag and run the water for a few minutes, to get any remaining vinegar out of the nozzles. You might also want to scrub the shower head a bit with a toothbrush to make sure all of the mineral deposits have been removed.
5. Unclog the Shower Drain- There are old-fashioned cleaning hacks for pretty much everything, including clogged drains! First, pour 1 cup of baking soda down the clogged drain, followed by 1 cup of hot white vinegar (heat it in the microwave or stovetop ahead of time). The two will react and fizz, which will help move around whatever is clogging the drain.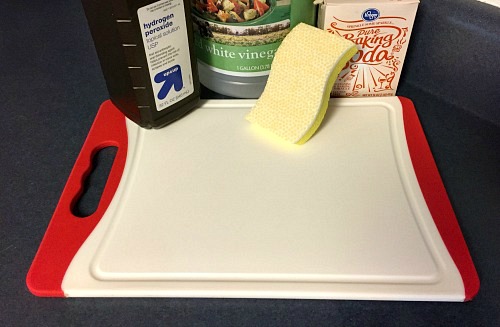 Kitchen Cleaning Hacks
6. Clean Cutting Boards- There are several inexpensive and natural ways to clean cutting boards! For day to day cleaning, wash your board in vinegar. This will do some basic disinfecting. For stains, just mix baking soda and salt together with a little water until you get a paste. Scrub this over the cutting board, then rinse with hot water. If any odors remain, rub a cut lemon over the board, then rinse. If you want to really sanitize the board (like if you used it to cut meat), you should use hydrogen peroxide after washing the board with soap and warm water. The Family and Consumer Sciences extension of the Ohio State University recommends heating the peroxide to 130°F and leaving it on the board for at least 10 minutes for maximum effectiveness against nasty bacteria like Listeria.
7. Remove Rust From Your Knives- Because onions are acidic, they can be great at removing rust from knives! All you have to do is rub your knives with onions, or use your knives to cut into an onion continuously, in a sawing motion. They'll become rust-free!
8. Clean Your Plastic Containers- Plastic containers may be a more modern invention, but there are still vintage cleaning hacks that apply to them! In particular, the old-fashioned way of removing stains with lemon juice also applies to stains in your plastic containers. Just rub some lemon juice on the stains, then place the containers in a sunny location (inside or outside). Between the acidic lemon juice and the sun's rays, the stains will be bleached away!
9. Clean Your Garbage Disposal- You don't need any fancy chemicals to make your garbage disposal smell decent. Instead, just throw a couple lemon peels down the sink and run the disposal. For a really clean disposal, make our DIY garbage disposal cleaner tablets!
10. Clean Up Grease- If you're having a hard time getting grease off of your cookware or countertops, all you need is baking soda! Just dampen a sponge or towel, put a little baking soda on it, then wipe at the greasy area. Then use another damp sponge/towel to wipe the area clean.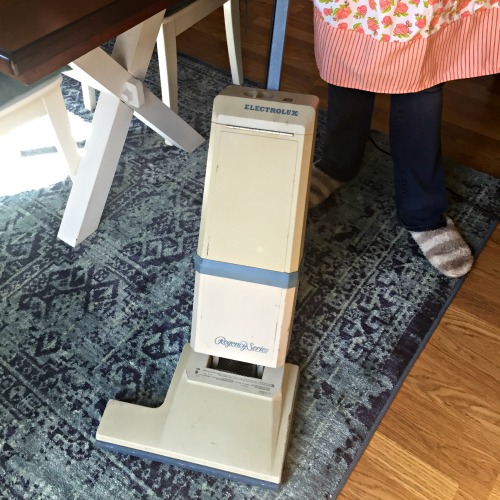 Other Cleaning Hacks
11. Keep Fabric Colors from Fading- An easy way to make sure your clothes and other fabrics stay bright after being washed it to add 1 Tablespoon of salt to the water in your washer. Salt is sodium chloride, and chloride is great at preventing color fading. There's even the chance that the salt may brighten some of your older cloth items!
12. Deodorize Kitty Litter- Baking soda is a wonderful natural deodorizer! When you're done cleaning out your cat's litter box, shake a lot of baking soda over the bottom of the box, then add more litter. This will help keep the odors under control, and its cat safe.
13. Deodorize Laundry- Baking soda can also keep laundry from smelling! If you know you don't have time to run a load right now, but don't want the dirty laundry to smell, toss it with a little baking soda to gain some time until the next load!
14. Clean Your Carpets- Have you ever wondered how people cleaned their carpets before commercial solutions were readily available? The answer is with vinegar! Add 1 cup white vinegar to 2 cups water, then pour the mixture into your carpet cleaning machine and clean your carpet the natural way! Be aware the using anything other than your carpet cleaner's recommended detergent may void your warranty. But we've been using this solution for years and never had any issues with our carpet cleaner, so we're okay with that. If all you need to do is deodorize your carpet/rug, sprinkle a good amount of baking soda over it and leave it for a couple hours. Then vacuum it up and enjoy your clean smelling carpet!
15. Remove Ink Stains from Leather- The only bad thing about leather furniture is that you have to be careful what you use to clean it. A safe (and natural) way to clean up ink and marker stains on leather is with rubbing alcohol! Put some rubbing alcohol on a cotton ball or soft cloth, then rub it gently on the area. Use a blow dryer to dry the area afterwards.
16. Remove Water Stains from Wood- There really are old-fashioned cleaning tips for everything! The next time you find a water stain on your wood furniture, all you have to do is use a little toothpaste! Put a little bit of a conventional non-gel toothpaste on a soft cloth and rub it into the stain. Wipe the area clean with a damp cloth. You may want to put some furniture polish on the area after it dries. For more toothpaste cleaning tips, check out our 20 Frugal Ways to Use Toothpaste post!
17. Disinfect Your Home- If someone in your house just got over a cold, a easy way to disinfect everything is with vinegar! Put some vinegar in a bottle, spritz it on surfaces, then wipe the areas clean with a sponge or soft cloth. We like to always have some of our vinegar-based all-purpose cleaning wipes on hand for this very purpose. Of course, if you need to really disinfect an area (like if it's a counter you cut raw meat on, or someone in your home had the flu), you'll want to use something stronger to be safe.
18. Polish Your Wood Furniture- Want an all-natural way to polish your wood furniture? You just need to mix together oil and lemon juice in a spray bottle! Just mix together 1/2 cup oil (like olive oil or vegetable oil) and 1/4 cup lemon juice. Spritz the mixture on a soft cloth (not directly on the furniture, to avoid using too much), then rub the cloth onto your furniture. When you're done polishing, buff the area with a clean, dry rag. You don't want to leave the oil on, as oil goes rancid over time. For this same reason, only make a little at a time, as the oil will eventually go rancid in the bottle. Our DIY dusting spray also doubles as a basic furniture polish!
And there you have it! 18 vintage home cleaning hacks your grandma probably knew and used all the time!
Did your grandma or mom ever teach you any of these cleaning tips?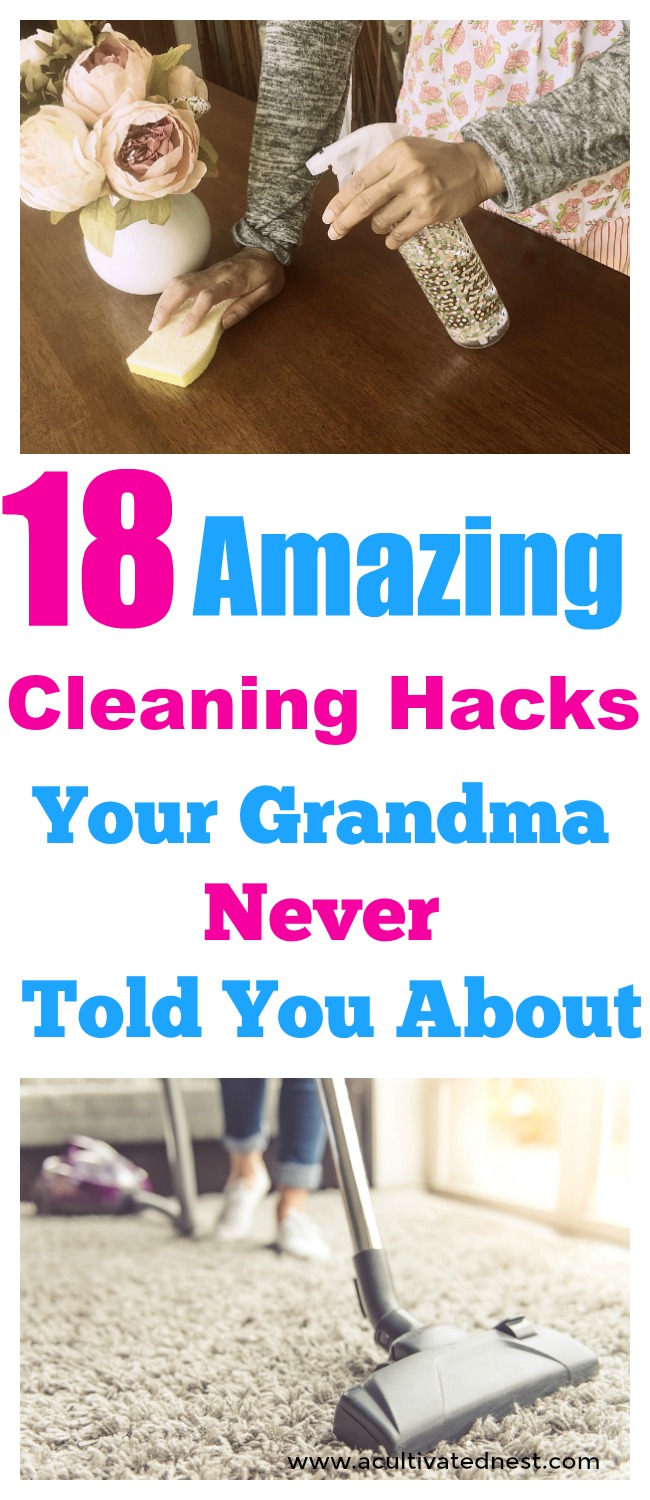 You might also be interested in: 11 Cleaning Schedules to Get Your House Clean