Yes, it is true that everybody loves a clean house, and it is equally true that not everybody loves to clean their house. It can be daunting, overwhelming, and downright depressing! However, it's not nearly as bad as it seems initially, and with a little bit of careful planning, you can make time for a full on deep cleaning if necessary. Check out these 11 Cleaning Schedules to Get Your House Clean! They'll help you pinpoint how and when to do the big jobs to get you on track.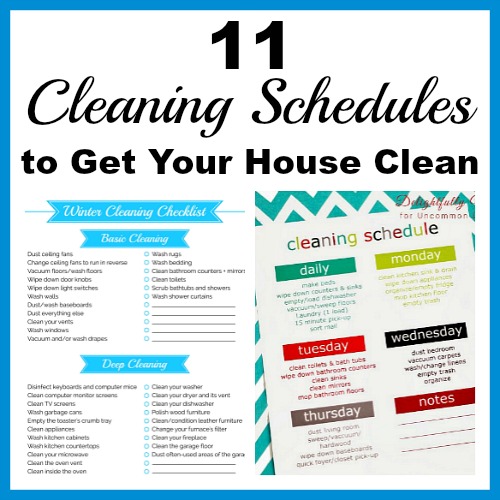 Disclosure: This post may contain affiliate links to Amazon and/or Etsy, which means that I may earn a small commission from some of the links in this post. Please see our Disclosure Page for more information.
We've gone and found some high level daily and weekly cleaning schedules to help you keep your house clean and tidy. Most of these come with a printable schedule that you can keep handy for your own use, and many of them are customizable to your own needs and preferences.
And remember, if you subscribe to our newsletter, you'll get our free printable cleaning checklist that includes daily, weekly, monthly, and seasonal tasks!
11 Cleaning Schedules to Get Your House Clean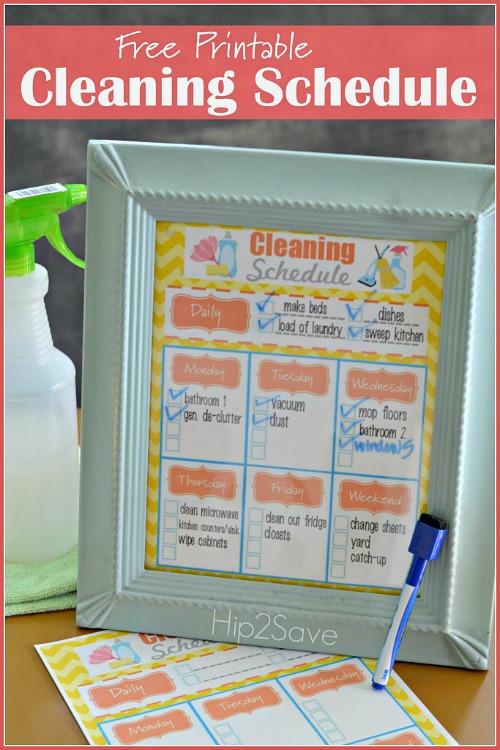 1. First of all, this Free Weekly Cleaning Schedule Printable by Hip2Save has a recipe for an all natural DIY surface cleaner. You can print out the sample schedule, or customize the blank one.  Either way this schedule takes a high level approach to keeping your home clean and presentable.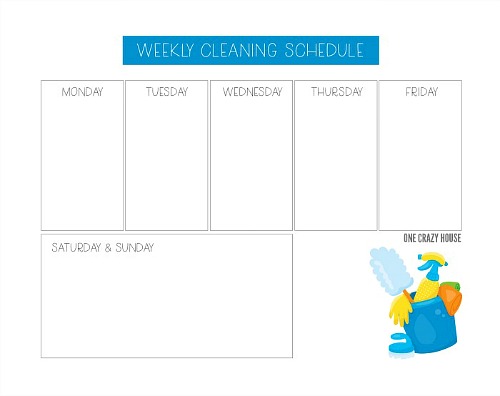 2. One Crazy House has a Weekly Cleaning Schedule to help stay on top of things, and while she offers her tips and suggestions, she also gives you a free printable that is completely customizable to your own lifestyle and needs. The idea is to focus on one room each day, but to also tackle the essentials (like dishes!) every day. Also, delegate!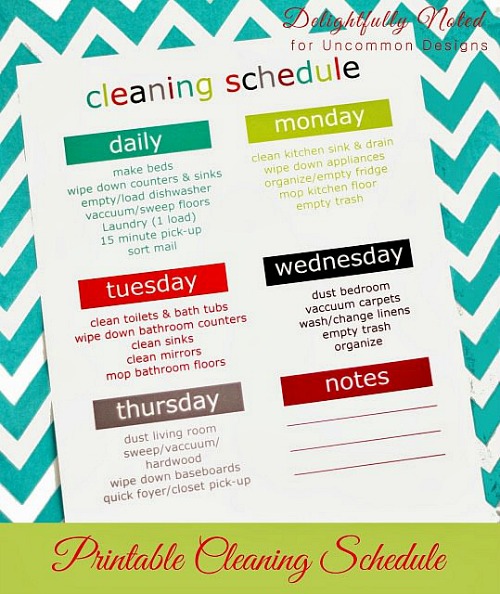 3. This Printable Weekly Cleaning Schedule from Uncommon Designs highlights the deep cleaning in the bathroom and kitchen over the course of 4 days. This one does not have a  customizable version, but it is a good one for getting the house clean, if say, you've been a little, um busy ☺!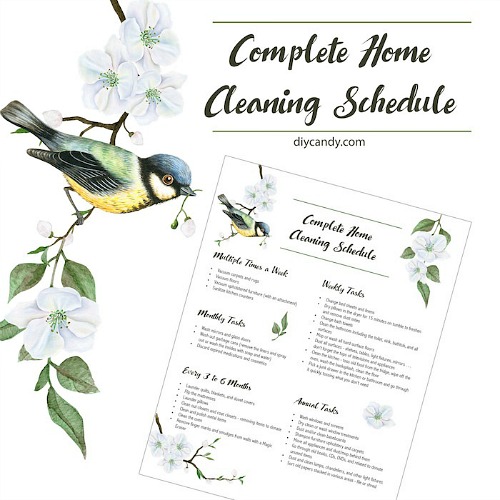 4. Now this Complete Home Cleaning Schedule by DIY Candy is very thorough. It is not a daily check off style printable meant to keep your house tidy, it is a beautiful printable that you can put anywhere to remind yourself of the jobs that need to get done to keep your house clean.  Broken down into weekly, monthly and yearly tasks.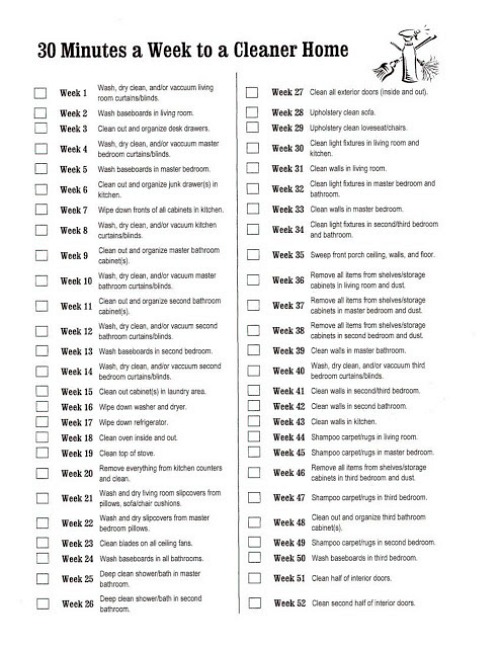 5. The Country Chic Cottage brings us 30 Minutes a Week to a Cleaner Home, which aims at tackling one biggish job a week over the course of a year. This is a good one to keep as a reminder, and to use in conjunction with a weekly and/or daily schedule.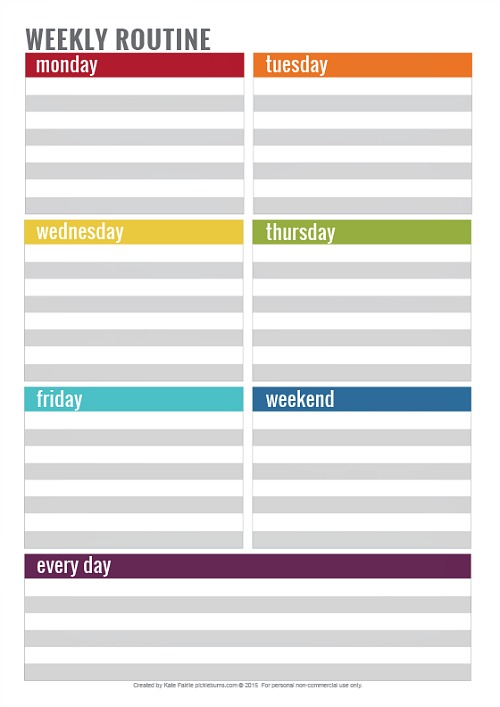 6. This Simple Cleaning Tips & Printable Schedule by Picklebums is exactly that.  The focus is on keeping it simple and finding a routine that works for YOU!  The last thing you need is a guilt inducing to-do list staring you in the face, right? While you do need to keep the stress out of it, it can actually be really helpful to have a routine that you can stick to.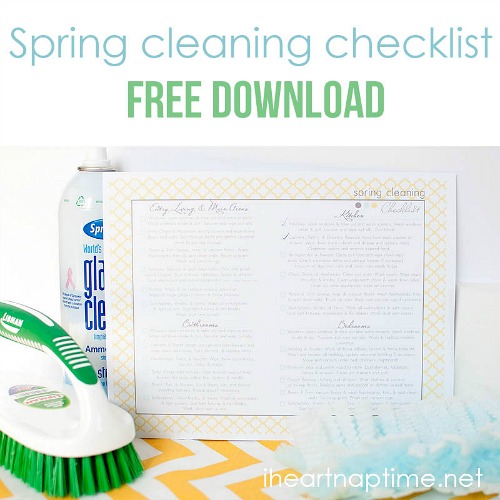 7. I Heart Naptime's Printable Checklist is aimed at spring cleaning, but really, a clean house year round is ideal. The focus again is on a good deep cleaning, and the checklist goes by room. If you're anything like me and need a small checklist to keep you on task for the daily stuff, there is a handy printable for that too.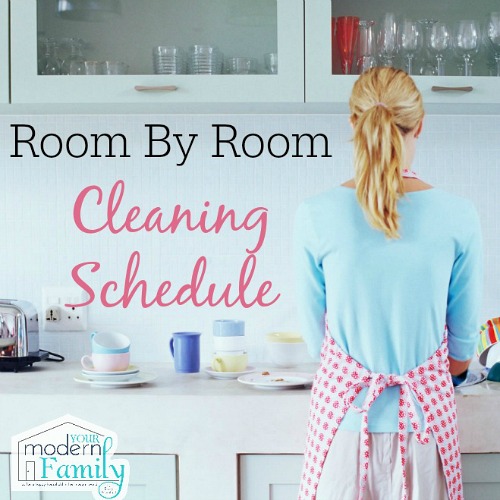 8. This Room by Room Cleaning Schedule by Your Modern Family is maybe my favorite. Not only does it give you an idea of when to tackle which jobs, it lists by room the jobs that need to be done in order of importance.
9. The Daily 5 Cleaning System by Wondermom Wannabe is unique in that it breaks down cleaning your house into 5 minute tasks. The idea being that you can always find five minutes to clean, but maybe not two hours! – insert image#9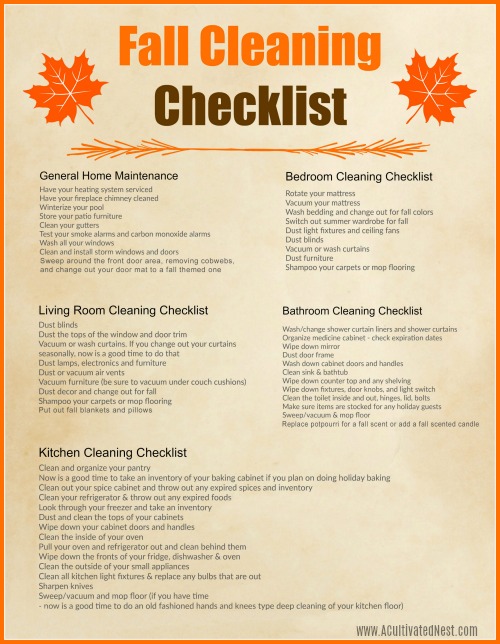 10. And of course there is our Fall Cleaning Schedule and Printable which doesn't have to wait until fall! There are some time sensitive reminders on it, such as having your heating systems serviced and your chimney swept – but the idea is the same. Get the big jobs done, focusing on one room at a time.  – insert image#10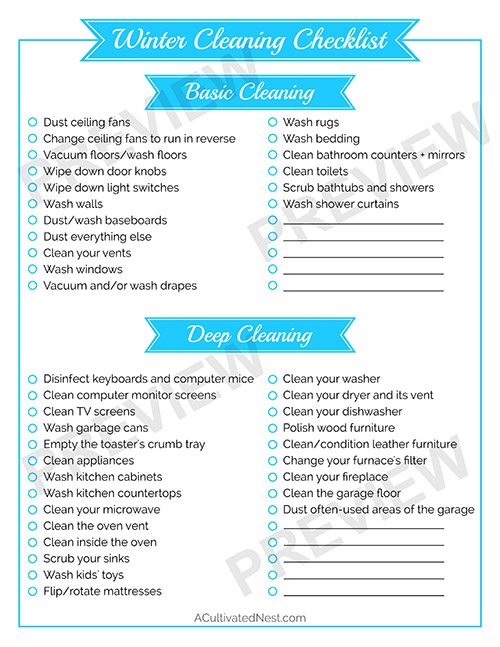 11. Don't forget about our Winter Cleaning Checklist and Printable! Like with the fall cleaning schedule, it includes a couple of seasonal tasks, but the majority if it can apply to any time of year.
Whether your aim is to tackle your big jobs seasonally, or if you want to get your house in tip top shape for an upcoming holiday, or if it's part of a New Year's resolution, one of these cleaning schedules is sure to help you get and keep your house looking just the way you want it!
Do you use cleaning schedules to keep your home neat?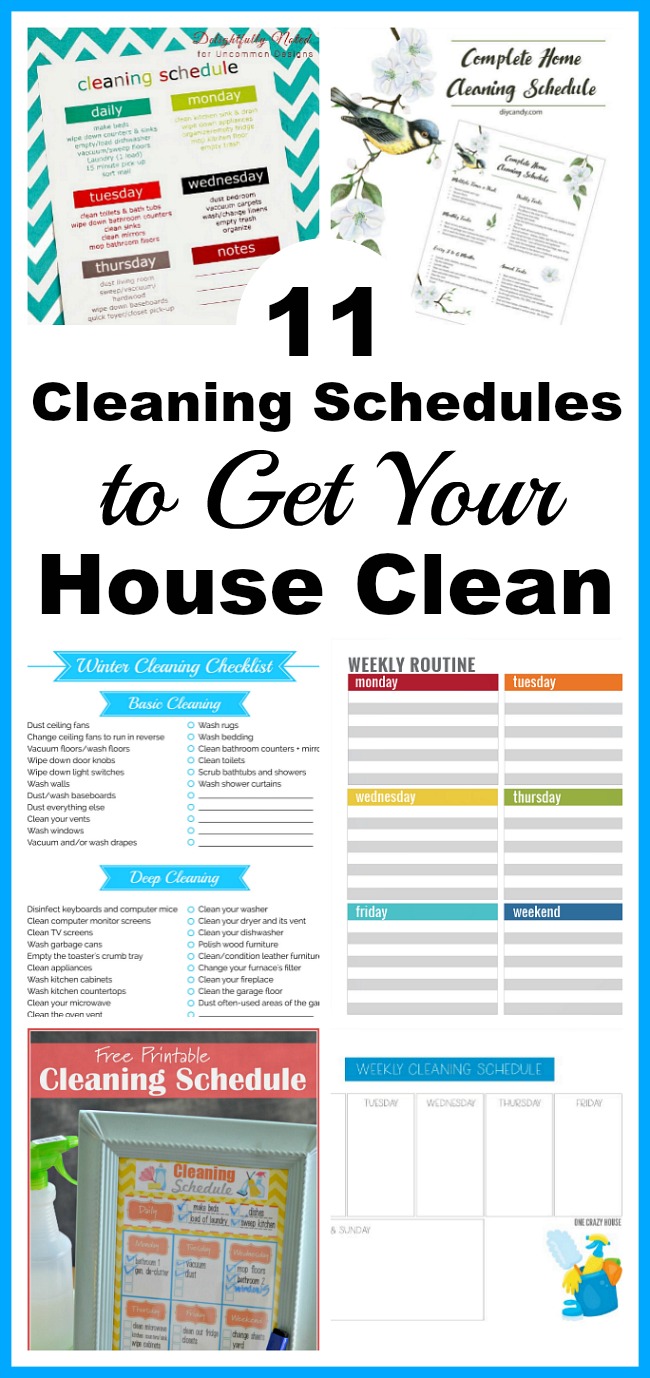 Written by ACN Team Member Evelyne N. : Evelyne is the fearless, axe wielding, quirky, hardworking and incredibly funny creative genius behind Nemcsok Farms and Knits' End. Who also has a weird fascination with soil, and wreaths.
This post contains affiliate links to Amazon, which means that I may earn a small commission from some of the links in this post. Thanks for supporting this site! Please see our Disclosure Page for more information.
You might also be interested in these similar cleaning posts:
18 Home Cleaning Hacks From Grandma