Fall cleaning checklist? I know everyone is always talking about spring cleaning. But since I'm a gardener I've always been more partial to fall cleaning than spring cleaning. Since in spring I'm usually busy getting my garden ready! Plus I like knowing that I'm going into the holidays with my home clean, tidy, and ready for guests. So before you start putting out your fall decor items and getting your home nice and cozy for the cooler weather ahead, give your home a deep clean with this fall cleaning checklist. A printable version is available for your convenience at the end of this post.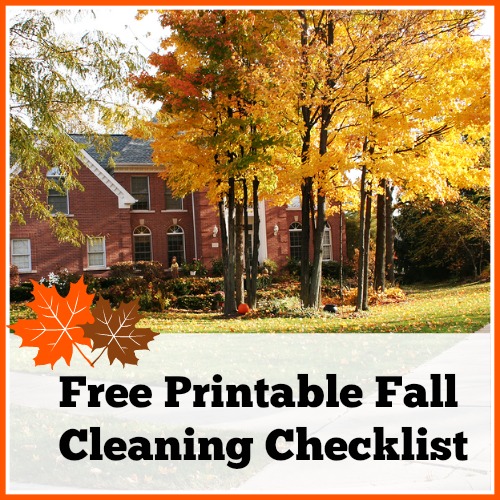 Don't try to do everything on the checklist in a day or two. Give yourself some time and break down the cleaning schedule into zones or just try to do one or two tasks a day. Don't forget to get the family involved – everyone can help with autumn cleaning of the house!
Fall Cleaning Checklist
General Home Maintenance
Have your heating system serviced
Have your fireplace chimney cleaned
Winterize your pool
Store your patio furniture
Clean your gutters
Test your smoke alarms and carbon monoxide alarms
Wash all your windows
Clean and install storm windows and doors
Sweep around the front door area removing cobwebs and change out your door mat to a fall themed one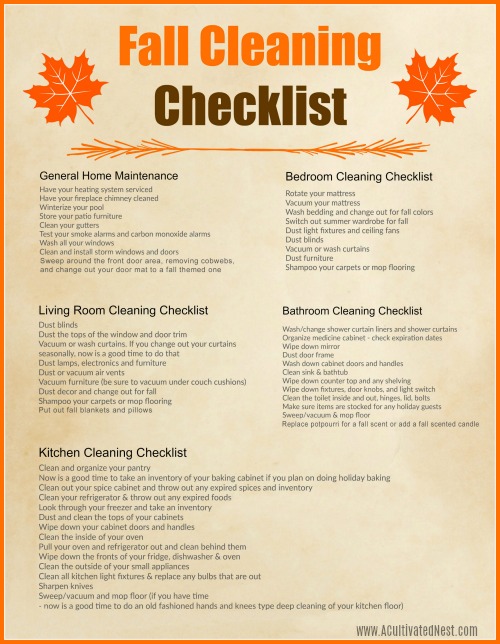 Kitchen Cleaning Checklist
Clean and organize your pantry
Now is a good time to take an inventory of your baking cabinet if you plan on doing holiday baking
Clean out your spice cabinet and throw out any expired spices and inventory
Clean your refrigerator & throw out any expired foods
Look through your freezer and take an inventory
Dust and clean the tops of your cabinets
Wipe down your cabinet doors and handles
Clean the inside of your oven
Pull your oven and refrigerator out and clean behind them
Wipe down the fronts of your fridge, dishwasher & oven
Clean the outside of your small appliances
Clean all kitchen light fixtures & replace any bulbs that are out
Sharpen knives
Sweep/vacuum and mop floor (if you have time – now is a good time to do an old fashioned hands and knees type deep cleaning of your kitchen floor)
RELATED:  15 Kitchen Cleaning Tips You Need To Know
Living Room Cleaning Checklist
Dust blinds
Dust the tops of the window and door trim
Vacuum or wash curtains. If you change out your curtains seasonally, now is a good time to do that
Dust lamps, electronics and furniture
Dust or vacuum air vents
Vacuum furniture (be sure to vacuum under couch cushions)
Dust decor and change out for fall
Shampoo your carpets or mop flooring
Put out fall blankets and pillows
Bedroom Cleaning Checklist
Rotate your mattress
Vacuum your mattress
Wash bedding and change out for fall colors
Switch out summer wardrobe for fall
Dust light fixtures and ceiling fans
Dust blinds
Vacuum or wash curtains
Dust furniture
Shampoo your carpets or mop flooring
RELATED: Clever Tips For Keeping Your House Clean & Cleaning Schedule
Bathroom Cleaning Checklist
Wash/change shower curtain liners and shower curtains
Organize medicine cabinet – check expiration dates
Wipe down mirror
Dust door frame
Wash down cabinet doors and handles
Clean sink & bathtub
Wipe down counter top and any shelving
Wipe down fixtures, door knobs, and light switch
Clean the toilet inside and out, hinges, lid, bolts
Make sure items are stocked for any holiday guests
Sweep/vacuum & mop floor
Replace potpourri for a fall scent or add a fall scented candle
RELATED: 7 Bathroom Cleaning Tips
Download this seasonal chore list here: Free Printable Fall Cleaning Checklist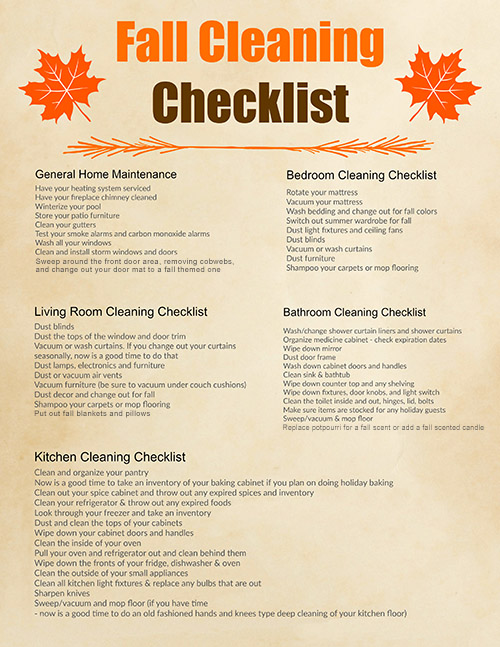 Hopefully our Printable Fall House Cleaning Checklist will help you be prepared to enjoy the holiday season!