Easy Pillow Washing Hack.
Many times I have just tossed out pillows once they got stained and, well, gross. But as I have gotten older I tend to invest in better pillows and I don't want to throw money away when I can just put in a little work to make them like new! The other reason I hate to toss them out is because the thought of them just piling up in landfills leaves a bad taste in my mouth. So I started researching washing pillows and put together some of my favorite tips, and now have a great method that I use about 3-4 times per year (the recommended amount of washing). The pillows come out fluffed up, sanitized, and smelling fresh! Follow these step-by-step instructions for How to Wash Pillows in Your Washing Machine (and dry them in your dryer!).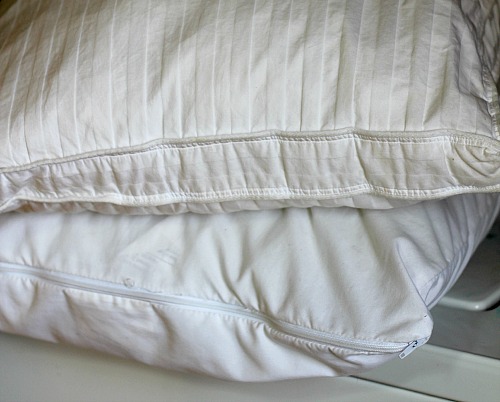 Disclosure: This post may contain affiliate links to Amazon and/or Etsy, which means that I may earn a small commission from some of the links in this post. Please see our Disclosure Page for more information.
As this method requires that the pillows soak first, if you have a front loading washer you may have difficulties with that part of the process. But you can easily just soak your pillows in a bucket instead, then go to step #4 and wash them in the washer.
How to Wash Pillows in Your Washing Machine
You will need:
1 full cap laundry soap
½ cup bleach
½ cup baking soda
1-2 tennis balls
1-2 socks
Essential oil (I used lavender essential oil)
And the offending pillows, of course!
Directions: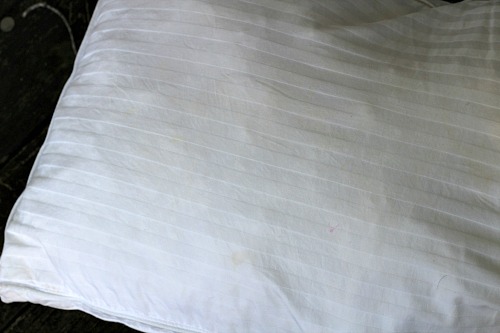 1. Pour laundry soap, bleach, and baking soda into washer and let it fill with hot water. If your washer has a soak cycle, you may want to use that. Otherwise, you may have to start a cycle, let the washer fill with water, then stop the cycle.
2. Once the washer is filled, press 2 pillows down into washer around the agitator drum. Don't try to cram more than that into your washer, you really want them loose to clean them well.
3. I let my pillows soak for about 20 minutes prior to letting them run through the cycle, but this really depends on the amount of soiling on your pillows. As you can see, mine were pretty rough. Hubby sweats a lot, we all drool, and who knows what else is on our pillows, so I like to make sure they come out CLEAN!
4. Run your cycle (I use the longest cycle available), and do an extra spin out if you need to remove excess water from the pillows.
5. Place one tennis ball in the toe of a crew sock (two socks with a ball each is better), tie it closed, and add 3-5 drops of your favorite essential oil. I used lavender due to its antiseptic and antibacterial properties (and of course it's wonderful for sleep), but you can use any scent you like- patchouli, wild orange, jasmine, etc.
6. Toss tennis ball sock(s) and pillows into the dryer on medium heat until pillows are completely dry. The balls beating around in your dryer should help fluff your pillows back up nicely.
Now that you know how to wash pillows in your washing machine, just repeat this every 3-4 months and you'll always have nice, clean pillows!
Have you ever cleaned your pillows before?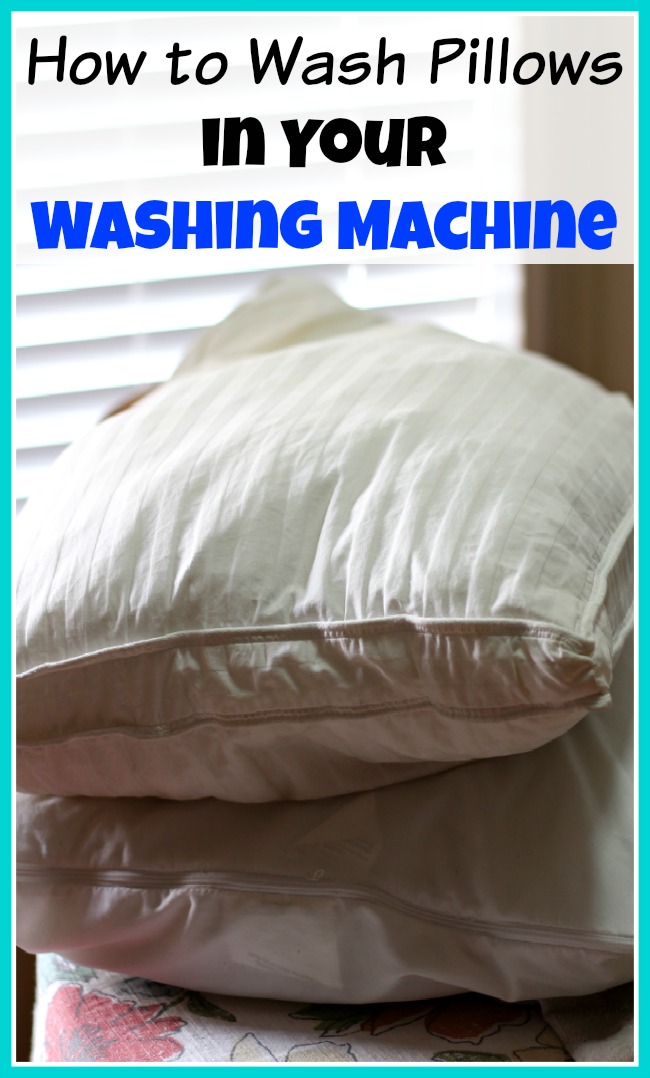 About Jody: I am a Florida girl through and through living the semi-country, small town life.  I am making my way through it with my amazing hubby, 2 beautiful kids, 2 of the best Dachshunds to ever walk the face of the earth, massive amounts of coffee and a whole lot of Jesus. I homeschool, craft, cook, scrapbook, garden, raid the thrift shops, snap 1,000's of photos, and read when I can grab a spare minute (which is rare). You can find me blogging at Simply Southern Sunshine.
You might also be interested in: 10 Things You're Forgetting to Clean in Your Bathroom