Have you ever made your own homemade cleaners? They're such worthwhile DIY projects! Not only do they save you money, but they also save you from being exposed to a lot of harmful chemicals. Why pay more and put your health at risk when you can make a natural cleaner that works just as well as a commercial one? That's why I like to make my own cleaning products, including my own dusting spray. It takes only a minute to put together, works well, smells great, and is all natural! Follow my simple tutorial to make your own Homemade Dusting Spray!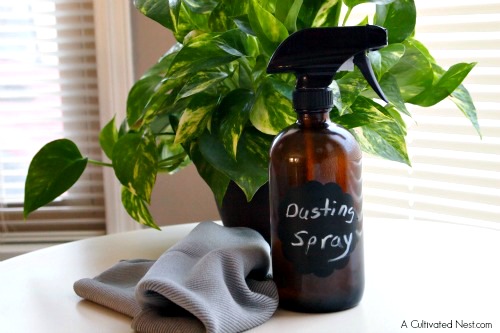 Disclosure: This post may contain affiliate links to Amazon and/or Etsy, which means that I may earn a small commission from some of the links in this post. Please see our Disclosure Page for more information.
Each ingredient in this DIY dusting spray has a good purpose. Vinegar is naturally a great cleaner, which is why you'll find it in a lot of homemade cleaning recipes. The olive oil shines surfaces and helps to clean up the dust. Essential oils have a variety of beneficial qualities. I chose to use lemon essential oil which is antiviral, antiseptic, and antifungal, on top of smelling great. But you could choose to use any other antibacterial essential oil like tea tree, lavender, or orange essential oils.
Homemade Dusting Spray
Makes 1 cup of spray, which filled my bottle half full.
Ingredients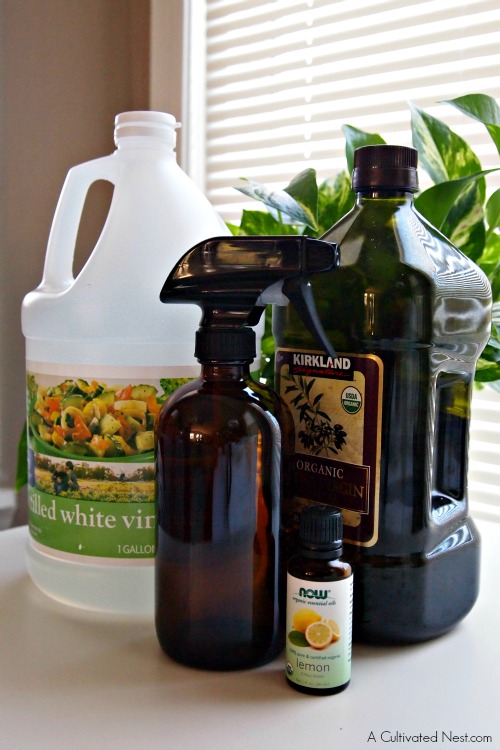 1/4 cup vinegar (I used white vinegar, but you could also use apple cider vinegar)
3/4 cup oil (I used olive oil)
10-15 drops essential oil (I used lemon essential oil)
Spray bottle (some essential oils, like lemon essential oil, are sensitive to light exposure, so I used a dark glass spray bottle)
Directions
1. Pour the vinegar and oil into your bottle.
2. Drop the essential oil of your choice into the bottle.
3. Put top on bottle and shake to combine.
To use: Spray on dusty surfaces and wipe dry with a paper towel or cloth. Shake the bottle every few sprays, to keep the ingredients from separating. If it smells too vinegary to you, you may want to soak orange or lemon peels in your vinegar first. But for me, with 15 drops of lemon essential oil I didn't smell any vinegar at all, just a nice, fresh lemon scent!
While this is primarily a dusting spray, you'll also find that it works as a basic furniture polish. So not only will your furniture be dust free, but it'll shine, too!
I didn't encounter any issues with spraying this on the various surfaces in my home. But if you have a surface with a particular finish that you're worried could be damaged, test your homemade dusting spray on an inconspicuous area first.
Have you used homemade cleaners before?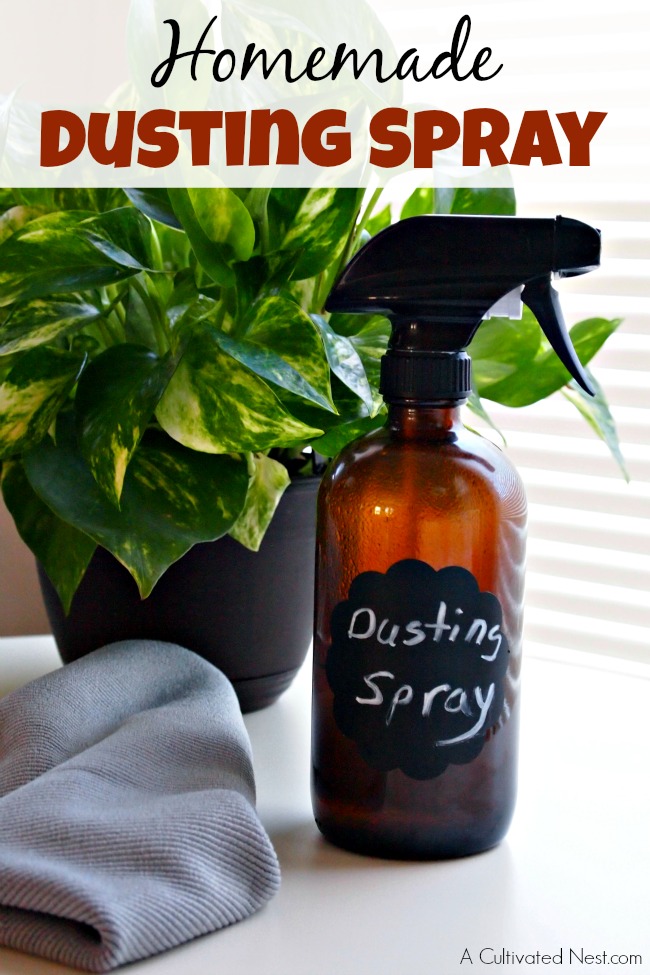 This post contains affiliate links to Amazon. Please see our Disclosure Page for more information.
You may also be interested in: