Are you an avid tea drinker? If so, you no doubt come across tea bags quite often. When you are done with those tea bags though, what do you do with them? Your first thought might be to throw them away, but the truth is those little tea bags have many other uses! Since we're all about making the most of what you have, the next time you prepare to pitch one, consider this list of  7 creative uses for tea bags instead!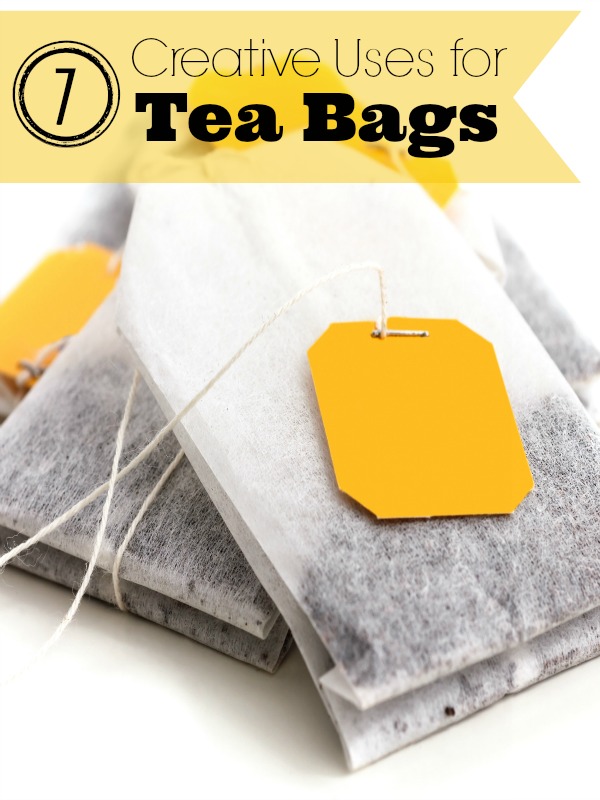 Disclosure: This post may contain affiliate links to Amazon and/or Etsy, which means that I may earn a small commission from some of the links in this post. Please see our Disclosure Page for more information.
I know of someone that keeps the string on her tea bags and ties them together to make longer string.  Now that's extreme frugal living!
7 Creative Uses For Tea Bags
1. Make mirrors shine.
You can use a used tea bag to clean your mirrors to a sparkly shine. Just run the used tea bag over the glass and wipe clean with a soft cloth. The tannic acid in the tea will help make the mirrors shiny clean, and you can even absorb any room odors in the process!
2. Reduce eye puffiness.
Place already brewed tea bags in the fridge to cool them. Placing them in an air tight jar will help. When you experience eye puffiness, simply remove them and place them over closed eyelids for a few minutes. The caffeine will help reduce puffy and tired looking eyes.
3. Boost your bath.
Tea is filled with antioxidants that help your skin look and feel its best. Take already brewed tea bags and drop them in your bathwater for a nutrient boost. Your skin will look and feel better after just a few uses. When bath time is over, just toss the bags away.
4. Feed your compost pile.
Add those brewed tea bags to your compost pile for a nutrient boost! The tea bags will add nitrogen to the mixture, something that compost bins love and need. When it is time to use your compost, you will notice that the tea bags help it turn dark and rich.
5. Soothe bites and burns.
Tea has tannins in it, which can help soothe minor skin issues such as bug bites and burns. If you are experiencing one of these issues, place a cool and used tea bag over the area. It will help cool and soothe the skin and lessen the irritation.
6. Leave your fridge smelling fresh.
Place a bowl of used tea bags in a bowl and on the top shelf of the fridge. The tea bags will work hard at absorbing bad food odors and will leave your fridge smelling fresh! This is a wonderful alternative to having to buy baking soda.
7. Make dark hair shine and beam with color.
Soak some used tea bags in warm water for 15-20 minutes. Then use the liquid as a rinse over your hair. The tea will help bring out the natural shine in your hair and can even add gentle and natural brown highlights! Just pour the rinse on, let sit for a few minutes, and rinse out with lukewarm water.
Did you ever think that tea bags could be so practical even after the tea has been brewed? Give these creative uses for tea bags a try and see how they work for you!
You May Also Be Interested In: 10 Ways To Upcycle Glass Bottles & Jars