Any time is the perfect time to reorganize! You don't have to wait for the new year or spring to have a organized home! Throwing out and reorganizing your old items can help make space for new things, and it makes your home feel lighter and fresher. You'll also feel less stressed if your home is organized and less chaotic!  If your home could use some reorganizing, take a look at these 10 Tips to Help You Organize Your Home!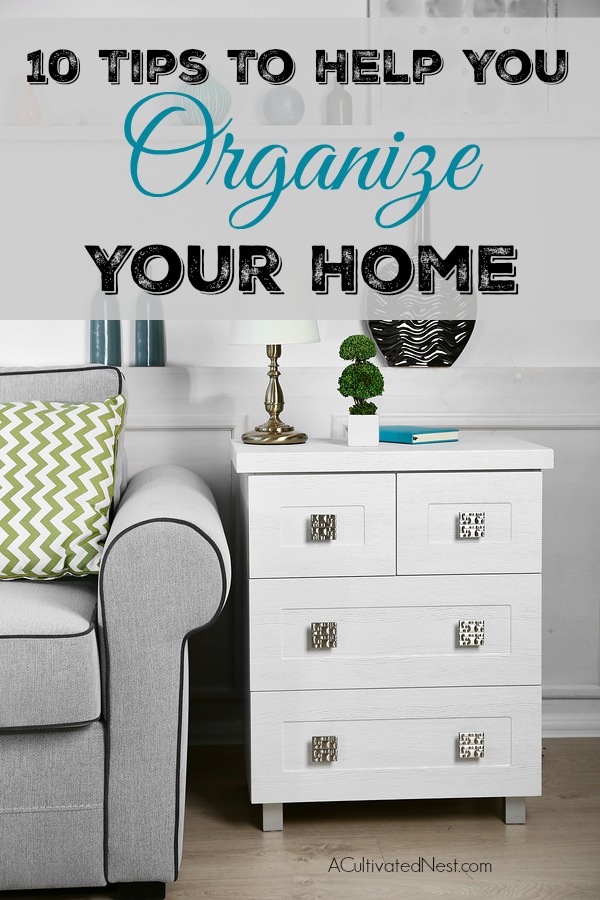 Disclosure: This post may contain affiliate links to Amazon and/or Etsy, which means that I may earn a small commission from some of the links in this post. Please see our Disclosure Page for more information.
A newly organized home might just inspire you to also simplify your life!
10 Tips to Help You Organize Your Home
1. Put Seasonal Items in Storage
The best way to start to organize your home is to put all old seasonal items away. Pack up your seasonal decor and holiday outfits and put them somewhere out of the way. This way your home isn't taken up with things you're not going to use again until next year.
2. Declutter
A critical part of organization is decluttering. Likely there are many things you and your family members don't need or want anymore. Sell things that are still worth something, especially electronics, donate other things that are in decent condition, and throw away the rest.
RELATED: 100 Things To Throw Away Today
3. Set Up a Clothes Closet Organization System
For many people, the clothes closets are one of their home's most unorganized areas. Change that by setting up a clothing organization system! You could get simple closet dividers or whole shelf systems.
RELATED: How To Better Organize Your Clothes
4. Re-Organize Your Pantry
Do you have to dig through your pantry to find what you need? Organize your home by finally making sense of your pantry. It'll save you time and money in the long run!
5. Use Bins and Shelves in the Garage
If your garage is a mess, then you need to organize it! Consider buying some shelving racks to help sort boxes, and buy bins for loose items. If something, like tools, will need to be easily reachable, consider getting a pegboard.
RELATED: 17 Brilliant Garage Organization Ideas
6. Get Bigger Toy Bins
If your kids still have lots of toys after you decluttered, consider getting a bigger toy bin rather than additional bins. The more bins you have, the more messy the room is likely to look, so avoid that by just getting a decently sized large bin.
7. Clean Up Your Linen Closet
If you really want to organize your home, then it's time to get rid of mismatched and worn out linens. The ones that are still halfway decent can go to Goodwill, but the rest need to either be thrown out or made into rags. Reorganize the linens that are left so that everything is in a distinct place.
8. Reorganize Your Spice Cabinet
I remember when my spice cabinet was a mess. It really slowed down my cooking process as I always had to stop and sift through spice containers looking for what I needed. If you have a similar problem, you need to reorganize your spices!
9. Organize Your Desk
Unless you're already very neat, it's likely that your desk has at least one or two piles of papers that need to be dealt with. You should organize your desk with things like like in/out shelves and office supply holders.
10. Get Hidden Storage Furniture
A wonderful way to organize your home is with hidden storage furniture! We have  a ottoman similar to this one that has hidden storage space inside that we use to hold extra throws and pillows. We got ours at Big Lots and I've seen them at TJMaxx as well. There are also ottomans that double as file cabinets if you're short on home office space!  Our coffee table has a shelf underneath it that we keep 2 baskets on. In the baskets are magazines/books were reading and some other misc items. It looks neat but things are still handy.
What area of your home do you most want to reorganize?
This post contains affiliate links to Amazon. Please see our Disclosure Page for more information.