25 DIY Cleaners to Help Get Your Home Spotless.
We've now officially passed the first day of spring! Which means its time to get into spring cleaning mode! For a successful spring cleaning, you'll want to think about what needs cleaning, how to clean things, and what exactly to clean things with! Since I like to keep my home chemical-free but don't enjoy spending a ton on commercial all-natural cleaners, I tend to stock up on DIY cleaners before starting my spring cleaning. To save you time hunting down homemade cleaner recipes, here are 25 Homemade Cleaners That are Perfect for Spring Cleaning!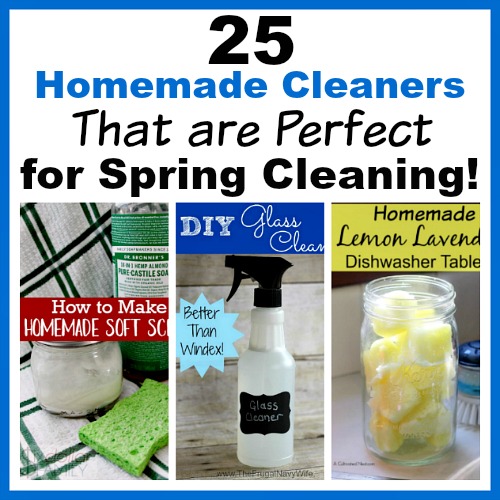 Disclosure: This post may contain affiliate links to Amazon and/or Etsy, which means that I may earn a small commission from some of the links in this post. Please see our Disclosure Page for more information.
I don't think there's a single household cleaner out there that you can't replicate with inexpensive, all-natural ingredients! Which is a good thing, because making your own homemade cleaners can save you a lot of money! I always make sure I have some extra spray bottles on hand for sprayable cleaners (amber glass spray bottles are best for cleaners containing essential oils), and repurpose old glass jars or use Mason jars to store other kinds of cleaners.
Disclaimer: Remember that there's a difference between cleaning and disinfecting. Not every cleaner can disinfect (some just cut through dirt and grease). So if someone in your home is sick (like with the flu, etc.), it would be best to use commercial antibacterial products to keep everyone else healthy while they recover. These homemade cleaners are not intended to help prevent any diseases.
25 Homemade Cleaners That are Perfect for Spring Cleaning
When it comes to making your own household cleaners there are a few things you should keep in mind before you get started. Each one of these cleaners has its own list of instructions and ingredients, but I wanted to point out a few things so your home is in top shape in no time.
Mixing Cleaners – It's very important to know that not all cleaners are compatible with each other. For example, never mix bleach with vinegar or it could make you very ill. The chemicals do not work well together and can make a dangerous gas. Check out this post for more cleaning ingredients you should never mix.
Microfiber Cloths – Save yourself some money and be eco-friendly at the same time by skipping disposable cleaning wipes and paper towels for reusable options instead. Microfiber cloths have a magnetic effect that makes them ideal for cleaning dust and hair. Take a look at this post for some DIY reusable replacements for disposable products.
Keep Cleaners Away From Children and Pets – Even though making your own cleaners is so much better for your family than harsh chemicals from store-bought cleaners, you still need to keep them away from kids and pets. This is a precaution so they don't become ill or irritate their skin.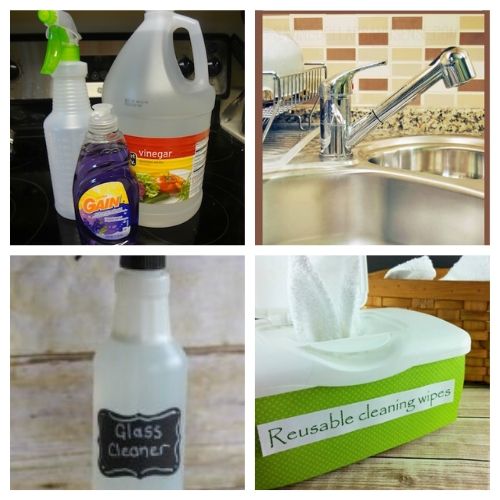 Homemade Shower Cleaner– Thrifty T's Treasures
DIY Garbage Disposal Cleaner– Saving Dollars & Sense
DIY Better than Windex Glass Cleaner – The Frugal Navy Wife
Homemade Cleaning Wipes – Six Dollar Family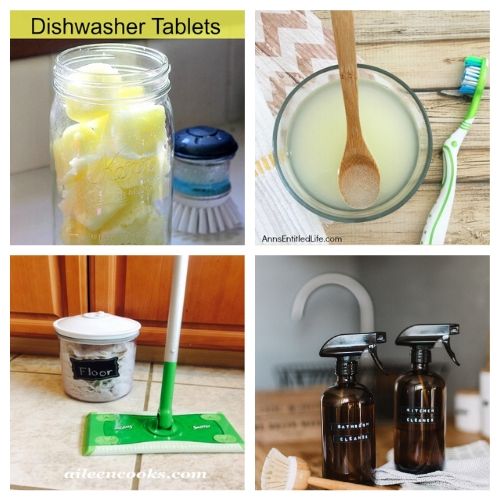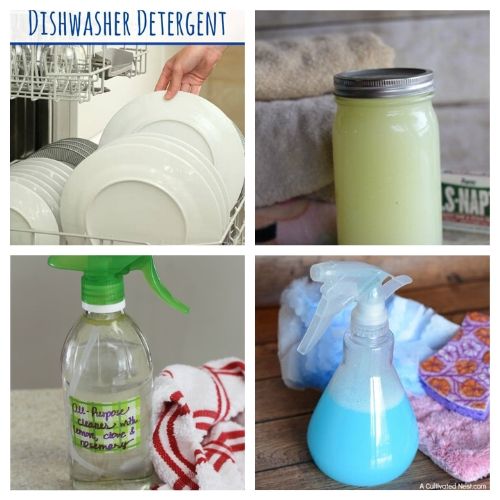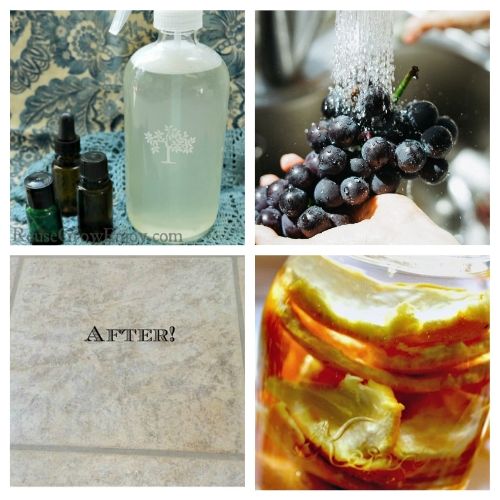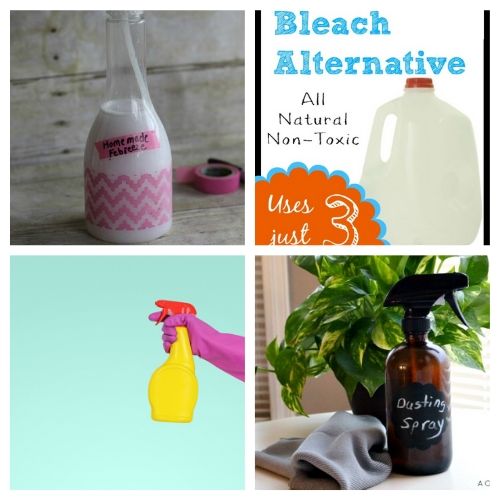 DIY Homemade Febreze – The Frugal Navy Wife
Homemade All-Natural Non-Toxic Bleach– Saving Dollars & Sense
5 Natural Homemade Cleaners– My Joy-Filled Life
DIY Dusting Spray– A Cultivated Nest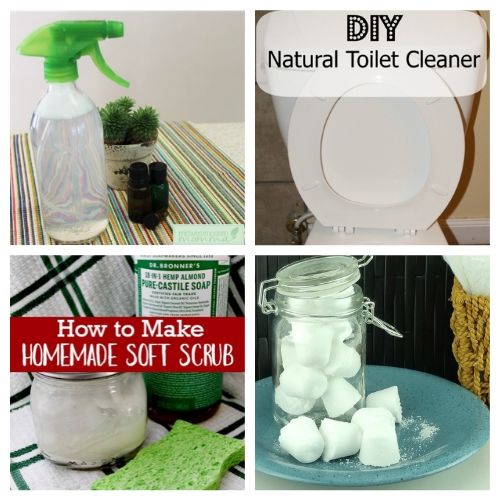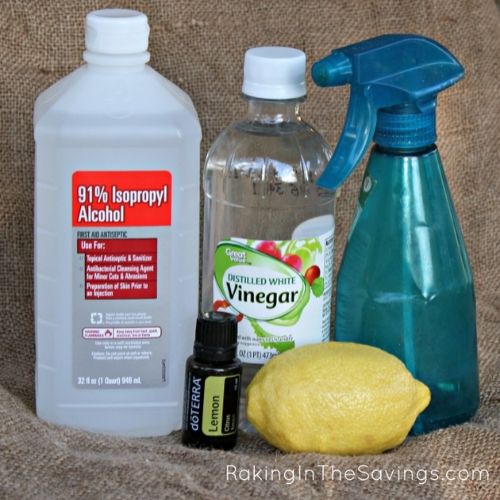 Natural Counter Cleaner– Raking in the Savings
What's your favorite room to clean?
Do you use homemade cleaners often?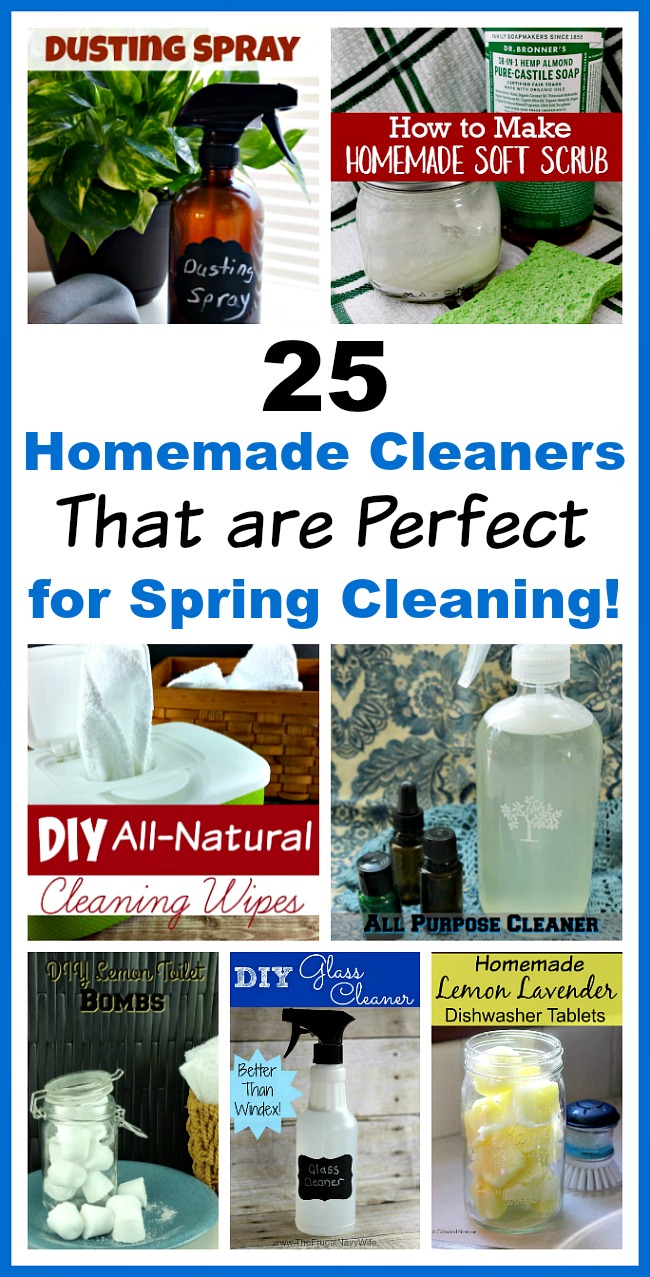 You might also be interested in: 15 DIY Money Saving Household Cleaners