Regardless of whether you love or hate those delightfully sugary marshmallow treats, there is no denying Easter Peeps are a popular sign of Easter. When they start to appear on the shelves, it's a good sign that spring is very, very near, and the Easter Bunny is not too far behind. So put them to good (and tasty use) and try these 15 Easter Desserts to Make with Peeps!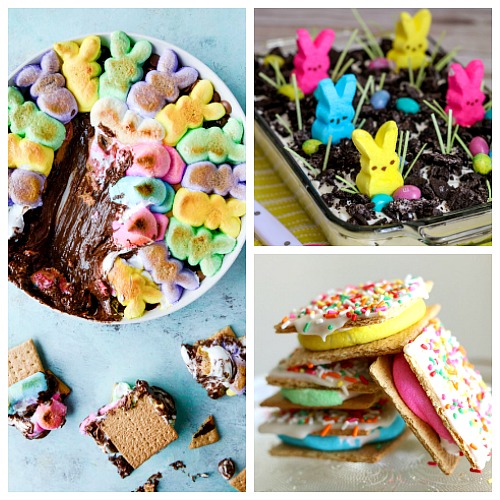 Disclosure: This post may contain affiliate links to Amazon and/or Etsy, which means that I may earn a small commission from some of the links in this post. Please see our Disclosure Page for more information.
These cute little puffs of sugary goodness may not be the healthiest choice, but they are the cutest! They are undoubtedly festive, are a key ingredient in many of the most popular Easter Treats, and to some, are completely irresistible. So if you happen to find yourself with a healthy supply of of these sweet treats, here are some Easter desserts to make with peeps, which you simply must try! I always get a nice variety pack of Peeps bunnies and Peep chicks from Amazon when Easter is getting close, so I'll be sure to have plenty on hand.
15 Easter Desserts to Make with Peeps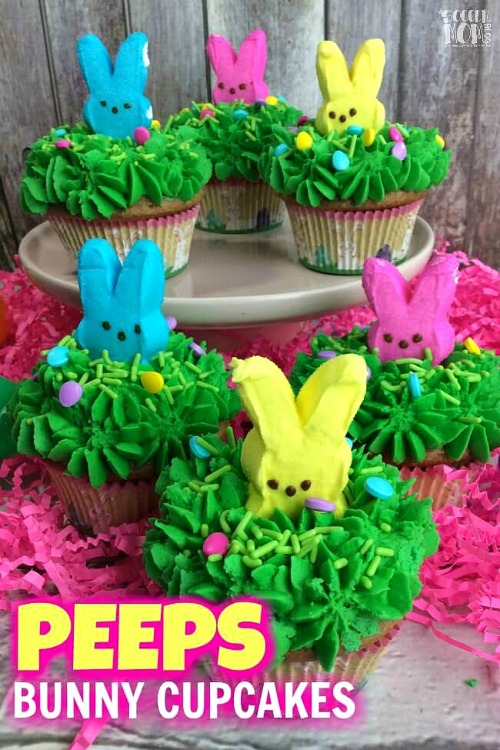 1. These Peeps Cupcakes by the Soccer Mom Blog are super cute, relatively simple, and very festive. Perfect for a child's party and a sweet addition to the dessert table.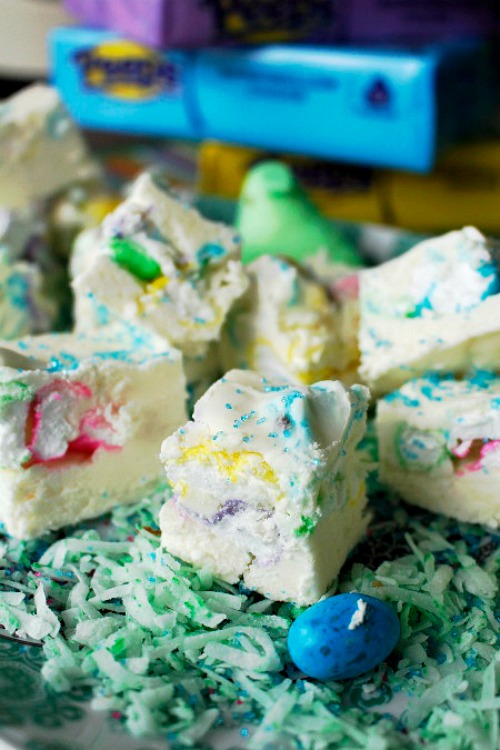 2. This Three Ingredient Peeps Fudge by the Thrifty Couple is totally worth a try. Everybody loves fudge, and this looks absolutely lovely and springy!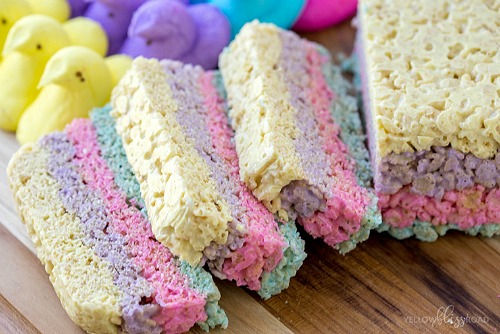 3. Oh my, these Layered Peeps Krispy Treats by Yellow Bliss Road are just perfect! Rice Krispy treats are some of my favorites, and this recipe isn't going to taste too different from the classic, but it sure is beautiful!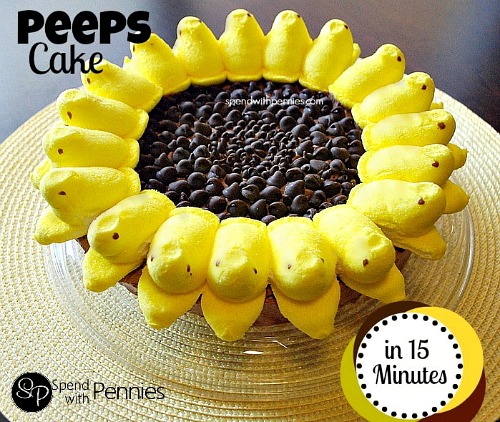 4. A brilliant Sunflower Peep Cake by Spend With Pennies is going to wow your guests and please your sweet tooth at the same time.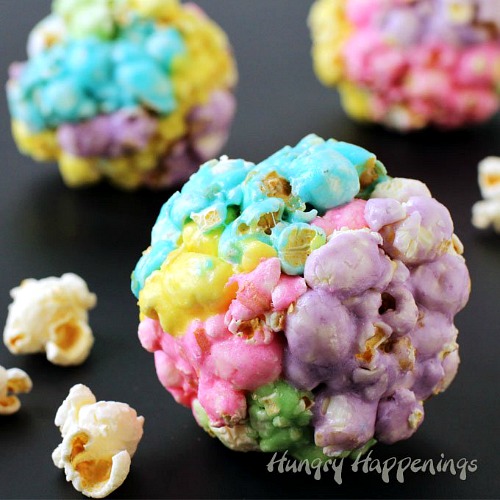 5. These Peeps Popcorn Balls by Hungry Happenings are wonderful! Popcorn balls are always going to be a thing of bliss, and so are Peeps! So hey, it a win/win combination for sure!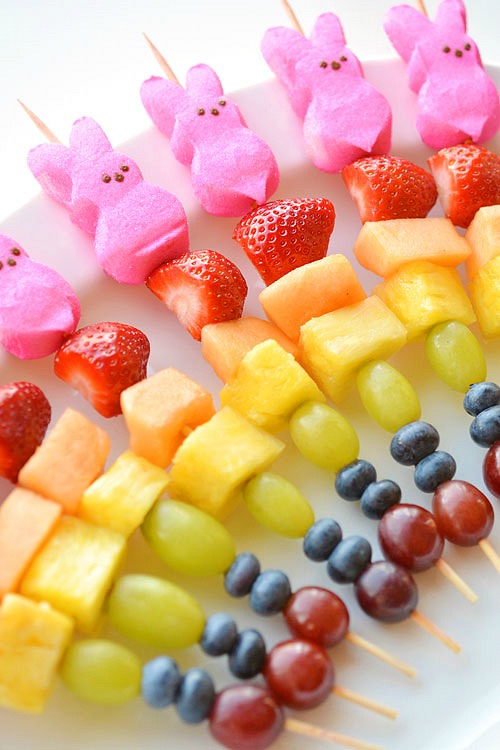 6. Even out the sugar overkill with these Easter Peeps Fruit Kabobs by One Little Project. Mostly healthy and a ton of fun, these would also make a lovely Easter dessert to bring to the kids' parties!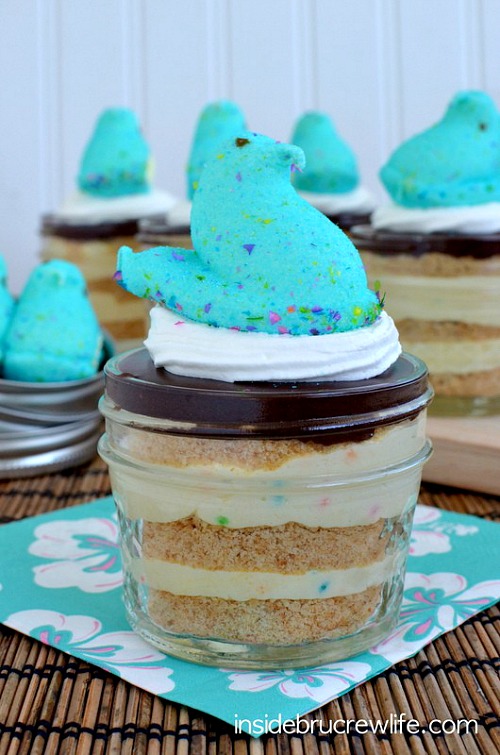 7. I love eclairs. Seriously, its totally a thing for me. So you can imagine how excited I was to find these Party Peeps Éclair Cups by Brue Crew Life.  hey are officially on my must try list!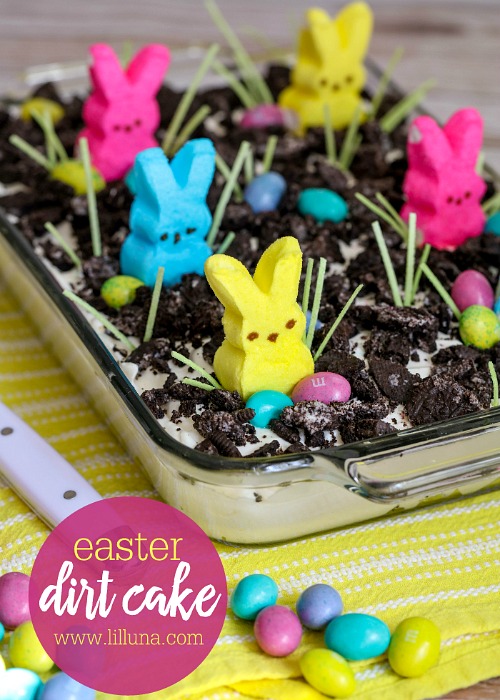 8. This Easter Dirt Cake by Lil' Luna is sure to be a crowd pleaser. Simple, fun and full of springy festive charm.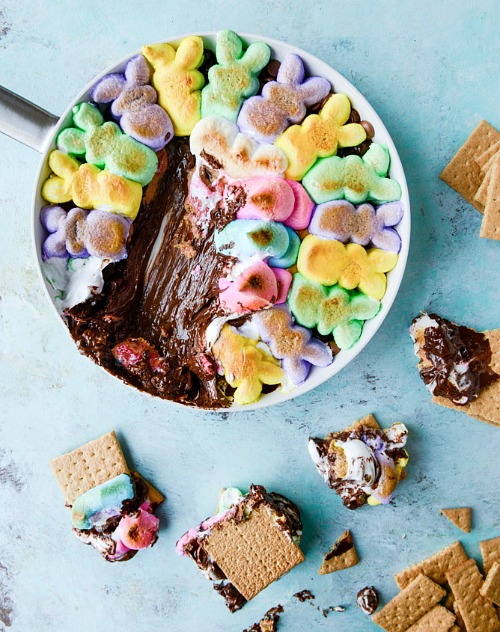 9. Who doesn't love S'Mores? These Chocolate Peanut Butter Peep Skillet S'mores by How Sweet Eats have all the things you love about S'Mores, plus, yep you guessed it, Peeps.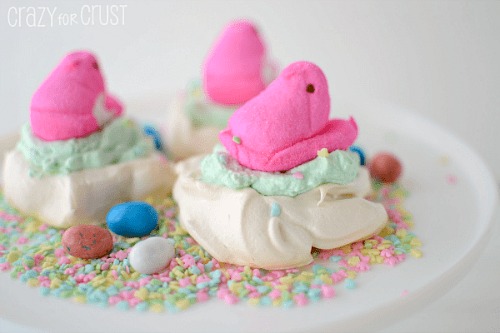 10. These Pavlova Peeps Nests by Crazy for Crust are cute and sweet and fun!
11. Five Heart Home's Chocolate Birds' Nest Cookies are super fun, and would be great to bring to an Easter buffet or pot luck.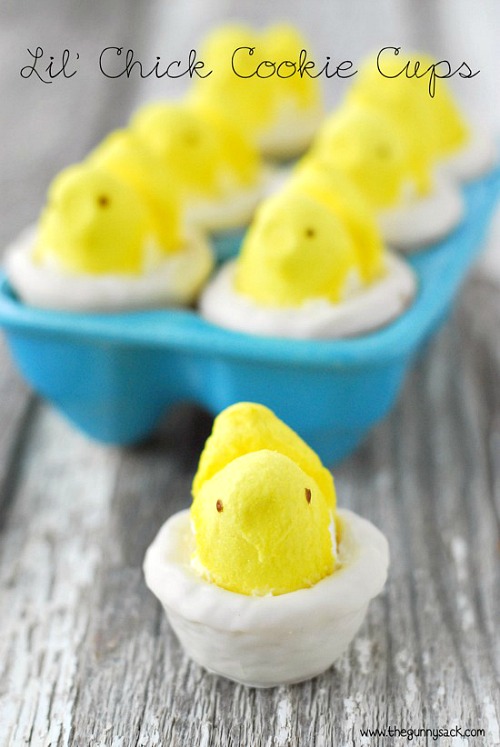 12. These Lil' Chick Cookie Cups by the Gunny Sack might actually be too pretty to eat!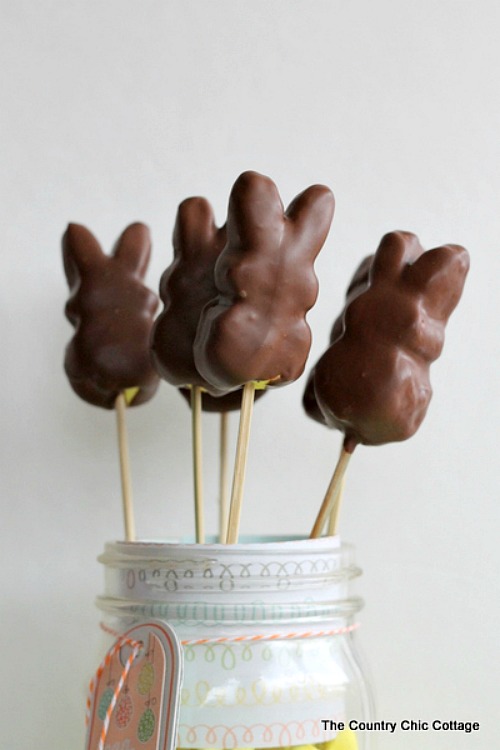 13. Country Chic Cottage's Chocolate Covered Peeps Marshmallow Pops are after my own heart.  I recall many a store-bought holiday themed marshmallow pop – and it never once occurred to me to try to do it myself. Until now that is. This too is now on my must try list.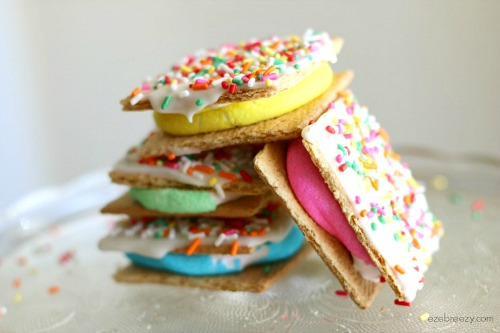 14. If you try any of these Easter desserts, you have to try these Easter Peeps S'mores by Eze Breezy! They are bright, cheery and sure to please! They are the perfect Easter spring treat!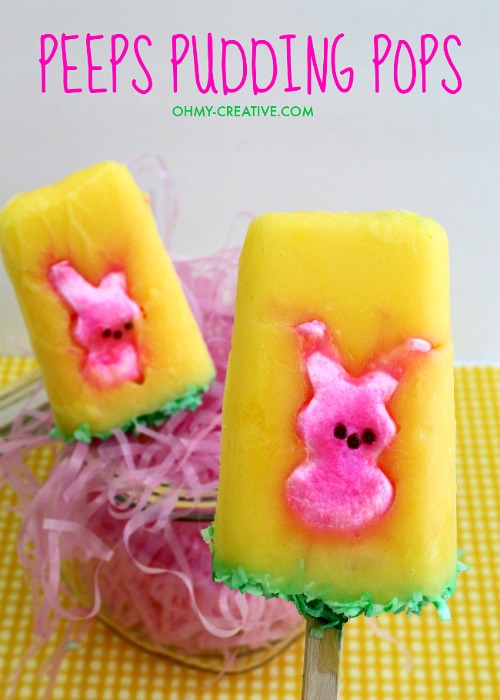 15. For a lower calorie Peeps dessert, check out these Peeps Pudding Pops by Oh My Creative. There are a clever and healthier way to enjoy Peeps, and not to mention, great fun!
Tips for Easter Recipes to Make with Peeps
As with all entertaining, whenever you can make something ahead, be sure to do so. Most of the Easter desserts on this list can be made well ahead of time. You would want to store them in a cooler place so that the Peeps don't get droopy and melty.
Buying your baking ingredients in bulk is often the best way to save money when holiday baking, but be sure you have a place to store the extras, or a plan for using them – otherwise you're not saving anything by having to throw it all out later. Food grade plastic bins are good for storing dry goods, as are glass Mason jars with good fitting lids.
And one of the best ways to save money when hosting a celebratory meal is to make it a potluck! Share this list with all of your guests, and have everybody bring an Easter Peeps recipe!
Have you ever used Peeps in an Easter recipe before?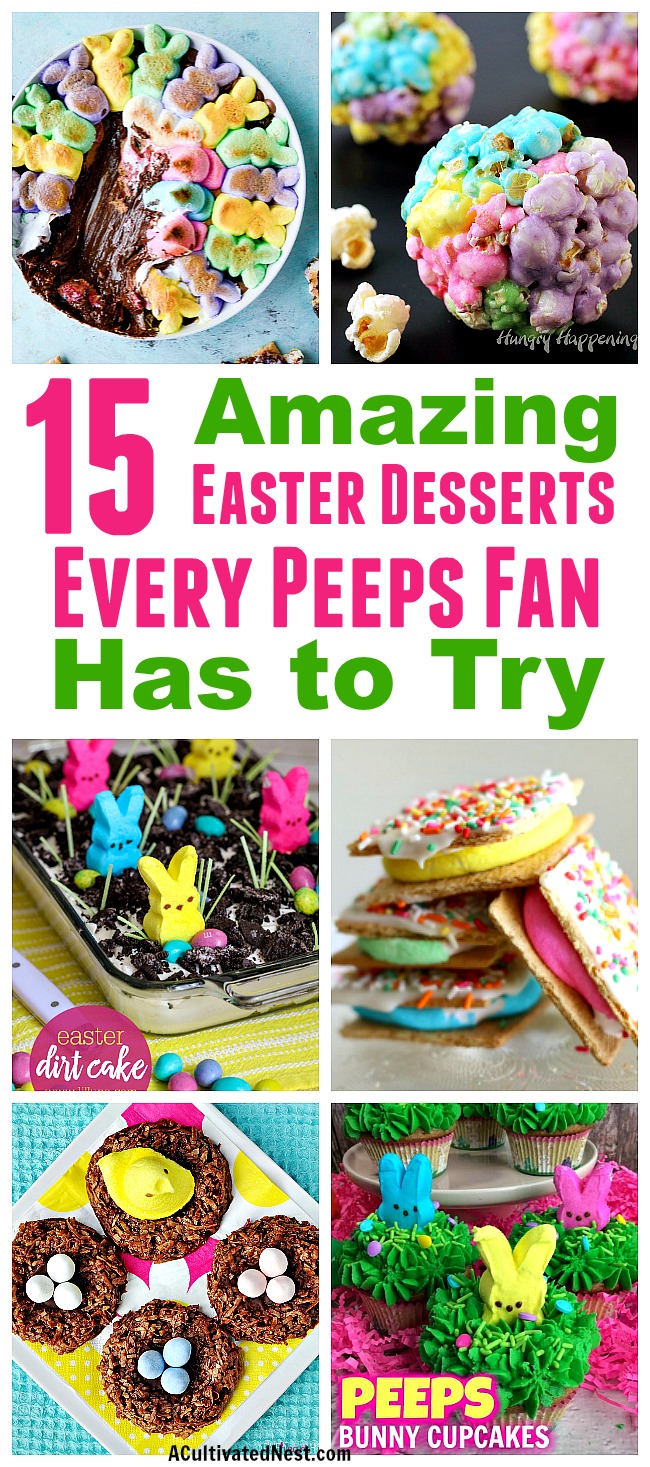 You might also be interested in: 24 Unforgettable Easter Dessert Recipes