Some days you just don't have time to wash your hair, or maybe daily washing is just too hard on your hair but you still need something to freshen it up. This dry shampoo recipe is the perfect way to freshen up your hair and absorb some of the oil, leaving it soft, less greasy, and scented beautifully! Making it at home costs pennies and is so easy to do that there is no need to run to the store and buy an expensive commercial version. With just 3 simple ingredients this DIY Dry Shampoo for Brunettes is safe and easy to use!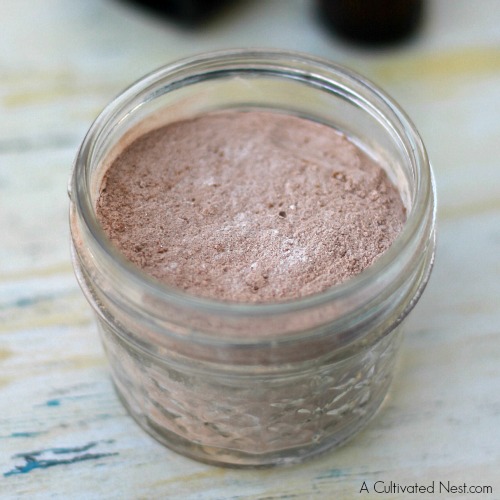 Disclosure: This post may contain affiliate links to Amazon and/or Etsy, which means that I may earn a small commission from some of the links in this post. Please see our Disclosure Page for more information.
I focused this recipe on brunettes, but you can also find the ingredients for blondes and redheads at the end of the post. It's really easy to make your own dry shampoo for any hair color! Keep a batch of this on hand to fix up your hair in a snap. Or it can make a great gift in a pretty jar. If you make a gift out of it, don't forget to attach a fluffy brush and a nice label!
DIY Dry Shampoo for Brunettes
Ingredients
4 T. cornstarch
2 T. baking cocoa
4-5 drops essential oil of your choice
Directions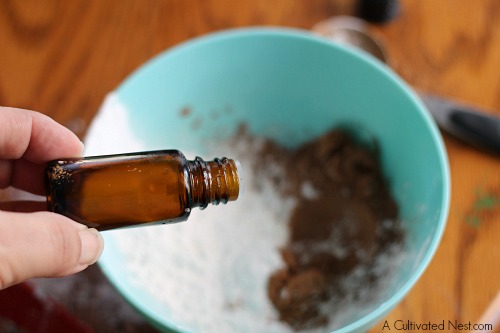 1. In a large bowl combine cornstarch, cocoa, and essential oil.
2. You can easily adjust the color to match your shade closer by adding more cocoa or more cornstarch.
3. Transfer to a container with a tight fitting lid for storage. A Mason jar would work well.
To Use
1. Use a large makeup brush to dust the DIY dry shampoo over your hair.
2. Comb or brush hair well to work it through and remove all visible powder residue.
Choose essential oils purely for the scent or you can choose them for their benefits to your hair and scalp. Lavender and rosemary are great for all hair types, while tea tree is good for flaky scalps.
For Blondes- omit cocoa powder and use 1 tsp. turmeric instead.
For Redheads- omit cocoa powder and use 1 tsp. paprika.
Have you ever made your own DIY hair care product?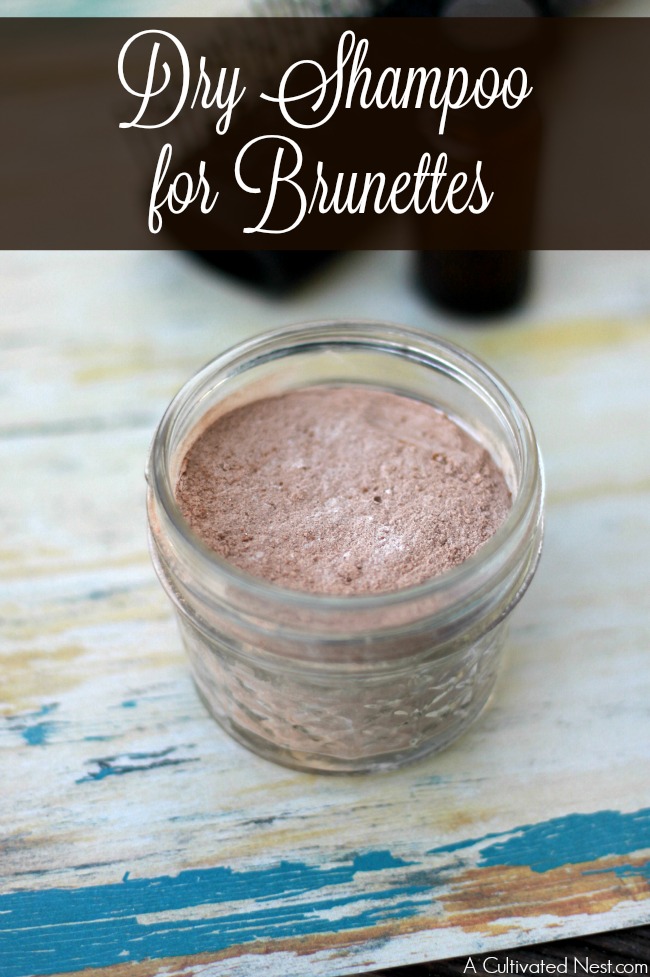 This post contains affiliate links to Amazon. Please see our Disclosure Page for more information.
  About Jody: I am a Florida girl through and through living the semi-country, small town life.  I am making my way through it with my amazing hubby, 2 beautiful kids, 2 of the best Dachshunds to ever walk the face of the earth, massive amounts of coffee and a whole lot of Jesus.  I homeschool, craft, cook, scrapbook, garden, raid the thrift shops, snap 1,000's of photos, and read when I can grab a spare minute (which is rare). You can find me blogging at Simply Southern Sunshine.
You may also be interested in: