If you're like me, you probably prefer that your beauty products are as natural as possible. Unfortunately, while commercial all-natural beauty products exist, they're rather pricey! So in order to save money but still have the beauty products I want, I like to make my own! One of my latest favorite homemade beauty products is this DIY Bubble Gum Lip Scrub!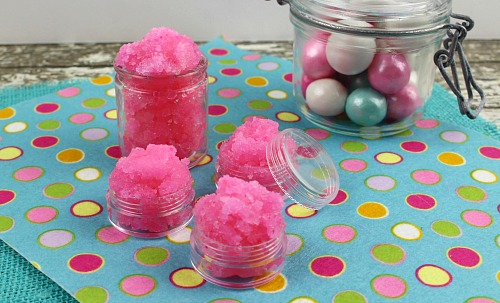 Disclosure: This post may contain affiliate links to Amazon and/or Etsy, which means that I may earn a small commission from some of the links in this post. Please see our Disclosure Page for more information.
Winter isn't the only time to pamper your lips! Hot, dry summer air can easily dry your lips out, as can chlorine from swimming pools. To keep your lips looking beautiful all year long, you should use lip scrubs like this one! This one both exfoliates and moisturizes, the perfect combination if you want lips that look and feel great!
DIY Bubble Gum Lip Scrub
This recipe will make about 1/3 cup of bubble gum lip scrub- enough to fill 3 small lip balm containers.
Ingredients
3 Tablespoons granulated sugar
3 Tablespoons almond oil
1/4 teaspoon bubble gum flavoring
2 drops vitamin E oil
Optional – neon pink food coloring
Directions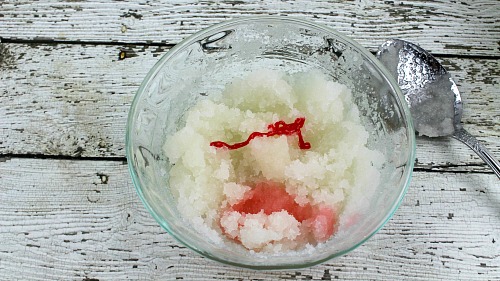 1. In a small mixing bowl, add the sugar and almond oil. Mix until well incorporated.
2. Add the bubble gum flavoring and vitamin E oil and stir until well blended.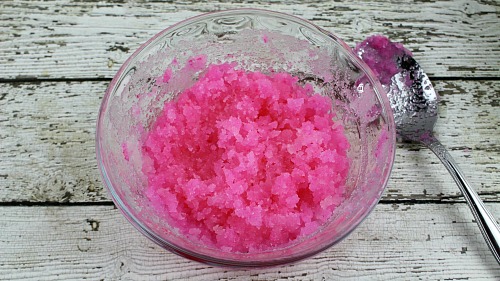 3. The flavoring adds a light pink color to the scrub. If you desire a deeper pink, add a few drops of pink food coloring (I used neon pink).
4. Transfer to an airtight container(s) and store for up to 3 months.
How to Use
1. Wet lips and apply the bubble gum lip scrub generously to lips.
2. Gently scrub in a circular motion. This will help the sugar exfoliate any dry and dead skin while the almond oil helps to moisturize.
3. Leave lip scrub on lips for 1 minute.
4. Rinse with warm water or wash off with a damp wash cloth.
5. Pat dry with towel.
6. Apply your favorite lip balm (I like to use a homemade lip balm)!
Then you can enjoy having lips that feel smooth and that look beautiful!

Want more DIY sugar scrubs?
Check out our DIY Sugar Scrubs eBook! It contains 18 budget-friendly and all-natural sugar scrub recipes that will revitalize your skin (and that make great gifts)!
This post contains affiliate links to Amazon. Please see our Disclosure Page for more information.
You may also be interested in: