Fall is starting! Already some of the trees in my yard are dropping their leaves, and a couple of mornings have actually been pleasantly cool. While I love the fall season, my skin isn't that much of a fan. As the days get colder, my skin dries out faster. Rather than pay high prices for some natural highly moisturizing soap from the store, I decided to just make my own before the cold weather hit too hard! Here's how to make Orange and Comfrey Shea Butter Soap (in a cute owl shape)!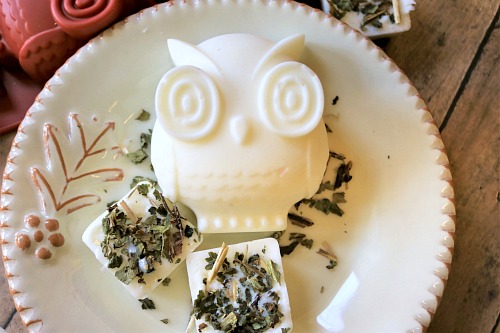 Disclosure: This post may contain affiliate links to Amazon and/or Etsy, which means that I may earn a small commission from some of the links in this post. Please see our Disclosure Page for more information.
Making your own soap, using a suspension formula as your base, makes for a much easier project than you may think. Adding herbs and essential oils to it are what really makes your homemade soap your own creation, though.
I like to use sweet almond oil to give my soap some added softness and moisture, but you can also add jojoba oil or olive oil instead. The comfrey herb is added for its ability to help with healing wounds and scars, and also helps prevent scarring. It also aids with dryness, which we need in the fall and winter, and it helps with flaky skin. It is also an anti- inflammatory as well.
This recipe uses orange essential oil, because not only does it smell fantastic, but it is an uplifting scent that lightens your mood and makes you feel happy. Plus it's so good for your body! Orange essential oil has been proven to be anti-aging, anti-inflammatory, increases your ability to take in vitamin C, and helps blood flow.
Mix together this easy orange and comfrey shea butter soap and your skin will thank you! These also make great DIY gifts!
Orange and Comfrey Shea Butter Soap
This recipe is for making one large bar of homemade soap, so you can use a larger mold like the owl, or you can use the smaller molds and make mini soaps if you'd prefer that.
Materials
Silicone mold (this mold on Amazon is similar to the one I used)
5 to 6 bricks of shea butter soap base
2 tbsp. sweet almond oil
Loose comfrey herbs – approximately 1 tsp. per bar
16 drops orange essential oil
Directions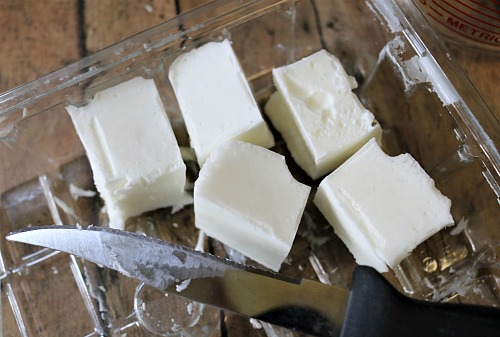 1. First you will need to chop up the soap base into the squares. It is normally pre-scored for you, and there are about 25-30 per container in all. I used 5 for my bar and I had a little too much, so I poured the rest into small square molds and made mini bars with it. I probably could've gone with 4 squares, but I'd rather have a little more than not enough.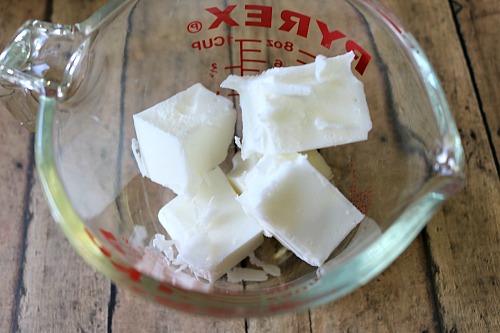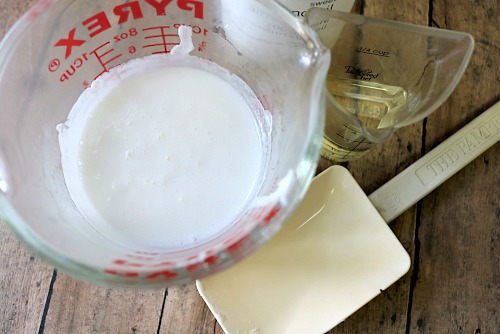 2. Place the blocks into a glass measuring cup and microwave about 25 seconds. Remove and stir with a rubber spatula and place back in for another 25 seconds to fully melt.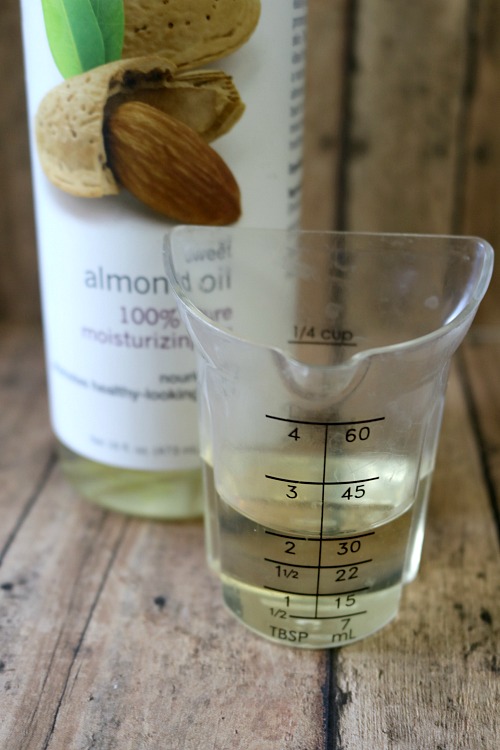 3. Stir to make sure the soap base is all melted, with no lumps in it, and then measure and add in the almond oil. Stir well and if it is setting back up already, that is normal.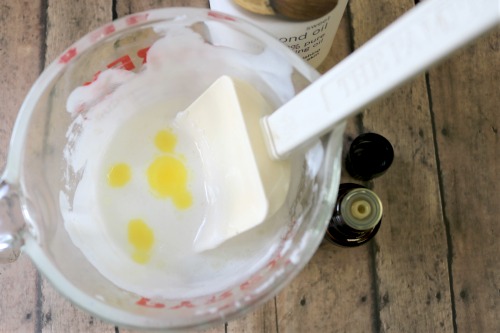 4. Next, add in the essential oil drops. Just be careful not to over-pour them, as citrus oils are runny and it's easy to have them get away from you!
5. Stir well and then return to microwave for about 15 seconds. Scrape the sides and bottom well and if it is lumpy at all, return it to the  microwave and do another run to get it all smooth.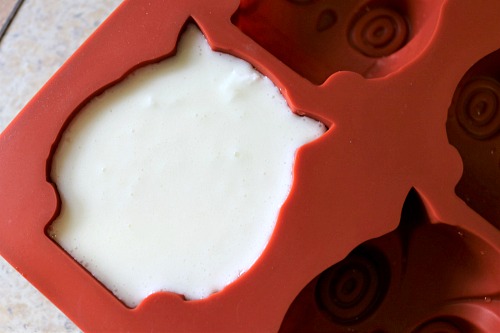 6. Now, carefully and slowly pour the soap into the silicone mold, leaving a small gap at the top where you will add the comfrey.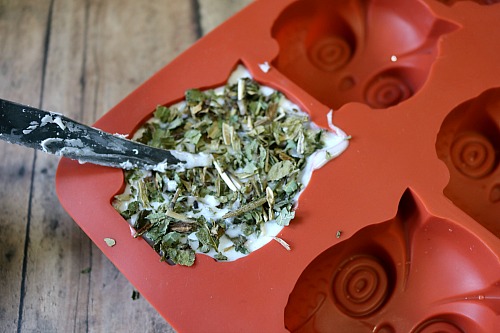 7. While it still warm, take a large pinch of comfrey and sprinkle it over the bar, filling it in all over. Then, take a tool like a knife or spoon and gently press the herbs into the bar just enough to make them stick into the soap so they will set up in it.
8. Now, comes the waiting… Let your soap sit and cool all the way down before turning it out of the mold. If you used a larger mold like I did, it takes about an hour or more. Feel the bottom center of the soap and if it is cool, it's ready to pop out. If it's still warm, give it more time.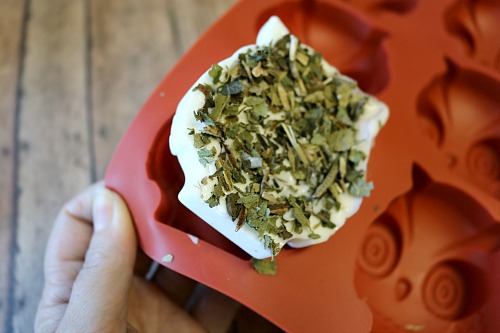 9. Pressing on the bottom of the soap mold with one hand and pulling on the mold at the top with the other, the soap should pop out very easily.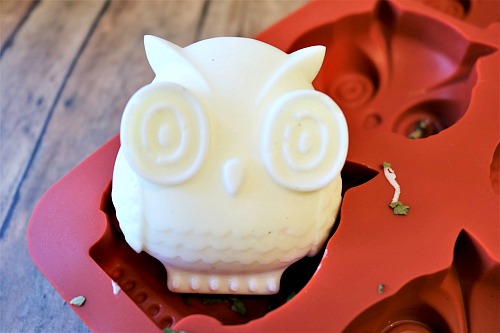 10. Now, you are all set to use your orange and comfrey shea butter soap, or to package it up to give as a gift! Enjoy!
Have you ever made your own soap? What type did you make?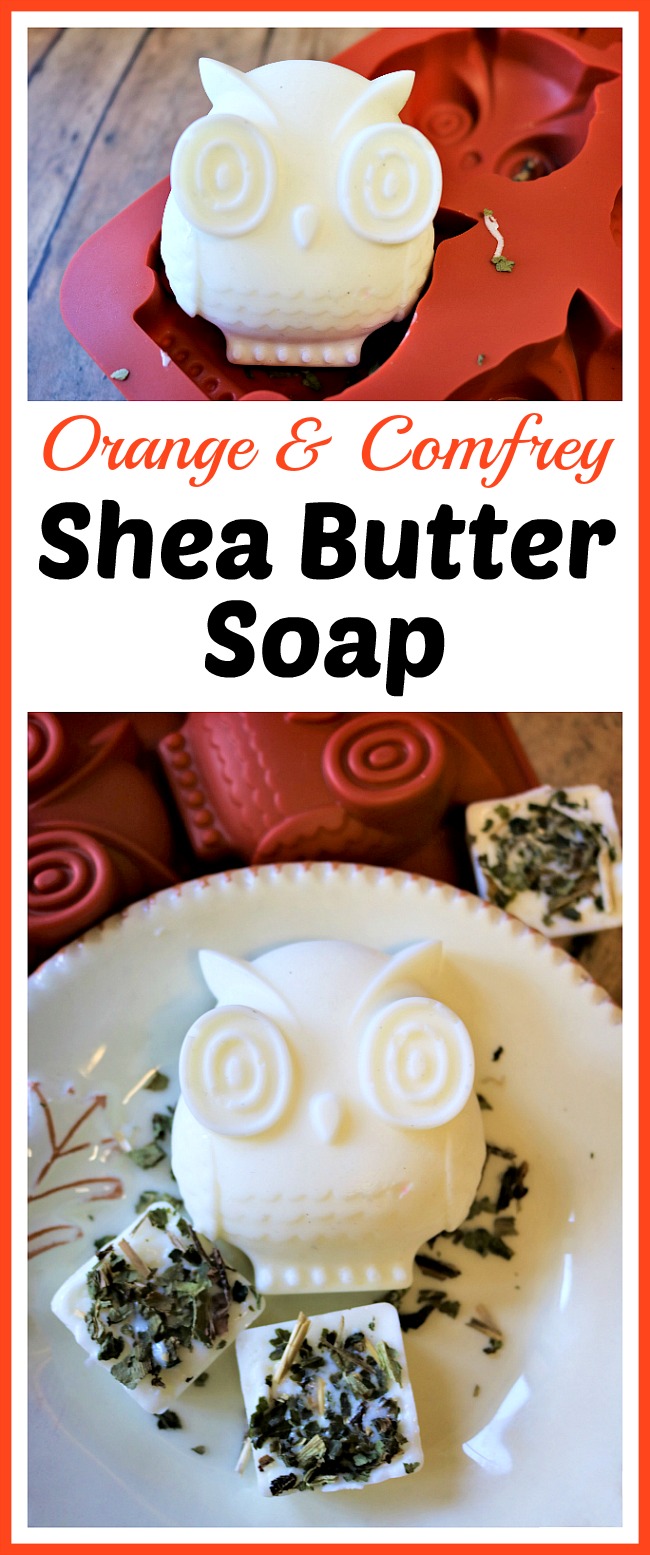 This post contains affiliate links to Amazon. Please see our Disclosure Page for more information.
You might also be interested in: DIY Coffee Ginger Soap