Do you ever think about all the frugal skills people had years ago? Back before credit cards were popular people spent more within their means. As a result, the majority of people knew a lot of handy frugal tips and tricks to help them get the most from their money, or to avoid spending money at all! But just because your grandma never told you stories of the frugal ways of "the olden days," doesn't mean you can't still learn those tips! Here are 25 Handy Frugal Tips from Grandma!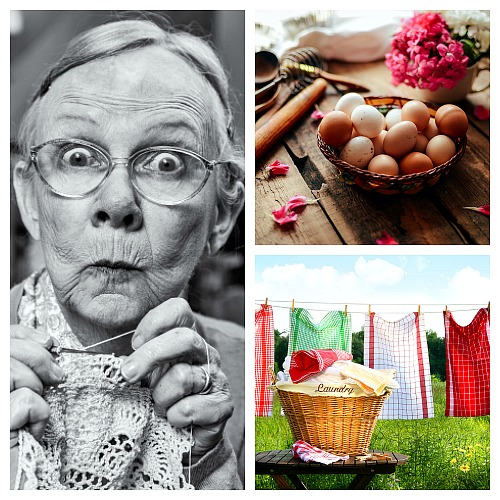 Disclosure: This post may contain affiliate links to Amazon and/or Etsy, which means that I may earn a small commission from some of the links in this post. Please see our Disclosure Page for more information.
If you have kids, make sure the next generation knows these vintage frugal skills, too! All of these ideas are easy enough for young kids to get the gist of, and some are downright fun (like making a garden to grow your own food). So as you implement these frugal tips in your life, make sure your kids are involved, too!
25 Handy Frugal Tips from Grandma
Grow your own- Growing your own food is fun, relaxing, good exercise, and a wonderful way to save money on groceries! So I'm sure one of your grandma's #1 frugal tips would have been to start a vegetable garden! If you're new to gardening, check out my 15 resources for the beginner gardener.
Make your own- Instead of buying pre-made seasoning mixes or store-baked bread, make your own! You'll save a lot, plus what you create won't contain any unnecessary additives!
Fix your own- If your shirt tears, sew it. If your faucet's dripping, look on YouTube for how to fix it yourself. The less often you call professionals to do things for you, the more you'll save!
Choose reusable- Disposable products are not only bad for the environment, they're bad for your budget! So find out how to replace your paper towels, napkins, dryer sheets, and more with reusable versions.
Save- We're all too comfortable with the idea of spending paycheck to paycheck these days. Back in your grandma's time, you'd avoid that as much as possible and would save any extra money you got.
Avoid credit- The idea of credit has been around for ages, but did you know the first credit card only came out in 1950? In your grandma's time, credit was something much harder to navigate than nowadays, and was avoided unless necessary. So if you asked your grandma for frugal tips, she'd probably say to think twice before maxing out a credit card or taking out a loan to buy a non-necessity.
Go to the dollar store- Why pay more when what you want is available at the dollar store? You can shop for organizers, DIY supplies, and even food at the dollar store!
Fill your pantry- A well-stocked pantry is key to living frugally! Your grandma probably agreed with one of the frugal tips from The Tightwad Gazette and used the "pantry principle."
Cook simply- Fancy recipes require expensive ingredients. So if you're trying to live like your grandma did, you'll want to just stick with simple, old-fashioned frugal recipes.
Live simply- A good life doesn't have to cost a lot. You just need to do as your grandma probably did, and live simply. With simple living, a little money goes a long way.
Give DIY gifts- This is one of your grandma's frugal tips you probably most enjoyed- her homemade presents! DIY presents can be a lot of fun to make and receive since they can be tailored exactly to the recipient. And of course, they tend to cost less than store-bought gifts!
Brew your own coffee- You may not know this, but Starbucks first opened in 1971 and Dunkin' Donuts began (under the name of "Open Kettle") in 1948. But it's only recently that we've become so dependent on these coffee shops for our coffee. Your grandma probably walked by one of the early Dunkin Donuts', didn't give it a second glance, then went home to make her own homemade flavored coffee.
Use unconventional hacks- Did you know you can clean things with an onion? Try some old-fashioned cleaning hacks, and you can save a lot of money! Or try some newer ideas and learn what else you can do with Dawn dish soap, dryer sheets, and toothpaste!
Use substitutions- Instead of having to buy bread flour, cake flour, and all-purpose flour, wouldn't it be nice to only have to buy all-purpose flour? Well, you can! If you learn to use cooking substitutions you can reduce how much you buy (and how much you spend) at the grocery store! We have a handy ingredient substitutions chart printable that you can reference.
Cut your own meat- Cut meat always costs more than whole because you have to pay for the labor involved to cut it. So one of your grandma's frugal tips was likely to cut your own meat. It's not hard, and can save you a lot! Here's how to perfectly quarter a whole chicken.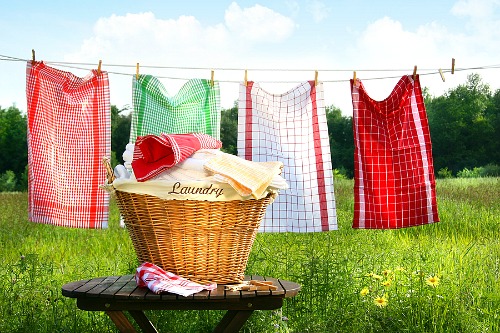 Did you grandma ever tell you any clever frugal living tips and tricks?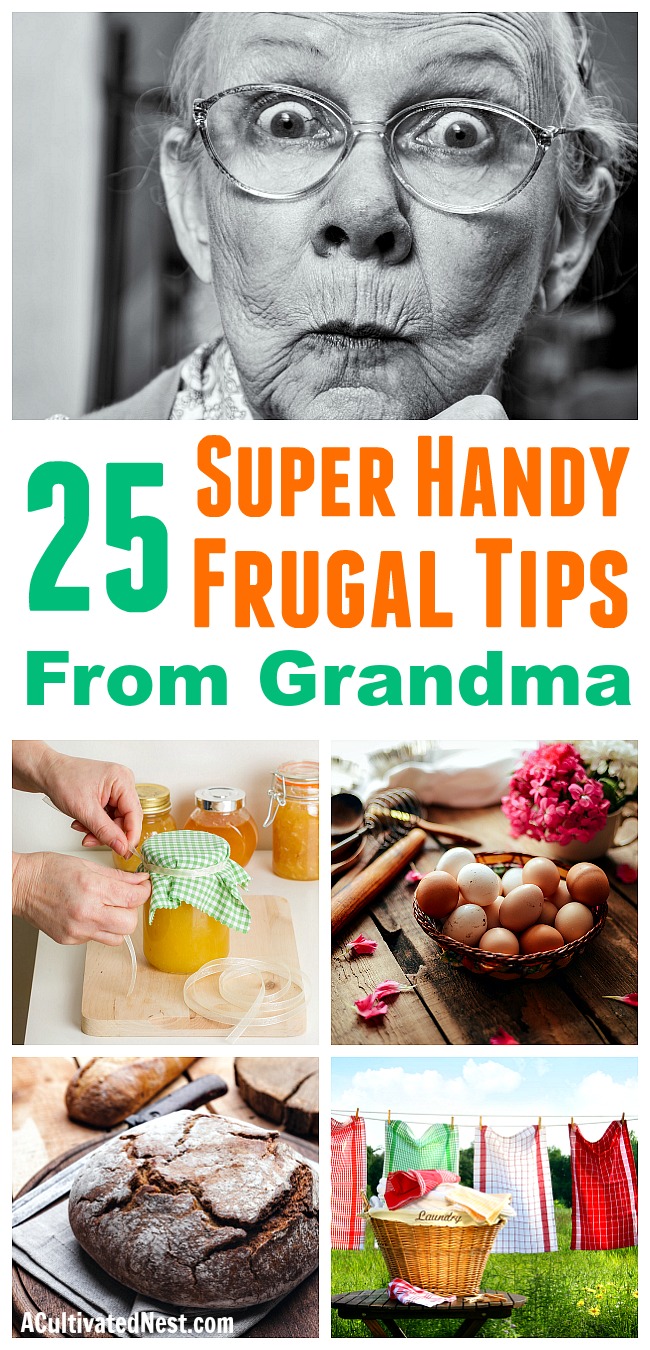 You might also be interested in: 100 Tips to Help You Live Within Your Means