Are you using ibotta? If not, you're leaving money that you could be saving just lying around! Ibotta is a free grocery rebate app that can really help cut down the cost of your groceries! Ibotta works when you purchase certain groceries, household items, and pet items that have rebates available. When you purchase the items, you'll earn cash back that can be "cashed out" for Paypal or one of several gift cards! Here's a step-by-step guide to how to use ibotta to save you money!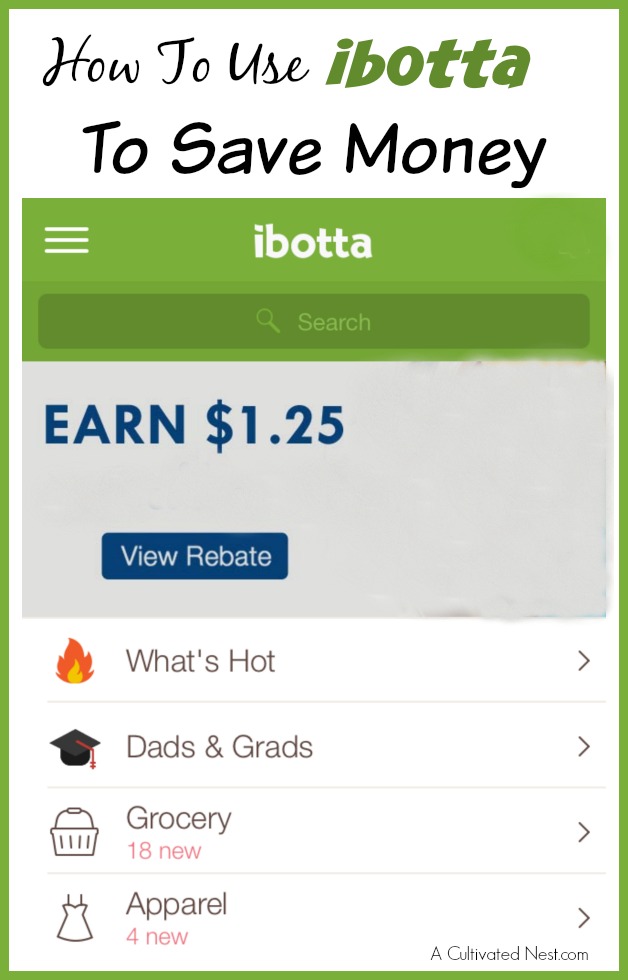 Guide on How to Use Ibotta:
Disclosure: This post may contain affiliate links to Amazon and/or Etsy, which means that I may earn a small commission from some of the links in this post. Please see our Disclosure Page for more information.
1. First, you need to download the Ibotta app (referral link) and create an account. The app is available on both Android and iPhone (but you don't necessarily need a smart phone – just a device that allows you to download the app that has a camera feature recognized by the app – like an iPad)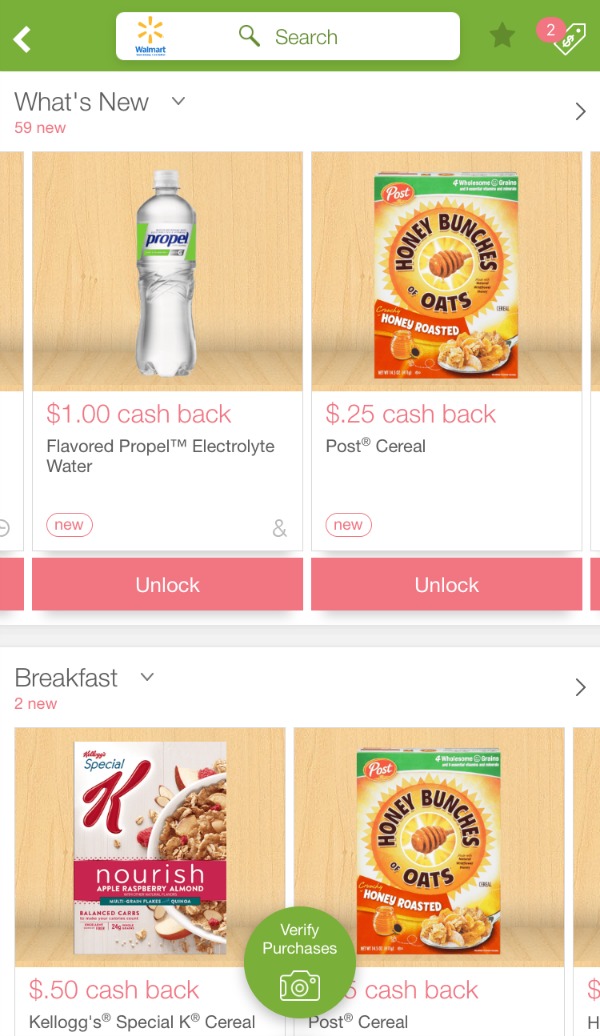 2. Next, pick a store from the list and check the available rebates for that store. They will be listed in a grid pattern so that it's easy to choose from. Just scroll down the app to find the ones that you're interested in. Once you find a rebate that you will want to redeem, "click" on the item to open up the rebate information screen. Here you will find info such as required size of the item, how many you have to buy to redeem the rebate, expiration date and more. You will also find the rebate action on this screen.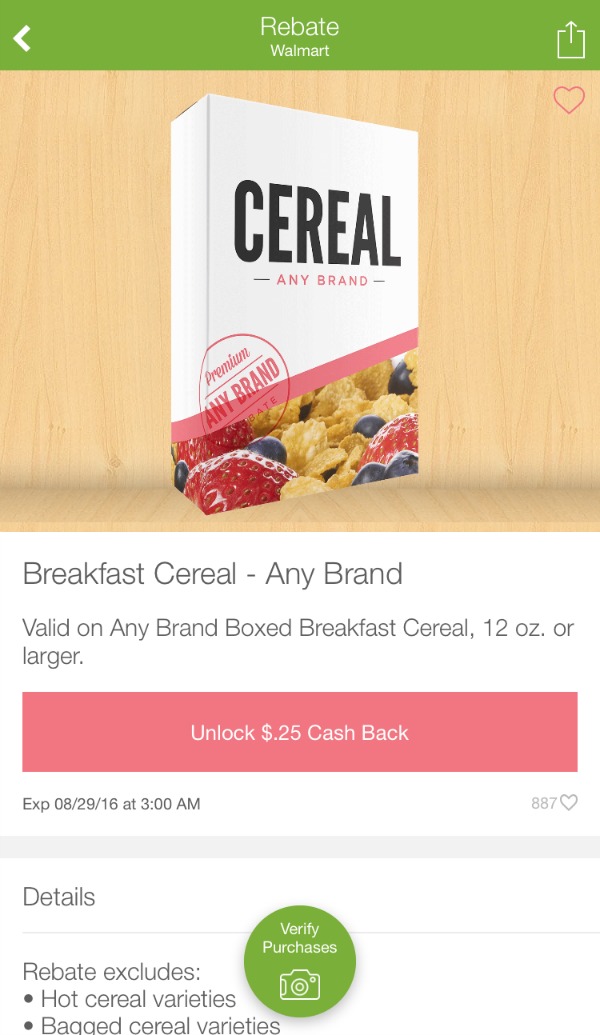 3. Some rebates you just have to click the "unlock" button on to unlock. Others may require a single action, such as watching a short video watch, reading a recipe, or answering a 1 question survey, and so on. They're very quick to do. Complete the action (if necessary) for each rebate, and you're good to hit the stores!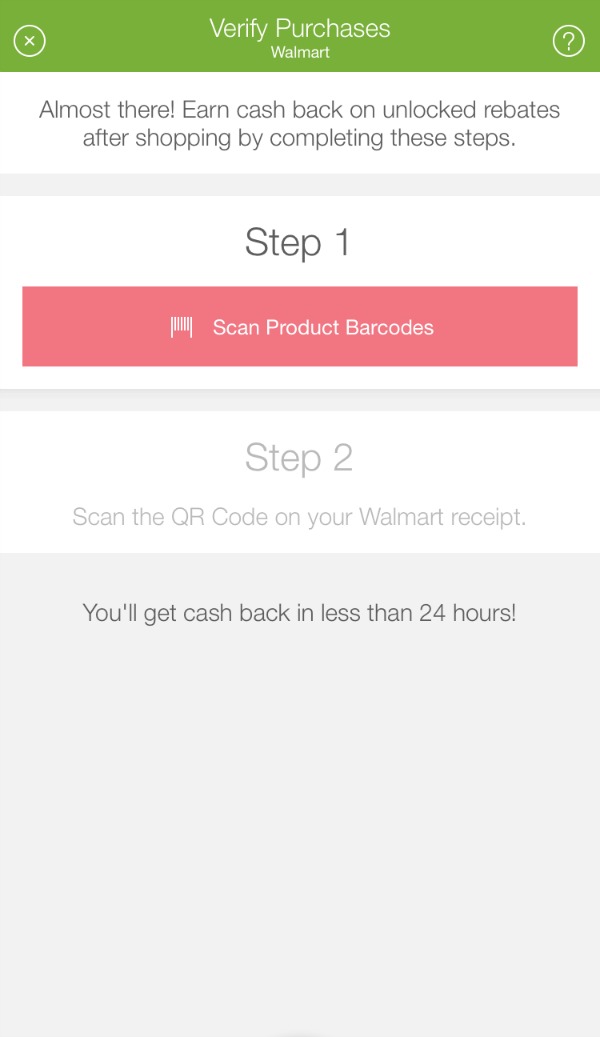 4. Once you've done your shopping, it's time to cash in for your rebates! Gather all of the items that you bought that have rebates for, open the app and the store you shopped at, then click the green "verify purchases" button. Scan each barcode for the items you bought, then you'll take a photo of your receipt (Walmart receipts can be scanned by the QR code instead.)
That's it!
Once Ibotta verifies that you made the correct purchases, your rebates will be deposited into your Ibotta account.
Cash out for cash or most gift cards at $20.00. Payments are sent instantly once you request them, so there's no waiting whatsoever to get your money!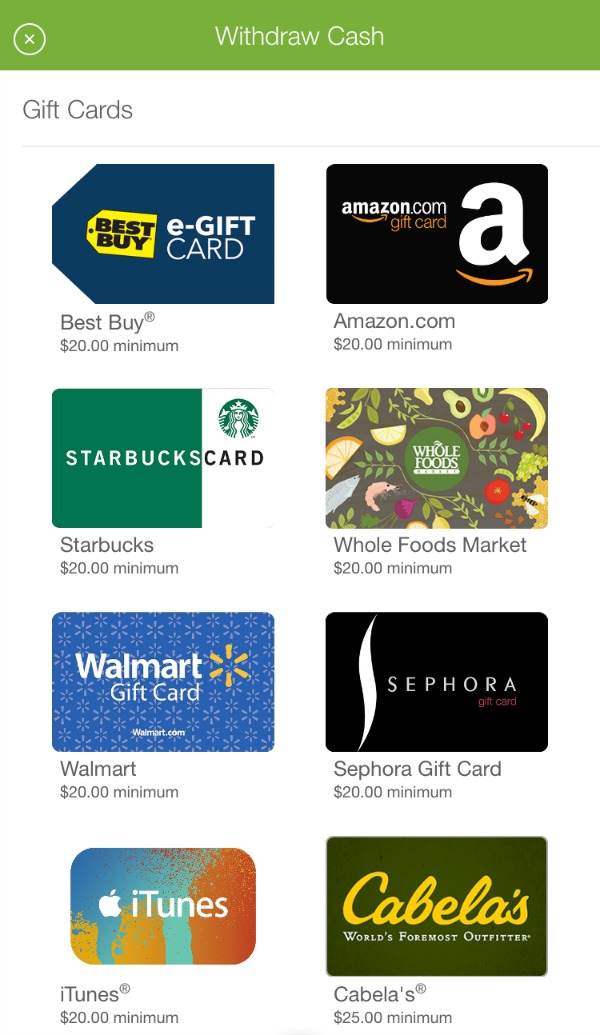 Don't forget that Ibotta allows you to earn rebates online as well! You can earn rebates at places like Amazon, Best Buy, Cabelas, Nike, FTD and more! Be sure to use them when you do any back to school or Christmas shopping to save a bit extra!
And as of August 2016, you can also use iBotta to save money through other apps! Just launch iBotta, find a rebate for an app you use, then launch that app through iBotta. Once you make your qualifying in-app purchase, your credit will start pending, and if everything checks out, will get credited!
Sign up for iBotta through this referral link, redeem a rebate within your first two weeks, and you'll earn an extra $10! You'll be halfway to your first cash out! Don't wait, start saving money today!
Stacy Barr is the face and brain behind the frugal living and personal finance blog, Six Dollar Family. She lives in East Texas with her husband, daughter, 2 cats, and 2 rescued pups that are almost as tall as she is. Stacy loves helping others save and build a better life for themselves as she has done for herself. In her off time, she can frequently be found in front the television making fun of "B" class movies with her hubby, belting out bad karaoke with her daughter, and of course, saving every dime that she possibly can.
Find more personal finance tips, tasty recipes and or to learn more about Stacy visit her at www.sixdollarfamily.com
This post contains affiliate links to iBotta, which means that I may earn a small commission from some of the links in this post. Please see our Disclosure Page for more information.
You might also be interested in: How to Grocery Shop at the Dollar Tree