40 Easy Money Saving Tips & Tricks.
It takes hard work to earn money, but it doesn't have to be hard to save money! There are so many different and easy ways to make your money go farther, from simply managing your money better to reducing some expenses. Check out these 40 simple money saving tips and tricks! We've even categorized them for you so you can go to directly to the topic you're most interested in!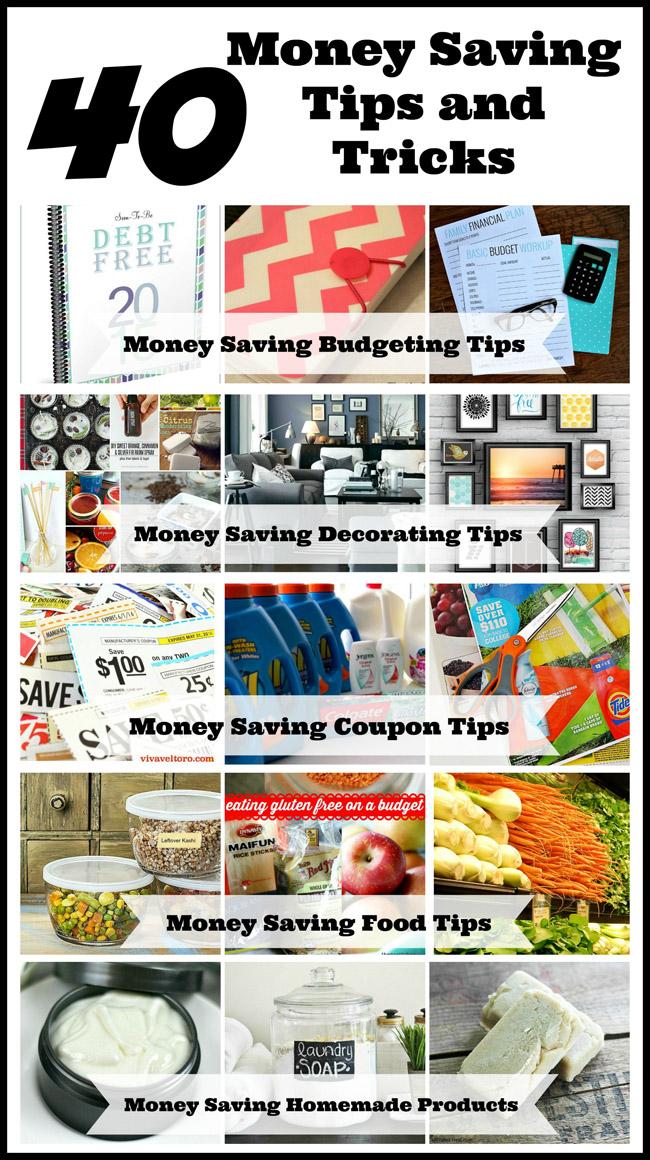 40 Simple Money Saving Tips and Tricks
Disclosure: This post may contain affiliate links to Amazon and/or Etsy, which means that I may earn a small commission from some of the links in this post. Please see our Disclosure Page for more information.

It's hard to save money if you don't know where your money is going! Making a budget is the most basic and simple way to save money. And luckily, there are many free budgeting worksheets, websites, and tools to help you make an effective and usable budget! Check out the helpful budgeting tools below!
How To Budget (For People That Hate Budgeting)
2015 Soon To Be Debt Free Workbook
Why You Need to Set Up a Budget (and Stick to it)
Quick Start Guide to the Cash Envelope System
How To Budget When Paychecks Differ
10 Budget Binder Pinterest Ideas & a Freebie
Basic Budgeting with Free Worksheets
How to Live Beneath Your Means

Just because you're trying to save money doesn't mean you can't make your home beautiful! All it means is that you might have to do a simple $10 DIY project to recreate the look of a $60 commercial product. Or you might have to learn to do a little bargain hunting to get the look you want, but at a much lower price. Check out the links below to improve your budget decorating skills!
Where to Shop When Decorating on a Budget (10 Tips and Tricks)
Hang These Free Printables On Your Gallery Walls
10 Easy DIY Drop Cloth Projects
25 DIY Home Decor Projects
How to Decorate on a Tight Budget
8 Natural Ways to Make Your Home Smell Amazing
20 Best Budget Decorating Tips
26 DIY Living Room Decor Ideas on a Budget

You don't have to be an extreme couponer to take advantage of coupons! Coupons are actually easier than ever to find and use today. If you're new to couponing, or more experienced but looking for more resources, the links below should be very helpful!
The Beginner's Guide to Coupons
Coupon Database
How to Get Started With Couponing & Coupon Sites
My 20 Minute Couponing System That Saves Me Thousands of Dollars per Year
How I Organize My Coupons
The 12 Coupon Sites You've Got To Know About ASAP
FREE Printable Coupon Binder Pages
Couponing for Beginners

You don't have to stop making your favorite meals just because you're on a budget! All you have to do is learn how to save money while grocery shopping and while cooking. This could mean shopping around a little, buying in bulk and stockpiling, or finding ways to make ingredients stretch into multiple meals. Check out the 8 links below for more ideas on how to save money on food!
30 Frugal Meal Ideas
How to Stockpile Groceries
5 Ways I Reduce Food Waste & Save Money
Is it possible to survive on a $30 per week grocery budget?
A Frugal Real Food Guide to Healthy Food at Costco
7 Ways to Save Money on Groceries WITHOUT Using Coupons
Eating Gluten Free on a Budget
31 Insanely Smart Ways to Save Money When You Cook

Have you ever thought about how much money you spend on cleaning and beauty products? Likely it's more than you'd like to spend! Luckily, it's very easy to recreate commercial cleaning and beauty products at a fraction of the cost. On top of that, homemade products tend to be more natural and healthy while still being just as effective as their commercial counterparts! Check out the links below for more ideas!
DIY Laundry Soap – One Year Review & Recipe
Homemade Lysol Cleaning Wipes
Easy Homemade Brown Sugar Scrub Bars
7 Homemade Vinegar Cleaning Recipes
Make Your Own Swiffer Wet Pads
How To Make Homemade Lip Balm
7 Best Homemade Hair Conditioners
Clean and Healthy DIY Facial Moisturizer Recipe
What's your favorite money saving tip or trick?