Clever Ways to Use Dryer Sheets- Dryer Sheet Hacks.
It's amazing how many different ways everyday items can be used! For example, dryer sheets (AKA fabric softener sheets), have lots of other uses than just keeping your laundry soft and static-free! And you can save money by using dryer sheets in place of some other products! Here are some Handy Uses for Dryer Sheets!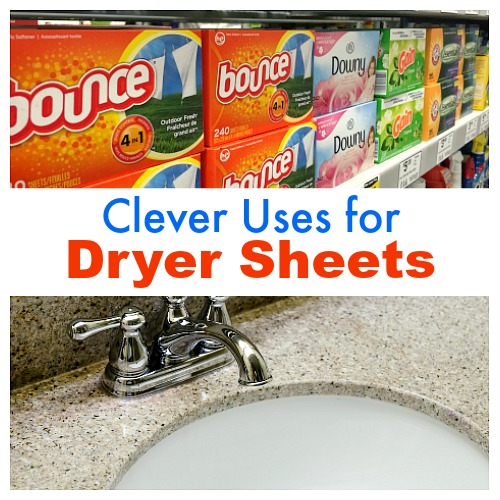 Disclosure: This post may contain affiliate links to Amazon and/or Etsy, which means that I may earn a small commission from some of the links in this post. Please see our Disclosure Page for more information.
I always think it's fun to save money by using one item in place of another. It kind of feels like you're privy to some sort of secret technique!
But remember, all of the dryer sheet hacks below refer to using conventional dryer sheets. All-natural dryer sheets or homemade dryer sheets may not work the same. Because conventional dryer sheets are full of toxic chemicals, we use a combo of homemade dryer sheets and DIY wool dryer balls for laundry in my house, but I do keep a small pack of conventional dryer sheets on hand, just so I can do some of these hacks.
Handy Uses for Dryer Sheets
1. Pick Up Pet Hair
If you have a pet and their hair is everywhere, pick up a dryer sheet and wipe it over areas where you see fur. It'll pick it up easily!
2. Prevent Tangled Thread
According to Real Simple you can keep your thread from tangling by running your threaded needle through a dryer sheet before you start stitching.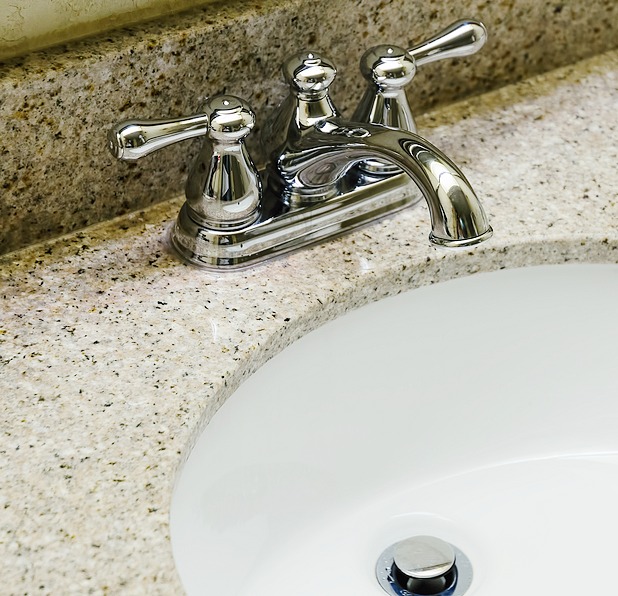 3. Clean Your Chrome Faucets
Did you know that one of the surprising uses for dryer sheets is as a tool to clean chrome surfaces like faucets (or even chrome hubcaps). Just buff your faucets with a dryer sheet and watch water and soap spots disappear!
4. Clean Glass Shower Doors
If your windows or glass shower doors are dirty with smudges and hard water spots, rubbing them with damp dryer sheets can help clean them up! Do rinse thoroughly afterwards. Remember, just do this on normal glass. You may not want to use dryer sheets on your glasses (especially if they have any sort of special coating, or if they have plastic lenses).
5. Keep Bugs Away
Bugs are also deterred by dryer sheets! Place the sheets anywhere that you see insects, especially spiders. Consider cutting the sheets into smaller pieces to make shoving them into corners easier. Just make sure your pets can't get at the pieces, as they can be toxic to dogs and cats.
6. Keep Storage Fresh
If you're planning on putting something in storage, you may want to take advantage of another one of the many handy uses for dryer sheets- as a freshener! Put a sheet into any box or bag you're planning to store. This can help keep your things (especially clothes and books) from smelling musty after being in storage.
7. Reduce Smells
In a similar way that they help keep storage smelling fine, dryer sheets can also help remove already existing smells. Consider putting them in your trash cans, diaper bags, or gym bags. Anyplace that normally is a little smelly.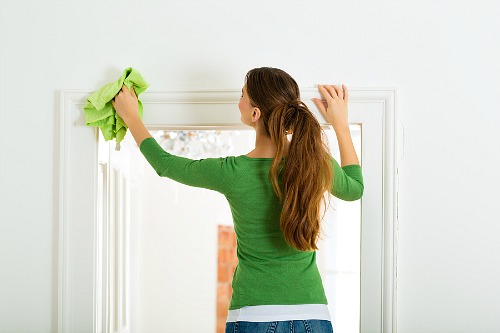 8. Dust
I love this dryer sheet hack! Why pay for special dusting cloths when you can just use dryer sheets? One of the many uses for dryer sheets is as a dusting cloth to dust furniture, your TV, ceiling fans, lamps, and more!
9. Remove Deodorant Stains
Isn't it annoying when you get a deodorant stain on your clothes? Luckily rubbing at the spot with a dryer sheet can help remove the offending mark!
10. Keep Dirt in Pots
There are so many handy uses for dryer sheets! Here's another clever one- if dirt is always falling out of the drainage holes in your plants' pots, consider putting a dryer sheet inside the pot at the bottom. This will help keep the dirt in the pot. Only do this for ornamental plants, not anything you would eat, even if you use natural dryer sheets. Also, use dryer sheets that have already been used a time or two- there's no need to use a brand new one just to block the holes. Though if your potted plant is being plagued by bugs, as mentioned in #5, fresh dryer sheets can help keep some bugs away.
11. Remove Crayon Marks
When you discover your kids have gotten crayon marks on the wall, don't panic. Instead,  you can just use a wet dry dryer sheet and rub the mark off the wall. Be careful as dryer sheets can be abrasive and remove the paint from your wall (especially if your wall is painted with flat paint). See Families.com for more info.
12. Clean Paint Brushes
If you didn't clean your paint brushes as quickly or as thoroughly as you should have, don't worry. Dryer sheets can help with that, too! Liquid fabric softener also works really well for this. But according to Lifehacker, dryer sheets are also very effective! Just soak the brushes in a cup or two of warm water with a dryer sheet in it. In a few minutes, the paint should loosen up and you can rinse your brushes clean!
Isn't it amazing how many clever uses for dryer sheets are out there? And they're all so frugal!
Do you have a creative tip for how to use dryer sheets besides in the dryer? Leave your tip in the comment section below!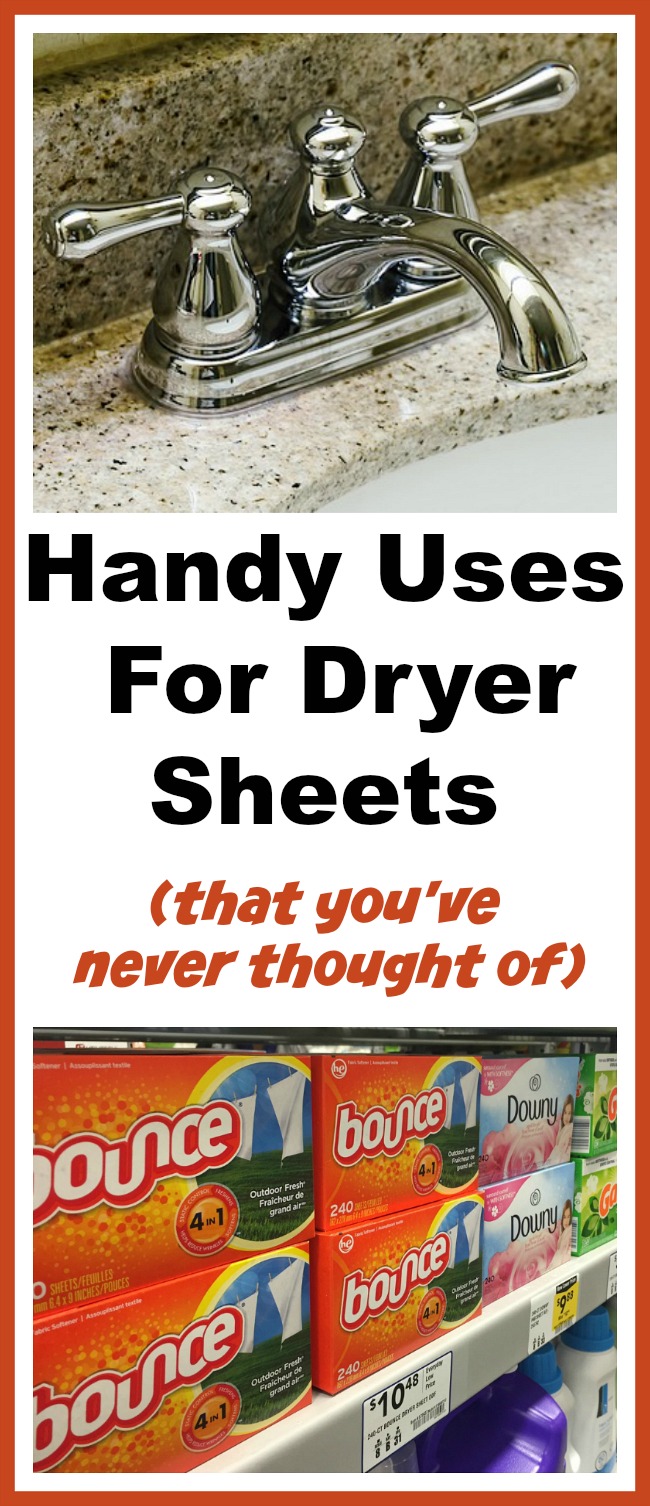 You may also be interested in: 20 Frugal Ways To Use Dawn Dish Soap