In an ideal world I'd be able to get daily massages, have someone cook for me and buy any and every plant I want (maybe your thing is jewelry). But I'm not there yet. For now, I'll just have to enjoy a little do-it-yourself pampering and go easy on the pocketbook. Life's full of expenses; whether it's monthly bills, student loans, buying that dream home or building a business, there are times when you just don't have a lot (or any) extra cash to splurge, and that's okay. However, that doesn't mean you have to sacrifice simple pleasures. Hang on to your wallet and enjoy these wonderful ways you can treat yourself when you don't have money to blow.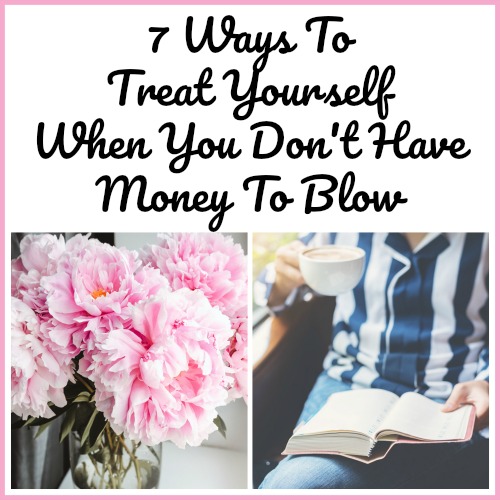 Disclosure: This post may contain affiliate links to Amazon and/or Etsy, which means that I may earn a small commission from some of the links in this post. Please see our Disclosure Page for more information.
There are plenty of ways to pamper yourself that won't cost you a dime. Here's a few to get you started!
7 Ways To Treat Yourself
Binge watch TV: You've probably got twenty shows on your DVR that you haven't had the time to watch, or there's that new series on Netflix you've been waiting to check out. Unplug from the world and commit some major minutes to binge watching TV. No pressure, no expectations, and no worries. Hole up in the house and get lost in another world! I once binge watched 2 seasons of Miss Fisher's Murder Mysteries (the best detective show ever). Right now I'm enjoying Shetland (the scenery is stunning and the acting is exceptional). I think they're both available on Netflix.
Pamper yourself: My favorite way to treat myself is to lose myself in a good book while having a nice a hot bath. Maybe you like a hot bath, candlelight, and a  glass of wine? If that's not your thing, maybe a spa day at home would be a good way to treat yourself. Do-it-yourself manicure, hair treatment or facial mask. We have tons of recipes for body scrubs and body butters. Check out our Homemade Beauty Products Category.  Even the guys can benefit from a quick trim and a pamper session!
Check out local events: Just because you're watching your wallet doesn't mean you can't get out and enjoy yourself! With a little homework I'm almost certain you can find some free events in your area to enjoy. Music festivals, outdoor movie nights, and free museum days are popular choices. Not only do they save you a lot of money, they offer unique experiences and opportunities to meet new people; yes, people still do that!
Take a nap: I've never been much for sleeping during the day but if you've had a busy time lately and find yourself with little time to just be; sleep may be exactly what you need. Naps offer other cool benefits like improved performance and alertness and can prevent burnout; in essence it keeps the mind sharp and the body rested. Don't be afraid to catch a little shut-eye when you can, or better yet, plan a nap by closing the blinds and shutting down all the electronics. You'll feel like a new person when you rise.
Socialize: Call your friends, they've missed you! We all get busy with life and end up making it a habit to put relationships on the back burner. It's sad, really. Take some time to call up your sister, meet a friend for lunch or invite the girls over to catch up. Get a group together for game night or visit the local park. Put forth the effort to reach out and you'll be so glad you did.
Splurge on a little something: It's okay to sometimes buy something that's totally unnecessary for yourself. Buy yourself a bouquet of fresh flowers from the grocery store. Stop and get yourself a gourmet coffee (or make your own with these coffee recipes). Buy yourself an ice cream cone, a inexpensive bottle of nail polish, or a new lipstick.
Color: How about picking up a coloring book and some coloring pencils at the dollar store and spending an hour or so coloring. It's very relaxing! There are even free printable coloring pages available online. Just search Pinterest and tons will come up. I got this Chalk Style Gardening Coloring Book last year for Christmas and love it! The finished pages are so pretty you could frame them and use as art!
I hope these ideas for treating yourself are helpful. Whatever it is that makes you feel like royalty; do that!
This post contains affiliate links to Amazon. Please see our Disclosure Page for more information, and thanks for supporting this site!
You May Also Be Interested In: 10 DIY Beauty Products