I don't know about you, but shopping at the Dollar Tree is one of my favorite things to do! I love being able to walk into the store and fill up two carts full of food and other goods and only spent a total of $80. However, there are better ways of shopping at the Dollar Tree than grabbing everything you see! Here's How to Grocery Shop at the Dollar Tree!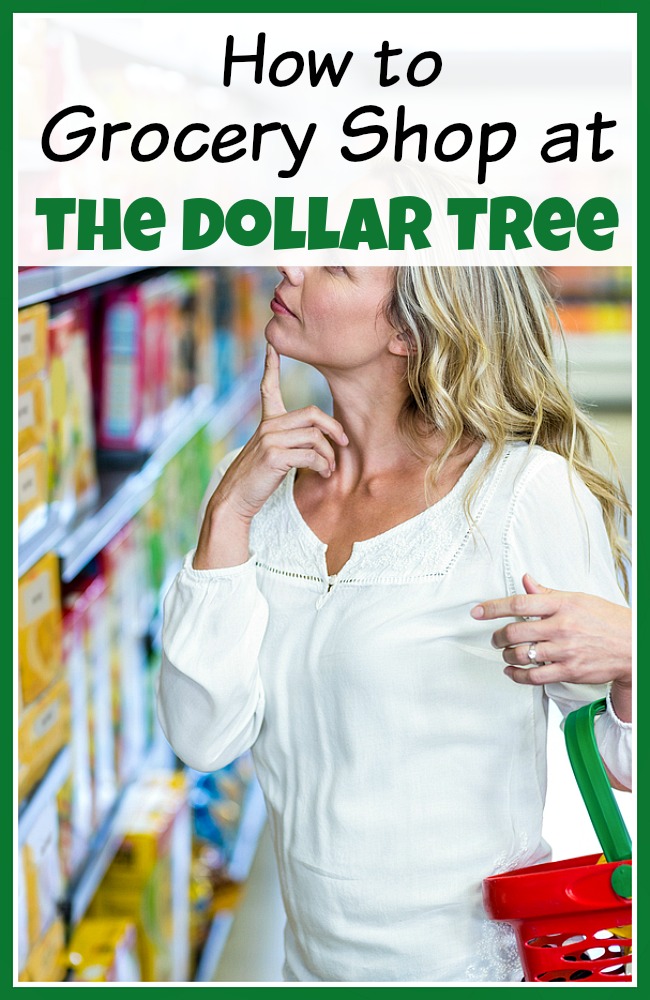 Disclosure: This post may contain affiliate links to Amazon and/or Etsy, which means that I may earn a small commission from some of the links in this post. Please see our Disclosure Page for more information.
Remember, not every Dollar Tree has the same food offerings. Some only have little freezers for ice cream, while others have full floor to ceiling food freezers! And some just have a few aisles of boxed goods, while others appear almost like mini grocery stores! If the Dollar Tree nearest to you doesn't have the biggest food selection, drive around. Luckily there are many Dollar Tree locations, and you can save so much when you grocery shop at the Dollar Tree that it's worth spending the time to find different locations!
How to Grocery Shop at the Dollar Tree
Don't Buy the Cheese
First and foremost, you don't want to buy the cheese from the Dollar Tree. Although it may seem like a good price, it's always better to buy cheese that isn't processed. The inexpensive cheese is very processed and ends up costing more in the long run.
Stock up on Frozen Veggies
Frozen veggies are so much better for you than canned veggies. The Dollar Tree is the perfect place to stock your freezer with delicious frozen vegetables. For just a dollar a piece, you get a bag equal to 2 cans!
Look for Large Containers of Juice
You can find 64 fluid ounce containers of apple juice when you shop at the Dollar Tree. Apple juice averages between $2 and $3 everywhere else. So, if you see larger containers of juice at the Dollar Tree, stock up before it's gone. Trust me, it runs out fast!
Buy Pasta and Side Dishes
When you shop at the Dollar Tree, you save on pasta and side dishes. I like to stock up on mac & cheese, rice, and instant mashed potatoes. You can never have too many boxed food options in your pantry, so stock up when you go.
Look for Name Brands
The Dollar Tree gets overstock supplies from name brand companies from time to time. They also get products that haven't hit the regular store shelves. You can find products like Pringles, Pop-Tarts, and Quaker Oatmeal, among other name brand items. Grab them up while you can because they may not be there the next time!
Don't Forget the Fries
When you shop for French fries, tater tots, or onion rings at any other store, you will most likely end up paying $3 or more for one small bag. The Dollar Tree offers you family size bags for just $1. Not only do you get a great deal, but there are tons of fried foods to choose from!
Get your Lunch Snacks
One of the best places to get lunch food items for a packed lunch is the Dollar Tree. You can get pudding cups, applesauce cups, individual bags of chips, cheese and cracker snack packs, nuts, candy and so much more at the Dollar Tree. If you want to save by packing your lunch, stock up on snack items!
You have to shop smart when it comes to grocery shopping at the Dollar Tree. With so much stuff, it can be hard to navigate through your needs and wants. Remember to have a list and buy only what you need! And to save even more money, check the iBotta app afterwards to see if there are any rebates on things that you bought! Also, Dollar Tree takes coupons! Check here for their coupon policy.
Do you grocery shop at the Dollar Tree?
About Jess:

In 2010 I graduated from Bethel College in Mishawaka, Indiana with a degree in Elementary Education. It was so hard to find a job,  I was also pregnant with our second child and I wanted to be home with my two boys. Well, fast forward 5+ years and here I am working from home. We've also welcomed more children into our family and recently bought a house. We've also  paid off  $20,000+ of debt. My family is a huge reason why I work from home as a writer. I love the flexibility and everything that goes along with being self-employed. You can contact met at www.JessLeeWrites.com
You might also be interested in: