Tasty Ways to Cook with Egg Roll Wrappers.
Let's talk about egg roll wrappers. They're pretty awesome, right? They're thin, crispy, and come out great whether you fry or bake them. But they have one flaw- most packages come with tons of them! Seriously, I made some baked crab rangoon egg rolls for my family the other night, and only used about 10% of the whole package. And this was a package I'd frozen and then defrosted, so I technically couldn't re-freeze it. What was I going to do with the other 90%? I love spring rolls and crab rangoon, but I can't eat them all the time. I figured there had to be some other ways to use up egg roll wrappers- and I was right! For some delicious and clever ways to use excess egg roll wrappers, check out these 15 Genius Recipes that Use Egg Roll Wrappers!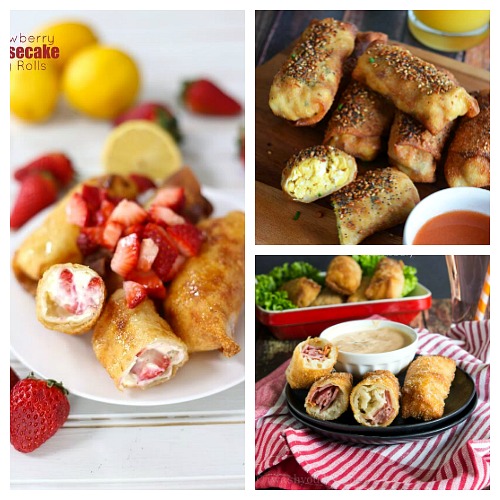 Disclosure: This post may contain affiliate links to Amazon and/or Etsy, which means that I may earn a small commission from some of the links in this post. Please see our Disclosure Page for more information.
Egg roll wrappers are like any other dough- they're super versatile! So if you have a lot of egg roll wrappers you need to use up, you have a lot of tasty choices! Or buy extra egg roll wrappers on purpose as a frugal alternative to bread and dough.
15 Genius Recipes that Use Egg Roll Wrappers
You'll never have to wonder what to make with egg roll wrappers after you read through this list. There are so many tasty possibilities!
There are a couple of recipes below that use wonton wrappers, which are not exactly the same thing as egg roll wrappers. But from my own experience (and a little research to double check), the two are so similar that they can be easily swapped for one another- at least, as long as you're baking, deep frying, or pan frying (not steaming- at least that's what I read). Wonton wrappers are a little smaller though, so you may choose to trim your egg roll wrappers down to 3.5″ squares for some of those recipes.
1. Egg Roll Wrapper Thin Crust Pizza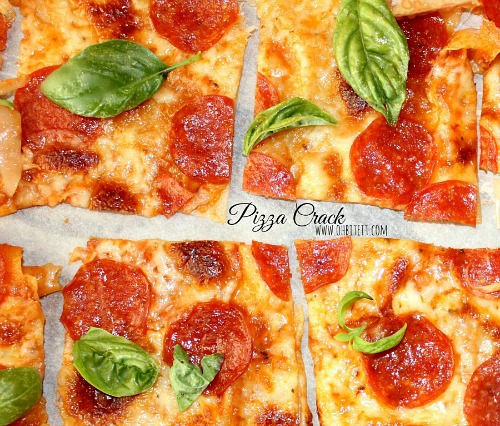 This is such a clever idea, and a great way to use up a lot of egg roll wrappers fast! My family loves thin crust pizza, so this egg roll wrapper thin crust pizza by Oh Bite it is a huge hit with them!
2. Wonton Wrapper Mozzarella Sticks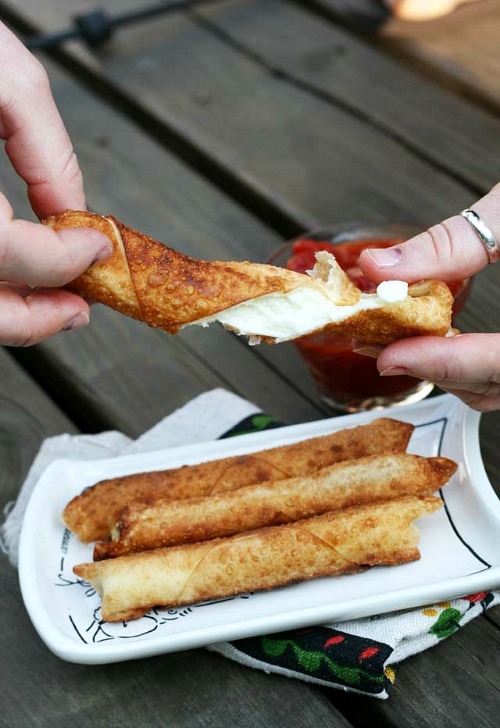 Mozzarella sticks are one of my favorite appetizers to get when I dine out. Now I can make my own at home with this wonton wrapper mozzarella sticks recipe by Cheap Recipe Blog!
3. Mini Lasagna Cups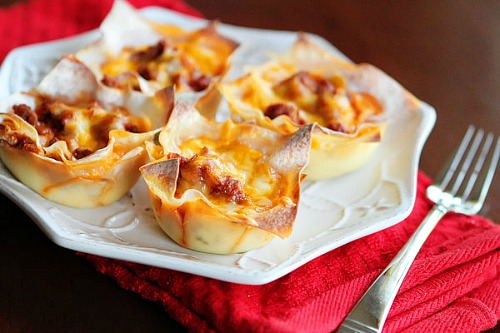 This looks like such a fun way to eat lasagna! Head on over to Kevin and Amanda to find out how to make your own mini lasagna cups using egg roll wrappers!
4. Bacon, Egg, and Cheese "Everything" Egg Rolls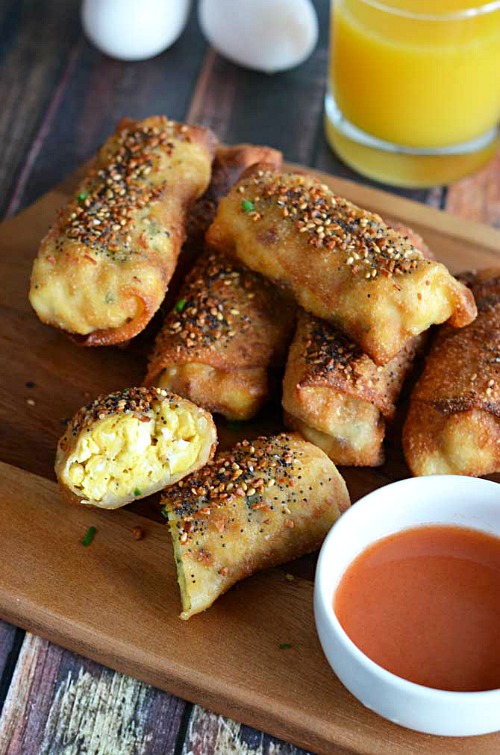 You can even use egg roll wrappers to make breakfast! Take a look at Host the Toast's recipe for these delicious bacon, egg, and cheese egg rolls!
5. Caesar Salad Wonton Cups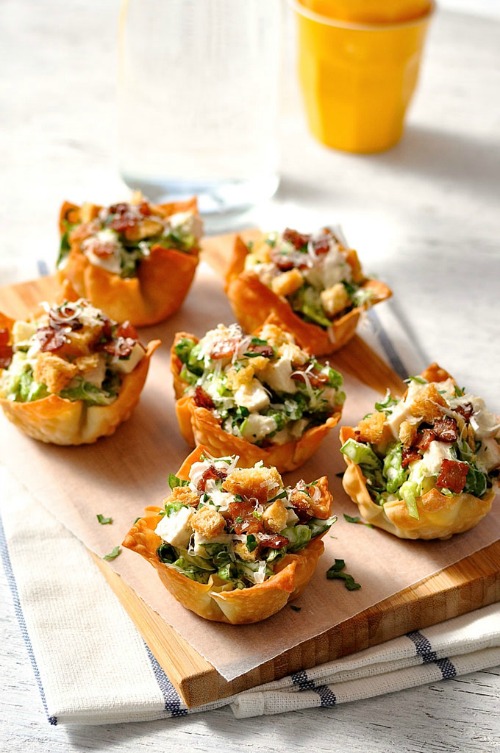 Is there anything you can't make with egg roll wrappers/wonton wrappers? They can even be used to make these cute little Caesar salad wonton cups by Recipe Tin Eats!
6. Caramel Apple Egg Rolls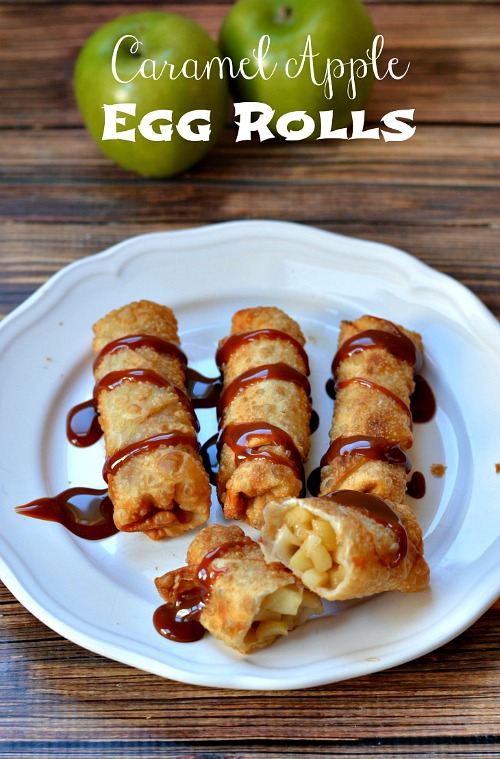 Yes, you read that right- egg roll wrappers can also be used to make desserts! You have to give these caramel apple egg rolls by Growing Up Gabel a try!
7. Strawberry Cheesecake Egg Rolls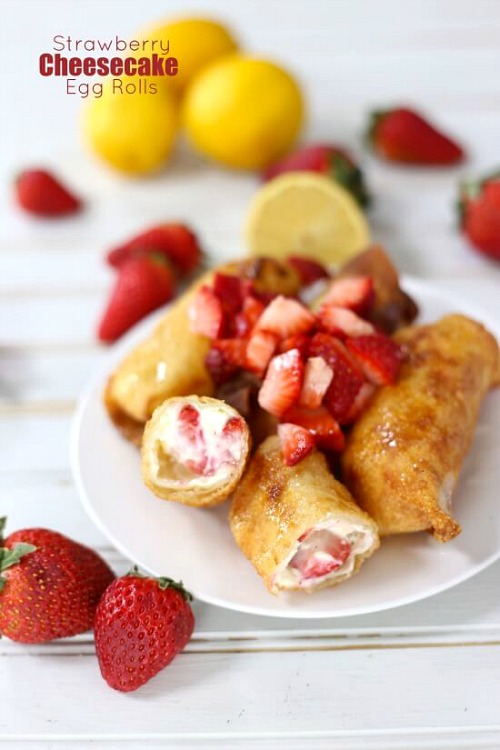 Don't like apple desserts? Then why not use egg roll wrappers to make these strawberry cheesecake egg rolls by Handle the Heat!
8. Cheesy Wonton Wrapped Hot Dogs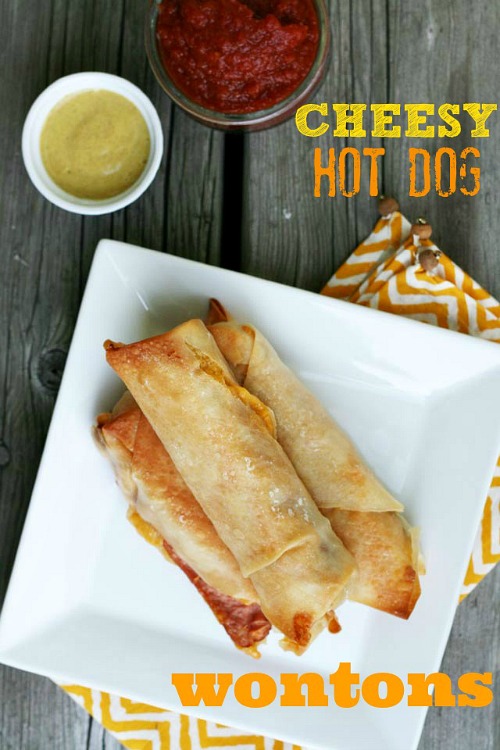 This makes a quick and easy lunch without all the usual bread of a hot dog bun! Check out Cheap Recipe Blog's cheesy wonton wrapped hot dogs recipe!
9. Pizza Logs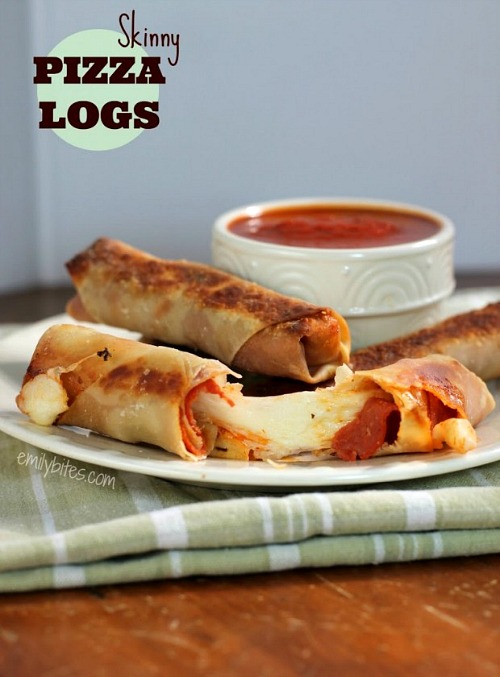 What a fun way to eat pizza! Head on over to Emily Bites to learn how to make these delicious pizza logs!
10. Reuben Egg Rolls
This is such a great (and tasty) idea! I Wash You Dry explains how to make these delicious Reuben egg rolls!
11. Cheesy Garlic Wonton Poppers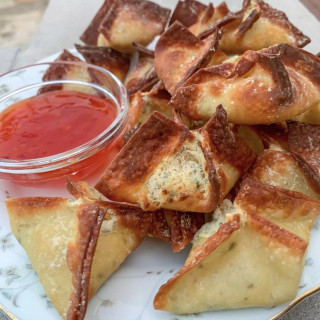 Big Oven has the perfect recipe for any event you're hosting without adding to the waistline! Try out their  Cheesy Garlic Wonton Poppers.
12.  Bacon Jalapeno Popper Cups

The Craft Patch presents the perfect bite-sized party food for any occasion, Bacon Jalapeno Popper Cups.  They are easy to make and delightful to eat.
13. Chicken Potstickers and a Blood Orange Wine Spritzer – a Great Cocktail Party Pairing
Catch My Party's  Chicken Potstickers  are crispy and chewy on the outside, spicy and flavorful on the inside. They will be a mouthwatering snack for any party.
14. Crab Ragoon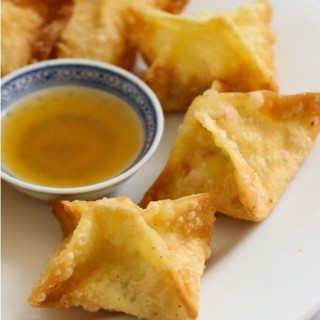 Big Oven offers an American Chinese appetizer, Crab Ragoon, where the golden crispy outer wonton shell meets the addictive creamy cheese filling. This is sure to become a family favorite.
15. Southwest Egg Rolls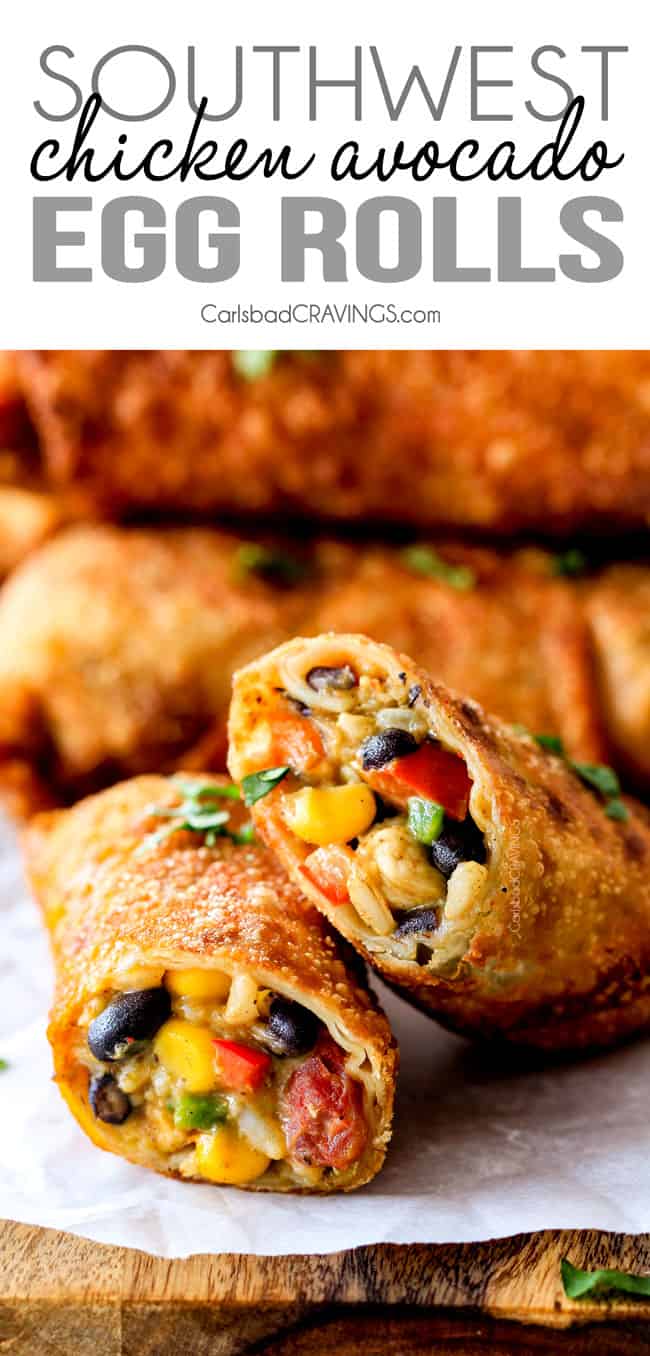 These are sure to be a crowd-pleasing appetizer for your next event. Carlsbad Cravings shares a flavorful recipe for Southwest Egg Rolls.
Which of these ways to use egg roll wrappers is your favorite?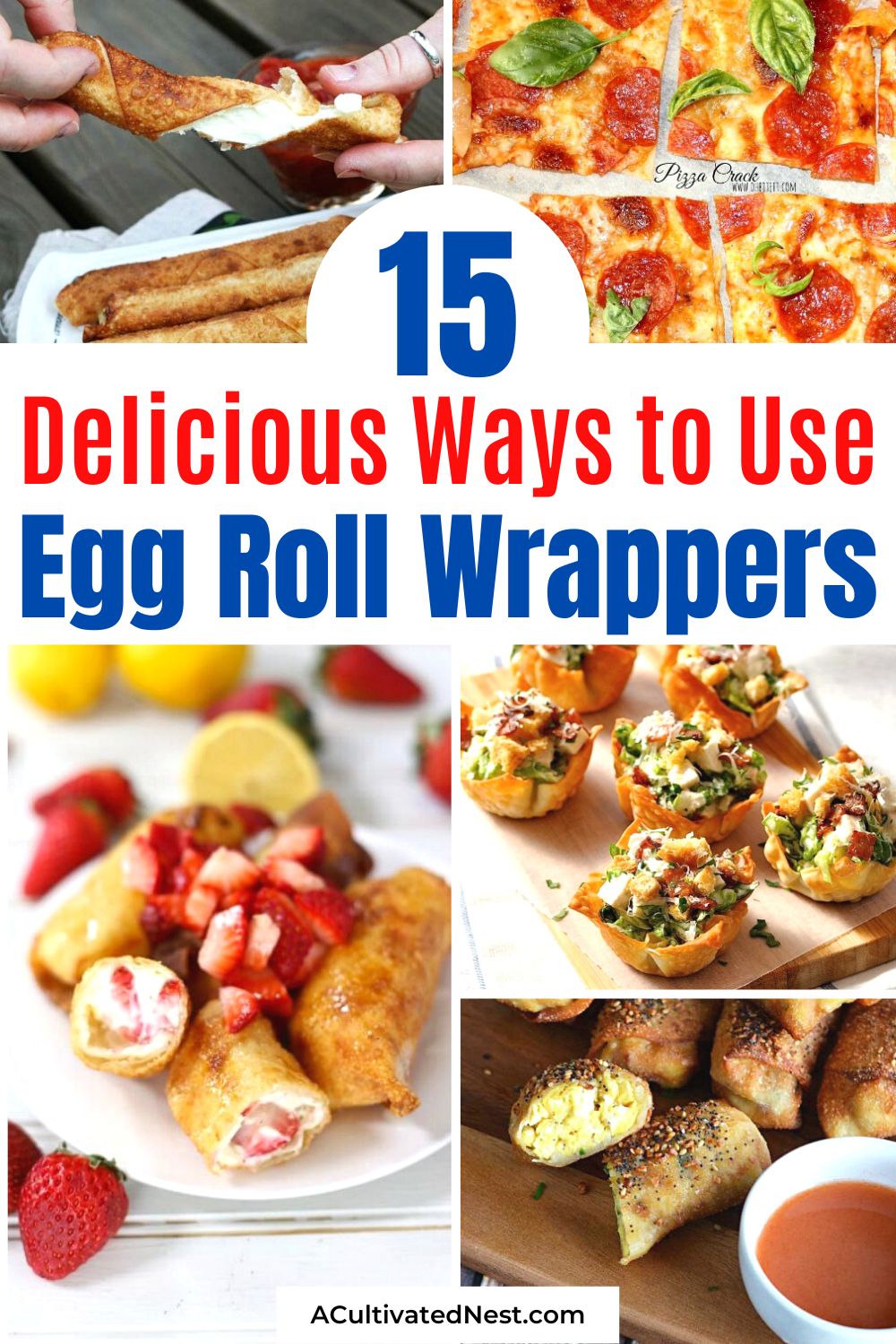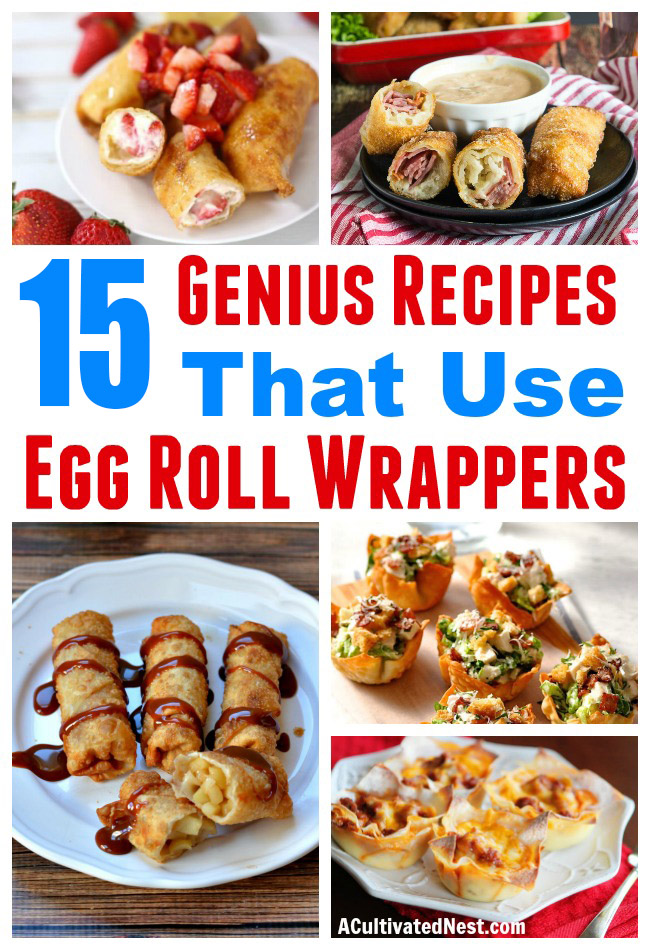 You might also be interested in: 16 Delicious Ways to Enjoy Bananas