Seasonings are a pretty great way to add flavor to any meal (think Montreal Steak Seasoning).  Often, in many cases, the seasonings actually make the dish.  For example, what would chili be without chili seasoning?  But store-bought, prepared seasonings can also be pretty costly and contain unnecessary additives. Thankfully there are many options for seasoning mixes that you can make yourself, and you get way more bang for your buck! We've collected 15 Seasoning Mixes You Can Make Yourself to save money while still making flavorful dishes!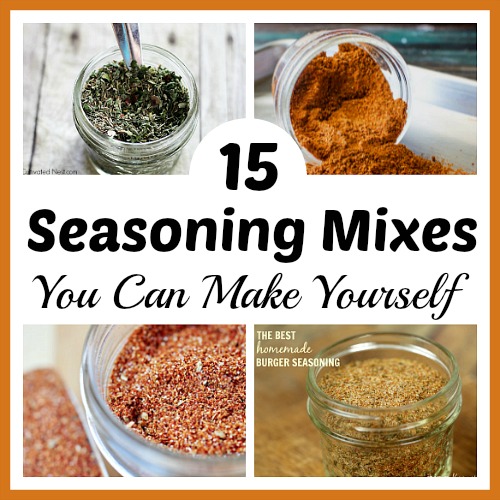 Disclosure: This post may contain affiliate links to Amazon and/or Etsy, which means that I may earn a small commission from some of the links in this post. Please see our Disclosure Page for more information.
Making your own seasoning mixes is so easy. With these recipes, you'll never have to buy spice mixes at the store ever again!
15 Seasoning Mixes You Can Make Yourself
For everyday cooking, we have found a great Garlic Bread Seasoning Mix and Homemade Poultry Seasoning.  Plus, I would be remiss if I didn't suggest you check out the Homemade Italian Garlic and Herb Seasoning, and one that I am just dying to try out is the Homemade Caribbean Jerk Seasoning.  From Pumpkin Pie Spice to Homemade Gingerbread Spice Mix, we also have you covered for the fall and holiday seasons that are getting closer. You should totally give all of these homemade seasoning mixes a try, and we want to know, which one is your favorite?
1. Garlic Bread Seasoning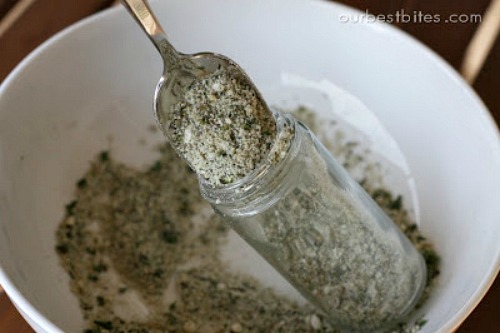 Give this delicious Garlic Bread Seasoning by Our Best Bites.  Here is a quick fix seasoning to throw together when you've got the hankering for garlic-seasoned breadsticks, or combine with butter and make your own garlic butter.
2. Homemade Taco Seasoning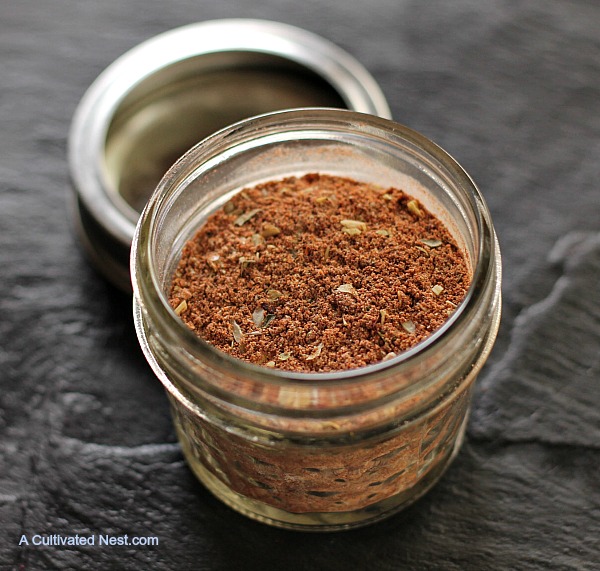 We love this Homemade Taco Seasoning. Instantly make any Mexican dish taste authentic with this easy homemade taco seasoning!
3. Burger Seasoning Blend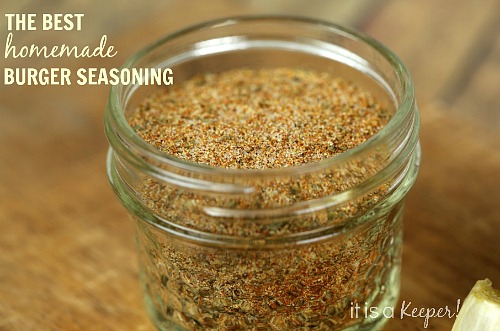 This Burger Seasoning Blend by It's a Keeper is super tasty. If you like to make your own batches of burgers, this seasoning mix is one you won't want to miss. Mix it right in with your ground beef, or if you're using frozen burgers, sprinkle it on top before grilling.
4. Flavored Popcorn Salt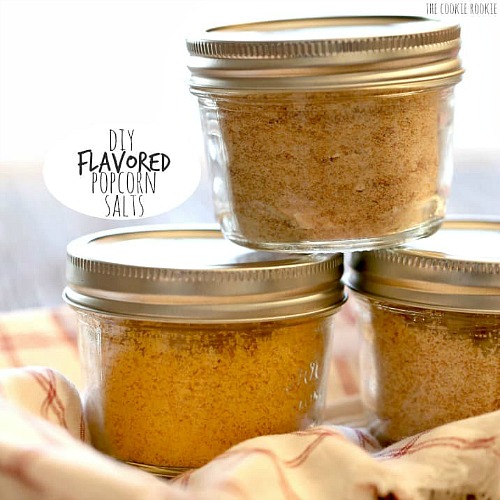 You are sure to love this Flavored Popcorn Salts by the Cookie Rookie. You'll appreciate having these on hand when you're feeling snacky, and these also make awesome gifts!
5. Fajita Seasoning Mix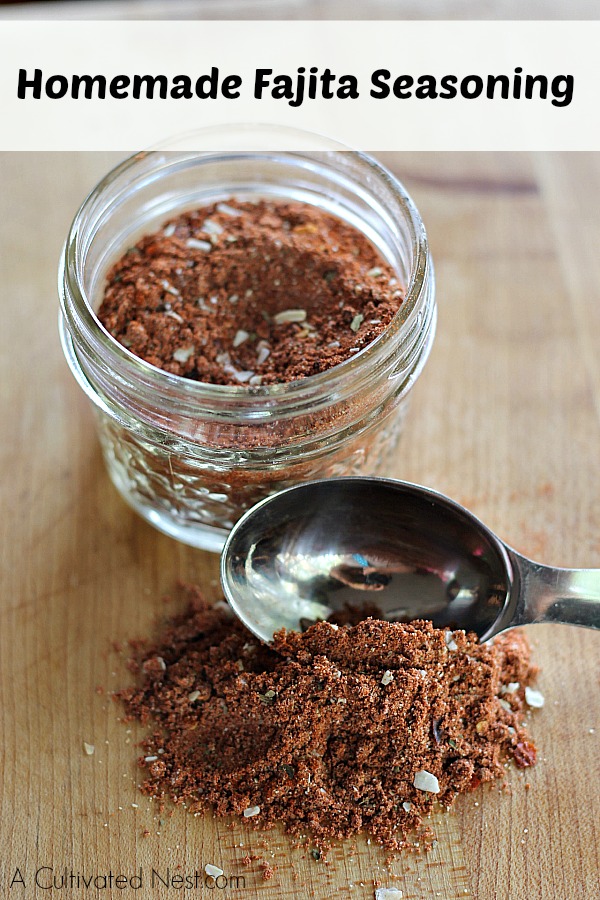 Don't miss out on trying this Fajita Seasoning Mix. Fajitas make a great quick lunch or dinner! Make them extra tasty by adding your own homemade fajita seasoning mix!
6. Caribbean Jerk Seasoning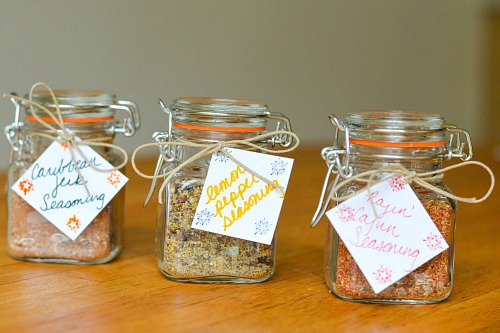 The flavors of this Homemade Caribbean Jerk Seasoning by Luci's Morsels are out of this world.   Again with the awesome gift idea! Plus, Luci's Morsels also has a recipe for Lemon Pepper Seasoning and Rajin' Cajun Seasoning in the same post.
7. Homemade Italian Seasoning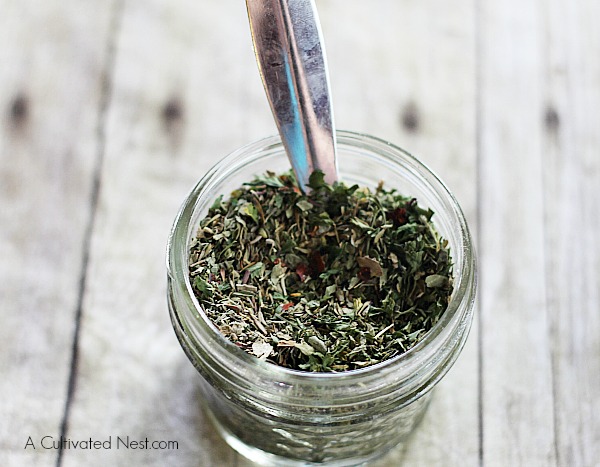 This Homemade Italian Seasoning is one of our ultimate favorites. This DIY Italian seasoning mix is a must for spaghetti, lasagna, pizza, and your other favorite Italian foods!
8. Chili Seasoning Mix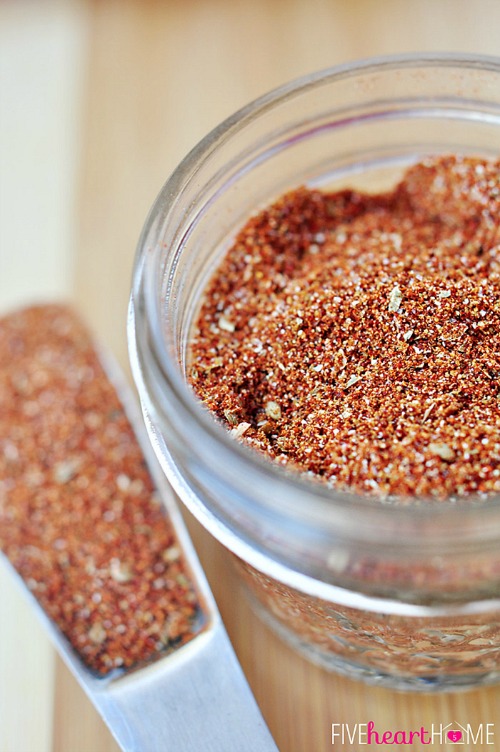 It doesn't get much better than this Chili Seasoning Mix by Five Heart Home. Like I said earlier, you can't have chili without the Chili Seasoning – and what is better than making it yourself?
9. Homemade Pumpkin Pie Spice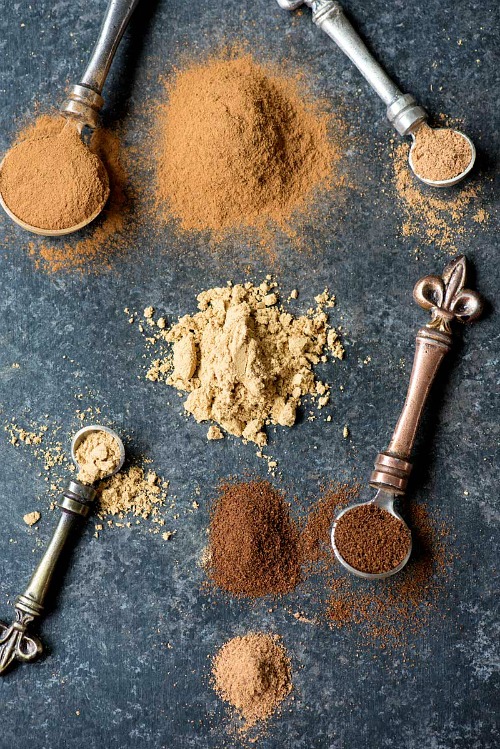 Perfect for fall, you are sure to love this Homemade Pumpkin Pie Spice by Homemade Hooplah. Pumpkin. Pie. Spice.  Can we get enough of this stuff? I for one love Pumpkin Everything Season, and whipping up my own Pumpkin Pie Spice just feels extra good.
10. DIY Dry Ranch Seasoning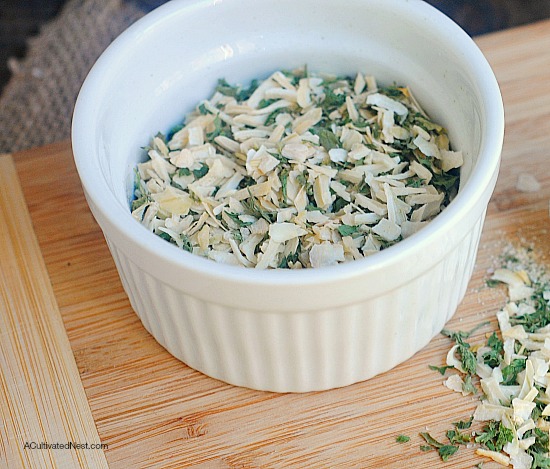 Everyone is sure to love this DIY Dry Ranch Seasoning. I always used to use store-bought ranch seasoning, until I realized there was MSG in my favorite brand. Now I just use my own easy homemade ranch seasoning!
11. Cajun Seasoning Spice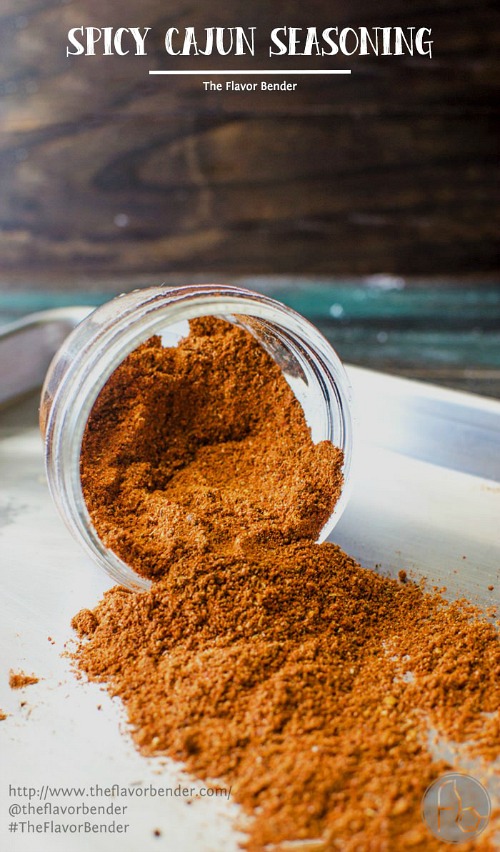 Add some flavor to your meals with this Cajun Seasoning Spice by The Flavor Bender. Put together with a blend of common spices that you likely have on hand, this seasoning mix will add lots of flavor to your meat dishes, and save you lots of money.
12. Beef Stew Seasoning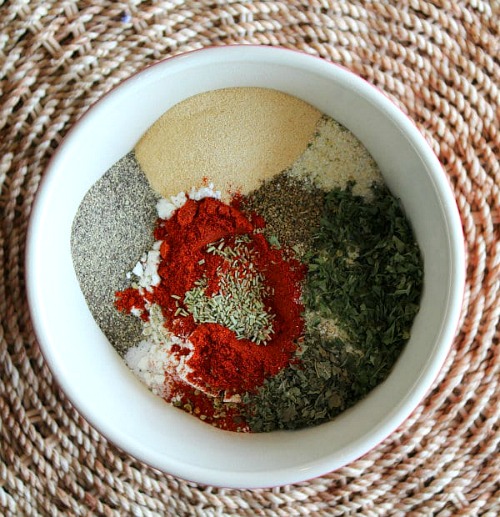 This comforting Beef Stew Seasoning by Rachel Cooks is easy and delicious.  An easy blend of natural ingredients perfect for stews and casseroles, and perfect for your budget.
13. Homemade Poultry Seasoning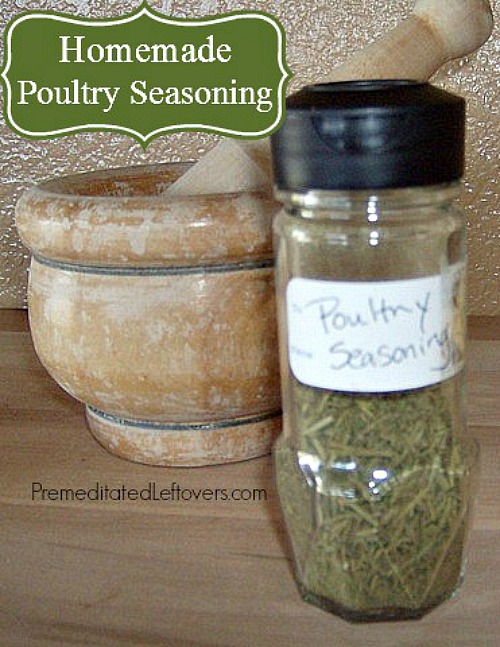 This Homemade Poultry Seasoning by Premeditated Leftovers is bound to be your new favorite.  Homemade Poultry Seasoning has been my go-to seasoning mix for a while. Add some tarragon to this recipe to use it in chicken salad.
14. Homemade Gingerbread Spice Mix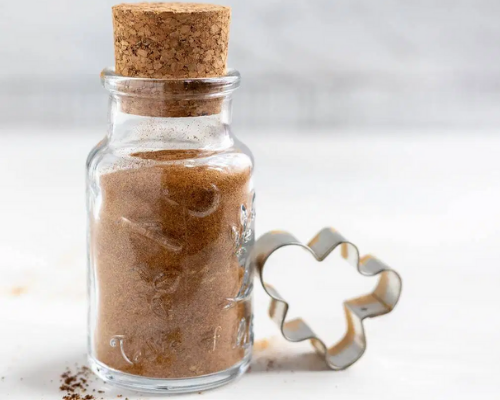 You'll love this Homemade Gingerbread Spice Mix by Wonky Wonderful. If you have any fall or winter baking in mind, this spice mix is exactly what you need. Also, you could make it just so you can smell it!
15. Italian Garlic & Herb Seasoning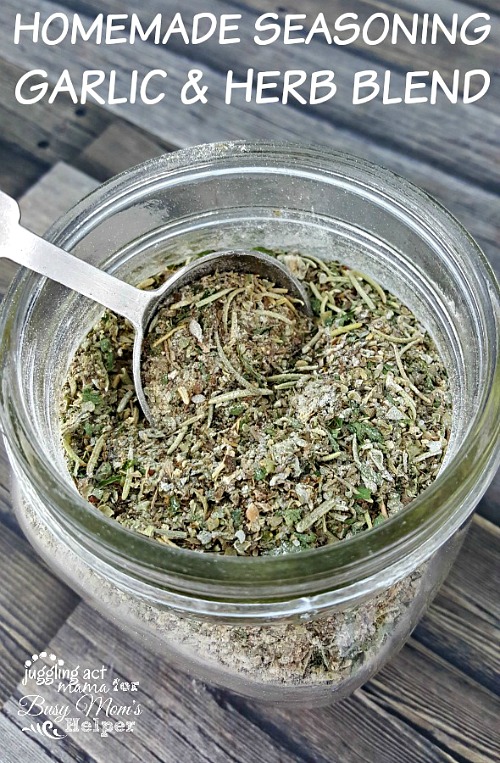 When you sink your teeth into a recipe with this Italian Garlic & Herb Seasoning by Busy Mom's Helper you will be hooked. Another staple seasoning mix to have on hand, and great to use in so many different dishes!
About Seasoning Mixes You Can Make Yourself
First, spices don't last forever, so try to clean out your inventory every once in a while, and use your newest ones in your mixes. Also, you can usually interchange fresh herbs for dried herbs, keeping in mind you'll want about 3 times the amount of fresh herbs as the recipe calls for in dried herbs. Therefore, 1 Tsp dried herb (5 ml) equals 1 Tbsp (15 ml) fresh herb.  However, fresh herbs won't store in your pantry, so you'll need to refrigerate them.  And lastly, when you prepare and store your seasoning mixes, use airtight containers such as Mason jars with good lids.
I love all of these seasoning mixes you can make yourself! They're so frugal (and sound so tasty). Which are your favorites?
This post contains affiliate links to Amazon. Please see our Disclosure Page for more information.
Written by ACN Team Member Evelyne N. : Evelyne is the fearless, axe wielding, quirky, hardworking and incredibly funny creative genius behind Nemcsok Farms and Knits' End. Who also has a weird fascination with soil, and wreaths.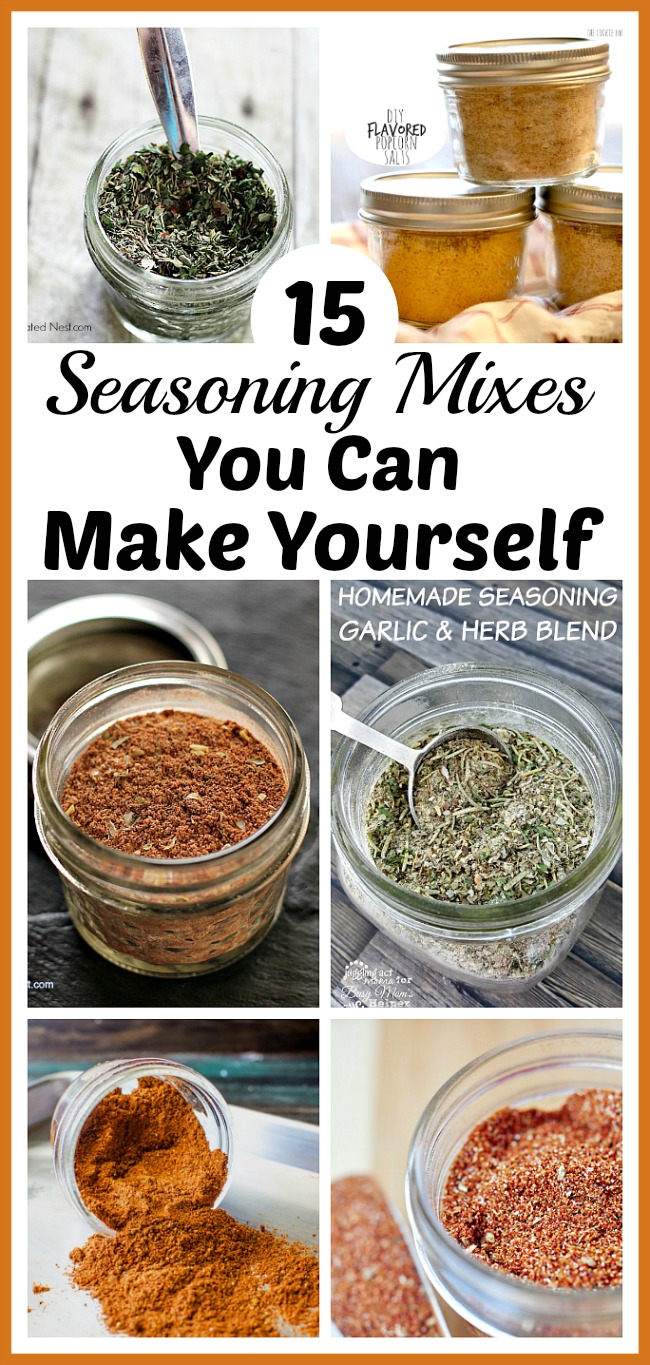 You might also be interested in: 24 Foods to Make and Not Buy