Spring means it's time to open the windows and let in some fresh air, enjoy the daffodils & tulips popping up in the garden (or buy some at the grocery store) and putting away the winter clothes and cozy home decor! It also means that it's time for spring cleaning! Spring (like the New Year) seems like a time of renewal – a fresh start. Except instead of working on our waistlines or improving our budgets, we usually look at this time to focus on the domestic. Scrubbing our homes from top to bottom, making everything shine and getting rid of things you no longer need/want. While you may love imagining how your home will look after you're finished with your spring cleaning, you likely aren't looking forward to the actual cleaning and decluttering. Because spring cleaning can be tough without the proper planning and knowledge, I've put together this Spring Cleaning 101 Resource so you would have one place to go to for help! It's full of spring cleaning tips, spring cleaning schedules, and free printables to help you have a (hopefully) stress-free spring cleaning experience!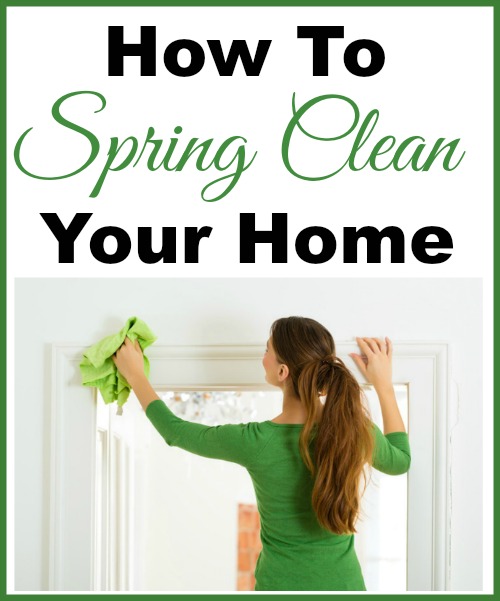 When spring cleaning, remember to prioritize. Likely, there's only just so much time you're able and willing to spend on spring cleaning. So make sure to do the most important tasks first. Also, consider getting your family involved! Spring cleaning can go a lot quicker (and be a lot more fun) if everyone participates!
Spring Cleaning 101
These handy resources in this spring cleaning 101 guide will help you to clean every inch of your home! Some are free printables, and others are clever cleaning tricks. All of them will help you make your spring cleaning quick and easy!
Before you get started, make sure to check your cleaning closet and ensure all your cleaning supplies are in good order. If you've been waiting to replace some old supplies or get a new vaccuum, now's the time. The last thing you want is your broom leaving bristles everywhere or your bucket leaking soapy water all over the floor! When I'm spring cleaning, I particularly like to use reusable microfiber cloths, and my Shark Lift-Away vacuum has been very handy when it comes to vacuuming stairs, furniture, and hard-to-reach spots. Like with most things in life, having the right tools makes a difference! Also, here's a good DIY All Purpose Cleaner that you can use.
Spring Cleaning Checklists
Home Maintenance & Deep Cleaning For Spring Checklist (Free PDF Download)
Boot Camp Spring Cleaning Printable Checklist
Yellow, Pink, and Blue Spring Cleaning Printable Checklists
The Ultimate Spring Cleaning Guide & Daily Cleaning Schedule
Detailed Spring Cleaning Printable Checklist
Pink Spring Cleaning Printable Checklist
Deep Cleaning Printable Checklist
Printable Spring Cleaning Flow Chart Printable Checklist
Blue and White Spring Cleaning Printable Checklist
Chevron Spring Cleaning Printable Checklist
Printable House Cleaning Checklist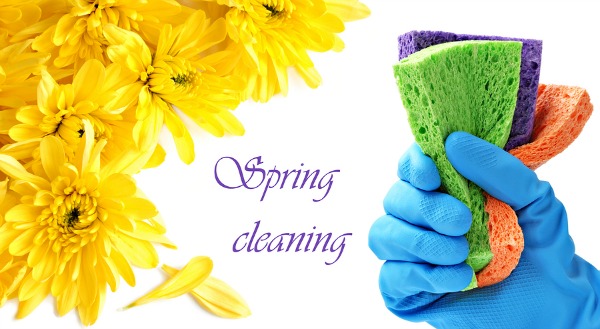 Spring Cleaning Challenges
Printable 30-Day Cleaning Challenge
Spring Cleaning One-A-Day Challenge
The Love Home Challenge- 13 Weeks, 13 Projects
31 Days to a More Organized Home & Mind
Declutter 52 Things in 52 Weeks Challenge
Spring Cleaning Calendars
Free Printable Spring Cleaning Calendar
Free Cleaning Calendar + Bonus Declutter Printable
The 31 Day House Cleaning Routine
30 Minutes Per Week House Cleaning Schedule
March Spring Cleaning 365 Calendar
Printable 30-Day Spring Cleaning Calendar
Daily to Yearly Free Printable Cleaning Calendar
Free Printable Daily to Monthly Cleaning Calendar
Free Printable Cleaning Calendar + Blank Template
Forgotten Areas / Spring Cleaning Tips
How To Clean Your Air Vents the Easy Way
Clean Your Drip Coffee Maker Using Basic Natural Ingredients
How to Clean an Oven Door In-between the Glass
Clean Your Grout with Homemade Cleaner
How to Clean Your Washing Machine
How to Clean Your Stove & Microwave the Easy Way
Making Your Mattress Look Brand New
Keep Baseboards Cleaner with Fabric Softener
The No Scrub Way to Clean Stove Burners and Grates
How to Clean Kids' Toys in the Dishwasher
How To Wash Your Pillows in the Washing Machine
10 Things You're Forgetting to Clean in Your Bathroom
What do you do to make spring cleaning easier?
This post contains affiliate links to Amazon. Please see our Disclosure Page for more information.
You may also be interested in: