You'd think that since our bedrooms are such a major part of our home lives, we'd make sure they were completely spic and span. Unfortunately, between time restrictions and forgetfulness, many bedrooms don't get as thoroughly cleaned as they should! So to help you make sure your bedroom is completely clean, here's a list of 6 Things You're Forgetting to Clean in Your Bedroom!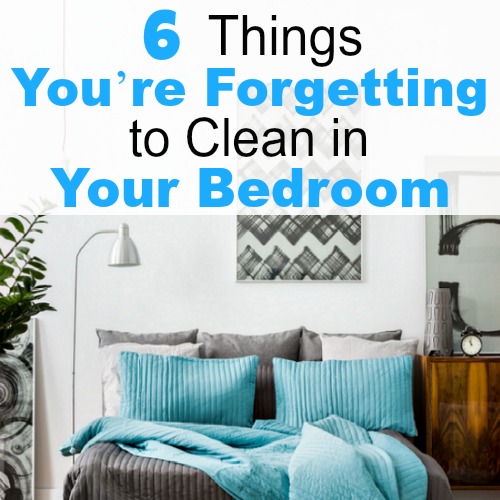 Disclosure: This post may contain affiliate links to Amazon and/or Etsy, which means that I may earn a small commission from some of the links in this post. Please see our Disclosure Page for more information.
I don't know about you, but I love to make sure my bedroom is clean! Not only does it reduce those instances where you come across a bug in the middle of the night, but I also find it so much more relaxing to go to sleep in a clean room!
6 Things You're Forgetting to Clean in Your Bedroom
1. Closet Shelves
Whether your bedroom closet has many shelves or just one big one, you need to be keeping your shelves clean! To do this, you'll have to take all the clothes and/or knickknacks off it first, then give it a thorough dusting on top and underneath. This will keep your closet from attracting spiders!
2. Under the Bed
An area you're likely forgetting to clean in your bedroom is under your bed! Over time, fuzz, dirt, and other random little pieces of daily debris make their way under your bed. If left alone, this becomes a haven for bugs, or just a place for allergens to build up untouched. So every few months, move your bed out of the way and vacuum under it! If that's too difficult, see if you can just use your vacuum's hose to clean under your bed instead.
3. Curtains + Curtain Rods Finials
When was the last time you took down your bedroom curtains to clean them? Some people may say "during our last spring cleaning," but many people would answer "never!" If it's been a couple of months or more since your bedroom curtains were cleaned, now's the time to clean them. At the very least, beat them outside to get the dust off of them. While they're not on the rods, take advantage of the situation and dust the rod's finials as well, especially if they're ornate (all those carvings can hold a lot of dust!).
4. Above Windows + Doors
You'd be surprised how much dust can collect on the little bit of surface available above the molding of your windows and doors. But if one of the things you're forgetting to clean in your bedroom is that area, then it's likely covered with a thick layer of dust! So the next time you clean your room, give those small surfaces your attention!
5. Lamps + Lampshades
For some reason, one of the things that many people forget to dust or wipe down is their lamps and lamp shades! But lamps can collect a lot of dust, and can be host to a lot of germs from all the hands always touching them. To keep them clean, dust your bedroom lamps and their shades, and use a disinfecting wipe on the knob or pull chain that turn them on and off.
6. Picture Frames + Glass
It's very likely that something you're forgetting to clean in your bedroom is your picture frames and their glass! You should actually be cleaning those two things pretty often, both to keep fingerprints and smudges off the glass, and to keep them dust free. It might even be a good idea to take them down and dust their backs. Sometimes spiders like to hang out back there!
Do you tend to forget to clean these areas in your bedroom?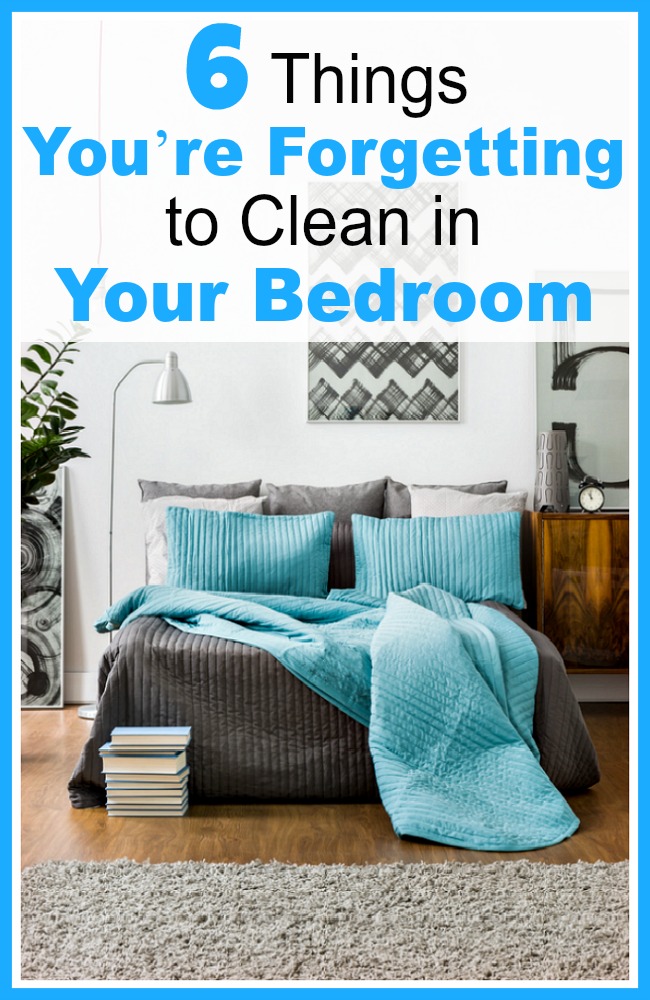 You might also be interested in: