I'm always surprised by how many different uses some things have! From Dawn dish soap, to dryer sheets, to even tea bags, many things can be useful in applications that you would never expect! And wax paper is no exception! I used to just use wax paper when working with chocolate, but I've come to discover that it actually can be used for more than just keeping chocolate candy from sticking! Here are 10 Clever Uses for Wax Paper!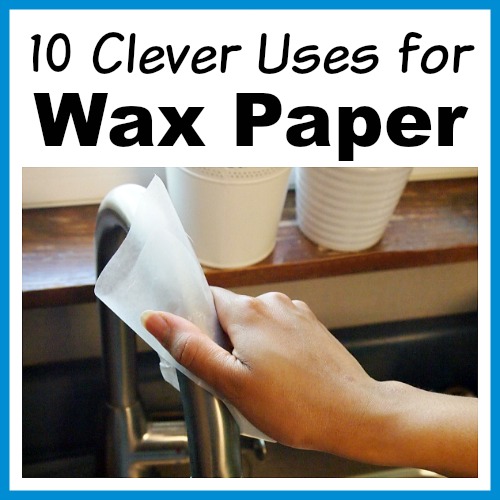 Disclosure: This post may contain affiliate links to Amazon and/or Etsy, which means that I may earn a small commission from some of the links in this post. Please see our Disclosure Page for more information.
Before you try any of these cool uses for wax paper, make sure you're not confusing wax paper with parchment paper! They're both nonstick papers, but other than that are pretty different, and a lot of the following uses rely on the fact that wax paper has a thin coating of wax on it.
10 Clever Uses for Wax Paper
1. Keep Kitchen Cabinet Tops Clean
Have you looked at the tops of your kitchen cabinets recently? If you haven't, you may be surprised by how much dust is up there! On top of that, kitchen cabinet tops often also have a thin layer of grease on them (it floats up with the steam from you cooking). As a result, cleaning the top of your kitchen cabinets can be a pretty annoying task because you can't just do a quick wipe down, you actually have to scrub. To keep from having to do this, just cut some wax paper out and lay it on top of your kitchen cabinets! Every month or so, take the dusty, greasy paper down, throw it out, and replace it!
2. DIY Fridge Liner
One of the best uses for wax paper is as a fridge shelf liner! Because wax paper is naturally water-resistant, it makes a simple, inexpensive way to catch spills and crumbs and speed up the process of cleaning your fridge!
3. Keep Faucets Clean
A simple way to keep chrome faucets looking spotless is just to rub them with a small piece of wax paper. The paper will leave a thin coating of wax behind that will make the faucet more water-resistant, keeping away fingerprints and water marks!
4. Easily Uncork Bottles
Opened a bottle of wine, then realized you can't finish it in one evening? To make it easier to uncork it the next time, take advantage of one of the many handy uses for wax paper! All you have to do is wrap the bottom of the cork with a small square of wax paper, re-cork the bottle, and the next time you go to pull the cork out, it should come out easily! The wax paper will also prevent the cork from falling apart during the uncorking, and possibly getting in your wine!
5. DIY Funnel
Don't have a funnel? If you have wax paper, you don't need one! Just cut out a small piece, roll it tight, and ta dah! Instant funnel! Use this to fill jars with dry ingredients (like the spice jars in my DIY magnetic spice rack!). If you lay some wax paper down before working with a dry ingredient, you can also pick up the paper when you're done, make a funnel, then easily pour the leftover bits back into the container (waste not, want not!).
6. Mallet Meat Cleanly
Pounding chicken breasts with a meat mallet is a great way to tenderize them. Unfortunately, if you just do it without anything between the chicken and your meat mallet, you'll very likely see meat juices and little bits of raw meat flying about. That's a great way to spread Salmonella! To keep your kitchen sanitary, lay a sheet of wax paper on top of your chicken breasts, then pound them. The wax paper will help contain the splatter, but not interfere with the tenderizing process. If you're concerned about pounding chemicals from the paper into your chicken, get unbleached natural wax paper.
7. Keep Candles Contained
Have you ever stored candles with some of your other home decor (like your tablecloths) and come back later to find that the candles rubbed their color all over the cloth? There's an easy way to prevent this from happening! The next time you're packing up candles and know you'll be placing them with some linens, just wrap the candles in wax paper first!
8. Lubricate Sticky Things
If you have a door that's sticking, or a zipper that won't move, you'll be happy that one of the uses for wax paper is as a lubricator! Because of the wax on it, if you rub wax paper on things that are sticking, it can help loosen them up! It can also be rubbed on things like curtain rods to make it easier to pull the curtains back and forth.
9. Make Cheese Stay Fresh Longer
Isn't it annoying when you need to use some cheese, but discover that it's gotten moldy since you last used it? This is more likely to happen if you just keep your cheese in the plastic wrap that you bought it in. A simple trick to make your cheese stay fresh longer is to wrap your cheese in wax paper, then wrap aluminum foil around the wax paper, or put the paper wrapped cheese in a sealed baggie.
10. DIY Dusting Sheets
The next time you run out of dusting sheets in the middle of cleaning your home, don't worry. All you need is wax paper! Wax paper makes a surprisingly good duster! You can even use it as replacement dusting sheets on a floor sweeper!
Have you ever tried any of these ways to use wax paper?
This post contains affiliate links to Amazon. Please see our Disclosure Page for more information.
You might also be interested in: