Dining out is a lot of fun, but unfortunately, it isn't necessarily cheap. If you're on a budget, you could completely cut dining out from your budget, but that's no fun! Besides, it's completely possible to eat out while you're on a budget, if you know a few tips! Still enjoy eating out, but spend less money, with these 15 Ways to Save Money Dining Out!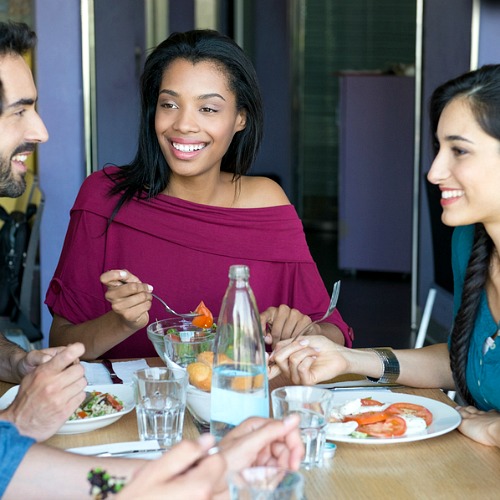 Disclosure: This post may contain affiliate links to Amazon and/or Etsy, which means that I may earn a small commission from some of the links in this post. Please see our Disclosure Page for more information.
It's much easier to maintain a frugal lifestyle if you don't feel deprived, so while completely stopping eating out is an option, it's not necessary. Instead, reduce how often you eat out, and when you do dine out, use the tips below!
15 Ways to Save Money Dining Out
Dine out twice- A clever way to save money when you eat out is to dine out at two places in a row. For example, you might go to an affordable restaurant for your main meal, then afterwards go to a fancier one to enjoy drinks and dessert in the nice ambiance. If you'd gotten your main meal from the fancy restaurant, it'd likely cost a lot more than your meal from the affordable restaurant! So by splitting your dining experience, you can save a lot!
Order from the kids' menu- Not every restaurant allows this (some have age restrictions), but if you can, try ordering from the kids' menu. The portions are smaller, but you'll still be full in the end, plus you'll have paid a lot less!
Use your discount- A lot of people forget that they may be eligible for discounts at restaurants. If you're a student, teacher, senior citizen, or member of the military, ask if you're eligible for a discount. As long as you have the proper ID, there's a chance that you could save some money!
Share an entree- Most restaurants offer such big entrees that they can easily be shared by two people without either feeling deprived. So the next time you're at such a restaurant, only order one dish, but ask for an extra plate!
Eat an appetizer instead of an entree- Some restaurants also offer huge appetizers! These are great for sharing among friends, or for eating by yourself as your main meal! For a more balanced meal, consider ordering a side of veggies to go with your appetizer. The overall cost of the appetizer + side is likely to be at least a little cheaper than one of the restaurant's entrees.
Dine on special days- Most restaurants have special sale prices on special days. Maybe hamburgers are half off on Wednesday, and kids eat free on Thursday. Some restaurants even have days where you might get something free with your meal, like at O'Charley's where you get a free pie with your entree on Wednesdays!
Use coupons- Coupons aren't just for shopping in stores! If you check your mail circulars or subscribe to your favorite restaurants' email newsletters, you may get some great coupons you can use to save money dining out.
Pick a frugal restaurant- Of course, if you want to save money dining out, it helps to pick a frugal restaurant. For example, go to an affordably priced all-you-can-eat buffet and really fill up. Or go to a place that offers free chips and dip or bread so you can essentially get an appetizer for free. Save the fancy (and pricey) restaurants for special occasions.
Go out to lunch- If you want to eat out, but aren't picky about when, try going out to lunch. Lunch portions are smaller, so lunch menu prices are cheaper. If you wait until near the end of the time that lunch is offered (usually around 3PM), you can call your meal linner!
Skip the specials- If you're hoping to save money dining out, be wary of "specials." Sometimes they aren't any cheaper than the normal menu item, or may even cost more!
Drink water- Soda, wine, beer, juice, all of these beverages will add to your bill. To save money dining out, skip those drinks and just get water. But make sure it's just water in a glass (likely from the tap). If they give you bottled water, there's a chance you'll be charged for it.
Skip the appetizer- Main meals in America are large enough as it is. While the appetizer may add some fun flavor to your whole dining experience, you definitely don't need it to feel full, and it'll just make your whole meal cost more.
Skip dessert- Similarly, skip dessert if you want to save money dining out. Instead, wait until you're home and pull out the ice cream, or pop a frozen dessert in the oven. You'll have to wait a bit, but that'll give you more time to digest your main meal, leaving more room for your dessert!
Stay up to date- There's nothing worse than hearing about a great money saving opportunity after it's expired! To make sure you don't miss out on any specials, follow your favorite restaurants on social media. They may talk about one day sales that they wouldn't bother alerting their newsletter subscribers about. Or maybe they're doing a special holiday freebie, like free pie on Pi Day! If you're able to follow your local restaurants specifically (not just the companies as a whole), you may also hear about specials that only those locations are offering. So stay up to date and you may save money!
Go at the best day/time- Some restaurants have prices that vary throughout the week. In general, restaurants see less traffic on Mondays and Tuesdays, so those days may have lower prices to encourage people to come in. Also, early evening tends to be a slow time for many restaurants as it's an awkward time between lunch and dinner. If you live in an area that has theaters (like New York), this time is sometimes called the pre-theater time and has matching pre-theater specials (to encourage people to dine before going to see a show).
So as you can see, there are lots of ways to save money dining out! Try these tips the next time you go out to eat, and you'll be happily surprised at your final bill!
What do you already do to cut the costs of dining out?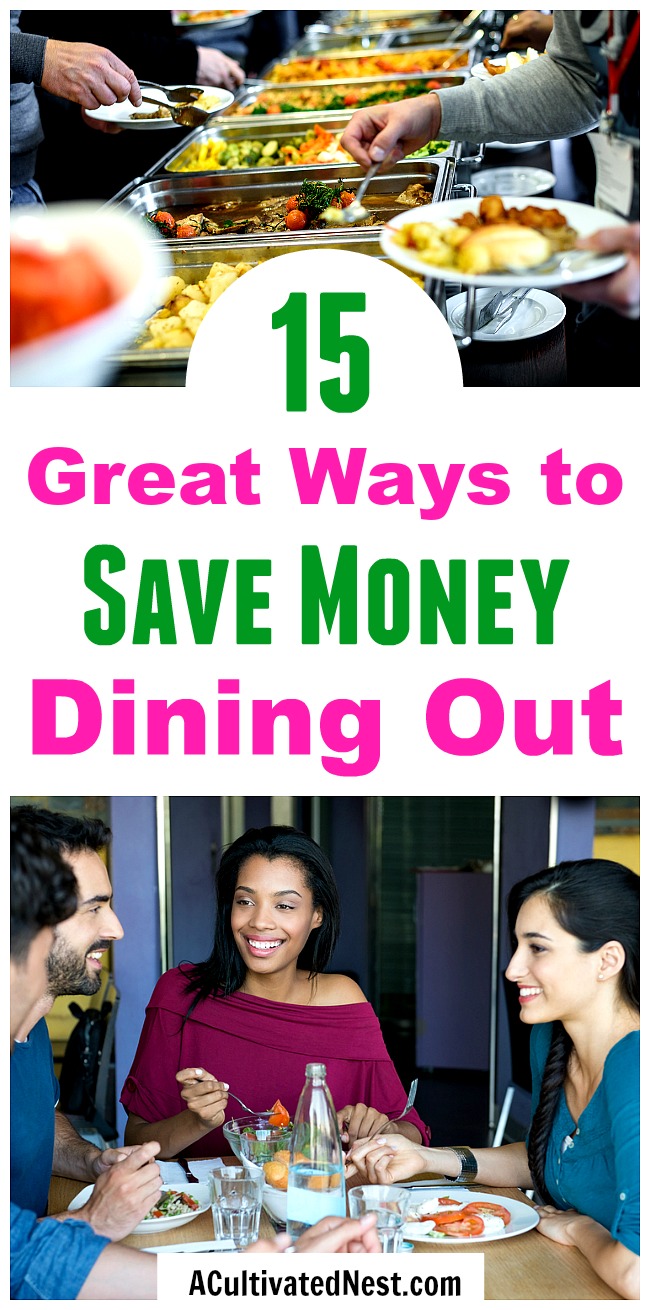 You might also be interested in: 50 Things You Can Do To Save Money On Groceries