Nowadays all over the internet you'll find people suggesting vinegar as the all-natural cleaning agent of choice. And most of the time, it's one of the best natural cleaners you can use! You can clean your cutting boards, toilets, windows, and much more! But did you know that there are a couple cases where it'd actually be a bad idea to use vinegar to clean? Here are 7 Things You Should Never Clean with Vinegar!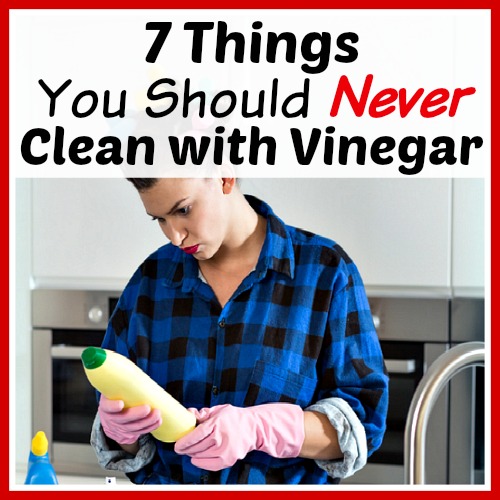 Disclosure: This post may contain affiliate links to Amazon and/or Etsy, which means that I may earn a small commission from some of the links in this post. Please see our Disclosure Page for more information.
Sometimes it's easy to get carried away with making homemade cleaners, and forget that what you're using isn't just a magical liquid with natural cleaning properties! Distilled white vinegar (AKA "cleaning vinegar") is actually a liquid containing acetic acid, and as a result, has chemical reactions with some things. Luckily it's safe to use on most surfaces, which is why it's a critical ingredient in my all-natural produce wash, homemade dusting spray, and my other all-natural cleaner recipes.
7 Things You Should Never Clean with Vinegar
1. Your Iron
You'd think that if you wanted to clean your iron, you should pour some vinegar in it, right? Wrong! Vinegar can actually damage the inner workings of your iron. If your iron is working less that ideally, you'll want to read the manual for directions on how to safely clean it out instead.
2. Smartphone Screens
Something else you should never clean with vinegar is the screen of your smartphone or tablet. By cleaning that kind of screen with vinegar, you could remove its oleophobic coating (which makes your device resistant to fingerprints). So instead, buy screen cleaning solution that is made to be used on device screens.
3. Porous Stone
If you have countertops or floors made of porous stone (like granite or marble), then they're something else you should never clean with vinegar. If you have that kind of countertop/floor, you probably already know that you shouldn't clean it with citruses, like lemon juice, because the acids in citrus can damage the stone's sealant. In a similar way, vinegar can etch into the stone of your granite or marble. So to keep your counters or floors looking beautiful, don't clean them with vinegar, and if you spill any vinegar on them by accident, wipe it up quickly!
4. Grout
You'll find a number of articles that suggest cleaning your grout with vinegar. And while it will brighten it up, it could come at a cost. Grout is an alkaline substance, so if it is unsealed, vinegar's acidity could eat away at it. If your grout is sealed, you should be okay, but be careful in areas where the sealant appears to be worn away or chipping off.
5. Hardwood Floors
Depending on what your hardwood floors are finished with, it can be a bad idea to clean your floors with vinegar. The acidic vinegar can eat away at the finish over time, removing the protective coating over the wood and making your floors look dull. Rather than trying to figure out exactly what finish your hardwood floors have, you'll probably just want to stay on the safe side and keep from using vinegar to clean your floors!
6. Egg
If egg happens to get somewhere it shouldn't, don't reach for the vinegar! Unfortunately, egg yolk spills are yet another thing you should never clean with vinegar. The vinegar and the egg will react together and the egg will coagulate, making it even harder to get up.
7. Waxed Furniture
While it's possible that you may want to remove the wax from your furniture, in all other cases you'll want to avoid wiping waxed furniture down with vinegar. The vinegar can eat away at the wax, possibly turning your waxed furniture from glossy to dull.
Do you usually use vinegar on any of these things?
This post contains an affiliate link to Amazon. Please see our Disclosure Page for more information.
You might also be interested in: