Time flies, and before you know it, the holidays will be over! Which means it'll be time to pack up all the decor, find a place for all the new things you received as gifts, and prepare for the next year. It's hard to do any of that if you don't have the right organization systems ready to go! To help you, here is Everything You Need to Easily Organize Your Home!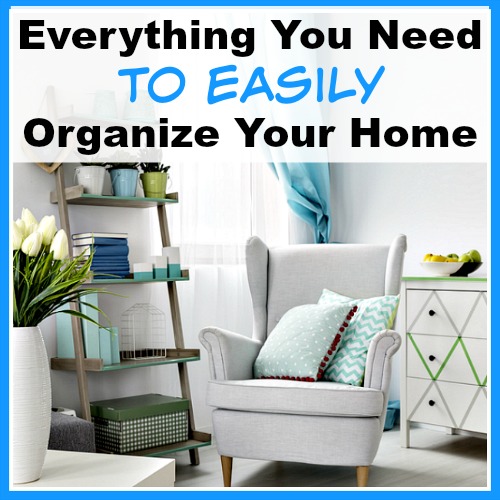 Disclosure: This post may contain affiliate links to Amazon and/or Etsy, which means that I may earn a small commission from some of the links in this post. Please see our Disclosure Page for more information.
While I love frugal organizing solutions, sometimes you just need something other than a box or bin. The items I've collected below are specially designed to help you organize all sorts of things all throughout your home! And they're very affordable! If you participate in any survey sites, this would be a great way to use the Amazon gift cards you earn!
Everything You Need to Easily Organize Your Home
Organize Your Kitchen and Pantry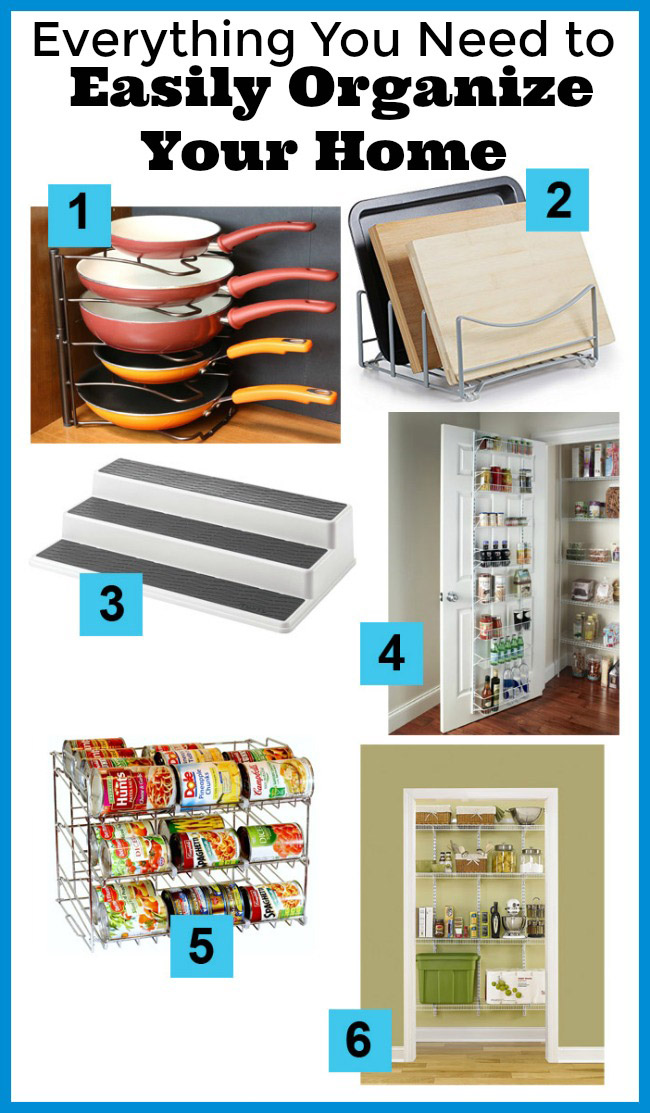 1. Pan Organizer Rack– We used to just put our pots and pans stacked together directly on a shelf, but then we got one of these. It makes the cabinet so much more organized! And it prevents our non-stick cookware from scraping their coating off each other, making our pots and pans last longer!
2. Cabinet Organizer Rack– This would make it much easier to find your cookie sheets and cutting boards!
3. 3-Tier Cabinet Organizer– I love to use these to organize my spices!
4. Adjustable 8-Tier Wall and Door Rack– We installed one of these door racks, and it was a great way to both organize our pantry, and get extra shelving!
5. Stackable Can Organizer Rack– If you're stockpiling cans, then you need somewhere to put them! This type of organizer rack keeps your cans nicely organized and makes it easier to find specific cans!
6. FastTrack Pantry Kit– If you really want to easily organize your home, you should get a pantry kit like this one! The shelves are adjustable so you can easily customize it to your needs!
Organize Your Bedroom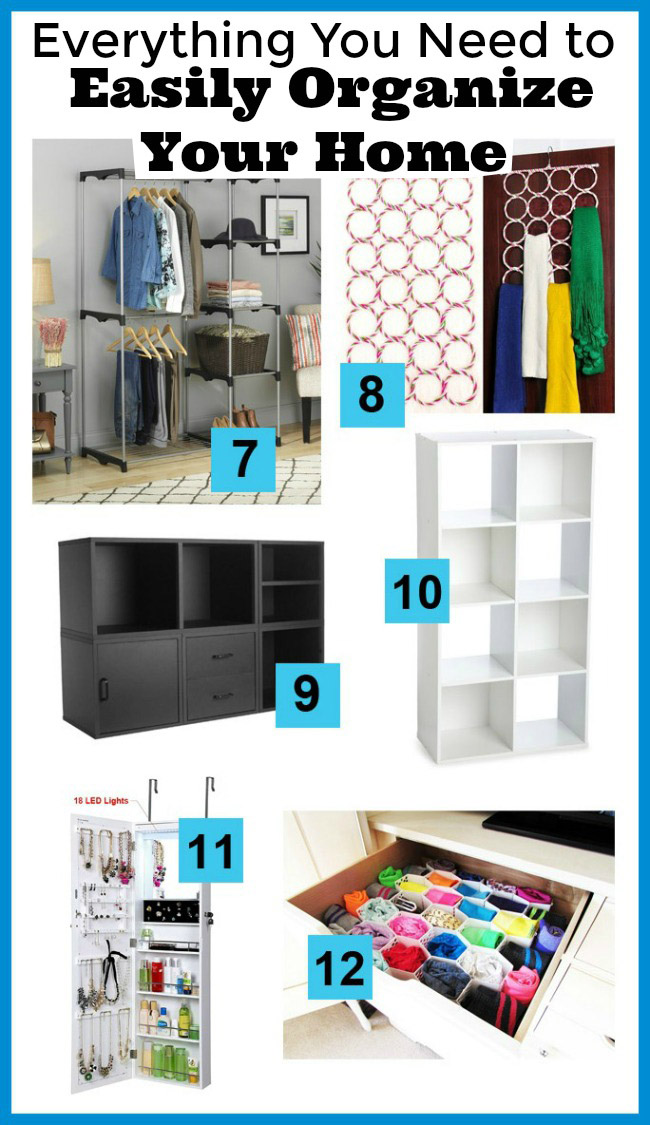 7. Double Rod Freestanding Closet– If your bedroom doesn't have enough closet space, this could be a big help!
8. Foldable Scarf, Ties, Belts, Socks Organizer– Anyone with a lot of scarves, ties, or belts should have one of these!
9. Modular 5-in-1 Shelf Cube Storage System– You can easily organize your home with a versatile cube storage system like this! You could keep clothes or shoes in the covered cubbies, then put decor, books, and other such things in the open spaces.
10. 8-Cube Organizer– You can get really creative filling an organizer like this! Alternate between shelves filled with decor and shelves filled with necessities to create an appealing look!
11. Lockable Jewelry or Makeup Wall/Door Mounted Organizing Cabinet– If your jewelry and/or makeup collection is getting out of control, use this lockable cabinet to get it organized!
12. Honeycomb Drawer Organizers and Dividers– You'll never have to dig through a dresser drawer looking for socks again with this handy drawer organizer!
Organize Your Bathroom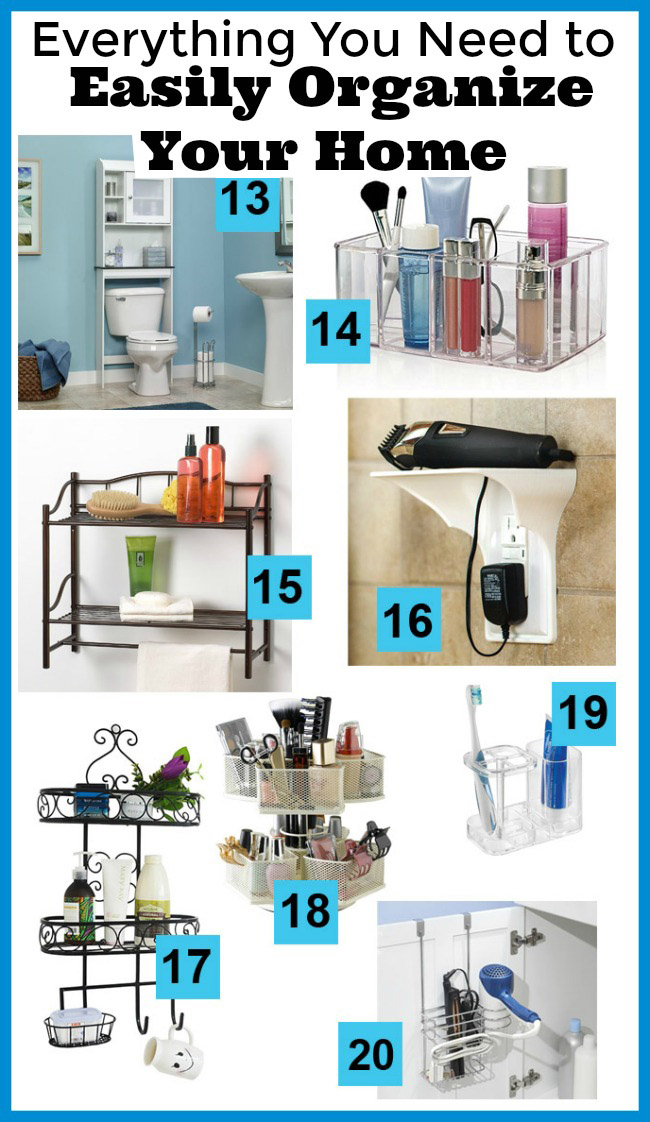 13. Freestanding Bathroom Cabinet– If you feel your bathroom could use more storage space, you can easily add some by getting this bathroom cabinet!
14. Plastic Vanity Organizer– Keep your bathroom sink from becoming an unorganized mess with this plastic organizer!
15. 2 Shelf Wall Organizer with Towel Bar– This is a great way to add storage space above your toilet, or elsewhere in the bathroom!
16. Power Perch Outlet Shelf– If you have limited sink space, you may need to get creative! This outlet shelf can be a great place to store anything that needs to be plugged in.
17. 3 Tier Wall Mounted Bathroom Storage Rack– You can store a mixture of decor and bathroom necessities with this handy 3 tier rack!
18. Cosmetic Organizing Carousel– If you have a lot of cosmetics and want to store them in your bathroom, you'd like this cosmetics carousel!
19. Bathroom Storage Organizer for Dental Supplies– Keep toothbrushes, toothpaste, and other everyday bathroom necessities nicely organized with this plastic organizer!
20. Over-Cabinet Hair Care Tools Holder– We've used one of these for years! It's a great way to keep your hair care tools organized and easy to find!
Organize Your Kids' Toys
21. Kids' Book Rack– Keep your kids' books organized and easily accessible with this book rack!
22. Kids' Hanging Daily Activity Organizer– This daily activity organizer can be a great way to store toys, or could even be used in homeschooling!
23. Wall Storage Unit– Store toys, books, and more with this great wall storage unit!
24. Backseat Car Organizer– Car toys need to be organized, too! Use this handy backpack to keep your car from looking like an extension of your kids' playroom!
25. Kids' Bookcase/Footboard– This handy bookcase can also double as a footboard with storage!
26. Backseat Car Organizer and Lap Tray For Kids– Not only does this car toy organizer keep toys in place, but your kids can also use it as a lap tray to draw or do activity sheets during long car rides!
27. Toy Storage Organizer with 12 Plastic Bins– Easily organize your home by creating a place for all of your kids' toys! Since this toy organizer has so many different bins in varying sizes and colors, it's sure to do the job perfectly!
28. Jumbo Toy Hammock– If your kids are stuffed toy collectors, you should get them a toy hammock!
Organize Your Living Room and Family Room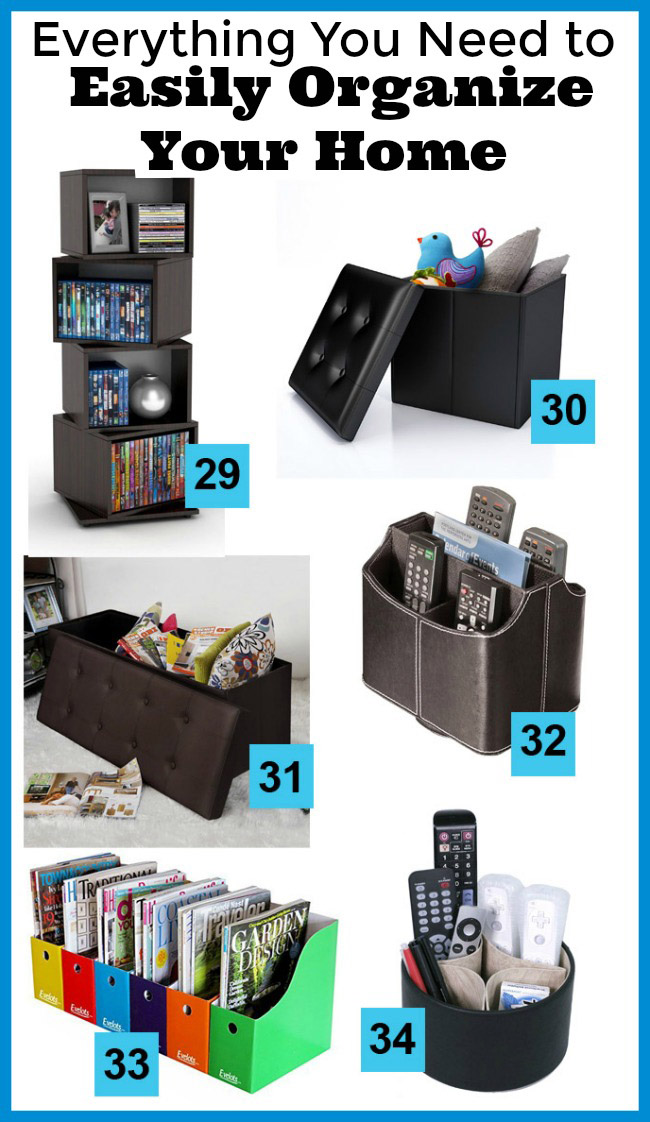 29. Rotating Cube 4-Tier Multimedia Storage Tower– Just because streaming video is the new thing doesn't mean we all don't still have DVD and Blu-ray collections! Organize your movies, games, and CDs with this rotating multimedia storage tower!
30. Black Leather Faux Ottoman Storage Bench– Faux benches are a great way to easily organize your home because they can act as storage, decor, and a place to set your feet!
31. Faux Leather Folding Storage Ottoman Bench– I love big faux benches! I use mine to store extra blankets, pillows, and a few board games!
32. Spinning Remote Control Organizer Caddy– Keep all the remotes to your devices organized with this spinning remote caddy!
33. 6 Magazine Holders & Labels– Magazine holders are a necessity if you have a big magazine collection!
34. Spinning Multipurpose Organizer– You can organize your remotes, pens, and other living/family room knickknacks with this multipurpose organizer!
Organize Your Home Office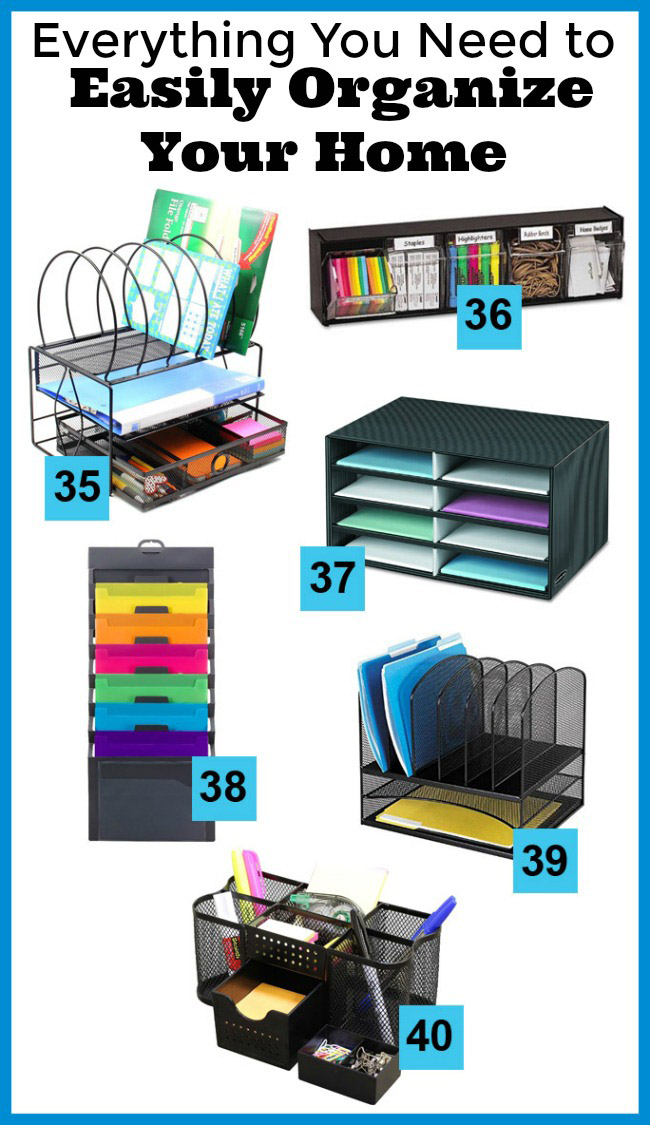 35. Mesh Desk File Organizer Tray with 5 File Sorter Sections– This desk organizer has a slide out tray with handy dividers!
36. Five Bin Horizontal Tilt Bin Storage System– Keep all the little things on your desk organized with this tilting bin organizer!
37. Eight Compartment File/Letter Sorter– You can easily keep bills, letters, and other personal papers organized with this 8 compartment organizer!
38. Cascading Wall Organizer– If you prefer vertical organization, this cascading wall organizer can be very helpful!
39. Mesh Desktop Organizer with 6 Vertical and 2 Horizontal Sections– With all these different sections, this mesh organizer will help you keep your desk neat!
40. Desk Supplies Organizer Caddy– You'll never have to go searching for a pen if you have this useful desk organizer caddy!
Organize Your Laundry Room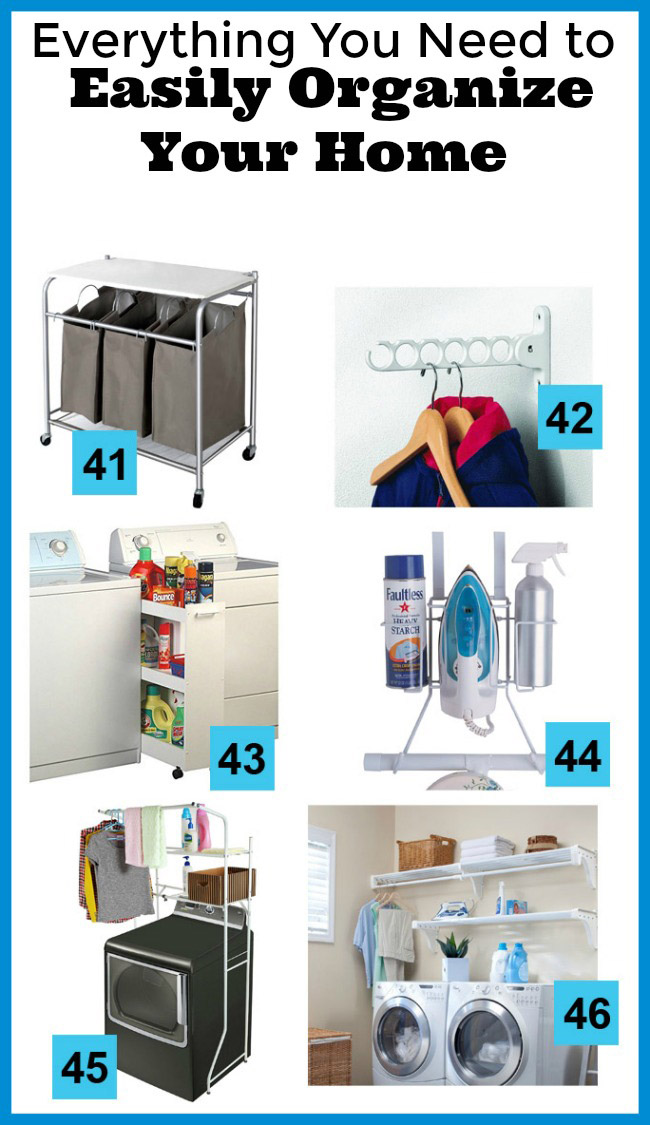 41. Laundry Sorter with Ironing Board– In a perfect world, every laundry room would come with plenty of surface space for folding, sorting, and other laundry tasks. Unfortunately, most laundry rooms don't have that extra space, which is why this laundry sorter station on wheels is so handy!
42. Foldable Hanger Holder– This can be a handy place to hang clothes in your laundry room that need to air dry, or that you want to iron!
43. Laundry Caddy– If you have a bit of space between your washer and dryer, this can be a great way to keep your laundry room organized!
44. Ironing Supplies Holder– Keep your ironing board, iron, and other ironing supplies in easy reach with this holder!
45. Laundry Supplies Utility Storage Rack– Just because you have limited laundry space doesn't mean you can't easily organize your home! This storage rack can fit over your washer or dryer to maximize your space!
46. Expandable Laundry Room Shelving Kit– If you don't have enough shelves in your laundry room, then you need this! Over the years, I've found that the more shelves I've had available near to the washer and dryer, the easier time I've had keeping the laundry room organized.
Organize Your Garage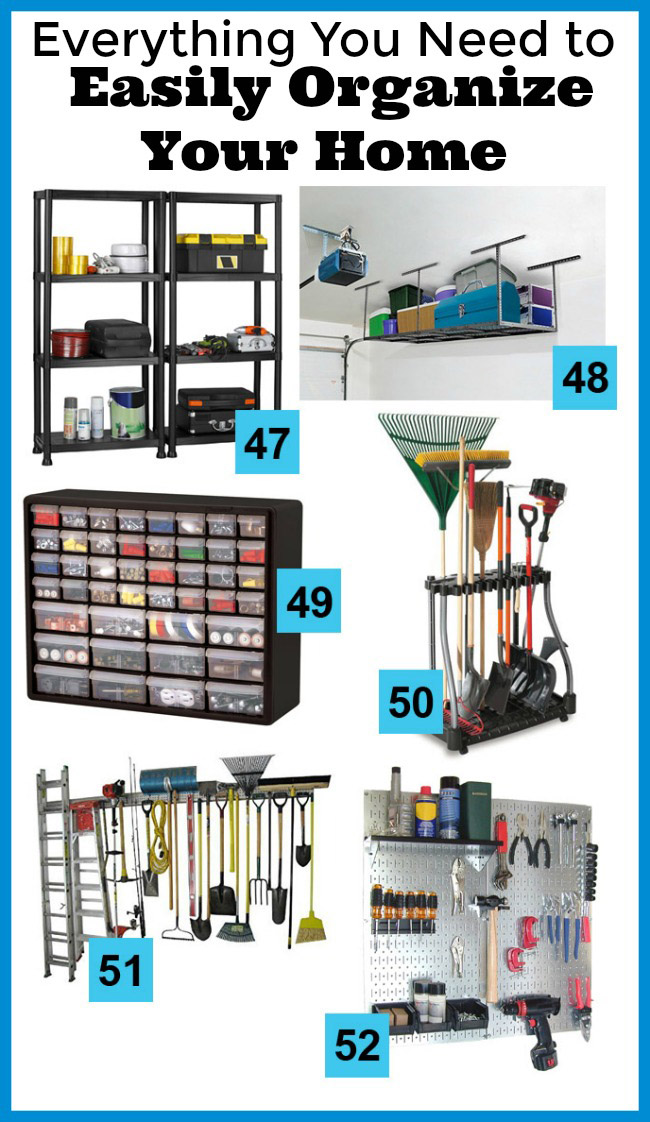 47. 4 Tier Garage Shelving Unit– We have a couple of these! Without them, I'm sure our garage would be a mess. You can stack just a few things on them, or fill them up with bins full of other things!
48. Overhead Garage Ceiling Storage Rack– Limited garage space? Then take advantage of your ceiling!
49. Hardware and Craft Cabinet– My husband has one of these, and uses it all the time. Otherwise, his collection of tiny hardware (nails, screws, nuts, etc.) would probably be a big mess!
50. Deluxe Tool Tower– This is a great way to keep all your big yard tools neatly organized!
51. Hanging Rail Garage Organizer– You'll never go hunting for the rake again if you have this handy rail organizer!
52. Galvanized Steel Pegboard Tool Organizer– We were lucky enough to get a house that came with a pegboard already installed in the garage. It's very helpful, and so easily customized!
Which room in your home needs the most organization help?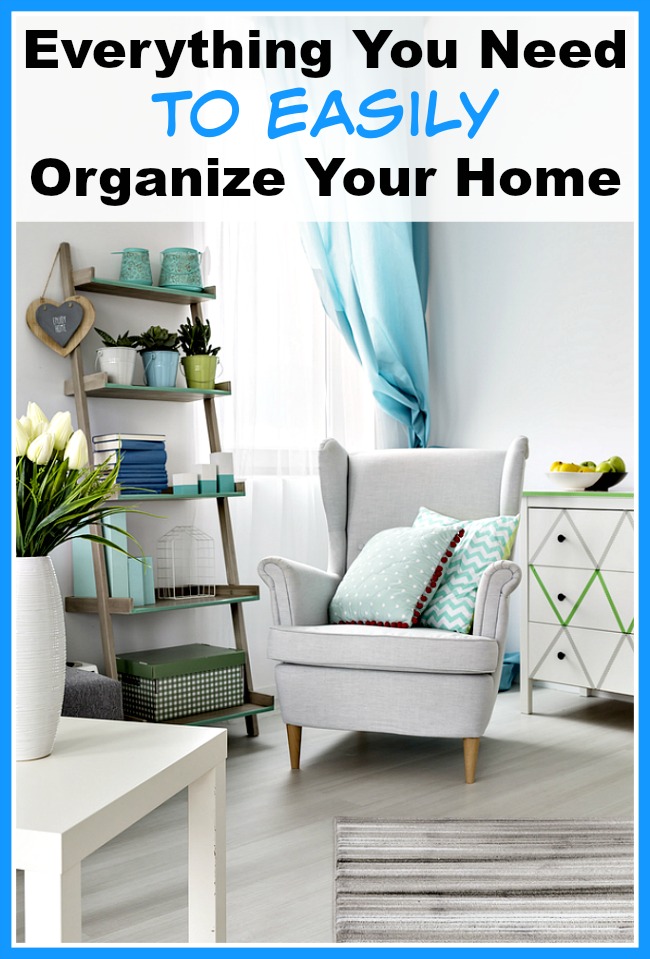 You might also be interested in: